During the Find Your Inner Cowgirl Retreat Through Body, Mind, Equine 2017, the ladies experienced so many incredible moments. I hope they will inspire you to join us from May 10–13, 2018 at C Lazy U Ranch to discover your inner cowgirl!
This unique 3-night women's retreat leads participants on a journey of awareness, growth, fun and adventure through daily yoga and meditation sessions as well as arena and trail time with horses.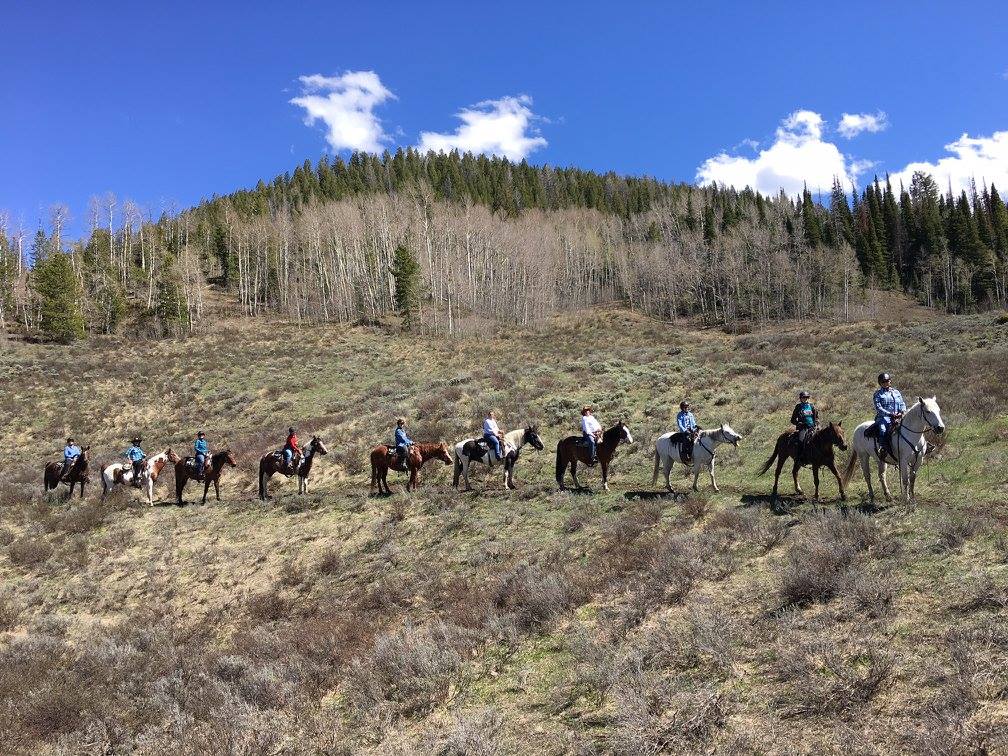 Powerful, Moving Moments
Many ladies came to the retreat for fun, adventure or rest, unaware that they'd also have a breakthrough with some of their personal challenges. I saw women move through difficult situations with grace and power by working with horses and with the support of other women. They built confidence, gained empowerment, sharpened leadership skills and worked through fears and personal issues.
Every woman was inspired and inspiring in some way. We experienced laughter, happy tears, nurturing, support and understanding. When women come together — unguarded, open and authentic — it is an unparalleled experience. The time spent in nature is life-changing in and of itself, and if you compound that with the incredibly cozy environment of C Lazy U Ranch, you can go home a new woman.
Sweet, Sacred Mornings
During the retreat, early mornings were a rich and sacred time. Morning fireside meditation against a background of pastured horses was deep and still, setting the tone for the day. While the meditation prepared our minds, the yoga postures, which included stretches for riders, prepared our bodies. From there, we took our centered, relaxed energy into the arena with the horses — and it was clear the horses felt it, too. This is a practice that we can take out into the world: be aware of the energy we bring to others and life in general.
Trail Rides and the Daily Jingle
Our rides ranged from peaceful and serene to fun and adventurous. The guide even commented that she'd never ridden with such a mellow, centered group — even the horses were at ease. One of our rides, our "Zen ride," was very quiet and calm, though we didn't plan it that way; it was just the natural quality the ride took after a day of yoga and relating to each other and the horses. We were all happy to just walk, taking in the natural beauty of the Rocky Mountains, the sounds of the river and clip-clop of hooves. The second day was more of an adventure, with a quicker pace, uphill climbs and a picnic lunch on the trail.
Watching the daily "jingle" was a high point, as watching 200 horses trot from pasture to barn is a powerful experience. Horses can be amazing mirrors, allowing us to look deep inside ourselves.
Dishing Over Dinnertime
All of the meals at C Lazy U were superb, but dinnertime was special for the group. Over good food and drinks, we spoke of the key points we learned during the day. We got to know each other more intimately by sharing stories about our personal lives, and our camaraderie grew.
The Ladies and Their Transformations
A dynamic mixture of women convened: mothers and daughters, girlfriends, solo retreat goers, corporate women, stay-at home moms, yoga teachers, and retirees. Their level of horse and yoga experience ranged from beginner to experienced. It was a great combination: they were all there to retreat from their daily lives and work on new life skills.
Seeing the guests' transformations from when they arrive to when they leave is truly a highlight. Time away in a new setting, being in nature, and unplugging have transformative and lasting effects. They return home in a much better place — physically, mentally and emotionally rested.
What the Women Say
Below are a few comments from ladies who have attended a Body, Mind, Equine program.
"The experience at the ranch and with [the] Cathy Woods Yoga program was absolutely a delight all the way around! The ranch was exquisite in its accommodations and Cathy's program was just right! It wasn't too hard for those new to yoga and was rich for those who are intimate with it. I would highly recommend both the Ranch and Cathy Woods Yoga program and hope to return!" —V. Vessey
"Body, Mind, Equine was a truly enjoyable and enlightening experience. Bridging the concepts of yoga with the wisdom and spirituality of the horse enables self-discovery and awareness. You don't have to be an expert at either discipline to be able to take away new concepts and core benefits from this program." —Mary Connaughty-Sullivan, trail and dressage rider
"Cathy Woods horse/yoga…is, rather than a riding lesson, a communications lesson with your body and mind to your horse's body and mind." —Cindy Hughes, dressage rider and owner and artist of Horse Lady Gifts
"I attended Cathy's retreat at C Lazy U in May 2017 as a part-time yoga practitioner and hardly-ever rider. The retreat was fun, invigorating and uplifting. Cathy's teaching style is relaxed and supportive and C Lazy U is a beautiful ranch. A truly delightful experience!" —Tracy Arthur
In my 28 years of leading programs I am always amazed that somehow, just the right group and dynamics come together — I call it "the magic of retreat." I encourage women to gift themselves with this retreat to see what unfolds. To get a better idea of what to expect from this adventure, view photos from the 2017
Find Your Inner Cowgirl retreat — perhaps they will inspire you to join us at C Lazy U in May. Together, we can harness your Inner Cowgirl Spirit! For more info, visit the C Lazy U website.
This post was written by Cathy Woods, Retreat Leader. Opinions expressed in this article are those of the guest author and not necessarily of C Lazy U ranch's.