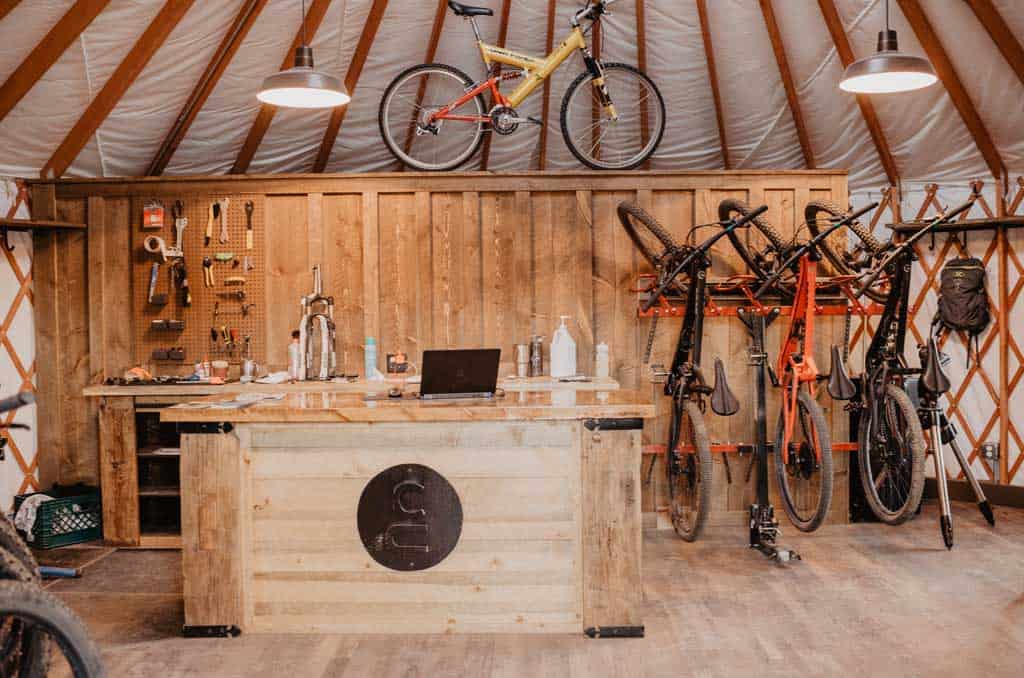 Activity Yurt
The Activity Yurt at C Lazy U Ranch sits on the shore of the pond, you can't miss it! It is surrounded by a large deck which is a great place to hang out near the water, with lovely and serene views. Inside the Yurt is the equipment desk where staff will get you set up with whatever equipment you need for your chosen activity.
Archery
Archery is a complimentary activity at the ranch, using compound bows. Try your skills at traditional targets or three-dimensional targets. Archery is offered Monday-Saturday at 12:30 PM and 4:30 PM in the summer. In the winter months you can enjoy this activity in our heated indoor riding arena.
All necessary equipment for this on-ranch activity is provided and there is an extensive safety demonstration performed before all archery sessions begin.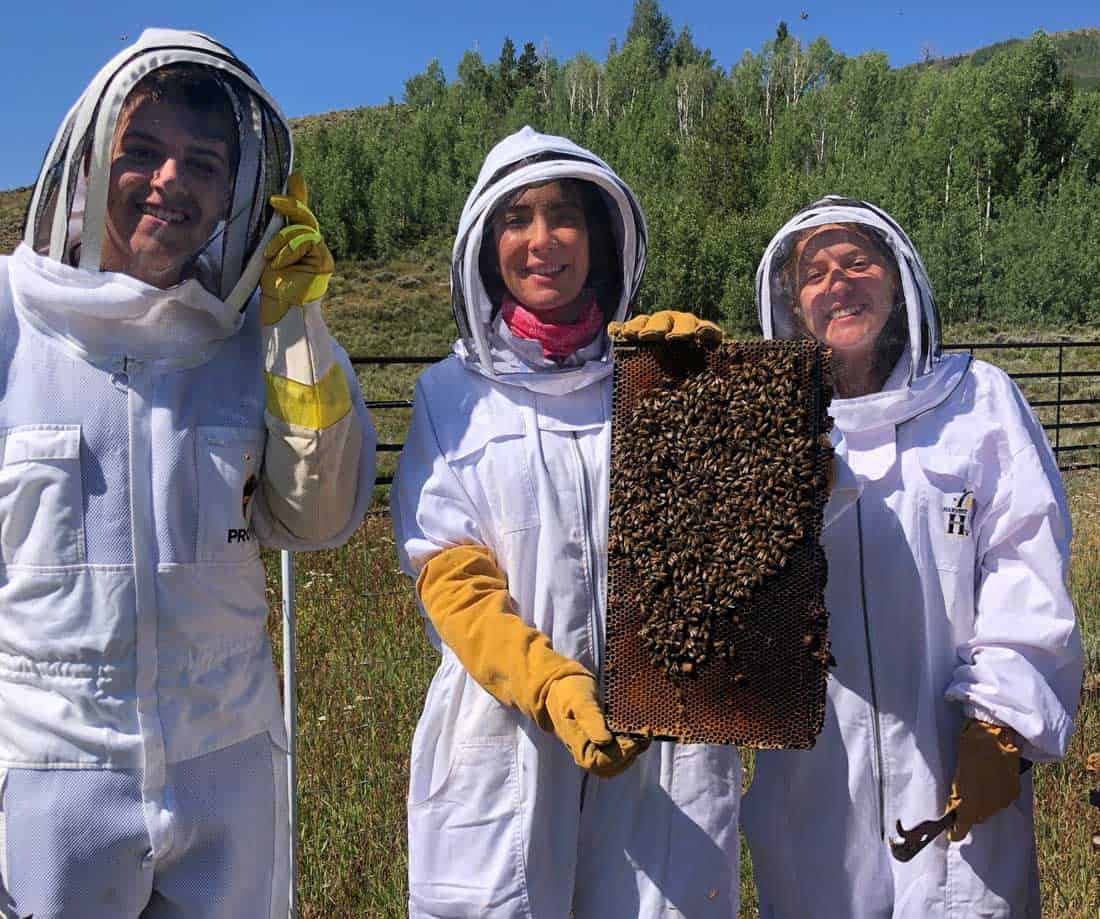 Bee Hive Tours
These one of a kind Bee Hive tours allow you to get a first hand view of C Lazy U's new bee yard.  The tour is 1.5 hours long and teaches about the honeybee life cycle, hive structure, beekeeping tools and bee yard protocol.  We will suit everyone up and open up a hive to explore. The tour is great for anyone 4 years old and up and 6 people total can participate. Wednesdays at 9:00 a.m. throughout the summer season.  $125 per person.  Contact frontdesk@clazyu.com to book or stop by the Outfitters Cabin. 
Cattle Pushing
When conditions permit, cattle pushing clinics are a group event that is perfect for adults, teens, and corporate retreats. The ranch requires that each guest participate in a trail ride prior to joining a cattle clinic. This activity is complimentary and sign up is available in the Outfitter's Cabin.
Please note, cattle clinics do not start until the first or second week of June and run through the end of August.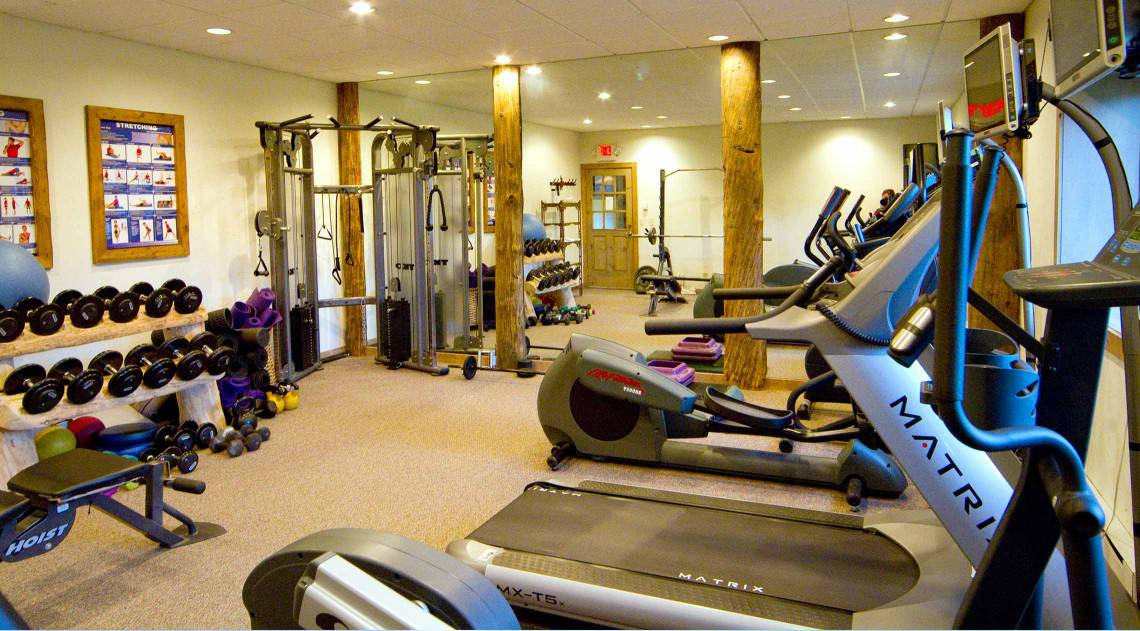 Fitness Center
Guests have complimentary access to C Lazy U's Fitness Center. The gym is open 24/7, allowing you to work out whenever you'd like. The updated, modern gym features plenty of equipment:
Free weights
Machine weights
Elliptical machines
Treadmills
Horseback riding and all the other ranch activities offered at C Lazy U Ranch surely gets the blood flowing, but guests who have their own workout routine don't have to give it up while on a dude ranch vacation. Contact us if you'd like more information about our gym facilities.
Fly Fishing Trips and Guides in Colorado
Complimentary Orvis-endorsed fly fishing is available from May to October. Basic fly-fishing instruction and lure fishing can be enjoyed by all ages at our pond or on two miles along the Willow Creek. Off-ranch excursions to our private stretch of the Colorado River are available at an additional cost. Guests can sign up in the Outfitter's Cabin. All equipment is provided.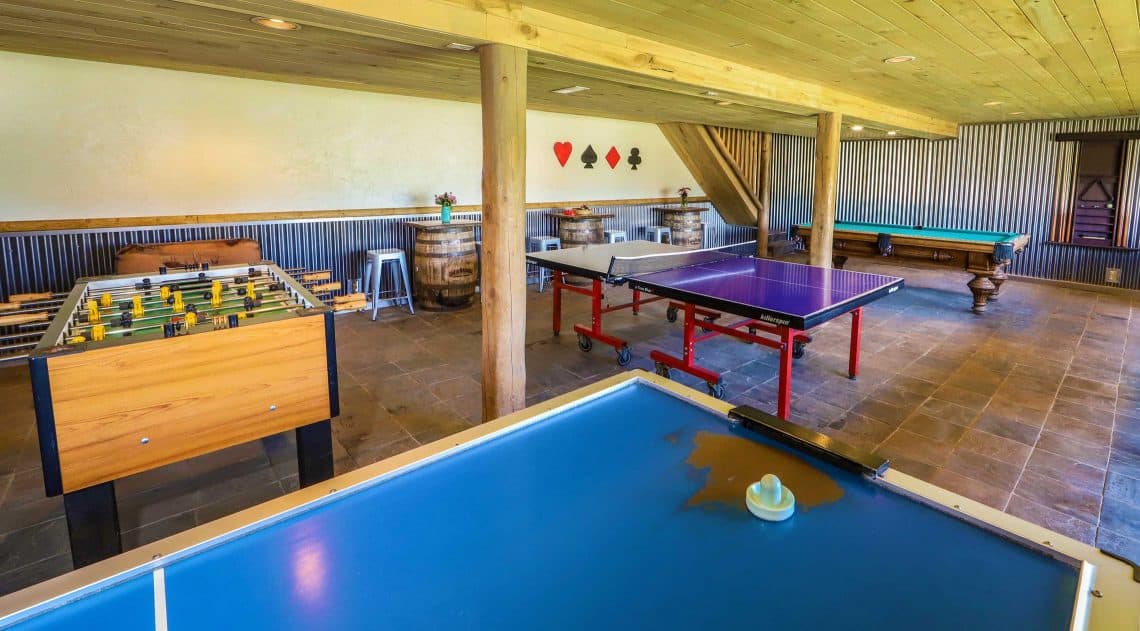 Game Room
The Game Room is located in the basement of the Patio House and offers pool, shuffleboard, air hockey, ping pong, and foosball.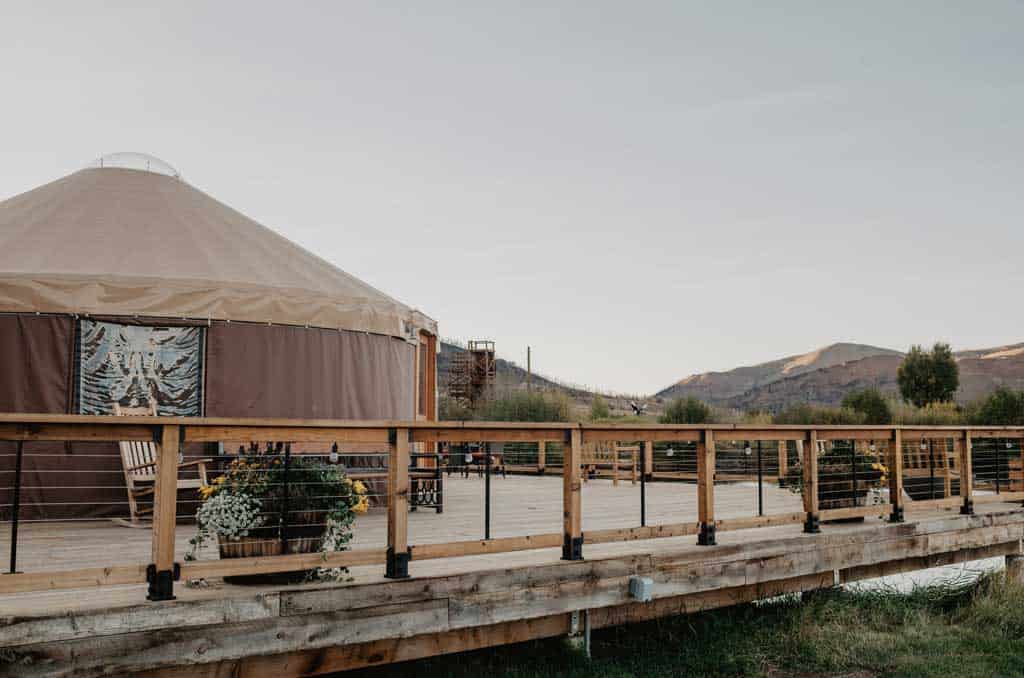 Games
Horseshoes and Volleyball – The horseshoe pit and volleyball court are located on the Patio House lawn and are always ready to play.
Basketball – The basketball court is located behind the tennis courts. Balls are located at the court or in the Activity Center Yurt.
Outdoor Shuffleboard – The shuffleboard court is located behind the tennis courts.
Card Room – The Card Room is located on the first floor of the Main Lodge. Cards and poker sets, as well as a TV, are available.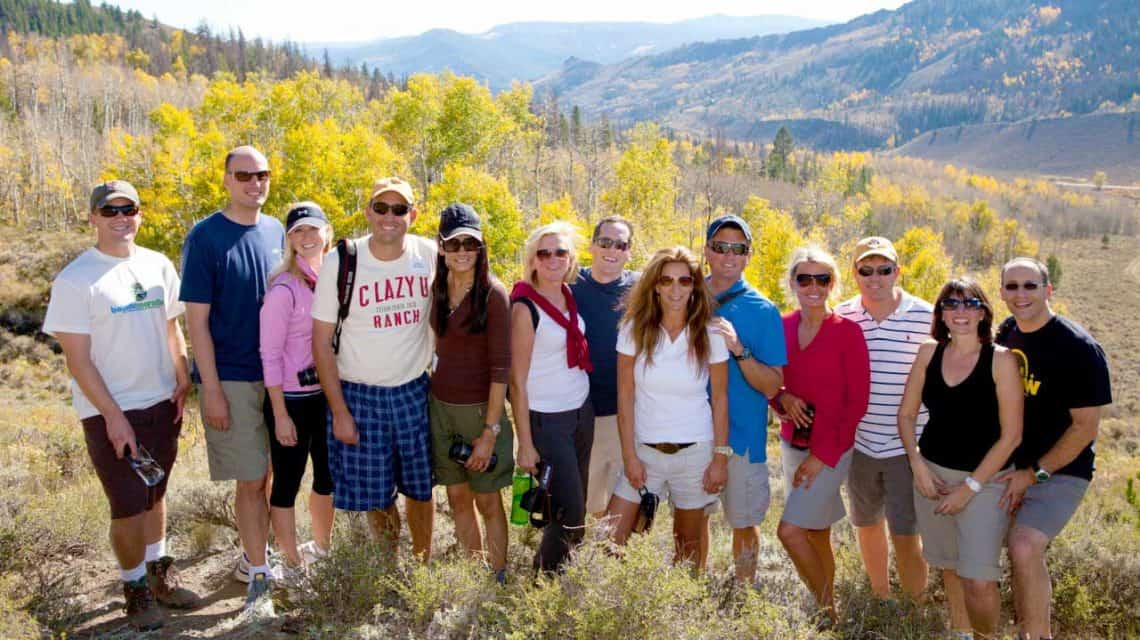 Guided Hiking
C Lazy U Ranch has an extensive trail system perfect for hiking. Guests are encouraged to sign up for a guided hike and a skilled ranch hand will guide you through the property on some of the best trails and scenic overlooks. During your hike you will learn about the Rocky Mountain landscape and wildflowers. The ranch can accommodate all skill levels within the 8,500 acres.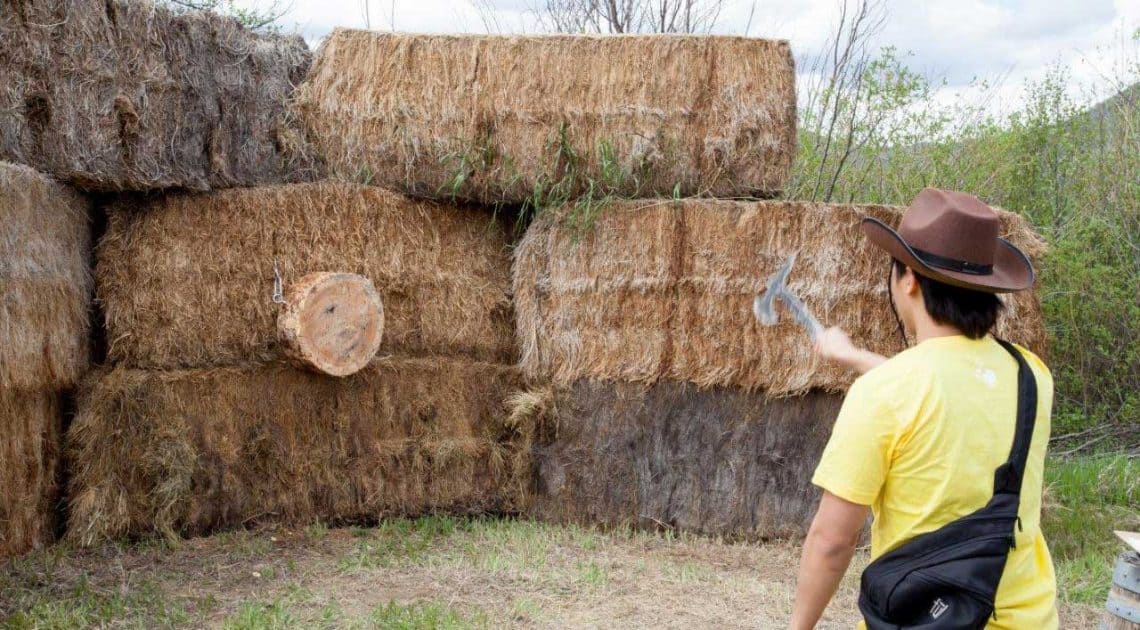 Hatchet Throwing
Hatchet throwing a fun activity that is offered at the ranch two times each day during the summer and is safe for ages 6 and up. The Director of Activities oversees this activity and ensures it is safe in a controlled environment, so channel your inner lumberjack and throw some hatchets!
Hatchet throwing is offered year-round and in the winter months you can enjoy this activity in the Ranch's heated indoor riding arena.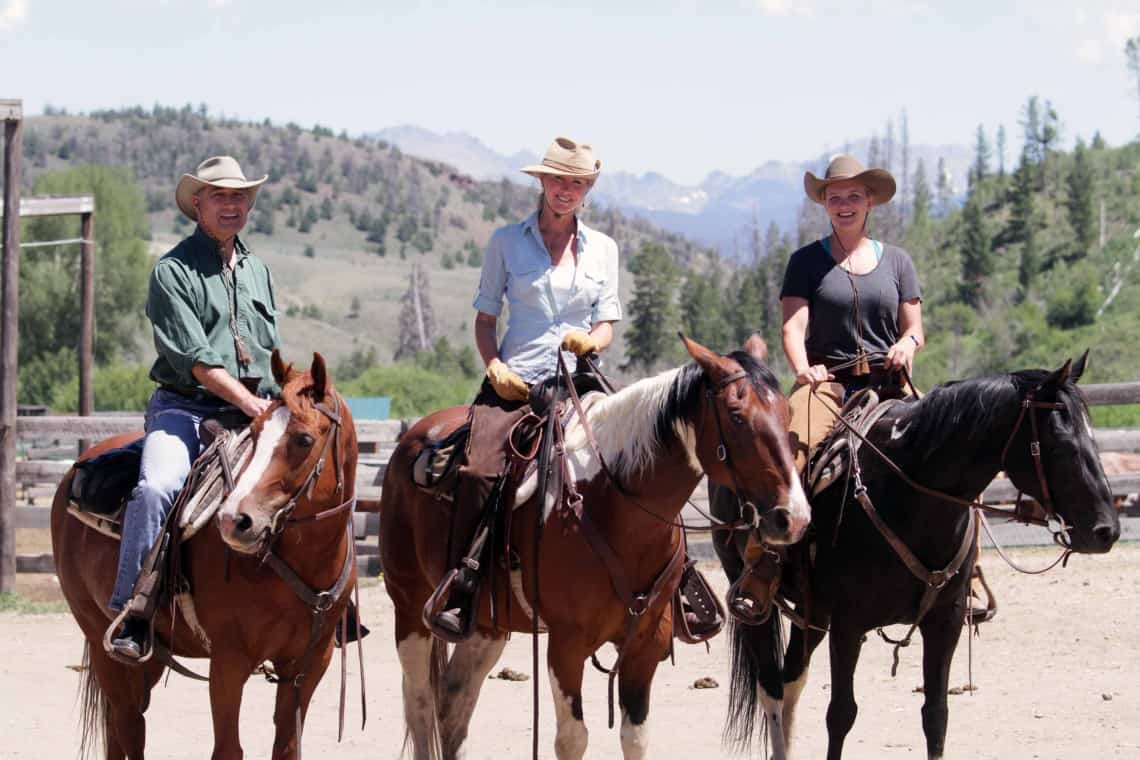 Horseback Riding
Horseback riding at the ranch is fun for all ages and abilities. The ranch has 200 horses and you'll be matched with the perfect horse for your entire stay, assigned specifically based on your experience and skill.
Beginner, intermediate, and expert rides leave twice daily. Riding education in a private arena, cattle work, and all day rides are available on certain days.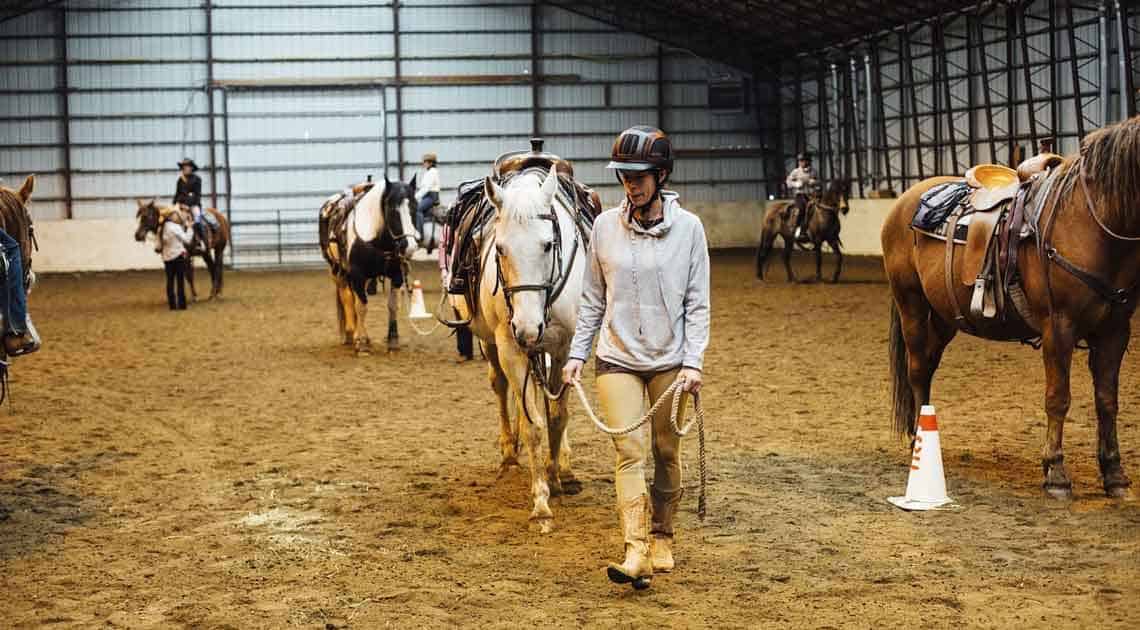 Horsemanship Clinic
The Horsemanship Clinic is a groundwork session in the indoor arena. The clinic provides basic groundwork instruction and allows riders to get more comfortable with their horses through a variety of leadership exercises. The clinic is available to adults only with a maximum of 6 people per session and it can be suited to any skill level.
This activity is available upon request and is not offered daily. Please check with the Outfitters Cabin to schedule a Horsemanship Clinic during your stay.
Lazy You Spa
The award-winning Lazy You Spa is located on the banks of Willow Creek in five heated tents, two of which are massage tents with glass floors suspended over the river. Listen to the gentle flow of the river and recuperate with one of our relaxing massages, a copper tub soak, scrub, or a facial. Winter services are in a different location with a cozy sitting room and crackling fire.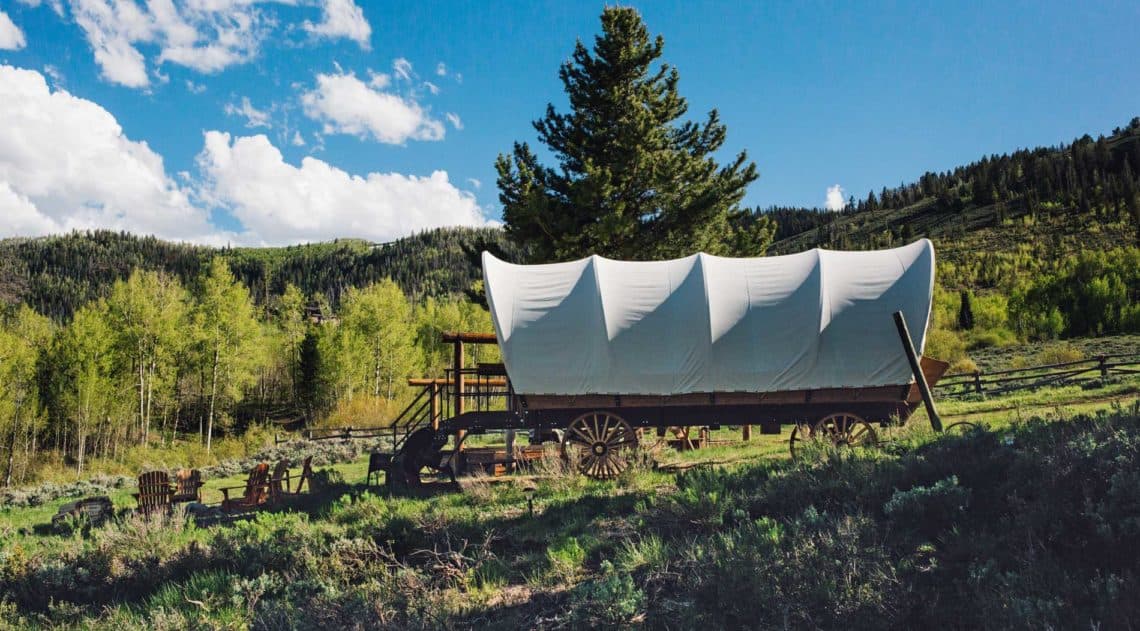 Luxury Camping in Colorado
Glamping, "glamorous camping" or "luxury camping," is a popular family experience at the ranch! Arrive at a scenic remote location to a roaring fire and a Conestoga Wagon outfitted with one king bed, twin-size bunk-bed and a table for two. Propane heaters, plush linens, electric lighting and a s'mores kit make this experience unforgettable. Sign up in the Outfitter's Cabin.
Mountain Biking
There are limitless mountain biking trails at C Lazy U. Guided tours take place daily in the early morning and evening May through October. Beginner, intermediate, and expert rides available. The ranch has a full fleet of bikes and provides helmets. Feel free to bring your own riding shoes and pedals.
Note: Mountain Biking is not available when horseback riding is taking place.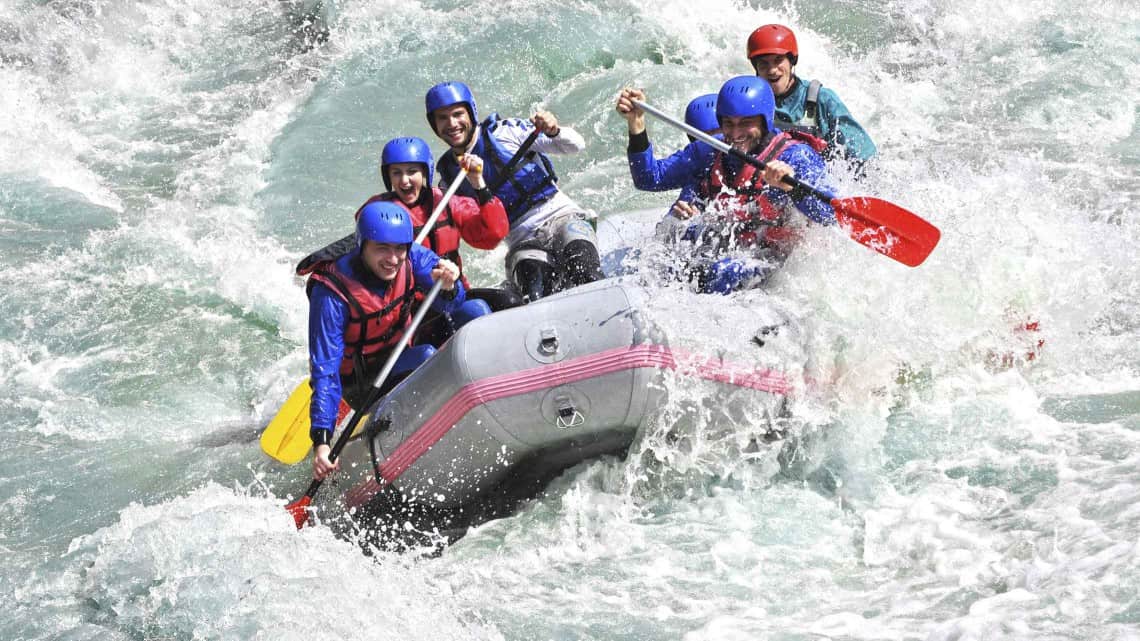 Off-Ranch Activities
From white water rafting on nearby rivers, golf at championship courses, hot air ballooning, local rodeos and exploring Rocky Mountain National Park, we can hook you up with off-ranch excursions like you've never done before!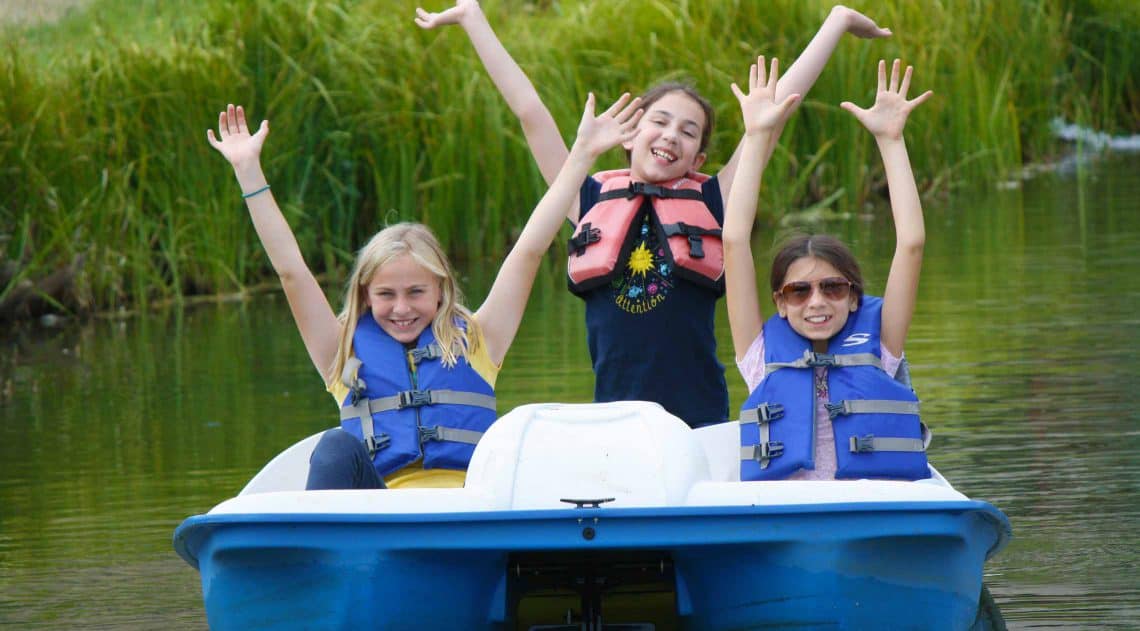 Paddleboating
The ranch offers complimentary use of paddle boats on the pond behind the patio house.  Life vests are required and there is no lifeguard on duty.  We do ask guests to be respectful of any anglers fly fishing on the pond. This activity is a favorite of the kids but is enjoyed by all ages.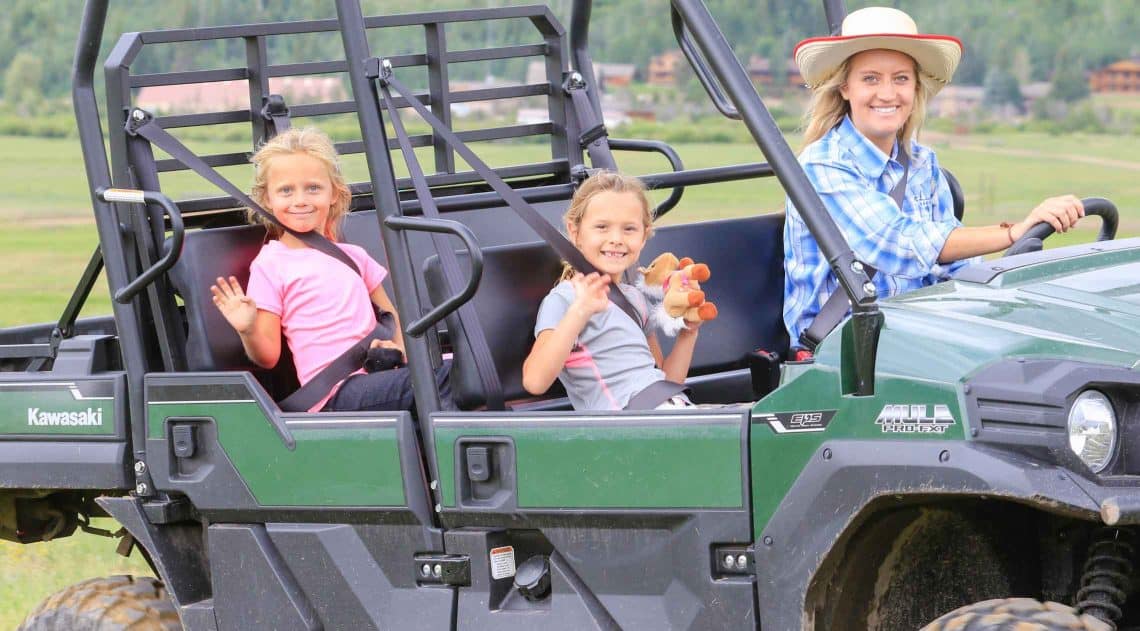 Ranger Tours
The ranch offers Ranger tours around the property to guests who want to see the property in an off-road vehicle. Travel to the highest peaks over the river and through the woods while taking in the breathtaking views. This activity is complimentary all guests.
*There may be an additional charge for this activity for groups – Please refer to your group contract for more detail if you are traveling with a group.
Ropes Course & Zip Line
Morning or afternoon sessions are facilitated daily by our certified instructors. The challenge course consists of a rock wall, vertical play pen, and leap of faith finished off by zipping over the river on our 375 foot zip line. Low ropes team building elements are also available.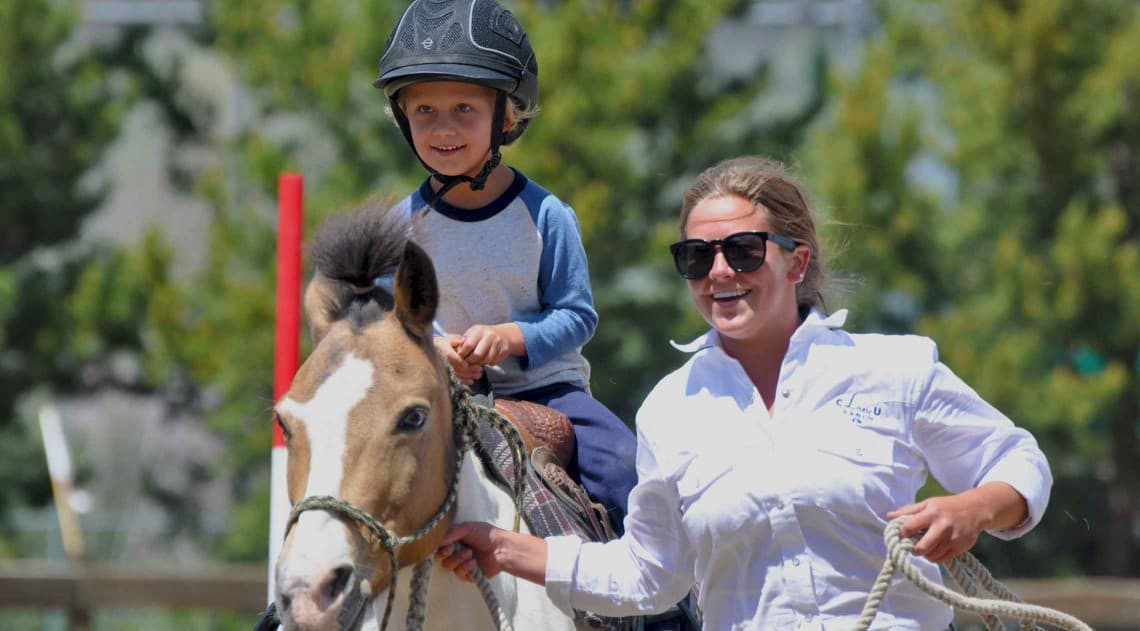 Shodeo
C Lazy U's family-friendly Shodeo takes place every Saturday during the summer season in our outdoor riding ring behind the Patio House. Kids show mom and dad all the skills they've learned throughout the week. Adults have a chance to compete in pole bending, barrel racing, key hole trials, or the Texas T. Sign up is during lunch on Saturday.
Shopping at Luis' Old Place
The Mercantile at Luis' Old Place is the ranch's general store. This unique store, located in an old donkey barn, houses items you may have forgotten to pack, as well as branded apparel or the perfect unique gift. Get the cowboy boots, hat and belt buckle you have always wanted. Open daily from 8am to 5pm. Additional shopping options in Grand Lake, Granby, or Winter Park.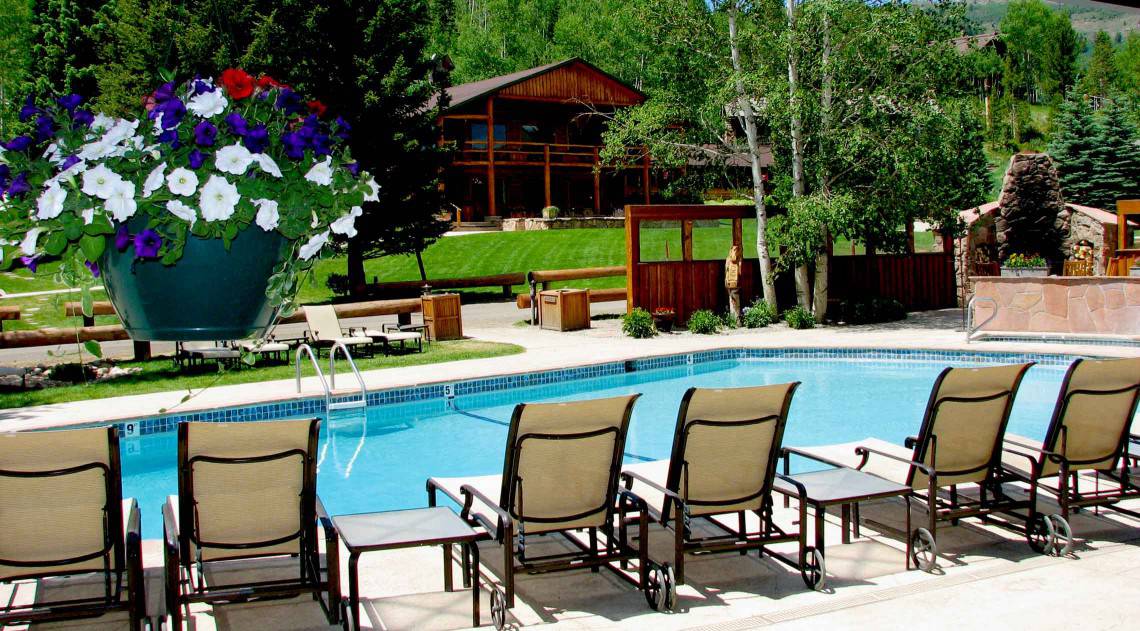 Swimming Pool & Hot Tub
Enjoy a refreshing swim in the spring-fed, heated pool which is open mid-May to mid-September. Great for both kids and adults for sunbathing, swimming laps, and playing around.
Enjoy two, family-friendly hot tubs located by the pool and Patio House. The hot tubs are open year-round and are perfect for relaxing those sore muscles after a day in the saddle.
There is no life guard on duty but there is an attendant on site. ADA lift available on-site.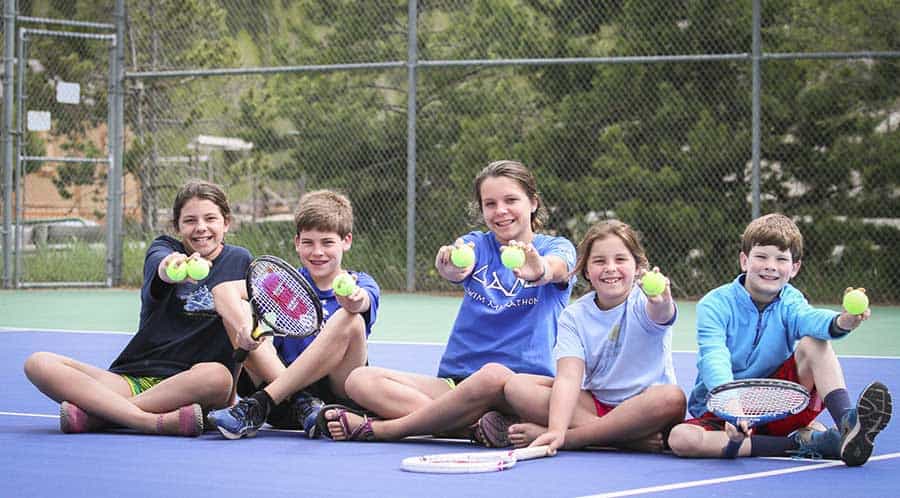 Tennis
The ranch has two Laykold tennis courts behind the Patio House along the river. All equipment is provided and the court can be reserved in the Outfitter's Cabin.
The Jingle
One of C Lazy U Ranch's most exciting events is the Daily Jingle.  The Jingle is when the horses go out to pasture in the afternoon and come back in the morning to get ready for the daily horseback rides. It is called the Jingle because in the past bells were tied on the mischievous horses who liked to hide from being rounded up by wranglers in the dark, early mornings. 
This event happens almost every day of the year and goes out and comes in from different directions on ranch depending on the selected pasture location.  You can expect to see this in the afternoon from 4-5pm and in the morning from 6:30am to 8:30am depending on the season (it's always earlier in the summer).  In the afternoons we ring the "jingle bell" to alert guests so they can come out to experience this unique spectacle.
Trap Shooting
Trap shooting is available twice daily, guests can sign-up in the Outfitter's Cabin. This activity requires an additional charge of $50.00 per person. A wide range of age appropriate firearms are available, including a .22, .410, and 12 gauge shot gun. Ranch personnel is extensively trained in gun safety and each guest is required to attend a safety briefing before shooting.
For the safety of our staff and guests, please leave your personal firearms at home. Thank you!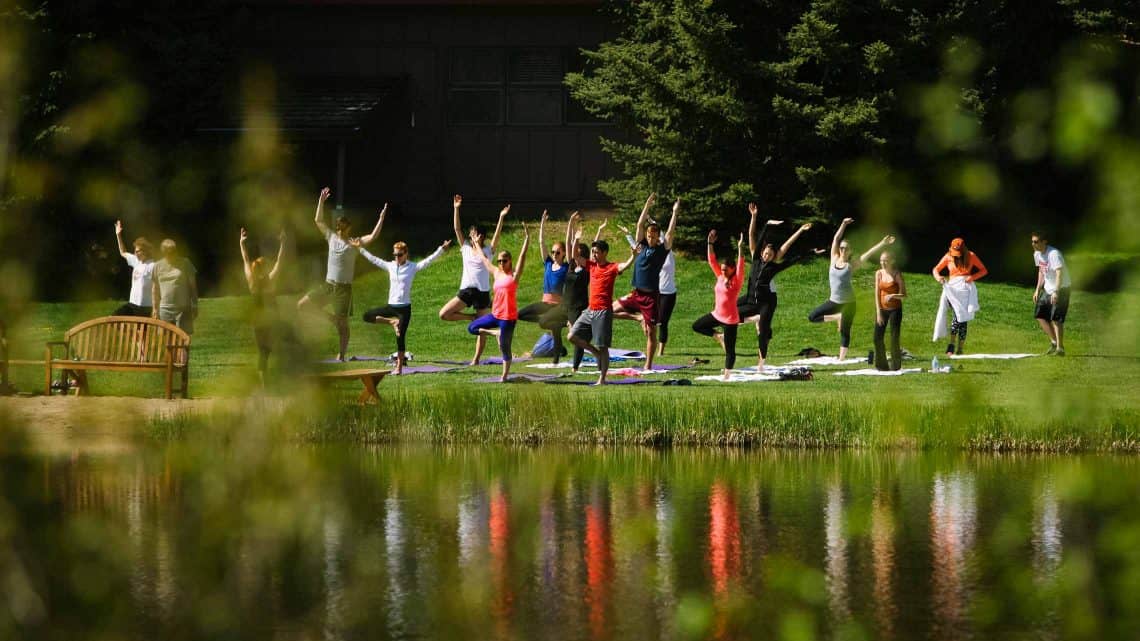 Yoga & Hike to Yoga
The ranch offers two yoga experiences:
Hike to Yoga
A 90 minute journey that begins with a brief "hike" to our viewpoint where we will do an hour hatha/vinyasa yoga class that is suitable for all levels. Rides can also be arranged up and back.
Lazy You Yoga
An hour beginner's level seated yoga class that mainly consists of basic stretching, breathing exercises, and meditation to reduce back pain and stress. The class is held on Latigo Room deck or in the wine cellar when it rains.
*There may be an additional charge for this activity for groups – Please refer to your group contract for more detail if you are traveling with a group.