Horseback riding is a highlight of C Lazy U Ranch, offering guests the chance to roam the countryside, polish their horsemanship skills and bond with a new friend.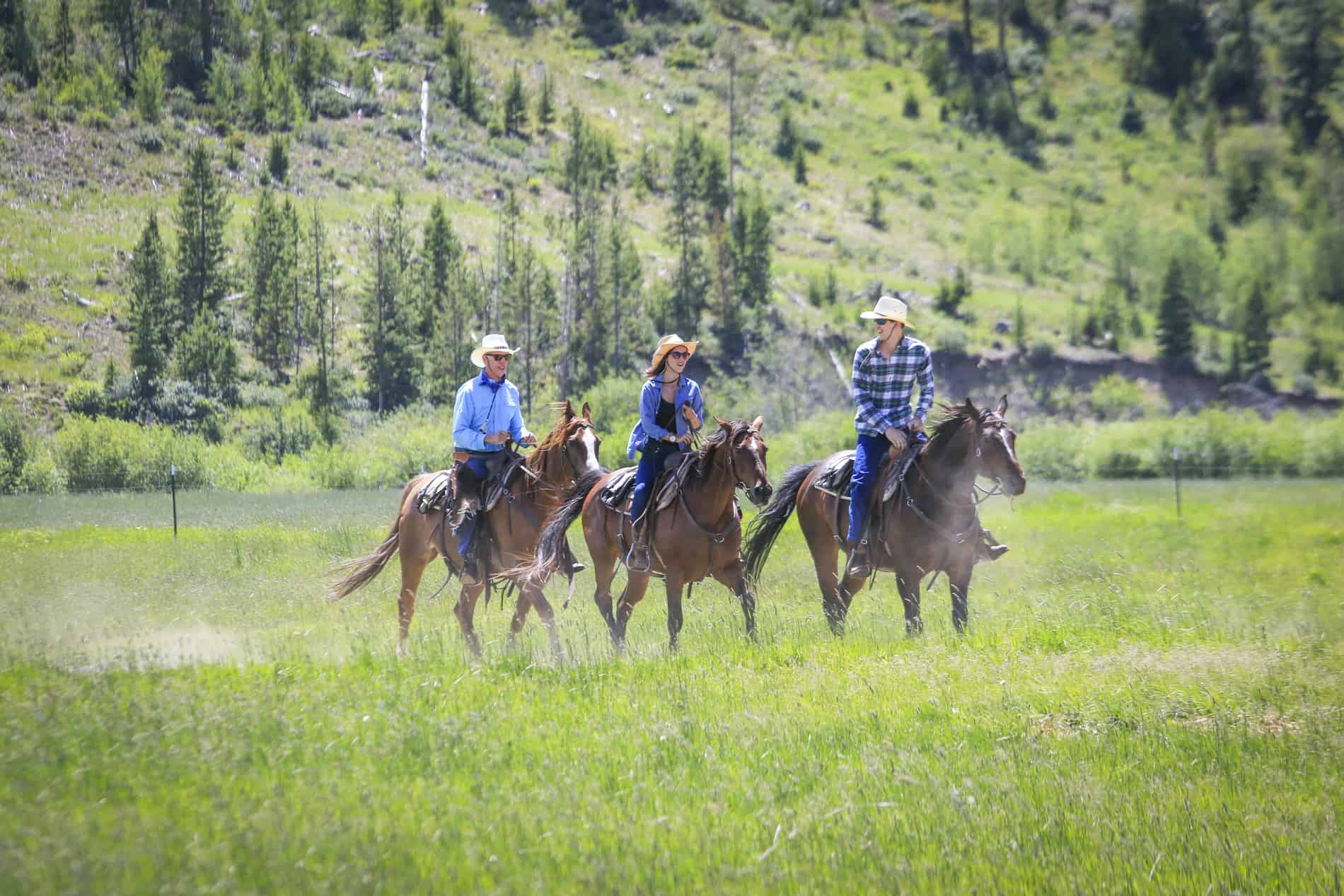 There are hundreds of dude ranches across the country, but only a select few put as much care into their horses and horseback riding programs as C Lazy U. Our unique dude ranch horse program is led by Head Wrangler Bill Fisher, whose 50-plus years of experience as a horseback rider and wrangler has helped him develop one of the best dude ranch horseback riding programs in the country.
The CLU Horse Program
C Lazy U Ranch has a herd of about 200 horses, each of them athletic, sound and ready for a rigorous ranch life. Our dude ranch horses are extensively trained by our wranglers before they are available to guests, getting used to riding on the trail and learning tons of impressive skills.
Horses are trained and evaluated for all types of riders: advanced riders, beginners, kids and more. But we don't treat our horses like staff or just part of the ranch — they're our family members, and it's because we're so hands-on with our horses that they are so ready for new riders.
A Handpicked Horse
If you're a new guest at the ranch, you will first be personally interviewed by Bill so he can learn specifically about you and your individual riding ability. With this information, he'll match you with a horse that is a perfect complement to both your experience level and personality.
Riding the Real Trails
Some horseback riders avoid visiting dude ranches because they expect only to hop on an unkempt horse and ride in a round pen or go on nose-to-tail trail rides — but at C Lazy U, guests ride around the Rockies with a healthy horse that becomes their partner.
Guests can go on up to two trail rides per day through our 8,500 acres of Rocky Mountain terrain. They're hourlong outings, where you can explore the natural environment, look out for Colorado wildlife and practice your horseback riding skills. Adults typically ride separately from children throughout the week, except for one day where a family ride is held to bring everyone together.
Because we're a real working ranch, we also offer cattle pushing clinics to let guests feel (and perhaps even become) real ranchers.
Note about cattle pushing availability: The ranch plans to bring back this activity in the future as soon as fire-damaged pastures recover and are producing vital nutritional growth.
Show Off Your Horsemanship Skills
Horseback riders of all levels are welcome at C Lazy U. We offer private or group horsemanship clinics, including natural horsemanship, to help each and every rider learn something new. At the end of their stay — if they have visited during the summer — both the adults and the kids can show off their new horsemanship skills during the Shodeo, a Saturday event that's often another highlight of their time at the ranch.
Even the most seasoned, adventurous riders are impressed by C Lazy U's horseback riding program. With untouched nature, extensively trained horses and expert wranglers, our dude ranch isn't just a horseback riding vacation — it's an adventure.