Horseback riding at C Lazy U is above and beyond anything you can imagine. The C Lazy U Ranch has had great success, partly due to the amazing horse program we have cultivated over the years. We don't just have "dude horses"; we have a herd of horses that are all trained with natural horsemanship.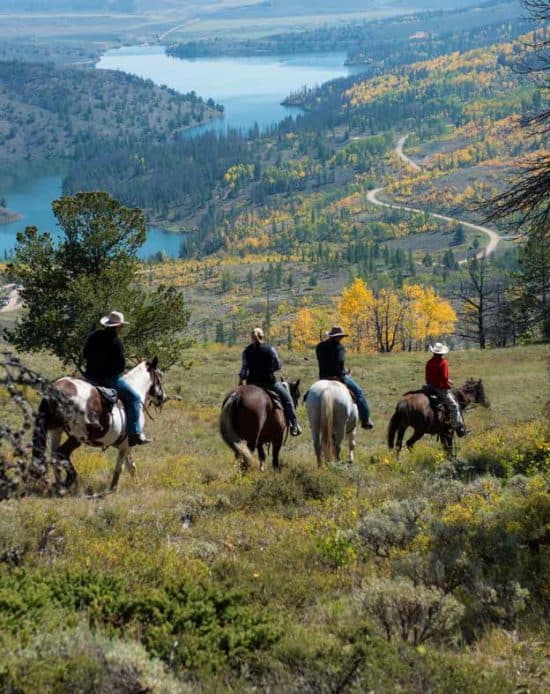 Our Horses' Life on the Ranch
At C Lazy U, we ask a lot of our horses. They have to be athletic and sound, and they may be required to go on two trail rides a day, which is no small task in the mountains.
But before they're ready for guests, our horses are all put through training that consists of ground work, round pen work, desensitizing exercises, arena work, and trail work. They are then given to wranglers, who trail ride them and get them further exposed to the trails, wildlife, and natural elements. Many of our horses know their leads, how to side pass, how to turn on their haunches and forehands, how to open and close gates, and many other wonderful skills.
In our herd of 200 horses, we have advanced horses, beginner horses, kid-friendly horses, and everything in between. The horses are accustomed to riders of all levels and are perfectly matched to your riding abilities. If you are a rider who is already comfortable on a horse, we have some of the best loping terrain in Colorado. Guests who are interested in natural horsemanship can partake in C Lazy U's free horsemanship clinics, in addition to daily trail rides as part of their stay.
Horseback Riding on the Ranch: The Experience
Many dude ranches and other trail riding operations have a stigma among some "riders" that you will only be able to go on a nose-to-tail walk ride. While this is great for the beginner rider, advanced riders often want a little challenge.
One of our previous guests has described the experience of horseback riding at C Lazy U Ranch:
As a hunter jumper rider from the East Coast, going on a dude ranch vacation was not on the top of my list. I could never have imagined what the riding would be like. I expected dirty horses, dirty tack, dull horses, and a riding experience that was similar to a daily trail riding operation. From day one as a guest at C Lazy U, I was completely blown away. The horses were well taken care of — all fat and shiny. My tack was clean and the horses I rode were soft, supple and responsive. The trails and terrain were incredible. I had more fun riding than I could have ever imagined!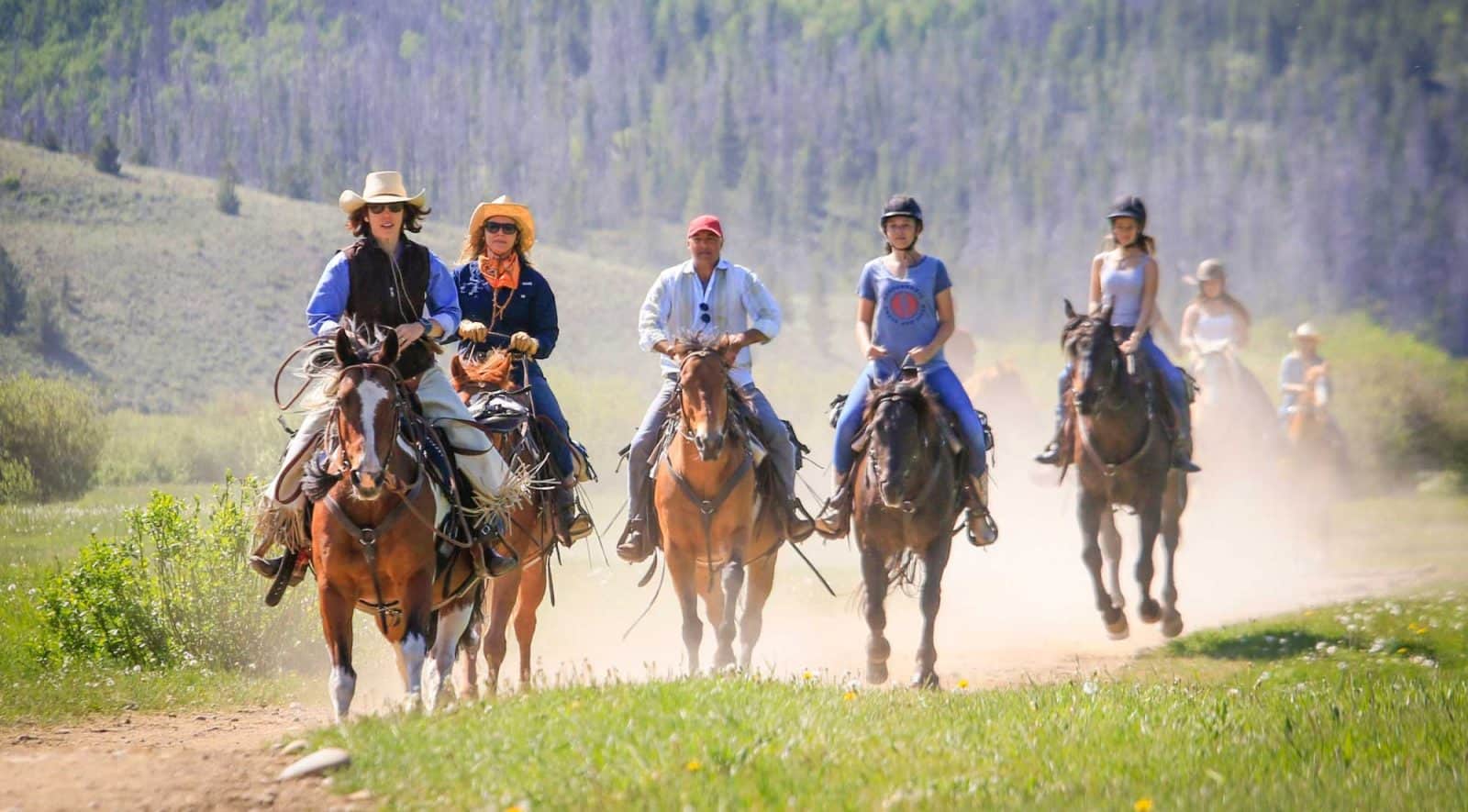 Our Horses: Ranch Retirement
Several times a year, C Lazy U must evaluate our horse herd to determine if all the horses are still a good fit for our riding program. Typically, we have several horses each year that we must retire due to age or health issues — but we also have some horses that no longer want to be guest horses and would do better with a one-person home.
It is not uncommon in the ranching world to send horses to an auction, where they may be sold to a new owner. Unfortunately, among the bidders at some auctions are buyers who have ill intentions for horses. These buyers often transport auctioned horses across the border to Mexico or Canada where horse slaughter is legal. After they are bought by these types of buyers, the horses are packed into trailers with no regard for their health, safety, or well-being; some may even get severely injured in the journey.
Even though there are honest bidders at auction, C Lazy U could not guarantee that our horses wouldn't end up with buyers with ill intentions. To ensure that our beloved horses go to good homes after they retire, C Lazy U Ranch had to think outside the box to find an alternative solution to sending our horses to an auction.
Drifter's Hearts of Hope Horse Rescue
C Lazy U Ranch has partnered with Drifters Hearts of Hope Horse Rescue in Franktown, Colorado. Drifters Hearts of Hope (DHOH) is a 501c3 nonprofit organization committed to rescuing horses and working with special needs children. Horses that we believe are healthy enough for a second home are taken to DHOH, where they are evaluated and adopted out to their new home.
C Lazy U Ranch's partnership with Drifters Hearts of Hope has been a huge success, partly because of the quality of C Lazy U horses — their extensive training and experience allows DHOH to adopt C Lazy U horses out quickly. In return, the rescue receives a donation toward their cause for each horse, making it a win for both C Lazy U and DHOH.
Colorado Horse Rescue
In addition to DHOH, C Lazy U Ranch continues to partner with The Colorado Horse Rescue, a 501c3 nonprofit organization. C Lazy U will donate net proceeds from the sale of the Petey and Wolf book to this wonderful organization, which is dedicated to saving disadvantaged horses, returning them to better health and finding second homes.
If you are interested in learning more about our horses at C Lazy U Ranch, our rehoming efforts, or anything about our equine operations, please reach out to Ami Cullen, Director of Operations (aspecktor@clazyu.com), and she will be more than happy to answer any questions you may have.