Gourmet Dining at C Lazy U
Expect to work up a hearty appetite in the fresh mountain air with so much to do at the ranch. Meals at our all-inclusive dude ranch are a justified reward for an adventurous day. All meals are served family-style so guests can get acquainted and share stories with other guests, often creating enduring friendships for many years to come. The dining room is rustically elegant and the meals are an exceptional way to help complete your Colorado ranch vacation.
The resident Ranch Executive Chef prepares a diverse daily menu of longtime favorites and delicious regional specialties including aged Western beef, Rocky Mountain trout, and rosemary rack of lamb all rounded off with mouth-watering, decadent desserts.
Breakfast: Open made-to-order menu.
Lunch: Daily made-to-order specialties served outdoors poolside at the Patio House kitchen in the warmer months and in the main lodge in the cooler seasons.
Dinner: A more formal dining experience in the main lodge. A four-course meal beginning with passed appetizers, soup or salad, followed by two main entrées and dessert. Nightly selections are chosen by the chef and change daily.
The ranch caters to all dietary restrictions or requests and the chef will prepare special plates as needed.
After dinner guests enjoy drinks by the fire along with nightly entertainment, the perfect opportunity to swap stories, share a laugh, meet new friends and get reacquainted with old ones.
Family Dining
We arrange the meals to help balance time for adults and kids alike during the family seasons at the ranch. Families share breakfast together daily, then kids enjoy the company of their peers and counselors at lunch and dinner. Children love the freedom of this program and it allows them to meet others their age, have fun, play games, and engage in wholesome activities while adults enjoy fine food and wine in our formal dining room.
The best part is that every night after dinner the children and adults meet up for the evening activity where they can share their stories and have ice cream at the Patio House as a perfect complement to their Colorado family vacation. Our returning families who have experienced this first-hand love this program. At C Lazy U dude ranch, family time is important to us, so we make sure to arrange plenty of activities to ensure your family has plenty of quality time together throughout the week.
Family seasons at the ranch are Presidents' Weekend, Memorial Day Weekend, June, July and August, Labor Day Weekend, Christmas and New Year's. The rest of the year children and parents eat all meals together.
Woodsie Cookout Breakfast
Guests get to experience Woodsie Breakfast on Friday mornings June through August. A traditional cookout breakfast is prepared with fresh house-made donuts, local trout, eggs, bacon, sausage, seasonal fruit, and our famous pancakes on the outdoor griddle. All served by a roaring fire with "Cowboy Coffee." Enjoy the majestic views of the Indian Peaks mountain range overlooking the enchanting Willow Creek Reservoir at this spectacular overlook.
The Bar at C Lazy U Guest Ranch
Fine Wines and Alcohol Selection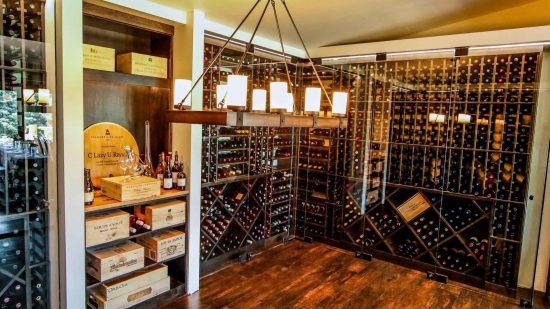 At the C Lazy U guest ranch in Colorado, we present a wide variety of local and international selection of spirits, beer, and wine. Our goal is to satisfy the needs of every guest by offering personalized beverages during your stay. Please note: alcohol is not included in the base package rate. Below is a brief overview of beverage options for your special occasion and vacation.
Wine Service
C Lazy U's in-house sommelier prides herself on bringing some of the finest wines in the world to our corner of the Colorado Rocky Mountains. From some of the largest vineyards in the country to much smaller and more specific local vineyards, she works with a vast array of purveyors to provide a selection that is sure to satisfy the most discerning palate. This enables the ranch to locate your personal selections and provide you with as many options as possible.
Craft, International, and Domestic Beer Selections
The beer selection at the ranch is made up of some of the finest hand crafted, local brews that Colorado has to offer. We also provide some much more familiar domestic and international beer options.

Meet the Chef
Cory Untch joined the C Lazy U Ranch in 2020 with an impressive resume that includes an extensive culinary history at many five-star hotels. Cory has an innovative approach that celebrates farm-to-table offerings and the foods of the Great American West. He likes to put unique twists on recognized favorite staples and he strives to involve all your senses in the culinary experience. Cory believes in working closely with the front-of-house to ensure a fabulous dining experience that supports his culinary creations.