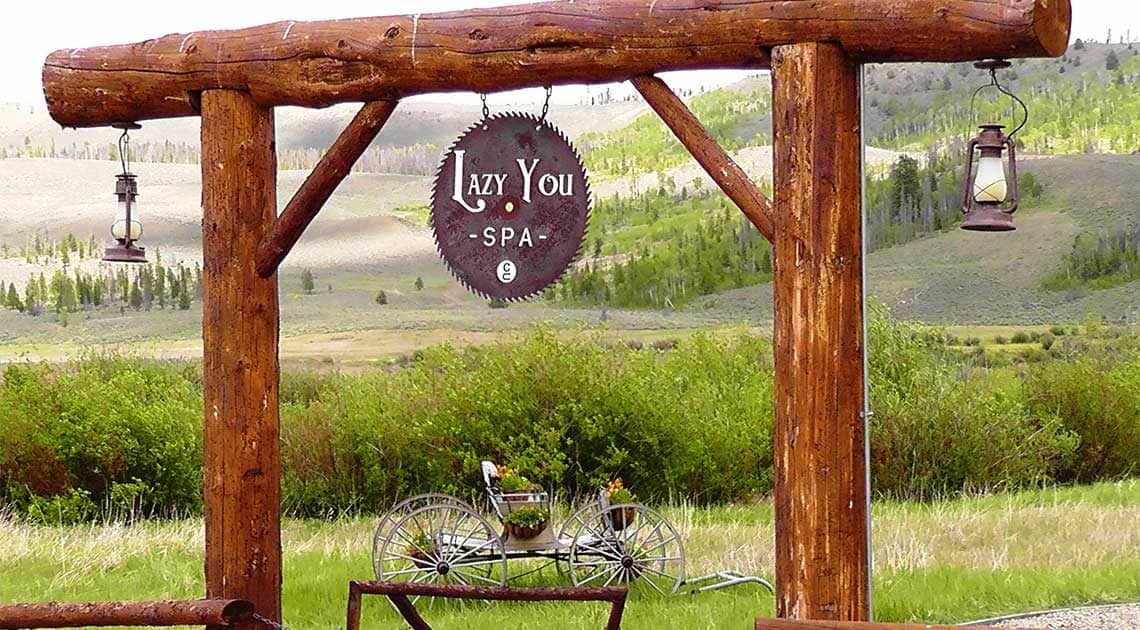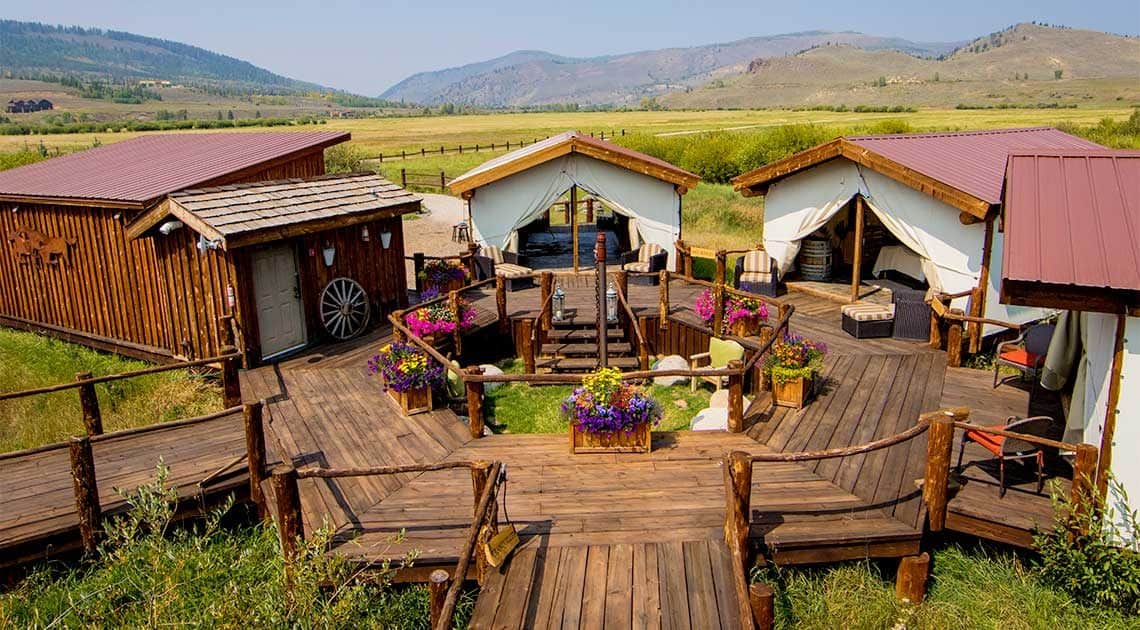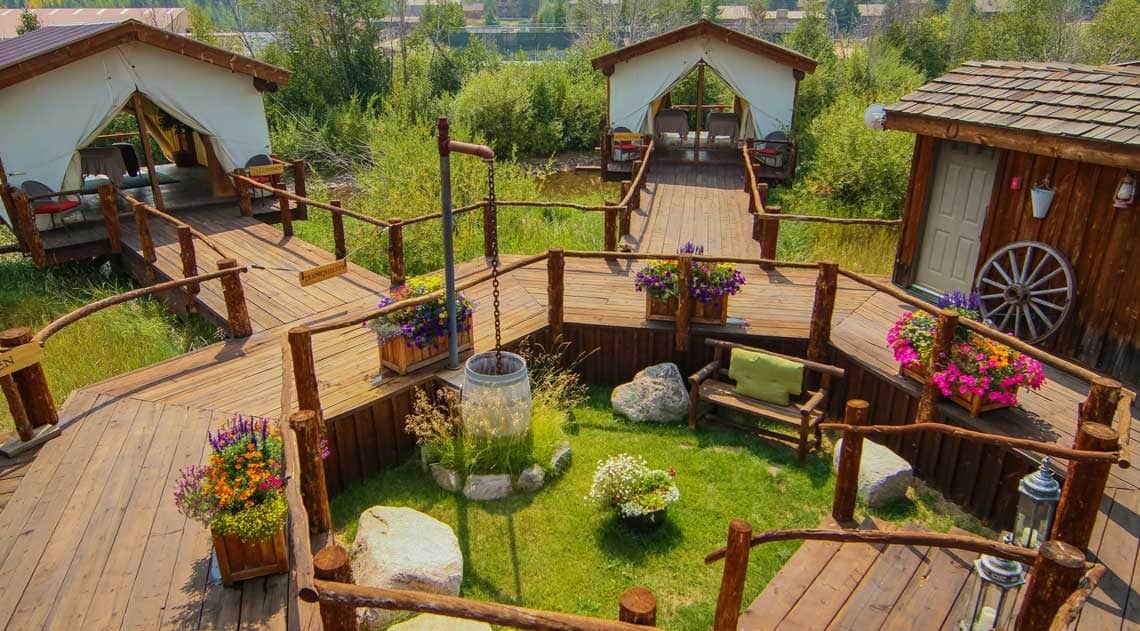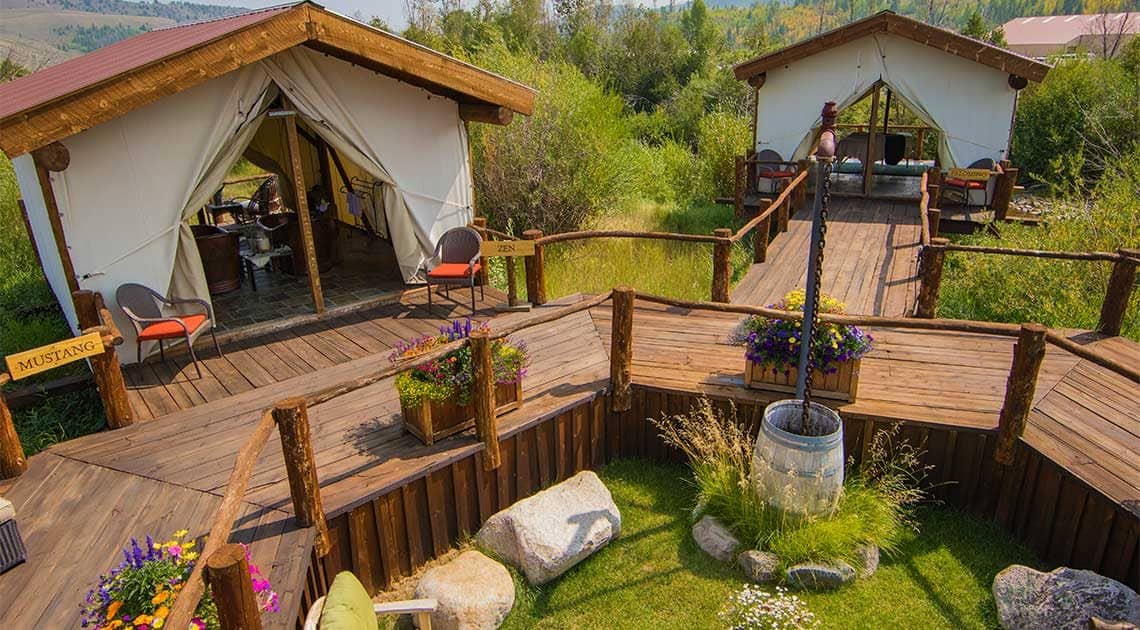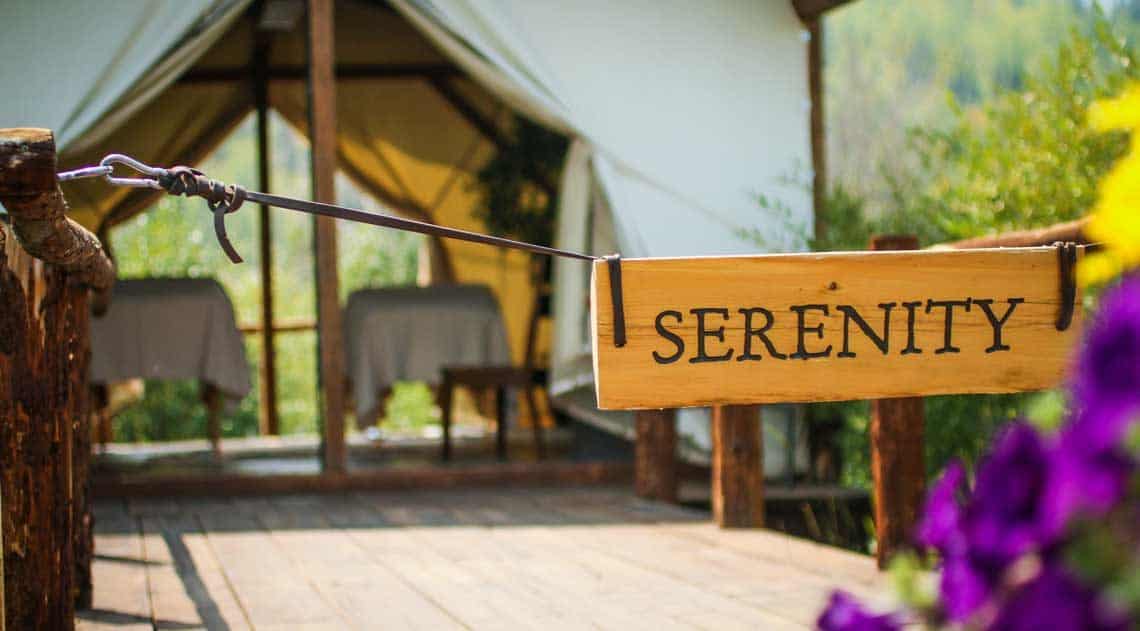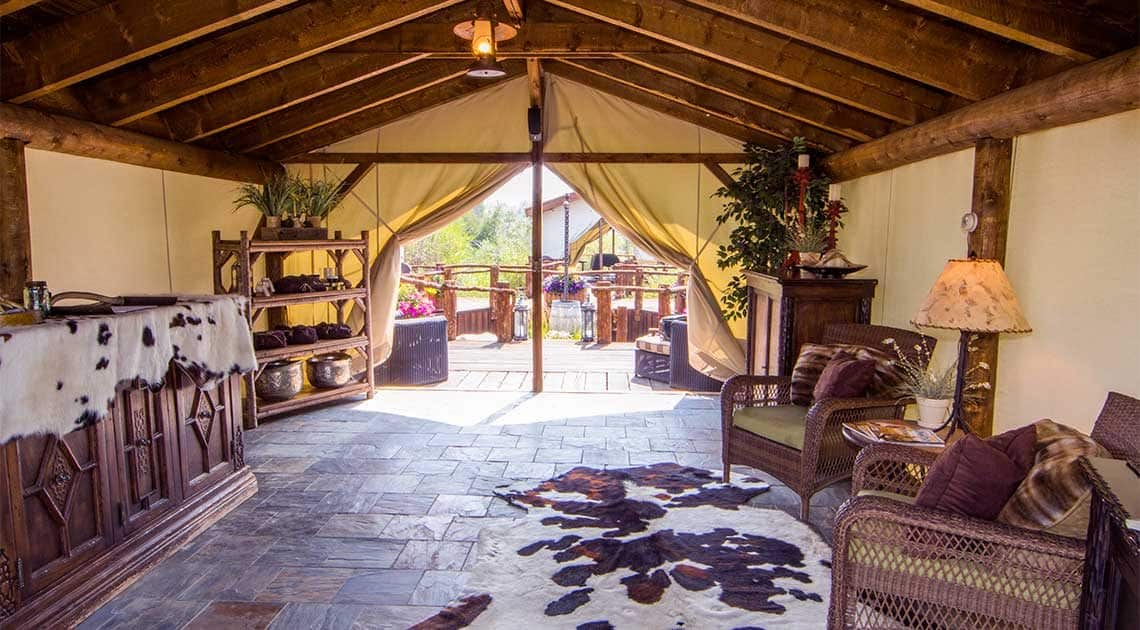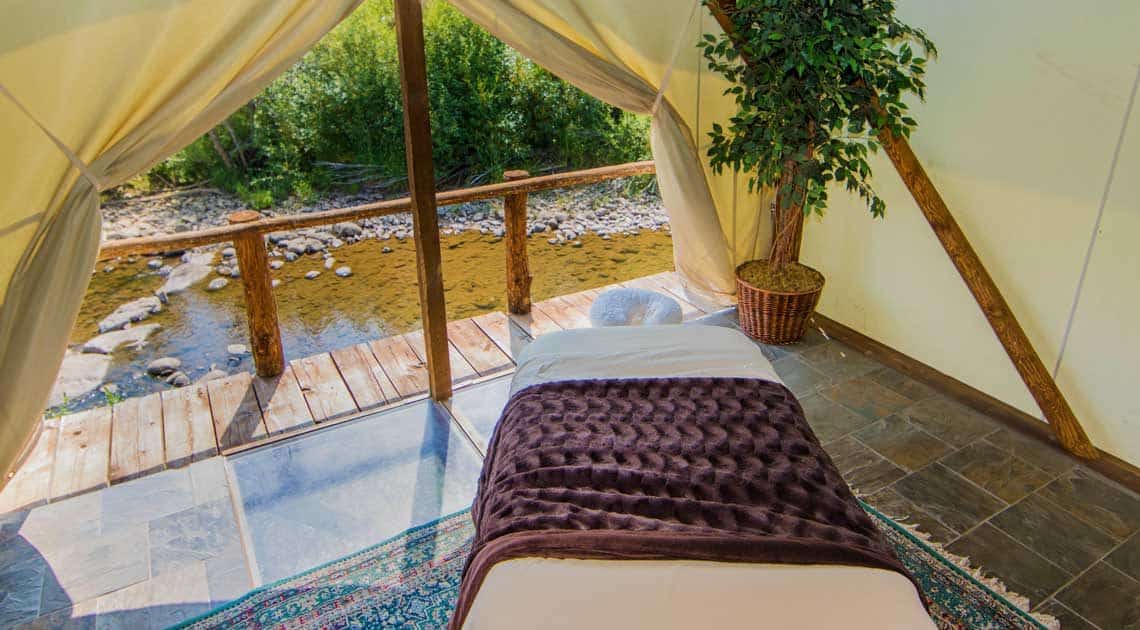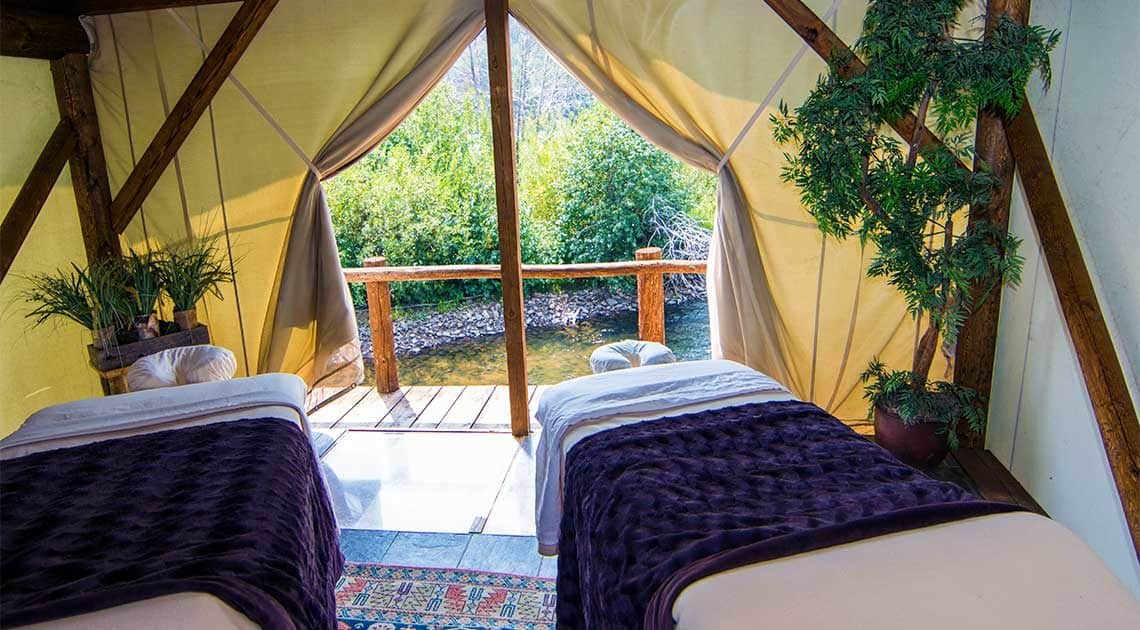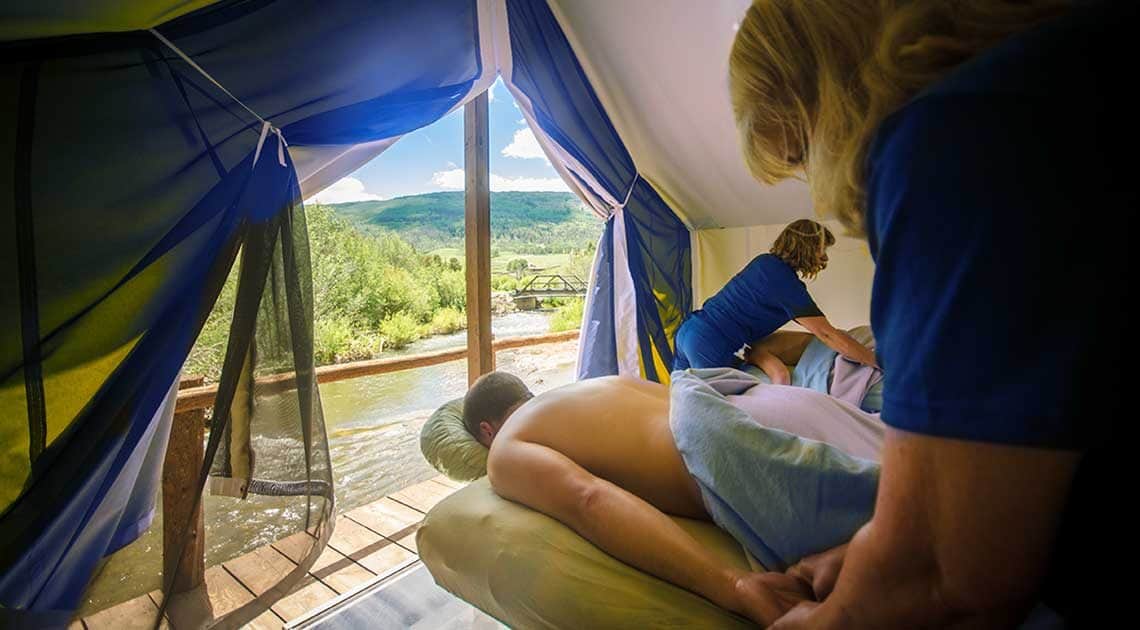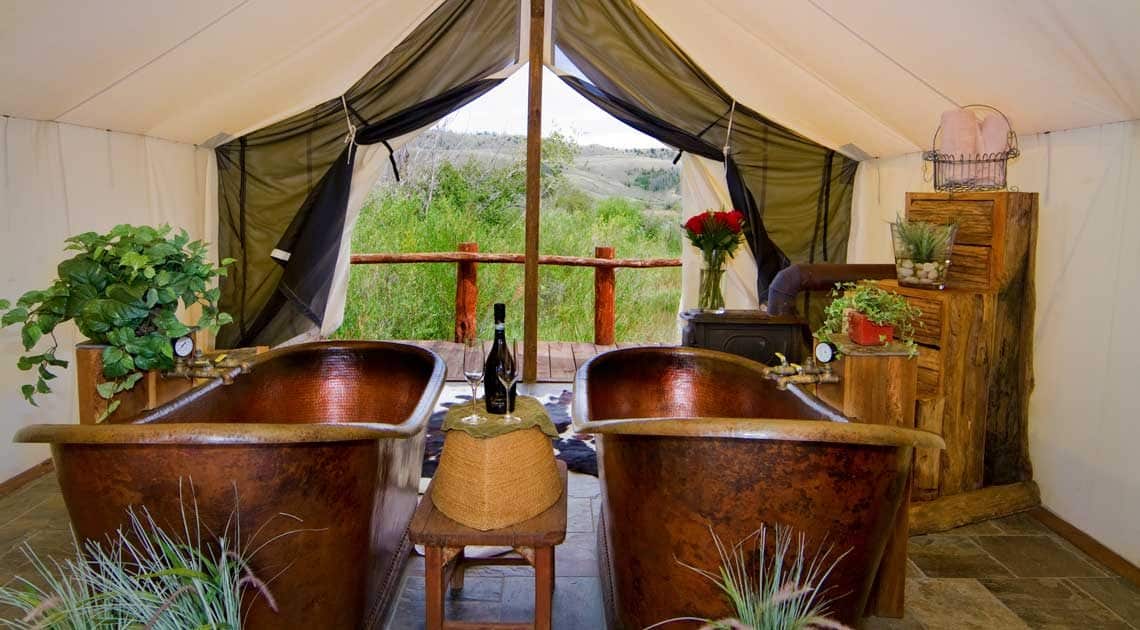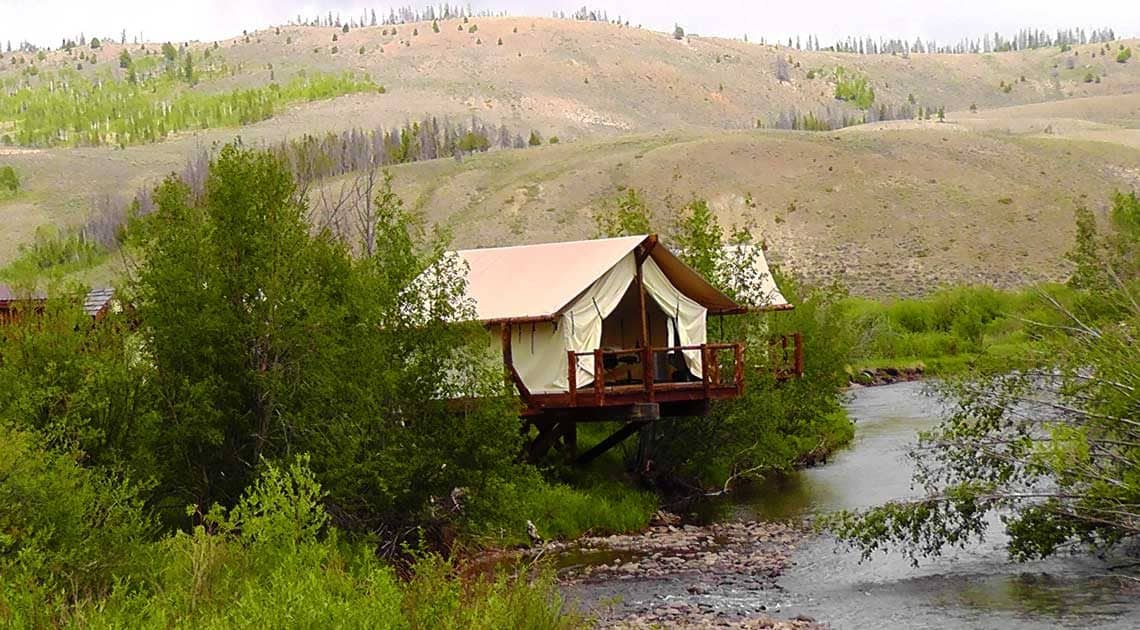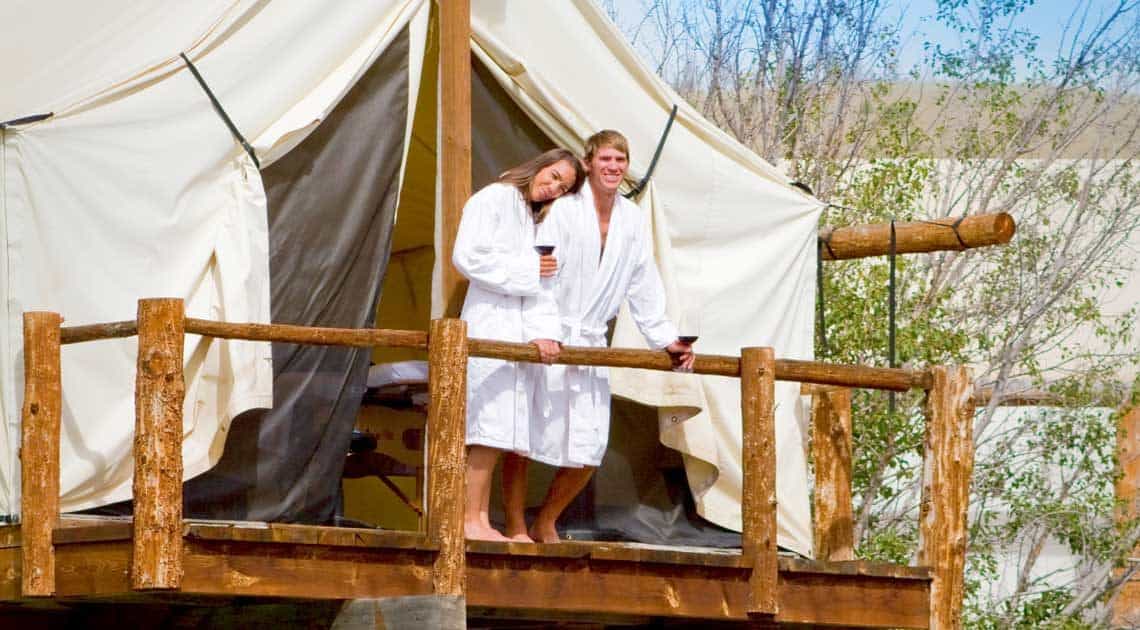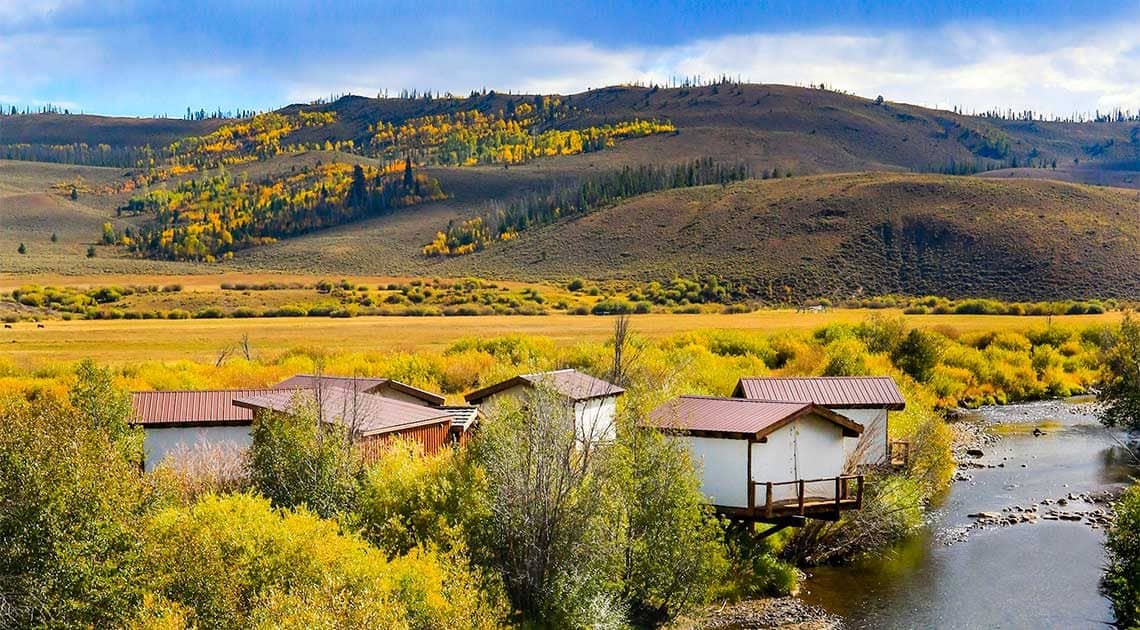 Let the pampering begin! Treat yourself and your loved ones during your stay in our top-rated "Lazy You Spa" that sits along Willow Creek.
Step out of your stirrups and into the full-service Lazy You Spa, located on the banks of Willow Creek. Six luxurious tents comprise one of Colorado's most unique spas, giving you an unparalleled resort experience. Two of the massage tents are suspended over the river and have glass floors, so you can look into the river below during a relaxing massage.
Enjoy traditional spa treatments such as massages, facials, manicures/pedicures, or indulge in one of our signature treatments like the "Cowboy Soak," a relaxing moonlit soak in therapeutic copper tubs overlooking the spectacular Continental Divide mountain range (complete with champagne and strawberries!).
C Lazy U offers a spa and wellness retreat unlike any other – after all, we're a luxury dude ranch with a spa. Spa services can be booked prior to your arrival or on-ranch with our concierge in the Outfitter's Cabin.
---
Meet the Therapists
Mazie Netherwood
Mazie graduated from the Denver School of Massage Therapy in 2010. She has studied many modalities during her 8 year career, including – but not limited to – Reflexology, Trigger Point Therapy, Sports Massage, Hot Stone Massage, Raindrop Technique and Phenomenal Touch Massage. When Mazie is not helping her clients relax and relieve aches and pains she enjoys spending time with her husband and dog, doing things like hiking and sailing.
---
Nathana Janca
Nathana has been providing massage, facials and yoga at C Lazy U Ranch since 2013. Trained around the world in a variety of modalities, she encompasses these techniques in her bodywork. A firm believer in the inseparable connection of body and mind, Nathana is a proponent of massage for relieving physical as well as emotional stress.
---
Monica Olsen
As a dedicated yoga practitioner and yoga teacher Monica has followed the path of healing for several years. Yoga led her to study Ayurveda, energy work and then led her back to India to study Traditional Ayurvedic Yoga Massage and in 2019 she attended Denver Integrative Massage School with studies in both Western and Thai massage. As a therapist, Monica concentrates on creating a safe and sacred space where healing can occur physically and emotionally. She gravitates towards therapeutic massage incorporating techniques from various modalities to suit the needs of each individual. Monica is trained in Raindrop and Signature massages at C Lazy U.
---
Jake Beck
Jake studied mostly Asian forms of bodywork and has a hybrid massage style that combines Western and Eastern forms. Jake also uses Tui Na, a Chinese style that incorporates vibrational, rocking and shaking techniques. Jake is trained in all signature massage as well.
---
Anastasia Cesnik
Anastasia is a Minnesota native that moved to Colorado in 2015. She attended the Minnesota School of Business and received her Associates degree in Applied Sciences with and emphasis is Massage Therapy. She specializes in Prenatal, Deep Tissue, Integrative, as well as Aromatherapy. You will find a blend of her training in each massage you receive from her tailored to your specific needs. Wether that's an acute injury or emotional and physical stress she is ready to help.
---
Mackenzie Foote
Mackenzie received her Associate's of Occupational Sciences from The Colorado School of Healing Arts, in 2015, where she graduated with dual mastery in oncology medical massage and reflexology. She completed her End of Life Doula certification in 2018 and volunteers with NWCH, providing support to local families. Her mode of work and life is slow-paced mindful attunement, the intentional allowing of internal spaces to resonate with one another.
---
SPECIAL NOTES
We encourage you to arrive early and enjoy the spa's serenity (at least 10-15 minutes). Should you arrive late, your service will be modified to complete on schedule and honor the next appointment. Spa appointments must be canceled at least 24 hrs. in advance otherwise you will be responsible for full payment of the cancelled service. Prices are subject to change. A 20% gratuity is added to every service.