Take in the sweeping snowy scenery and explore the splendor of the ranch on a winter horseback riding vacation — the best way to truly appreciate Colorado.
Our winter horseback riding vacation at C Lazy U Ranch can be enjoyed indoors and outdoors: overnight guests of the Colorado luxury resort can ride inside the heated indoor arena for a cozy cowboy experience, while those who want to enjoy the winter wildlife can meander miles of winding back-country trails.
Outdoor Winter Horseback Riding
Guests of the ranch partake in up to two trail rides per day, each lasting about an hour to an hour and a half, on our specially selected winter trails. Winter rides are typically walk-only rides.
Mount up on one of our 180 horses — all equipped with special cleated shoes to prevent slipping — to take in the awe-inspiring vistas of the Colorado Rockies on a clear winter day or during a gentle snowfall. The trails, which have been packed down for safety, are peacefully quiet in the wintertime, and you'll see some of the most breathtaking sights in the world. Not only does the snow create some amazing sculptures along the rocky terrain, but you'll also see parts of the woods that are hidden during other seasons.
The wildlife is one of the best sights of all: animals often hide from humans, especially when traipsing around on snowshoes, but the horses' scent makes them less shy. You may see majestic herds of elk making their way down the snow-white mountains, a bright red fox foraging for food, or, if you're lucky, a rare bald eagle soaring through the Colorado sky.
As far as the winter temperature goes, luckily, it doesn't often get too cold to ride in the Colorado mountains and the horses and your own winter gear help keep you warm while riding. But when it is too cold to ride, guests of C Lazy U can still get their fill of horseback riding in our indoor arena.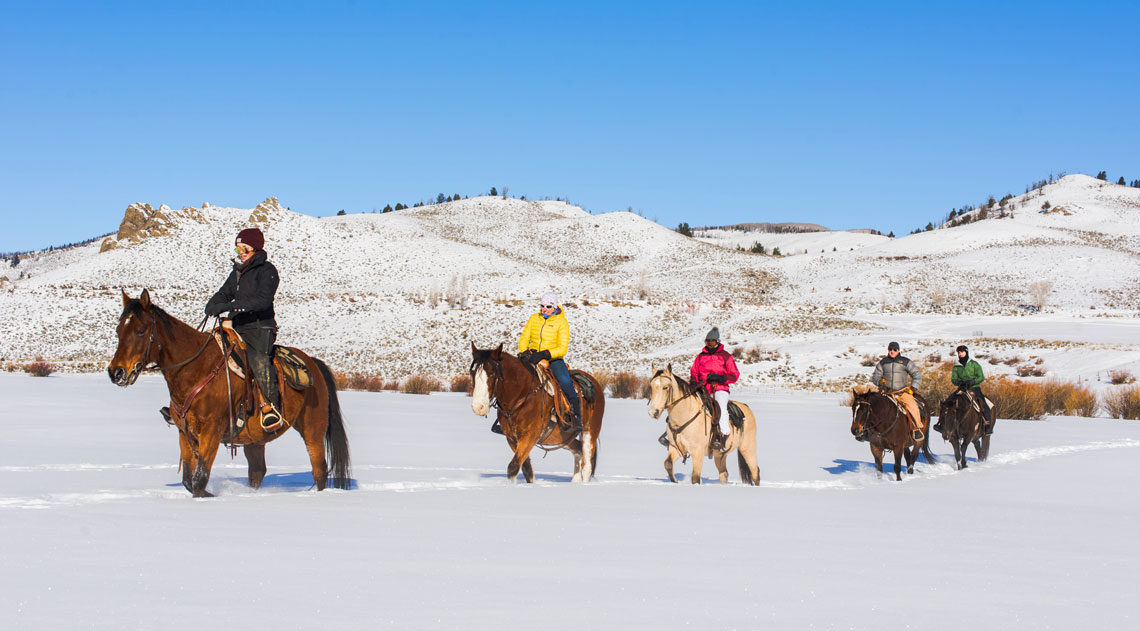 Indoor Winter Horseback Riding
Guests that prefer to keep warm can take advantage of our 12,000-square-foot indoor riding area, which offers the chance to go horseback riding if the weather is a bit too nippy. These sessions are generally held at the same time as outdoor trail rides.
You won't just spend your time riding around in circles in the indoor arena. Guests can attend horsemanship clinics; improve their riding skills, which may involve poles and cones; or learn how to trot and lope. Our all-inclusive dude ranch winter vacation has plenty to offer your family.
Winter Horseback Riding: Family Vacations
Guests with children enjoy guided family trail rides to make sure they get enough quality time with the kids, with trails for beginners as well as for more experienced riders. Families can saddle up and surround themselves in the Colorado winter sunshine or under a sparkling snowfall — every winter ride is different and wondrously delightful.
As in the warmer months, guests at the ranch attend daily scheduled trail rides, and those who need brushing up on riding techniques can attend horseback skills instruction for both adults and children. Teen guests, Mustangs (ages 6-12) and Cowpokes (ages 3-5) will all find their inner winter rodeo fever while the adults enjoy their own time on the winter trail.
If you're ready to experience a winter vacation in the Colorado mountains, check out our Winter Vacation Packages or contact us today!