Horseback Riding Vacations
Your Special Horse for your Vacation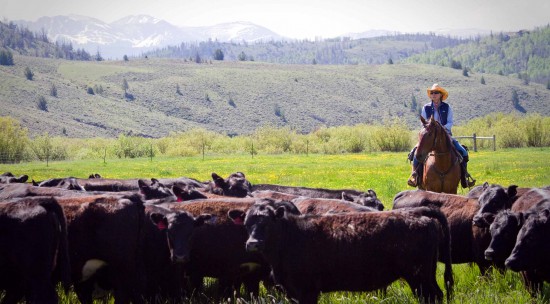 C Lazy U's herd of more than 180 horses allows us to find the perfect fit for each individual's riding ability so your horseback riding vacation can be as tame or wild as your heart desires. The horse selected for each guest by our experienced head wrangler, Bill Fisher, will match your ability and personality. You'll work with the same horse for the duration of your stay so you can truly refine your riding skills and form a bond with your horse for meaningful vacation experience.

Together, horse and rider learn from one another throughout your stay. Each horse is different, from the gentlest creature to the boldest mare, and every rider has a perfect match somewhere in the stable. By the time your ranch vacation is over, you and your horse will be bonded by a trust built on patience, respect, and your time spent together.

C Lazy U dude ranch has something for everyone at every level of horsemanship. Seasoned riders will benefit just as much as beginners. C Lazy U is also a working cattle ranch, so expect to go on some cattle drives and other cowboy adventures if you visit us during the summer.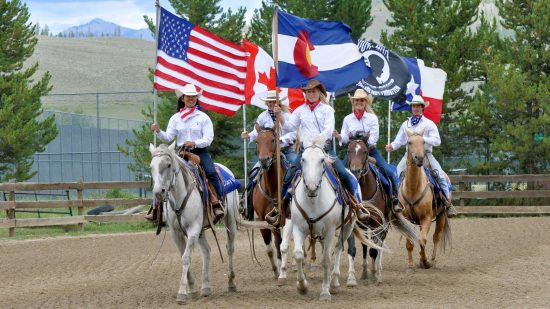 Weekly Shodeo
The outdoor arena is the place to be on Saturday afternoons when guests showcase their skills during the all-ages "Shodeo." The kids are the stars of the show, but the adults also compete against one another as they perform the skills they've learned throughout the week, and everyone leaves with a C Lazy U ribbon and feeling of accomplishment.
If your visit our premiere all-inclusive ranch during the colder months you'll get to experience our 12,000-square-foot, heated, indoor riding arena that provides year-round riding enjoyment for your Colorado family vacation. Ready to show off your new-and-improved riding skills?

Adult Horseback Riding Program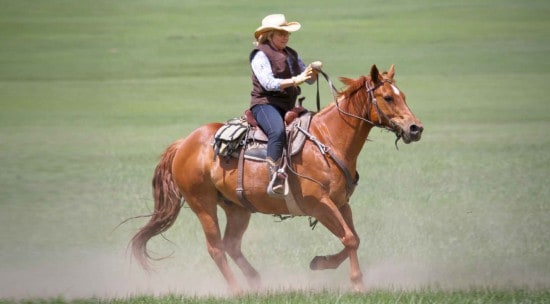 Adults and children have different levels of horseback riding ability and to ensure everyone enjoys their Colorado ranch vacation we have separate riding programs for adults and kids. But not to worry…you will all spend lots of time riding, and you will get the opportunity to ride together on a family ride. There are morning and afternoon rides and even an all-day ride. Cattle working and instructional rides are also part of the agenda for the adults.
Learn More about the Adult Riding Program
Kids Horseback Riding Program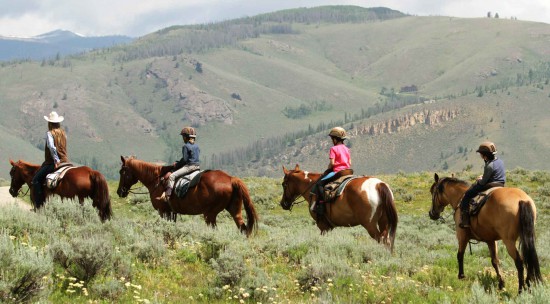 The Kids' Riding Program breaks up into three groups according to age and ability level, allowing kids to enjoy riding with their peers. Kids learn basic riding skills if necessary, and spend time expanding on those skills in the arena and out on the trail. The littlest cowpokes have the privilege of riding Katie the pony or being pulled in a cart by Petey the Donkey. Whatever age your children are, they are sure to enjoy their horseback riding vacation at C Lazy U!
Learn More about the Kids Riding Program
Winter Horseback Riding
Winter horseback riding is available! Our guest ranch has a 12,000 sq. ft. heated indoor arena for year-round riding and clinics. We also head out into the trails whenever possible.
Horseback Riding Weight Restrictions
The C Lazy U Ranch considers safety as one of our most important responsibilities. This obligation includes horseback riding operations and requires us to ensure the safety of both rider and horse. As such, the C Lazy U will exercise caution with regard to allowing horseback riding for individuals of heavier weights. The weight limit for horseback riding at C Lazy U Ranch is restricted to 250 pounds. C Lazy U Ranch considers several factors in determining whether or not an individual is too heavy or too big to ride, including: rider's physical fitness, riding experience and ability, size of the horse, type of terrain, speed of ride, and other factors. As a general rule, horses can safely carry loads of up to 20% of their body weight including rider, saddle and tack. The C Lazy U ranch will exercise discretion when addressing these issues and reserves the right to prohibit riding or restrict riding to level terrain, or walk-only rides. Please do not hesitate to contact our Barn Manager to discretely discuss specific circumstances.