C Lazy U is a premier, all-inclusive dude ranch in Colorado, ideal for horseback riding family vacations, offering the beauty of the Rocky Mountains, the freedom to roam 8,500 acres of untouched American West, and an experience that makes you and the kids shout a hearty "Yeeeehaw!"
All-Inclusive Horseback Riding Ranch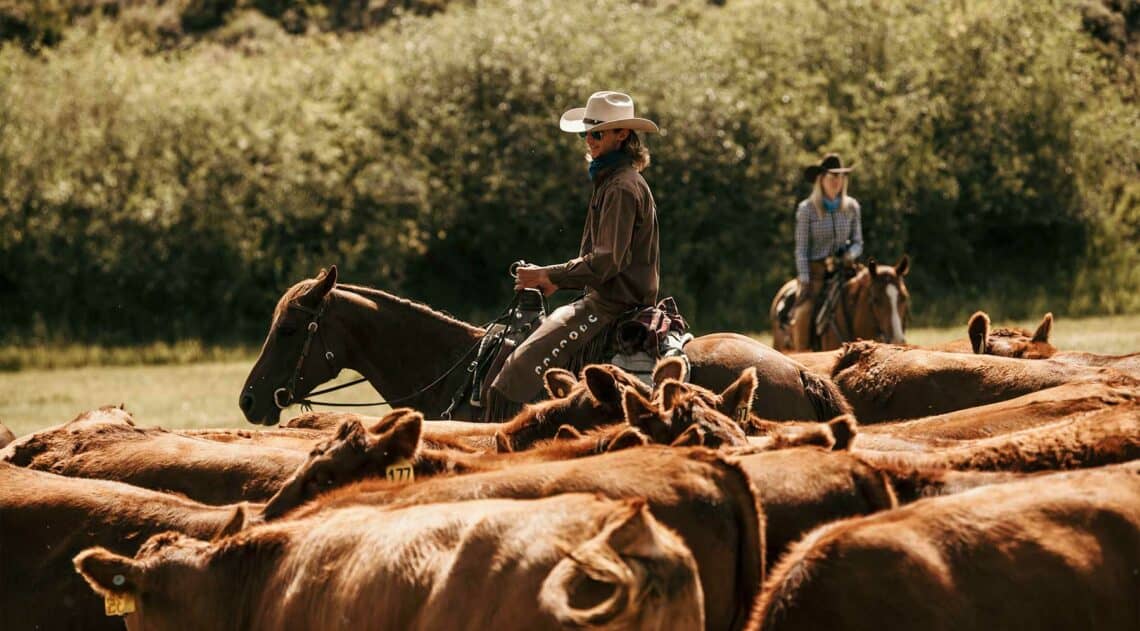 Note about cattle pushing availability: The ranch plans to bring back this activity in the future as soon as fire-damaged pastures recover and are producing vital nutritional growth.
After you've settled into your cabin and gotten acquainted with the ranch, you'll get to meet your personal horse for your stay — and not just any horse but a perfect companion. Our experienced head wrangler will pair you with a horse that reflects both your riding ability and personality, allowing you to enjoy a horseback riding vacation that's as tame or as wild as your heart desires. Each of our 180 horses is different — from gentle giants to bold mares — but every rider has a match that will become not just your ride for the week, but your partner on the trail.
At the C Lazy U guest ranch, horseback riding is a daily activity (except on Sundays unless otherwise noted). Each day on our horse riding retreat, you and your family will set out with the same horse on morning and afternoon trail rides, which allows you to form a bond with your steed based on trust, patience and respect.
Adult Horseback Riding Program
To ensure everyone enjoys their horseback riding retreat, we have separate riding programs for adults and kids. But don't worry — you will get the opportunity to ride together on a family ride. The adults head out on the trail in the mornings and afternoons, but you can go bolder and stay out for an all-day ride. Adults also get the chance to partake in cattle working and instructional rides.
Learn More about the Adult Riding Program
Kids Horseback Riding Program
The Kids Riding Program is broken into three age groups, allowing children to enjoy riding with their peers. Kids learn basic riding skills and spend time honing those skills in the arena and on the trail. The littlest cowpokes get to ride Katie the pony or be pulled in a cart by Petey the donkey, while teens get a little bit more freedom to ride. We aid in making sure that all ages are comfortable as a horseback rider. Whatever age, our horseback riding for kids will make for a fun vacation at C Lazy U!
Learn More about the Kids Horse Riding Program
In addition to daily trail rides, C Lazy U Ranch offers something for horseback riders at every skill level, including cattle clinics and horsemanship classes. C Lazy U is a working cattle ranch, so seasoned riders and beginners with a little gumption should expect to go on cattle drives and other cowboy adventures!
Note about cattle pushing availability: The ranch plans to bring back this activity in the future as soon as fire-damaged pastures recover and are producing vital nutritional growth.
On Saturday afternoon after the end of a week of horseback riding, the outdoor arena turns into a stage for guests to showcase their horsemanship skills during the all-ages Shodeo. The kids are the stars of the show, but adults also compete against one another as they perform the skills they've learned throughout the week — and everyone leaves with a C Lazy U ribbon and feeling of accomplishment.
Sundays are the Horses' Day Off
Please note the ranch does not offer horseback riding on Sunday unless it is a holiday weekend (Martin Luther King Weekend, Presidents' Day Weekend, Memorial Day Weekend, Labor Day Weekend, Thanksgiving, Christmas or New Year's where the minimum stay requires stays beyond Sunday). Some Special Events also extend into the following week at which point the ranch may offer to ride on Sundays. Examples include Julie Goodnight and Barbra Schulte riding clinics and leadership retreats). Please reach out to frontdesk@clazyu.com if you have questions about a specific event you are booked for.
Seasonal Horseback Riding Vacations
When the seasons change at C Lazy U Ranch, each one seems more beautiful than the last. Summer is our most popular season, but snowfall in the winter brings a different set of guests to our snowy ranch. And in the fall, horseback rides at C Lazy U offer spectacular views of yellow and orange on aspen-lined trails.

Summer Horseback Riding
With the warm sun, wildflowers, and Colorado wildlife on the trail, summertime is one of the most popular times to go on a horseback riding family vacations. At our guest ranch, horseback riding is in full gear in the summer, with daily trail rides, cattle clinics, and horsemanship classes to fill your day.
Winter Horseback Riding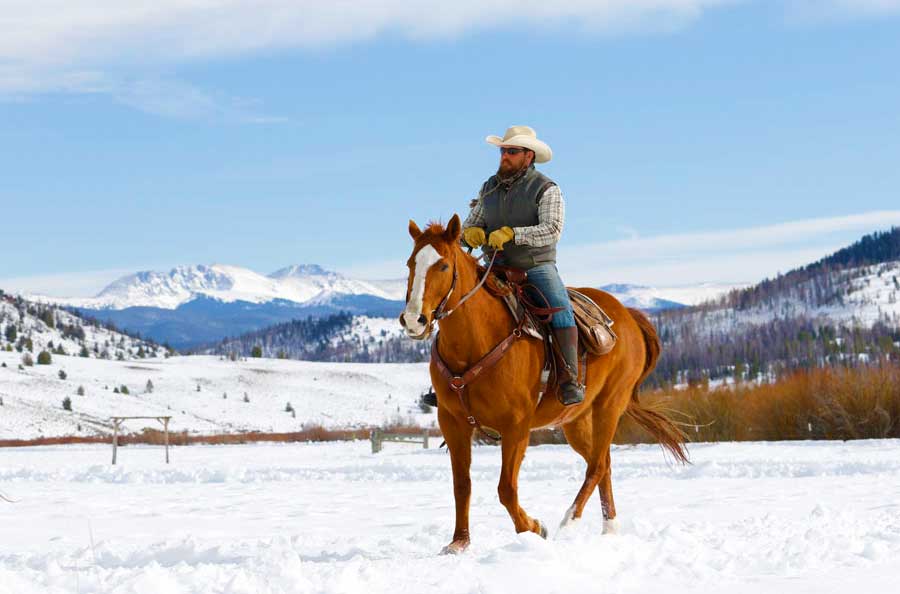 If you're staying with us in the colder months – which includes Spring Break in March – winter horseback riding is available at the C Lazy U guest ranch! Our 12,000-square-foot heated indoor arena allows families to enjoy year-round riding and clinics, but we also head out onto the trails daily. At the C Lazy U dude ranch, we make sure all horseback riders are comfortable no matter the season.
Learn More about Winter Horseback Riding Vacations
Meet the Equestrian Director
Ami Cullen literally left her cushy job as a lawyer in Washington, D.C. to follow her heart to C Lazy U Ranch, where she had fallen in love with the Colorado mountains, the horses and the ranch overall. (Read her story about why she quit law to begin working at the Ranch.) As an accomplished equestrian in the Hunter-Jumper show ring, Ami brings a wealth of horsemanship skills to her post as Director of Equestrian Operations. You can usually find her training young horses to become great mounts for our guests, and giving riding lessons and horsemanship clinics in the arenas.
Horseback Riding Weight Restrictions
The C Lazy U Ranch considers safety as one of our most important responsibilities. This obligation includes horseback riding operations and requires us to ensure the safety of both rider and horse. As such, the C Lazy U will exercise caution with regard to allowing horseback riding for individuals of heavier weights. The weight limit for horseback riding at C Lazy U Ranch is restricted to 250 pounds. C Lazy U Ranch considers several factors in determining whether or not an individual is too heavy or too big to ride, including: rider's physical fitness, riding experience and ability, size of the horse, type of terrain, speed of ride, and other factors. As a general rule, horses can safely carry loads of up to 20% of their body weight including rider, saddle and tack. The C Lazy U ranch will exercise discretion when addressing these issues and reserves the right to prohibit riding or restrict riding to level terrain, or walk-only rides. Please do not hesitate to contact our Barn Manager to discretely discuss specific circumstances. We are here to make sure your Horse Riding Retreat is an unforgettable memory.
If you've been looking for a Colorado resort with horseback riding, our all-inclusive vacation packages will not disappoint. Contact us to find out more information on joining us at C Lazy U dude ranch.