C Lazy U makes horseback riding accessible for kids of all ages during your family horseback riding vacation, all year round. We divide kids into groups based on age: Teens, Mustangs (ages 6-12), and Cowpokes (ages 3-5). Whether you're traveling to the ranch with teens, kids, toddlers, or all of the above, we assure you that your children's horseback riding experience is safe, memorable, and fun!
Horseback Riding For Children
One of the questions we hear from families most often is: "is horseback riding for kids safe?" At C Lazy U, the answer is yes! Our Kids & Teens program dates back to 1949, and we've quite literally spent decades fine-tuning our program to bring fun, safe, and age-appropriate entertainment to our younger ranch guests – including horseback riding. We do everything from pairing children with our most-trusted horses to rigorously training our staff to keep kids on horseback safe and providing all the safety equipment necessary.
Learn More: Discover The Kids & Teens Program
---
Horseback Riding For Teens (Ages 13-17)
Whether your teen is a horseback riding beginner or well-versed in western horsemanship, they'll have a blast exploring our 8,500 acres of land with their peers! Before their first trail ride, beginner riders will learn the basics of horsemanship, horse safety, and some key horseback riding terms for beginners. Then they'll be matched with a horse that fits their skill level and continue to receive instruction and guidance on every ride. In addition to the riding program, teens will enjoy an action-packed week with memorable Colorado experiences, including whitewater rafting trips, go-kart racing, and a teen campout. and going swimming.
Related: New To Horseback Riding? Here's What You Need To Know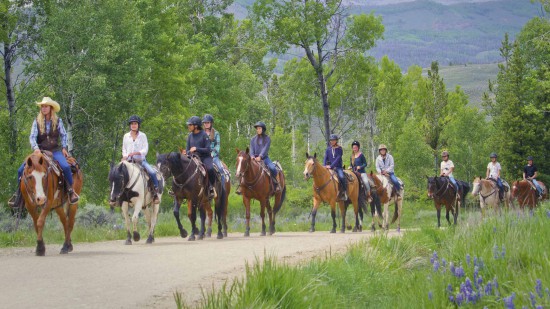 ---
Horseback Riding For Kids (Ages 6-12)
Just like our teen guests, kids between 6-12 go through the same safety evaluation and training, and are also assigned their own horse for the week. We take special care to pair our younger and less experienced riders with our tried and true horses to help them build confidence, build horsemanship skills, and of course, keep them safe. Throughout the week, children in this age group will go horseback riding on easier trails and develop their riding skills from our experienced counselors. Children's horseback rides are filled with extra adventure as they visit the ranch outlaw's hideaway, Shorty's Cabin, and make the myth of Blue Dot Forest come to life.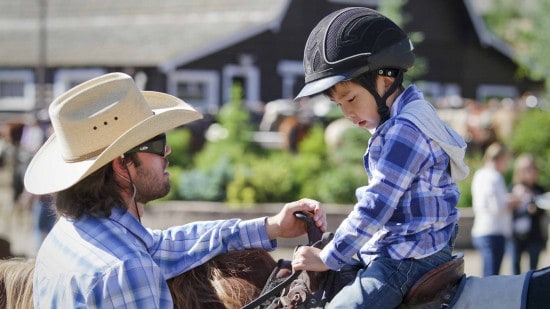 ---
Horseback Riding For Toddlers (Ages 3-5)
Toddlers don't get their own horse yet – but they can still enjoy the fun of a horseback ride on our ranch pony, Katie! Pony rides are the perfect way to help toddlers learn horsemanship skills and gain confidence as a horseback rider. While they're growing their skills, your toddler will be accompanied by an experienced counselor to help them stay safe. And, the fun doesn't stop at pony rides! A unique treat is getting pulled in a carriage behind one of our Sicilian donkeys. These unique experiences make kids fall in love with your annual family vacation in Colorado's Rocky Mountains – and give them all the skills they'll need once they're assigned their own horse in the years to come!
Discover More: Experiences For The Under 6 Crowd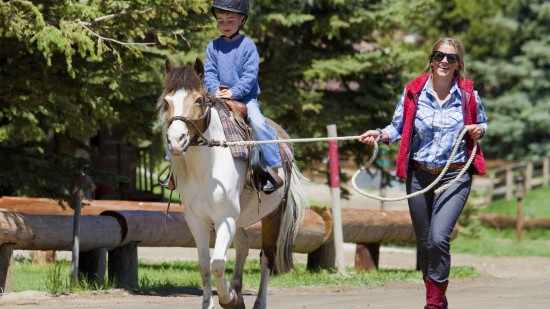 ---
At C Lazy U, we pride ourselves on the safety and fun our kid's horseback riding program provides for children of all ages. If you're ready to book your dude ranch family vacation, contact us today!
For more on the overall experience for kids and teens at C Lazy U dude ranch, visit the Kids Program page.