The Perfect All-Inclusive Film Location in Colorado's Premier Mountain Setting
Since 1919, the C Lazy U dude ranch has been celebrated around the world for its rich history, rustic elegance, breathtaking scenery, and outstanding service. Boasting 8,500 acres of pristine wilderness comprised of three separate ranches — from meadows to mesas and mountain peaks to winding creeks—the ranch has been the backdrop for countless family vacations, many group and corporate retreats, several outdoor weddings, and a wide variety of commercial film and photography projects. In fact, the only downside to bringing your business to C Lazy U Ranch is leaving…
All-Inclusive Dude Ranch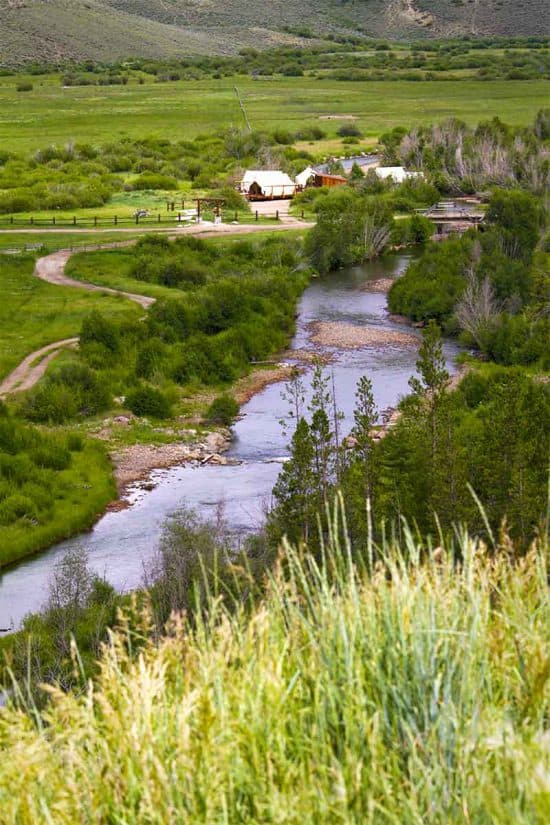 What makes C Lazy U ranch a great choice for commercial film location interest is that we are first and foremost an all-inclusive private guest ranch, which means no permits are needed and we take care of everything. We provide our guests with upscale accommodations, three gourmet meals daily, location transportation, activity coordination, and just about anything else their hearts desire, all in one beautiful secluded setting. What does this mean for you? By eliminating the hassle of arranging such details for your location and crew, you are able to focus on more important things, like capturing the perfect shot.
On-Site Coordination
Not only will ranch staff handle all of the technical arrangements leading up to your film shoot, but you will also be assigned an on-site coordinator to make sure things go smoothly during your stay. Need 20 bottles of water on set while shooting in the middle of the mesa? On the way. Need access to an off-road vehicle to scout the perfect mountain location for your next scene? We'll pick you up in our fleet. Rain delay? Let us escort you to the lodge (complete with flat-screen TVs, WiFi, and a bar) where you can kick back while you wait it out.
Experience
Finally, in addition to gorgeous scenery, outstanding service, and an unbeatable location, the C Lazy U Ranch has experience. In recent years, our dude ranch has been the production location of choice for:
Warren Miller Entertainment
Belk Retail Department Store (multiple shoots)
Jim Jordan Photography/White Cross Productions
Columbia Sporting Goods
Jockey's first shoot with their new spokesperson Tim Tebow.
Cabela's Outfitter
Dick's Sporting Goods
Jeep
C Lazy U Ranch was honored to be chosen as the location for Jeep's latest promotional video. Thank you for allowing us to host this shoot and we truly enjoyed working with everyone involved in the production and filming of this exciting video spotlighting Jeep.
Scouts C Lazy U Dude Ranch Has Worked With
Doug Millington – Warren Miller and Jockey
Liah Kim, Bob Industries – Columbia
Kimberly Smith – Belk
Daniel Taff, Harlequin Romance Novel [link]
Testimonials
"The shoot was very successful, and everyone had a great time at the ranch. The billing was turned in yesterday, and everything looked good. I would definitely like to come back sometime in the summer or fall. Everyone commented on your ranch as being their favorite place to shoot – the rooms were great, food was awesome, scenery was breathtaking, and the staff was so attentive. Chris was great host, especially on our last evening. Bruce was very helpful too – I hope we weren't too demanding! You are so fortunate to have such a wonderful place with great staff."
Michelle Beier – Cabela's Photo Shoot
"C Lazy U ranch was the perfect location for us to take a major commercial production to. The scenery is an obvious reason but what put it over the top was the staff, all the technical and logistically support and being able to have our clients staying the lap of luxury in the mountains of Colorado. Perfect!"
Mike Arzt – Co-Owner The Public Works
Film Location Description
An eagle soars over a lush sea of wavering meadow grass. A family of elk grazes under the quiet shade of an Aspen forest. A moose meanders along the banks of a reservoir as the blazing sun dips behind the mountains, casting vibrant hues across the cloudless sky. Such rare scenes are actually a daily occurrence at the C Lazy U Ranch, where the Colorado River runs off the Continental Divide and winds its way through mountain valleys. It's a land of green meadows, blue skies, and clean air. This is Colorado ranch country, and has been for over 95 years.
Location
Less than 90 miles from Denver
20 miles to Rocky Mountain National Park and Grand Lake
Less than 25 miles to Winter Park Ski Resort
5 minutes away from Granby
This means that when you're knee deep in powder on top of Mt. Baldy and your makeup artist runs out of lip gloss in the grassy meadow, or your light meter batteries die, production won't be halted for several hours – or days.
Buildings & Facilities
Main Lodge built in 1946 – True Log Cabin
Patio House – Pool, hot tub, 2 fire pits, playground, grass, meeting room, game room, tv room, gym, business center, children's corral
12,000 square foot heated indoor riding area with dirt surface
Hay Barn and maintenance shed
Outdoor riding Arena
Old cabins located in the woods throughout the ranch
Over 5 acres of stables and corrals
2 tennis courts, basketball court, volleyball court
Pond and lake water features
3 separately located outpost wall tents
2 miles of private stream on property
Many high-end luxury mountain homes
Roads
All roads are ranch roads with dirt surfaces, some are straight and lots are winding roads through the woods
1.5 mile C Lazy U driveway off the highway
2 mile connector between the ranch and the Homesteads
Over 2 miles of road in the homesteads
.5 mile Chimney Rock Cabins Road
2 mile dip and dive high mountain connector road
Yellow Brick Road, aspen surrounded road/jeep trail
Multiple logging roads that are rough cut in throughout the forest, like jeep trails
Multiple roads through the pasture, along the river and upper and lower mesa
Ranch Activities
Summer Activities Include:
Horseback Riding, Hiking, Biking, Swimming, Fishing, Tennis, Archery, Game Room and 24-hour Fitness Center. Optional sign up for Trap Shooting, Ropes Course, Zip Line, Guided Fly Fishing, Yoga, Camping and Spa.
Winter Activities Include:
Horseback Riding, Tubing, Snowshoeing, Ice-Skating, Cross Country Skiing, Hot Tub, Spa, Game Room and 24-hour Fitness Center. Optional sign up for Trap Shooting, Snowmobiling and Sleigh Rides.
Vehicles and Equipment
4 – 16 passenger vans
2 – Suburbans
Multiple ranch trucks of all makes and models
4-seat Polaris Ranger, all-terrain vehicle
2-seat Polaris Ranger, all-terrain vehicle
Water Truck
Old Fire Truck
6 – Snowmobiles
1 – Snowcat
Bobcat
Backhoe
Sawmill
Chuck Wagon
Golf Carts
Rentals – The ranch has local connections to get preferred pricing on any light or heavy industrial equipment throughout the county
Guides at Your Disposal
Hunting – Our local outfitters are more than capable of transporting you through the vast acreage of the ranch. Whether it is tracking wildlife or finding the perfect location for a shot, these guys know the ranch like the back of their hand.
Fishing – Our two miles of Orvis Endorsed private stream should be more than sufficient to capture the perfect river shot, and our guides can help you locate that perfect river bend.
Film Dates
The C Lazy U Dude Ranch is open to filming year round.
The main ranch serves as a guest ranch in June, July and August but this doesn't necessary translate into the inability to film at the ranch. We have done numerous high-profile shoots without our guests even knowing it was going on.
The ranch can be reserved exclusively for film shoots between the months of September through May
Contact Brady Johnson at info@clazyu.com for more information