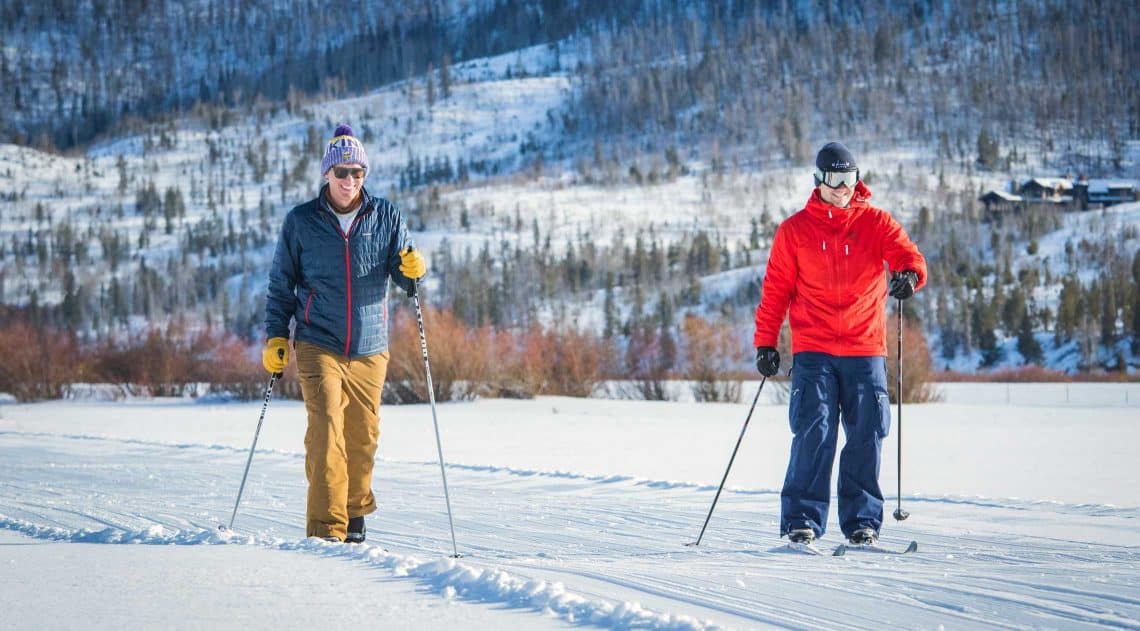 Cross-Country Skiing Vacation
C Lazy U Ranch has four miles of groomed cross country ski trails located in the main meadow and on the upper mesa of the ranch. Guests are welcome to go out on their own or schedule a guided tour. Check out some of the vacation ski packages we offer. All equipment is provided and coordinated through the Activity Center.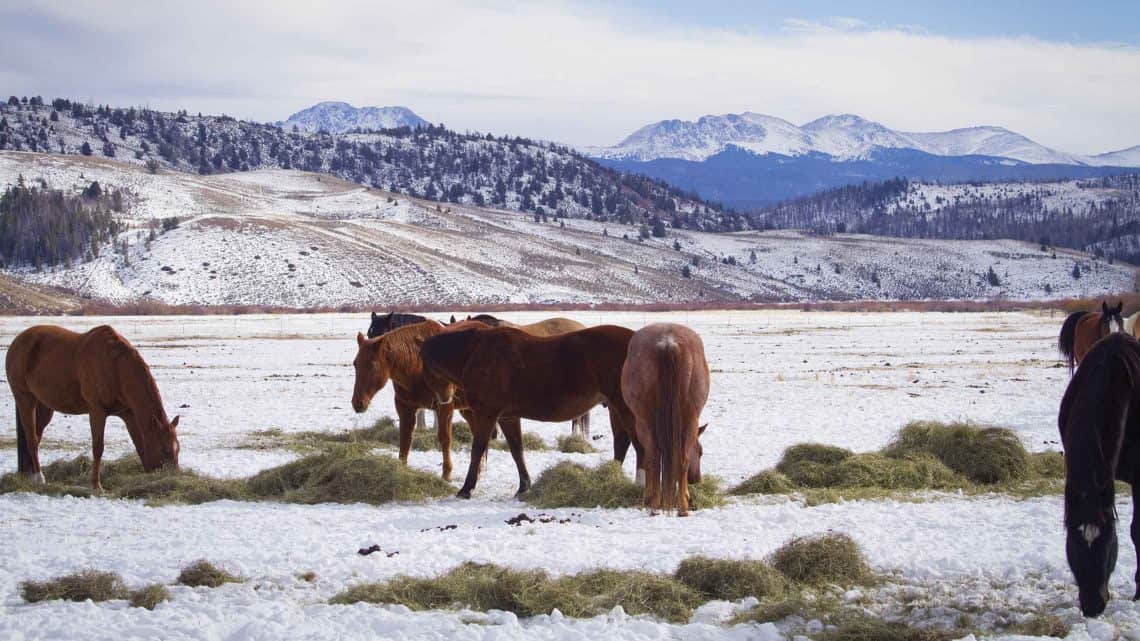 Feed Wagon
With the Feed Wagon Sleigh you will get the chance to feed our herd of 200 horses up close and learn about the herd dynamics when they are out to Pasture. If you are lucky, you may even spot Petey our miniature Donkey hanging out with his friends in the herd!
The Feed Wagon is only offered during the winter months when the horses are out to pasture and the ranch doesn't jingle in the herd for trail rides. The Feed Wagon is not offered every day and this typically happens on a Sunday or a check-in/check-out day when the horses are off and we are not doing guest rides.
Ice Skating and Ice Hockey
Guests can enjoy ice-skating anytime on our Zamboni-groomed pond, or enjoy a spirited pick-up broom ball or daily hockey game in the afternoon. Figure skates, hockey skates, hockey sticks, and broom ball equipment are all provided.
Note: When the pond is closed due to warmer weather, C Lazy U Ranch offers Archery and Hatchet throwing in the afternoons.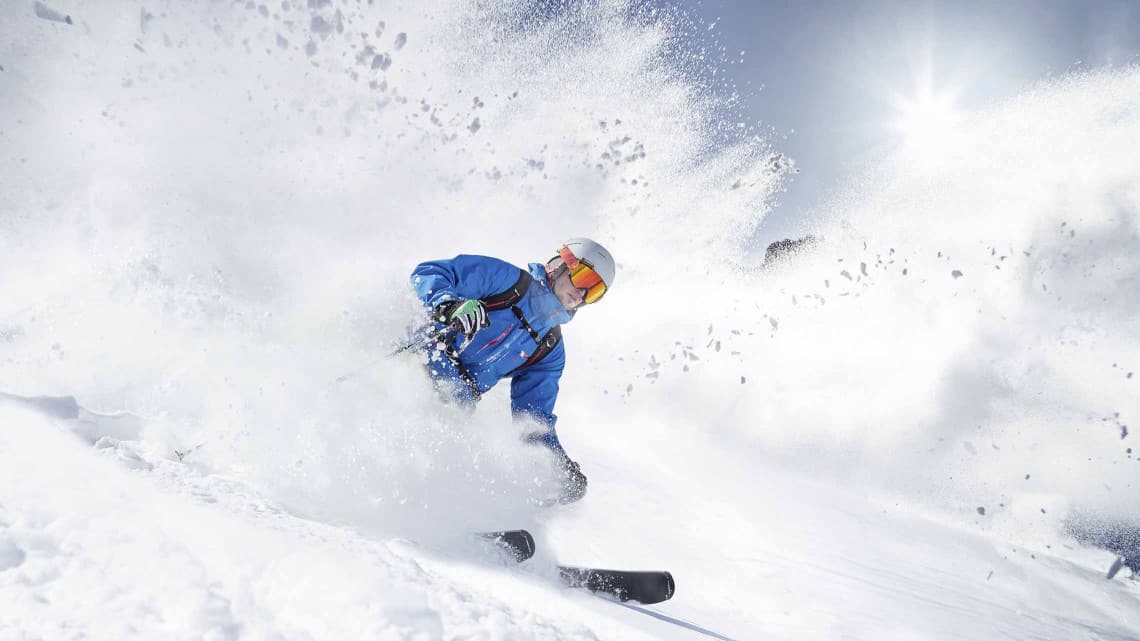 Ski Packages to Local Resorts
Guests wanting to ski at a nearby resort can take the ranch's complimentary daily shuttles to Ski Granby Ranch and Winter Park Resort. Winter Park was just rated the #1 ski resort in North America by USA Today!
The ranch concierge can also help set up transportation, guided skiing, equipment rentals, lift tickets, and lessons.
Sleigh Rides
Sleigh Rides are available during the winter months.
Sleigh Rides typically venture out into the beautiful meadows for a scenic ride through the snow.  On this excursion you will meet our team of Belgian Draft Horses and will learn about the "horsepower" behind these magnificent animals. Sleigh Rides with our team of Belgian's are available most days at 10:15 a.m. as a group activity for up to 12 people.
Join us for your next family winter vacation sleigh ride adventure!
Snow Tubing
The ranch has its own private tubing hill on property where you can enjoy a thrilling ride on a one or two person tube. Snowmobiles provide access to the top of the hill. This adventure takes place every afternoon at 2:00 pm during the winter months. Helmets are required and provided and this activity is included at no additional cost.
Snowmobiling
Looking for a snowmobiling vacation experience in the Colorado Rocky Mountains? C Lazy U Ranch operates its own snowmobile tours on ranch property and has has a fleet of snowmobiles for the guests to use. Tours of up to eight people last two hours and explore a wide variety of ranch terrain. Tours are $150 for one person and $45 per additional rider.
Sign up at the Outfitter's Cabin. Helmets are required and provided. Must be 16 with a valid driver's license to drive.
Snowshoeing
C Lazy U Ranch was voted the 2nd best snowshoe destination in the world by Snowshoe Magazine because of the remarkable trail system and beauty of the ranch. Guests are welcome to explore the ranch's 8,500 acres on their own or schedule a guided tour. All equipment is provided and coordinated through the Activity Center.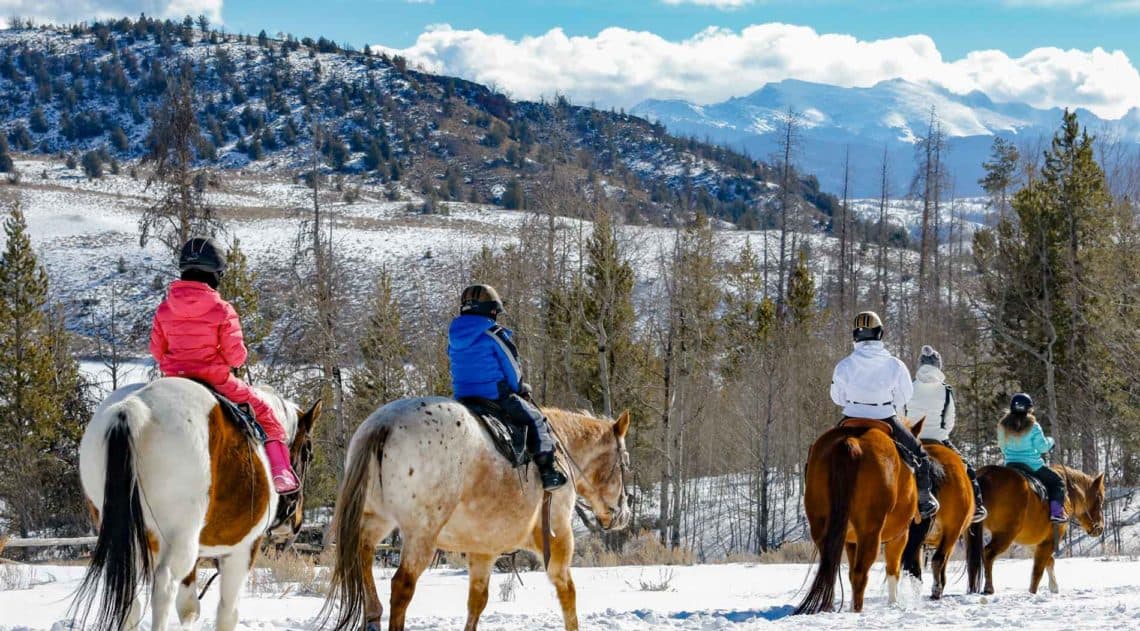 Winter Horseback Riding
Horseback riding in winter is offered both indoors and out.
For indoor riding, our 12,000 square-foot indoor arena is the place to be! You won't just do laps around the rail either, guests can take lessons and attend clinics.
For outdoor riding, nothing quite beats the beauty and quiet of a snowy trail ride over the hills and through the woods.
Winter Trap Shooting
Winter trap shooting is available once daily before lunch. Guests can sign-up in the Outfitter's Cabin, and this activity carries an added charge of $50.00 per person. A wide variety of age-appropriate firearms are available, including a .22, .410, and 12-gauge shotgun. Ranch personnel are well-trained in gun safety and all guests who participate are required to attend a safety briefing before shooting.
For the safety of our staff and guests, please leave your personal firearms at home. Thank you!