A Corporate Retreat Facility Just 90 Miles from Denver
Ranch Brochure
Request a Proposal
Fast Facts
40 Single Occupancy Cabins
47 total bedrooms among the cabins
Private Luxury Home: 4 bedrooms, 3-1/2 bathrooms
Up to 90 people double occupancy
8,463 sq. ft. of Meeting Spaces

Latigo Meeting Room – 1,112 sq. ft.
Patio House Meeting room – 912 sq. ft.
Hay Barn Lower Level – 2,058 sq. ft.
Hay Barn Upper Level – 1,020 sq. ft.

Main Lodge Dining Room – 961 sq. ft.
Main Lodge Living Room – 961 sq. ft.
2 Alcoves in the Main Lodge – 252 sq. ft. each (executive/breakout rooms)
Lodge Card Room – 200 sq. ft. (executive/breakout room)
Midnight Trail Lodge – 360 sq. ft.
Corral Executive Cabin – 375 sq. ft.
Craft Service, Wi-Fi & Audio Visual:
Craft Service Packages are available and an additional charge
Free Wi-Fi throughout the property
AV is included in most meeting space and certain meeting rooms require and additional charge
Group Rates:
2 night minimum stay
Packages include

Lodging
Gourmet Dining
Base Meeting Package
Most Activities, Facilities & Amenities

Rates Range from $350.00-$450.00 per person per night
Single and Double Occupancy Rates Available
C Lazy U Guest Ranch is the perfect location for executive and corporate retreats, meetings, and teambuilding activities. Located two hours west of Denver in the heart of the Rocky Mountains in Colorado, C Lazy U's secluded location is accessible, yet removed from the unwanted distractions found at urban convention sites. It's the ideal company retreat location.
New Latigo Meeting Room & Adega Wine Room!
1,100 square feet new private meeting space
Meeting Room Capacity 10-63 people
State of the art built-in Audio and Visual
Private Banquet Room
Adega Wine Room for private wine tastings or a private chef's table
Consider the possibilities by booking C Lazy U Guest Ranch exclusively for the benefit of your organization's private event. The ranch has the facilities, the flexibility, and the expertise to enable you to accomplish your goals. To accommodate the needs of our corporate meetings and retreats, group events at the ranch only require a 2 night minimum.
In addition to its unparalleled natural setting, C Lazy U's commitment to excellence is reflected in the property's continual upgrades and renovations. C Lazy U has completed property-wide upgrades including full cabin renovations; upgrades to the meeting facilities and services; adding a ropes course and zipline (especially popular for team building exercises); and purchasing a new Belgian draft horse team to offer unique activities for groups, such as sleigh and hay rides.
More than anything, the ranch specializes in providing that very special environment in which to effectively combine business and pleasure. We are not a large convention resort but we can provide a professional meeting setting and give you the unmatched splendor of the Colorado mountains with the warmth and intimacy of a luxurious guest ranch.
Availability & Capacities
meeting spaces, and groups can book C Lazy U exclusively to a private corporate retreat experience.

Note: Due to the popularity of the ranch as a family resort in the summer, we must limit our corporate retreats to mid-August through mid-June.
Group Retreat Customization & Teambuilding
Additionally, C Lazy U offers out-of-the-box team building activities to make any business retreat, reunion, or event distinct and memorable. Some popular favorites include the ropes course, zip line, horsemanship and cattle roping clinics, and amazing races. C Lazy U dude ranch is a unique and memorable location for any company retreat and team building exercises.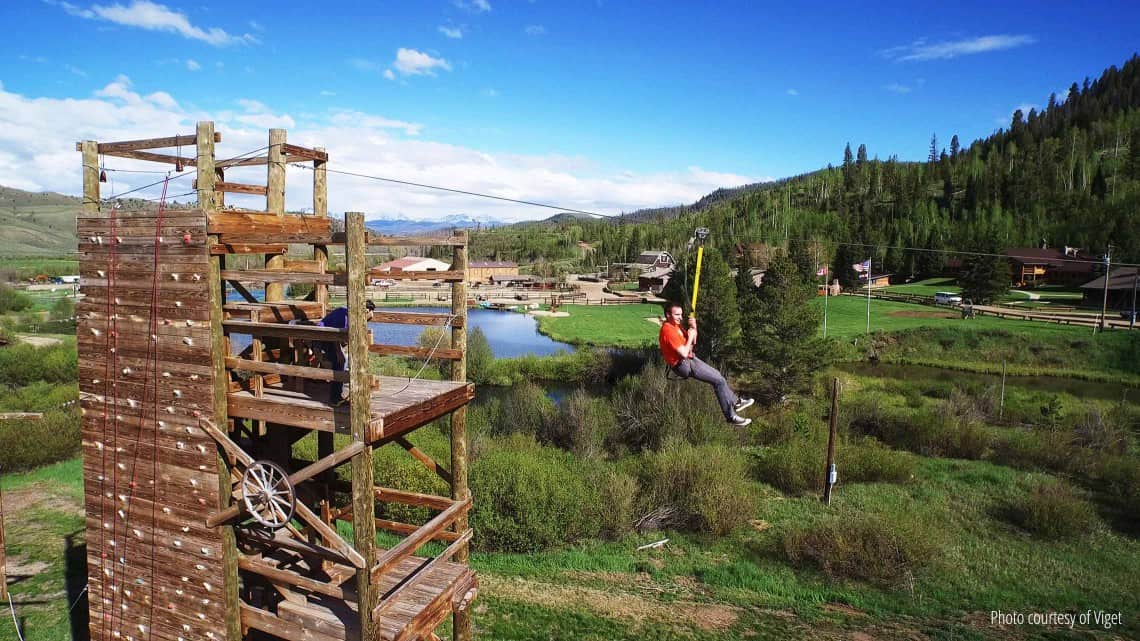 Luxury and Adventure
C Lazy U guests have access to our award-winning Lazy U Spa, where spa treatments are enjoyed in a luxurious outpost tent, overlooking the river below through a glass bottom floor – a truly unique and relaxing environment.
In addition to everything that's available on C Lazy U's 8,500 acres, a variety of nearby off-ranch activities like golfing, white water rafting, and hot air ballooning are available as well. When they're not enjoying the many recreational opportunities, group experiences are rounded out by luxurious accommodations and three gourmet meals per day – included in the price of their stays for a seamless experience.
Our Rates
Our group rates are all-inclusive and provide lodging, meals and most ranch activities.  Group rates typically range from $350 to $450 per person per night.
Each of our group events is custom designed to properly accommodate your specific needs and objectives. It is important that we carefully understand what you have in mind for your corporate event or retreat. Please submit a request for proposal so that we can provide you with an individualized proposal specific and inclusive of all your needs.
Please contact Brady Johnson, Director of Sales and Marketing, at 970-887-3344 or submit a Request for Proposal.