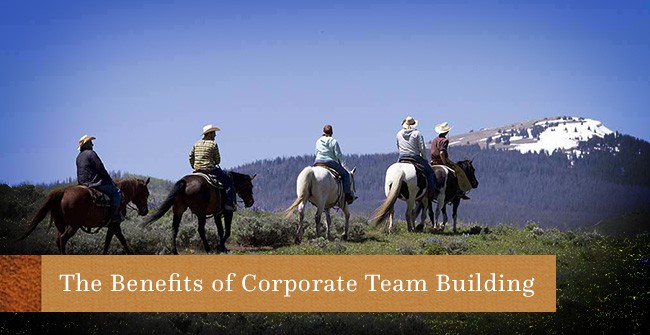 Is your workplace in need of a team building getaway or corporate retreat? Signs you may be due for some breakaway time together include: team members that do a lot of grumbling under their breath, colleagues who don't really say much at all, a team that falls prey to all sorts of distractions in the office, petty gossip and politics, and cynical guffaws at the mention of "office culture."
The ranch hands at C Lazy U have seen all sorts of corporate team dynamics, and we've developed special team building exercises – from classic ropes courses to creative cowboy-inspired exercises – to remedy whatever ails your team. Forget the cheesy icebreakers and "trust falls," round up your coworkers, and head for the hills. A Colorado mountain retreat at C Lazy U could be just the thing your team needs. Here are just a few benefits of a corporate team-building event.
Improve Communication
Outside the parameters of emailing, conference calls, and meetings, team building retreats are a time for more organic and spontaneous communication. Team members will find themselves interacting more fluidly and effectively, which will carry over to the workplace afterwards.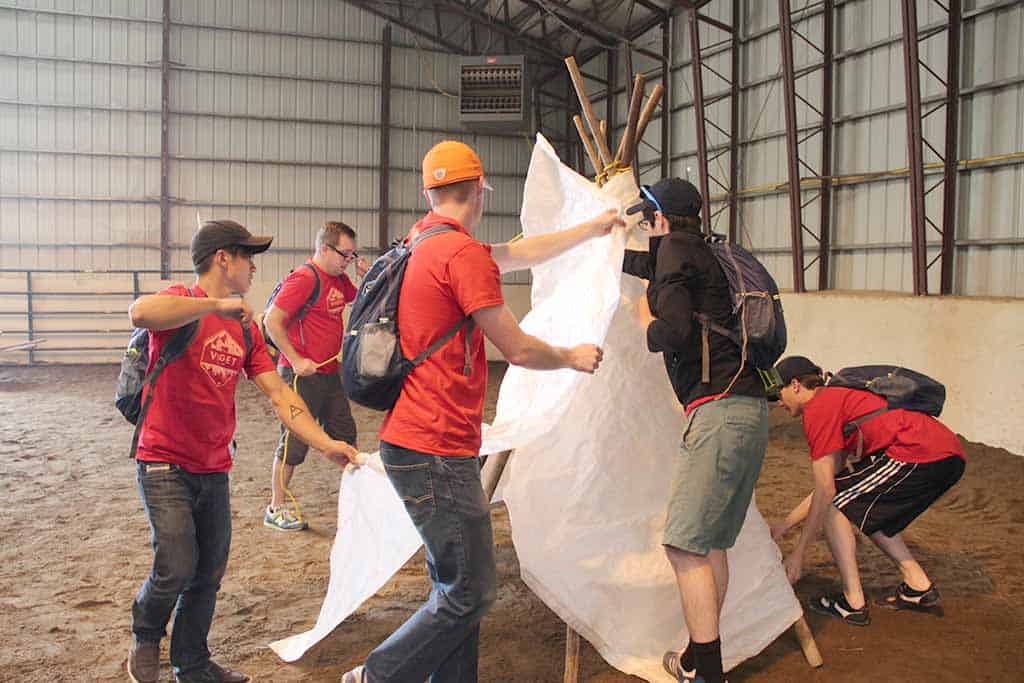 C Lazy U Tip: Try our unique Cattle Herding Clinic for the ultimate exercise in communication. Mounted on horseback, the team is tasked with wrangling, cutting, and moving cattle. Afterwards, continue the discussion with a debrief (and lots of laughs as folks ponder quitting their jobs to become full-time cowboys!).
Note about cattle pushing availability: The ranch plans to bring back this activity in the future as soon as fire-damaged pastures recover and are producing vital nutritional growth.
Orient New Team Members Faster
New hires need time to feel out their role and learn the best ways to connect with their peers and seniors. There's a lot of ice-breaking to do. For businesses that have just brought on a wave of new hires, take the awkwardness out of it and accelerate the onboarding process with a team building retreat.
C Lazy U Tip: Plan a "field day" as part of your team building retreat at the ranch. We'll organize all sorts of goofy events and exercises that put everyone on a level playing field, so to speak. Get the higher-ups and the newbies together to compete in contests that may involve catapulting water balloons and thinking up silly team names and flags.
Increase Productivity
Corporate team building retreats are an investment in your business – with real returns. With boosted morale and an improved group dynamic, teams go back to the office refreshed and more motivated than before. You'll see creative ideas, improved attendance, and better teamwork across the board.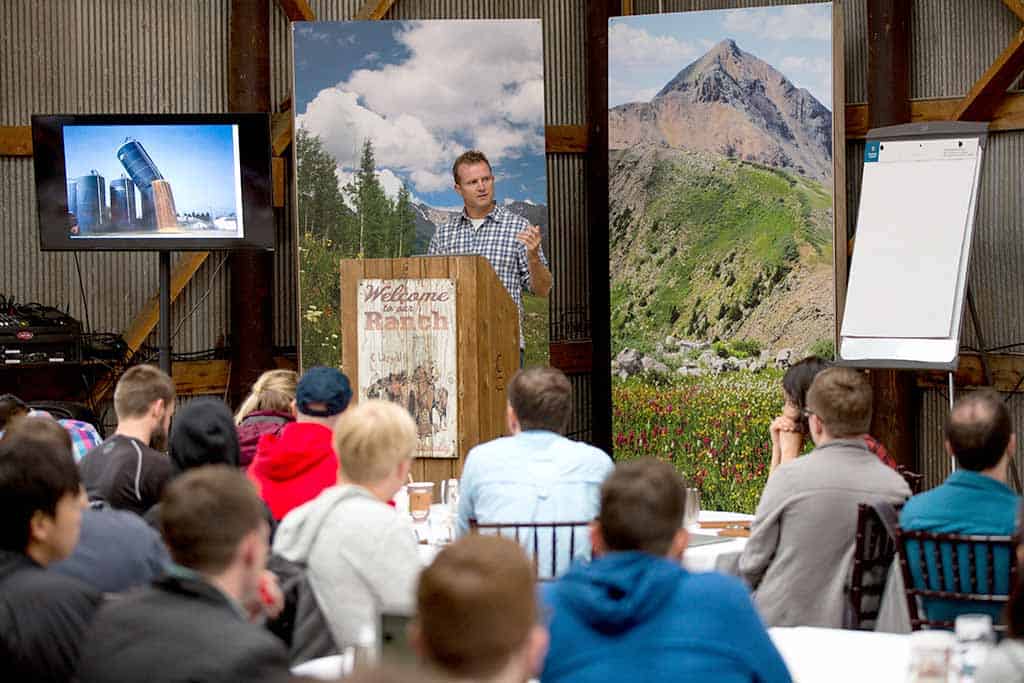 C Lazy U Tip: While it's good to focus on tasks and exercises during a team building retreat, don't forget to include surprises and treats as well. After a structured day as a team, let loose and allow for plain-old-fun like a night of country line dancing, karaoke, or a full moon hike! These are easy wins for bumping up morale.
Discover Individual Strengths
The ranch's team building events are specially designed to draw out the best in folks – their natural playfulness, creativity, cooperation, and even leadership. As teams take on new tasks together in a fun outdoor setting, they can relax outside the context of work. Individuals can step up with ideas, encourage each other, and laugh at their own mistakes. Boosts in self-confidence become contagious!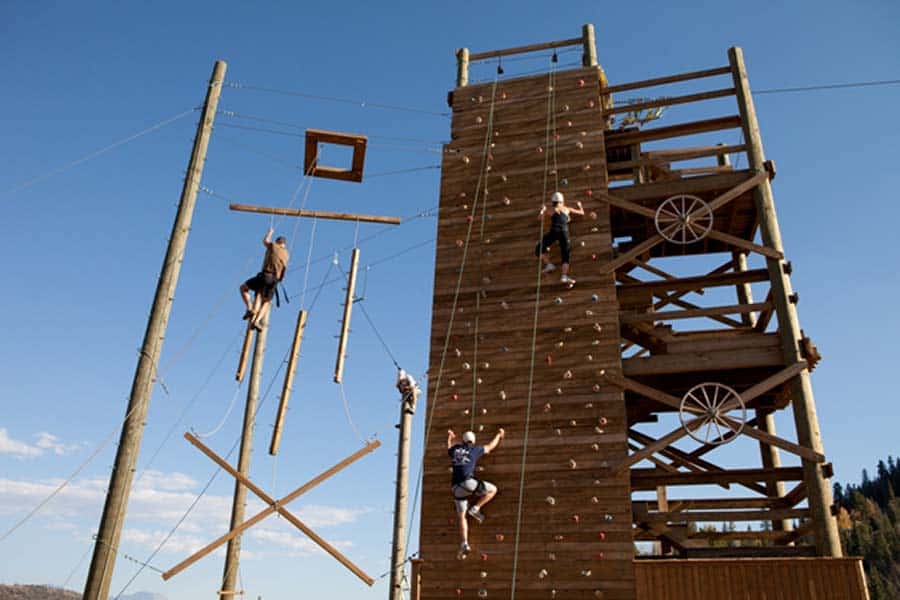 C Lazy U Tip: An "Amazing Race" relay is a good sampling of many different kinds of tasks, from fire-building to trap shooting to zip line. Each team member is sure to find at least one chance to shine.
Cultivate Office Culture
It's well documented that today's workforce looks for far more than just a paycheck – it wants a meaningful work experience, complete with an office culture. What are the habits and tones of your workplace? What are some examples of that culture? A fun tradition of team building retreats will speak volumes about corporate culture and how actively it is pursued. Keep current talent happy and attract bright new recruits with photos and videos from your annual corporate retreats.
C Lazy U Tip: Choose from activities that best fit your team's culture. For example, tee pee building is great for groups that love to engineer solutions, and horsemanship is great for animal-loving groups that want to improve their riding skill.