Colorado Ranch Wedding Venue
A Picture-Perfect Destination Wedding in the Mountains
For an unforgettable destination wedding, whisk your guests off to a charming dude ranch in the foothills of the Rocky Mountains. C Lazy U Ranch provides a romantic, rustic western ambiance and sweeping mountain vistas, as well as the luxury that only destination wedding resorts can provide.
Destination weddings are always exciting, but a wedding at C Lazy U Ranch is a completely unique experience: our designers and catering staff can work with any theme, such as rustic barn weddings, bohemian weddings, Wild West weddings and more, to make sure your day is a romantic, once-in-a-lifetime event for you and your guests.
Highlights of a Mountain Destination Wedding at C Lazy U
Exclusive use of the 8,500-acre ranch
Scenic photography locations
4 indoor/outdoor ceremony sites
3 indoor/outdoor reception sites
Secluded honeymoon cabin
Included ranch activities for overnight guests
Gourmet dining
Bar packages, including wine curated by on-site sommelier
Celebrate your wedding with the touches of an intimate luxury vacation. C Lazy U Ranch is small—not counting its acreage, that is—but lavish, with the ability to combine downhome vibes with elegance. Wedding guests at C Lazy U have private use of the ranch's 8,500 acres, allowing family and friends to participate in ranch activities to make lasting memories and form even stronger bonds—all centered on a celebration of love and the blending of two families.
For your destination wedding, up to 70–90 guests stay two nights at the ranch, where they are treated to the same five-spur service we offer to all guests. Weddings are always buy-out events so the only guests on-ranch will be yours. Rates for guests include lodging, gourmet meals and ranch activities such as fly fishing, hiking, and mountain biking in the summer; cross-country skiing, snowshoeing and ice skating in the winter; and horseback riding in all seasons. The award-winning Lazy You Spa is open throughout the year for wedding guests — and the bride and groom, of course — to relax and pamper themselves before and after the big day.
Weddings take place year-round at C Lazy U, as the ranch is just as breathtaking blanketed in snow as it is in flowers. The limited June and August wedding weekends typically book one to two years in advance.*
Wedding Ceremonies at C Lazy U Ranch
C Lazy U guests have always admired the natural beauty of the ranch's surroundings, which is why we have handpicked and designed four unique ceremony sites to highlight the splendor of a destination wedding in the mountains.
Wedding Ceremony Sites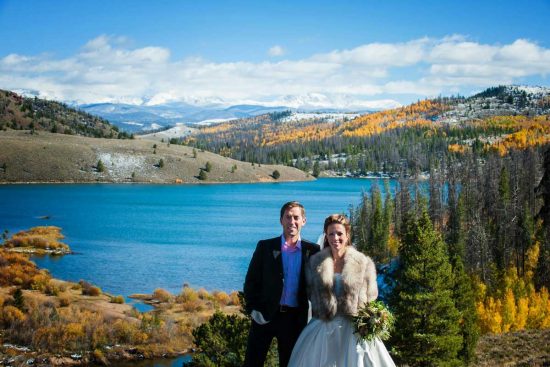 Woodsie Overlook: Perched high above the ranch, this soaring spot overlooks the gentle waters of Willow Creek Reservoir.**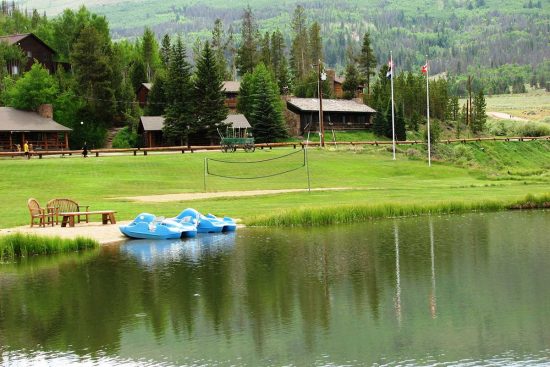 Majestic Pond: Expansive meadows with a rolling mountain backdrop surround a pristine green lawn nestled next to the ranch pond for a quiet, intimate wedding.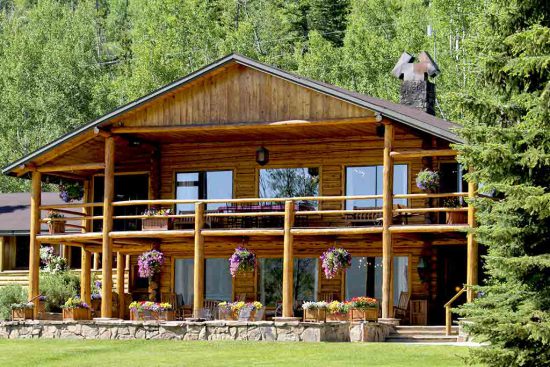 Main Lodge: Surround yourself in history at the Main Lodge, one of our most cherished sites that was built 70 years ago with timber from our very own hillside.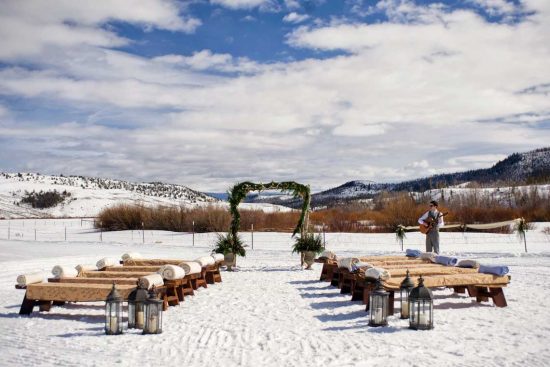 Hay Meadow: Arrive in a horse-drawn sleigh to this sprawling field, which is covered in snow in the winter and wildflowers in the summer.
Wedding Receptions at C Lazy U Ranch
Each reception site includes tables and seating, linens, dinnerware, service staff and buffet-style dinner service.
Wedding Reception Sites

Hay Barn: The Hay Barn evokes the quintessential western atmosphere, and has hosted some of the best barn weddings in Colorado. Its interior boasts antler chandeliers, charming string lighting, a lofted lounge area, large dance floor and two bars.**

Main Lodge: Historic and rustic, the Main Lodge offers a cozy saloon-style bar and a formal log dining room for an intimate reception.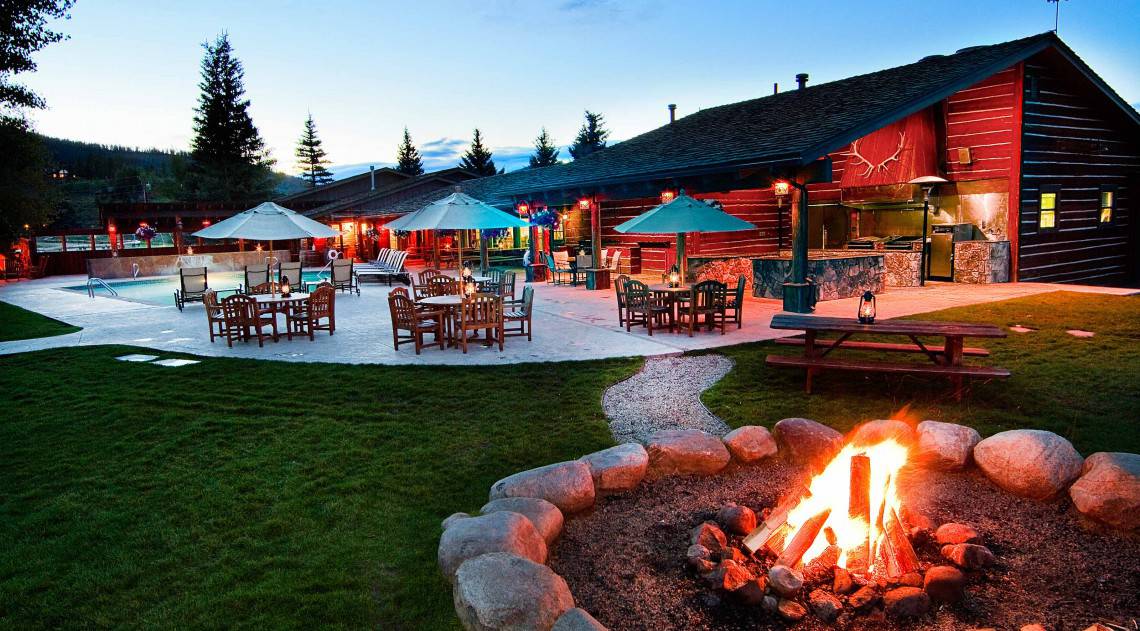 Patio House: The poolside deck at the Patio House offers indoor and outdoor seating, multiple fire pits, lawn games, a dance floor and an ice cream parlor.
---
To ensure your destination wedding in the mountains brings your dreams to life, the ranch requires that you book the ranch exclusively for a two-night minimum. Colorado destination wedding packages at C Lazy U Ranch include luxury cabin lodging, three gourmet meals daily, and most ranch activities.
The C Lazy U provides some of the most romantic wedding experiences. Please do not hesitate to contact our Wedding Sales Manager Heather Peters at hpeters@clazyu.com should you have any questions.
*Weddings are not held at C Lazy U Ranch from the second week of June to the second week of August, as it is reserved for family vacations requiring a 7-night minimum stay.
**Not available in the winter
Our wedding was perfect and we owe it all to the C Lazy U staff. Thank you so much for all your hard work and continued attention to detail. Everyone I talked to had a wonderful time, including Peter and myself. When it was all over I said to Peter, "can we do this again?" Thanks again for all your hard work to make our wedding everything we could have imagined. – Melissa & Peter
You are incredible. I know I didn't give you much guidance, and I left you to make some of the big decisions (because let's be honest…I'm not the best at decisions!), but oh my goodness you could not have done a more perfect job! It was absolutely a dream come true for the both of us…it was the wedding we prayed and hoped for and so much more! – Mikey & Bree
Thank you so much for all your hard work to make our wedding at C Lazy U so special! You and the rest of the staff were unbeatable and our guests cannot stop raving! We hope that we will have another opportunity to visit C Lazy U and see you again! – Rachel and Keith
Chris and I have had time to reflect on our experience and are beyond grateful for the gift you and the Ranch were capable of giving us. Our wedding was truly special. From the beginning of the planning process, you were honest, patient and accommodating — it was much appreciated. You and the Ranch are one of a kind, and we can't wait to return! – Emily & Chris
Thank you to every one of you for all that you did to make our wedding weekend such a huge success! Everyone raved about what a great time they had and how friendly and attentive the staff were. The menu was a huge hit, all our bar planning worked out fantastically! Thank you for all your assistance in planning and executing our awesome celebration. – Anne and Andy
Thank you and all the C Lazy U staff for everything you did to make Melissa and Pete's wedding so wonderful. It exceeded theirs and all of our expectations. All of our guests have raved about the food and especially about the friendliness and helpfulness of everyone on the staff. You all outdid yourselves and we want you to know how much we appreciated all you did. – Susan & Roland
Thank you so much for making our wedding more amazing than we ever dreamed possible. All our guests had such an amazing time and remarked on how friendly and welcoming everyone was. For our part, we were in heaven! We love it up at C Lazy U, and even though weddings are typically nerve-wracking affairs for the bride and groom, you made it so that we could relax and enjoy every minute of it! – Nicole and Ian
We recently received the photographs. The beauty of the ranch made for some stunning shots. The photographer also took several pictures of the decor. We really appreciate the creativity, care and effort you put into the flower arrangements and table decorations. They were absolutely lovely! And perfectly reflected our style.
The food and desserts were delicious! We also felt so well taken care of by those tending the bar, and helping with the music. It all seemed to come together so perfectly, and we know that's not luck but rather the hard work, planning and coordination that took place before we arrived. Thank you with all our hearts for making our special day so very special.
---
**Please note: As an "all-inclusive" destination, we are unable to accept inquiries for 'a la carte' one-day wedding ceremonies and receptions. Two-night minimum stays apply.