A Picture-Perfect Destination Wedding in the Mountains
For an unforgettable destination wedding in the mountains, whisk your guests off to a charming dude ranch in the foothills of the Rocky Mountains. C Lazy U Ranch in Granby, Colorado provides a romantic, rustic western ambiance and sweeping mountain vistas, as well as the luxury experience that only destination wedding resorts can provide.
A Colorado Wedding Venue For Any Theme
A ranch wedding at C Lazy U is a completely unique experience: our designers and catering staff can work with any theme, such as rustic barn weddings, bohemian weddings, Wild West weddings, and more, to make sure your day at our mountain wedding venue is a romantic, once-in-a-lifetime event for you and your guests.
Highlights of a Mountain Destination Wedding at C Lazy U
Exclusive use of the 8,500-acre ranch
Scenic photography locations
4 indoor/outdoor ceremony sites
3 indoor/outdoor reception sites
Secluded honeymoon cabin
Included ranch activities for overnight guests
Gourmet dining
Bar packages, including wine curated by on-site sommelier
An Intimate, Exclusive Event
Celebrate your wedding with the touches of an intimate luxury vacation. C Lazy U Ranch is small — not counting its acreage, that is — but lavish, with the ability to combine downhome vibes with elegance. Wedding guests at C Lazy U have private use of the ranch's 8,500 acres, allowing family and friends to participate in ranch activities to make lasting memories and form even stronger bonds — all centered on a celebration of love and the blending of two families.
Treat Your Guests to the C Lazy U Ranch Experience
For your destination wedding, up to 70–90 guests stay two nights at the ranch, where they are treated to the same superior service we offer to all guests. Weddings are always buy-out events so the only guests on-ranch will be yours. Rates for guests include:
A Ranch Wedding Venue Available Year Round
Weddings take place year-round at C Lazy U, as the ranch is just as breathtaking blanketed in snow as it is in flowers. The limited June and August wedding weekends typically book one to two years in advance.*
Wedding Ceremonies at C Lazy U Ranch
C Lazy U guests have always admired the natural beauty of the ranch's surroundings, which is why we have handpicked and designed four unique ceremony sites at our mountain wedding venue in Granby, Colorado.
Wedding Ceremony Sites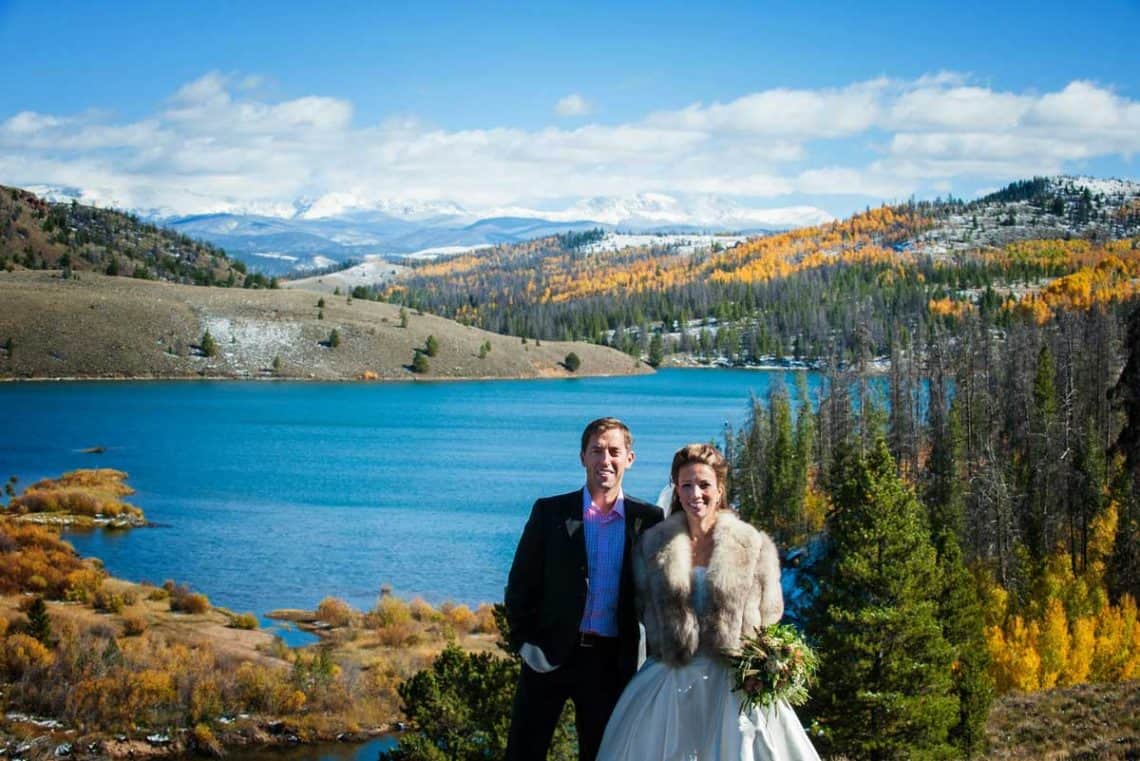 Woodsie Overlook: Perched high above the ranch, this soaring spot overlooks the gentle waters of Willow Creek Reservoir.**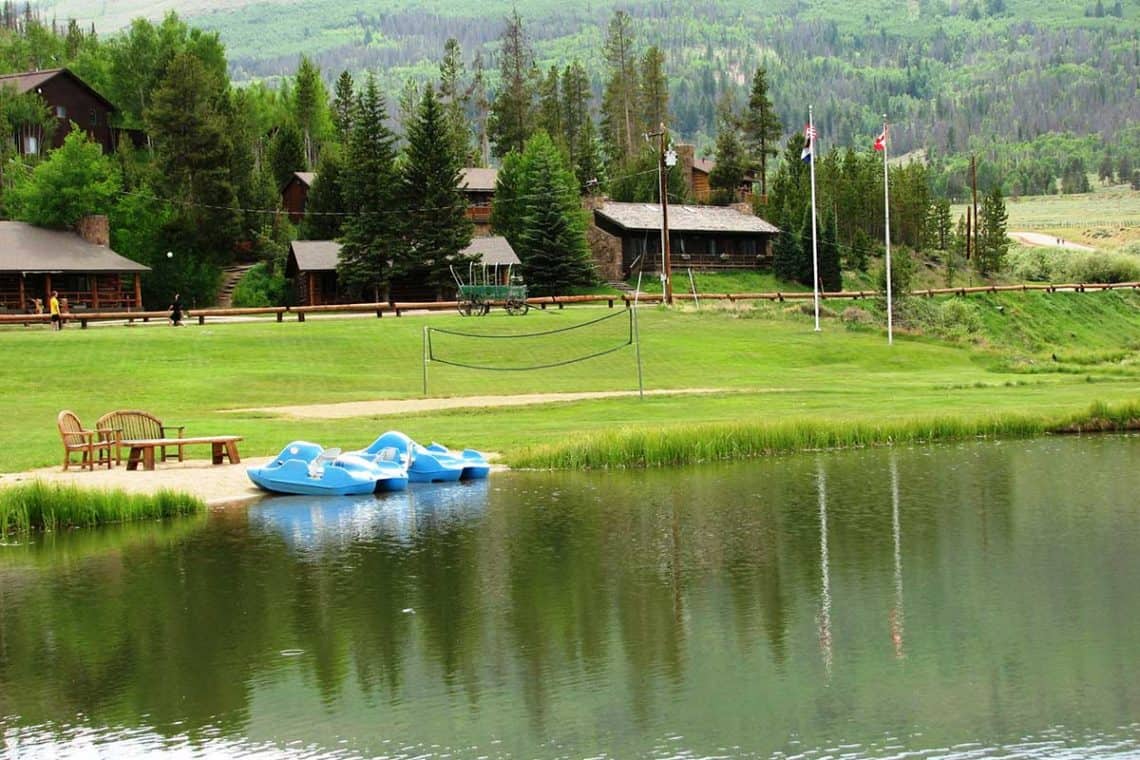 Majestic Pond: Expansive meadows with a rolling mountain backdrop surround a pristine green lawn nestled next to the ranch pond for a quiet, intimate wedding.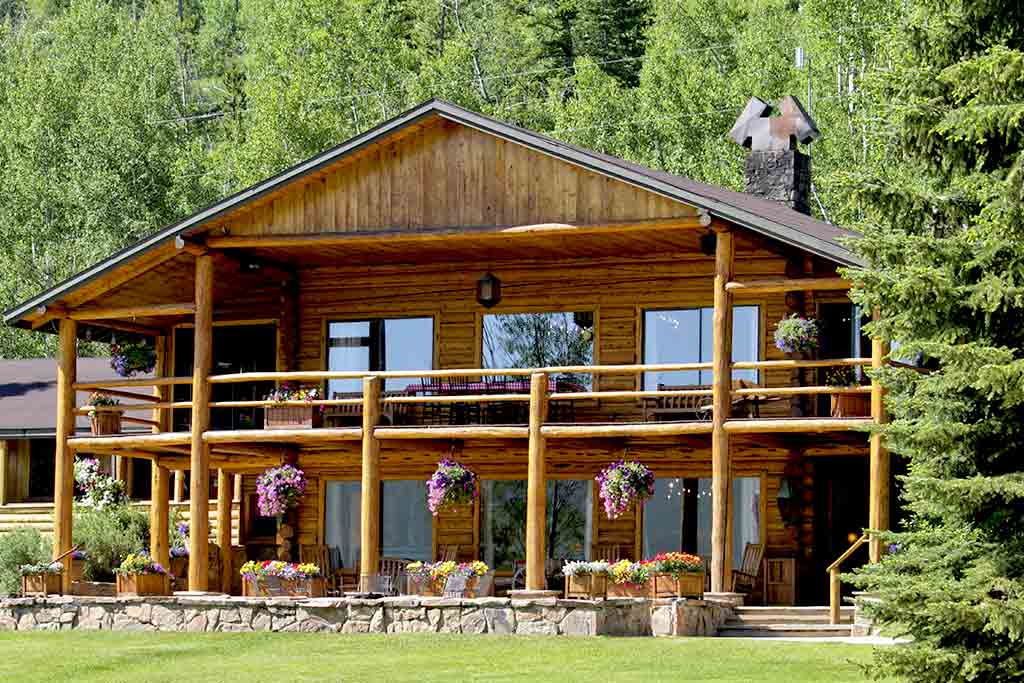 Main Lodge: Surround yourself in history at the Main Lodge, one of our most cherished sites that was built 70 years ago with timber from our very own hillside.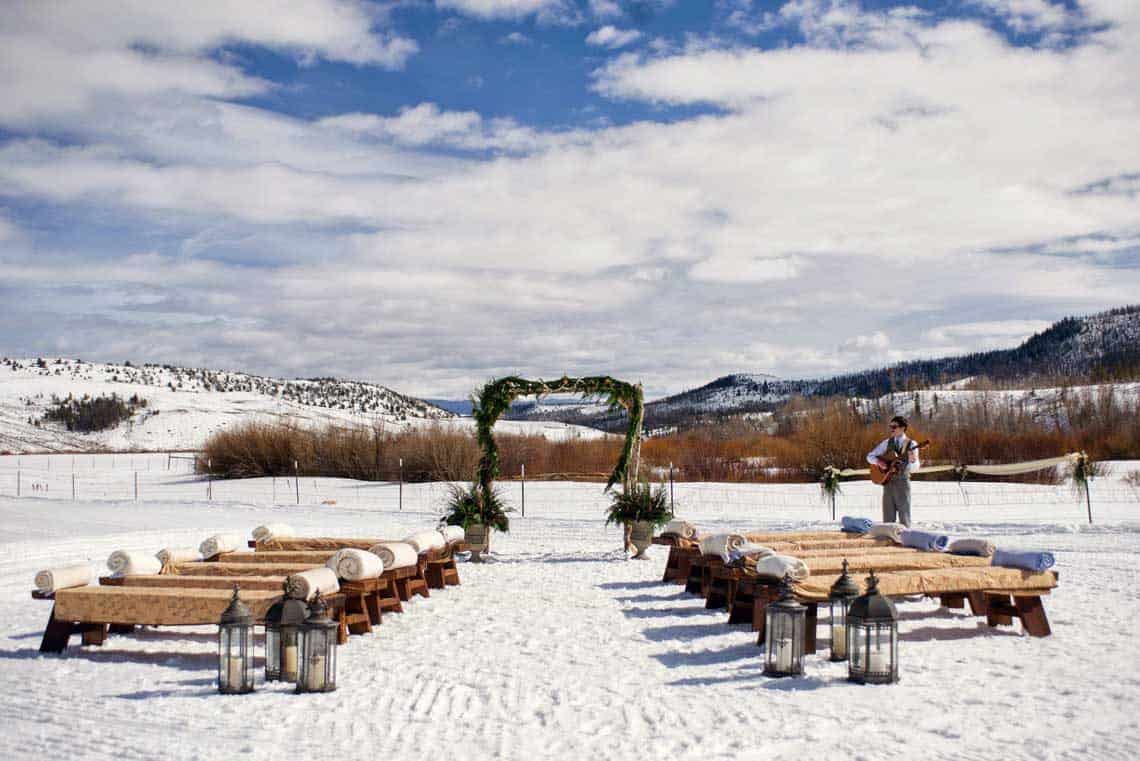 Hay Meadow: Arrive in a horse-drawn sleigh to this sprawling field, which is covered in snow in the winter and wildflowers in the summer.
Wedding Receptions at C Lazy U Ranch
Each reception site includes tables and seating, linens, dinnerware, service staff and dinner service.
Wedding Reception Sites

Hay Barn: The Hay Barn evokes the quintessential western atmosphere, and has hosted some of the best barn weddings in Colorado. Its interior boasts antler chandeliers, charming string lighting, a lofted lounge area, large dance floor and two bars.**

Main Lodge: Historic and rustic, the Main Lodge offers a cozy saloon-style bar and a formal log dining room for an intimate reception.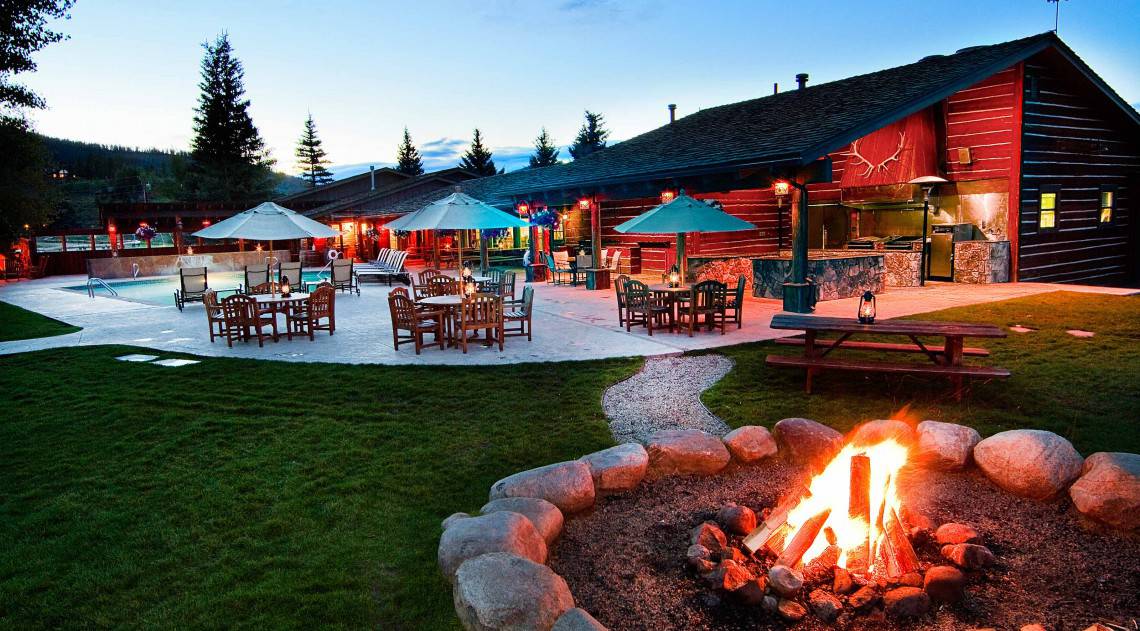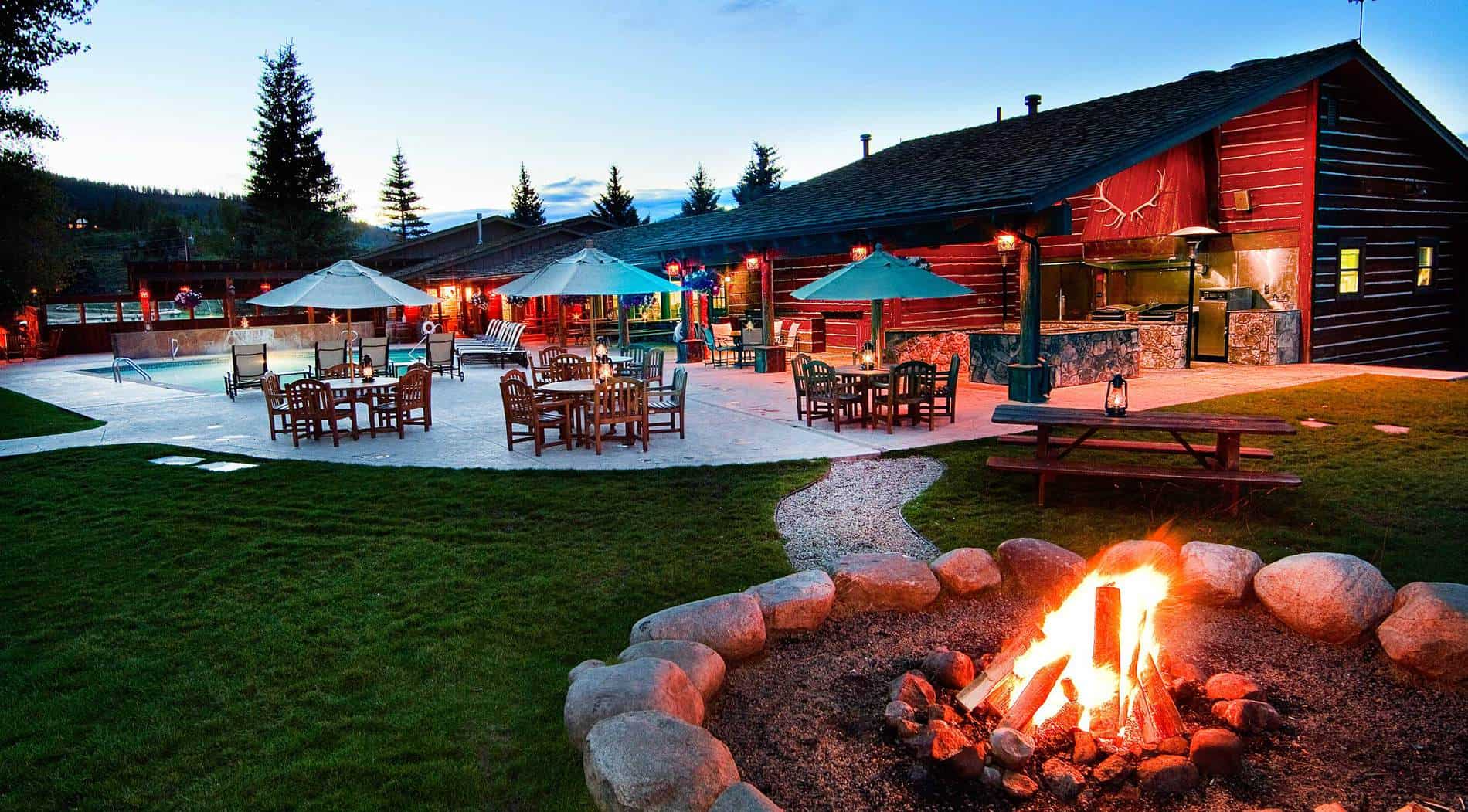 Patio House: The poolside deck at the Patio House offers indoor and outdoor seating, multiple fire pits, lawn games, a dance floor and an ice cream parlor.
---
Buying Out the Ranch
In order to provide exclusivity and provide the perfect wedding experience, wedding parties are required to rent out the entire ranch for a minimum of two nights. The wedding party is responsible for guaranteeing the space and C Lazy U Ranch structures this into one easy to understand buyout price so you know exactly what your wedding is going to cost.
Buyout pricing includes:
All Site Fees
Standard linens, flatware, glassware, dinnerware, lighting and décor
Accommodations on Ranch for the Wedding party and all guests
Gourmet Dining
Activities for you and your guests
Taxes and Resort Fees
Exclusive Buyout Pricing
| Maximum Number of People | Maximum Number of People | Buyout Price Per night | Two Night Wedding Price |
| --- | --- | --- | --- |
| November – April | 70 | $50,586 | $101,000 |
| May – October | 80 | $65,500 | $131,000 |
What is My Guest's Cost to Attend the Wedding?
In other words, what is their cost to attend the wedding and have their own room since that is included in the inclusive buyout price?
This is entirely up to the wedding party. Some weddings choose to host the entire wedding and their guests don't pay for anything. Other weddings choose to set a nightly rate for their guests to pay at their own expense. If you choose to do this the ranch recommends the wedding sets a nightly per person per night rate of $250 to $300 for their guests. The ranch's reservation department can explain all of the inclusions outside of the hosted wedding events such as meals and activities.
---
The C Lazy U provides some of the most romantic wedding experiences. Please do not hesitate to contact our Wedding Sales Team at info@clazyu.com should you have any questions.
*Weddings are not held at C Lazy U Ranch from the second week of June to the second week of August, as it is reserved for family vacations requiring a 7-night minimum stay.
**Not available in the winter
Words cannot express our gratitude for the incredible experience we had at the ranch for Amanda and Ben's wedding this last weekend. Aside from the beauty of the ranch, fabulous accommodations, activities, delicious food and beverages, the ability of your staff to shift from the long-arranged Spring wedding plans to a Winter wonderland affair in a matter of hours was simply amazing. While we were appreciative of the warmth, friendliness and assistance provided by all of your staff, in particular I would like to give a shout out to both Henderson and Julia, who both went the extra mile to make our stay comfortable and fun. I literally cannot wait for another opportunity to visit the ranch, and as a wedding professional myself, will recommend it to all my customers seeking a truly unique, joyful, fun-filled destination wedding.

– Holly Levin
I wanted to take a few minutes to let you know how thrilled we were with C Lazy U Ranch for my son's wedding! From start to finish it was an amazing weekend thanks to you and your staff!! EVERYONE had a wonderful time and were mesmerized by the beauty of the ranch, the food, service and of course the wonder of love between Kerry and Alex.

Read the whole testimonial
Our wedding was perfect and we owe it all to the C Lazy U staff. Thank you so much for all your hard work and continued attention to detail. Everyone I talked to had a wonderful time, including Peter and myself. When it was all over I said to Peter, "can we do this again?" Thanks again for all your hard work to make our wedding everything we could have imagined.

– Melissa & Peter
You are incredible. I know I didn't give you much guidance, and I left you to make some of the big decisions (because let's be honest…I'm not the best at decisions!), but oh my goodness you could not have done a more perfect job! It was absolutely a dream come true for the both of us…it was the wedding we prayed and hoped for and so much more!

– Mikey & Bree
Thank you so much for all your hard work to make our wedding at C Lazy U so special! You and the rest of the staff were unbeatable and our guests cannot stop raving! We hope that we will have another opportunity to visit C Lazy U and see you again!

– Rachel and Keith
Chris and I have had time to reflect on our experience and are beyond grateful for the gift you and the Ranch were capable of giving us. Our wedding was truly special. From the beginning of the planning process, you were honest, patient and accommodating — it was much appreciated. You and the Ranch are one of a kind, and we can't wait to return!

– Emily & Chris
Thank you to every one of you for all that you did to make our wedding weekend such a huge success! Everyone raved about what a great time they had and how friendly and attentive the staff were. The menu was a huge hit, all our bar planning worked out fantastically! Thank you for all your assistance in planning and executing our awesome celebration.

– Anne and Andy
Please note: As an "all-inclusive" destination, we are unable to accept inquiries for 'a la carte' one-day wedding ceremonies and receptions. Two-night minimum stays apply.