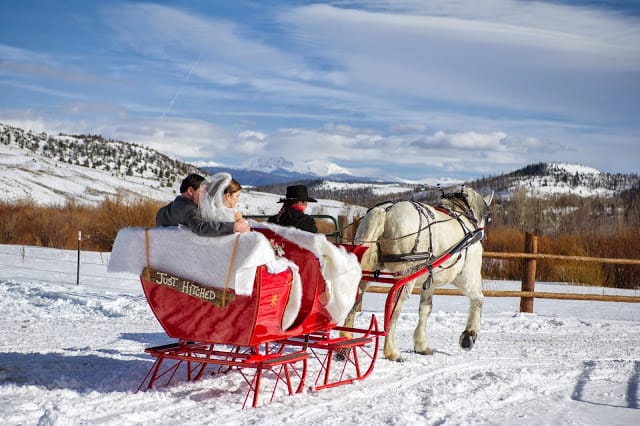 Brides- and grooms-to-be have a million wedding decisions to make. Indoors or outdoors? Big or small? Traditional or contemporary? Live band or a DJ? Season is another big one – spring, summer, fall, and winter all have their pros and cons.
Winter weddings may be less favored than summertime nuptials, but a snow-white wedding day done right will stand out as something different, special, and even a little enchanted. C Lazy U offers the perfect backdrop for a snowy fairy tale style winter wedding in the heart of the Colorado Rockies. Here are just a few reasons to choose C Lazy U in the wintertime as the stage for your big day.
Horse-drawn Sleigh as an Entrance
C Lazy U has several different kinds of horse-drawn sleighs, and we're not afraid to use them. Fun and photogenic, sleigh rides will add a storybook touch to the ceremony. The hardest decision will be who gets to make a regal horse-drawn entrance – the bride herself, the parents, the kids, or even the entire wedding party! There is room for everyone on our sleighs, both as part of the ceremony and as a festive activity during the celebration that follows.
Winter Wedding Fashion
A pure-white backdrop is a designer's dream. Flowers, décor, bridesmaids' dresses, and anything with color will pop out against the snow. You can also play with wedding fashion in ways that aren't possible in the summertime – think accessories like fur capes and stoles, and colorful cashmere scarves. Cowboy boots paired with dresses is a hot trend in the wedding world right now and a ranch wedding is the perfect place to show off your favorite boots. For a winter wedding cowboy boots will also keep your feet dry and warm. The creative possibilities are endless.
Indoor and Outdoor Possibilities
Worried about cold weather or snow spoiling the wedding ceremony plan? Fear not! C Lazy U's property is big, beautiful, and full of choices for setting up chairs and an aisle. For winter weddings, plan A will be one of several panoramic spots outside, such as Woodsy Overlook or Hay Meadow (where a light snowfall can add a lot of charm!). But, if need be, plan B indoors at the Main Lodge or the Hay Barn will still be tasteful, stylish, and cozy warm. Any place you hold the ceremony will be the perfect backdrop for your dream rustic wedding.
Mountains of Winter Fun for Guests
Colorado comes alive in the wintertime, when locals and visitors alike flock to the Rocky Mountains to play in the snow. Mountains are to wintertime as beaches are to summertime, so if you're thinking about the most fun place for a destination wedding that can double as a vacation for the guests, C Lazy U is it! Between rehearsal dinners and shedding tears at the toast, the party can spend quality time snowshoeing, cross-country skiing, tubing, ice skating, or starting a mischievous snowball fight. Your wedding guests will thank you for an excuse to enjoy the ultimate winter getaway.
A Wedding Straight Out of a Magazine
Want your wedding photos to look like something out of the glossy pages of a magazine? The press loves C Lazy U, which has graced the pages of design, travel, and bridal magazines big and small, print and digital. The ranch has been featured in Rocky Mountain Bride (Spring 2015 edition), and also on Wedding Wire as a premier Colorado wedding venue. In the travel press, C Lazy U has been praised as a top winter vacation in 5280 Magazine, which also listed the ranch a top place in Colorado to propose in the winter! Your wedding photographer will have a heyday capturing your big day at C Lazy U.
Seasonal Savings
When you reserve C Lazy U Ranch for your wedding, this gives you exclusive access to the 85,000 square acre property for a full weekend (2 nights). There's no rushing one wedding out the door and the next one in – the whole place is yours for the whole occasion.
One big advantage of a winter wedding at the ranch is the savings compared to a summer wedding. During the summer high season (June – October) the minimum number of guests for ranch buyout is 75. In the winter season (November – May) the minimum number of guests for buyout is 50 people, which allows you to keep the event smaller, more intimate, and more affordable. The site use fees also have special seasonal pricing that the father of the bride (or whoever foots the bill) is sure to appreciate.
When planning your dream winter wonderland wedding, nothing beats a C Lazy U wedding.
Header Photo Credit: Molly Johnson
Wedding Photo Credit: Jamee Photography