Envision a wedding where classic elegance meets the striking beauty of the American West. Picture yourself surrounded by the majestic Rocky Mountains as you exchange vows in a setting that effortlessly blends modern sophistication with the timeless spirit of the Wild West. At C Lazy U dude ranch and all-inclusive resort, we invite you to share with us in the extraordinary journey of planning your dream destination wedding.
Take our ideas and inspiration for jaw-dropping attire, flowers, decor, and more into consideration, and get ready for a celebration that transcends expectations.
Can't wait? Start planning your C Lazy U wedding today!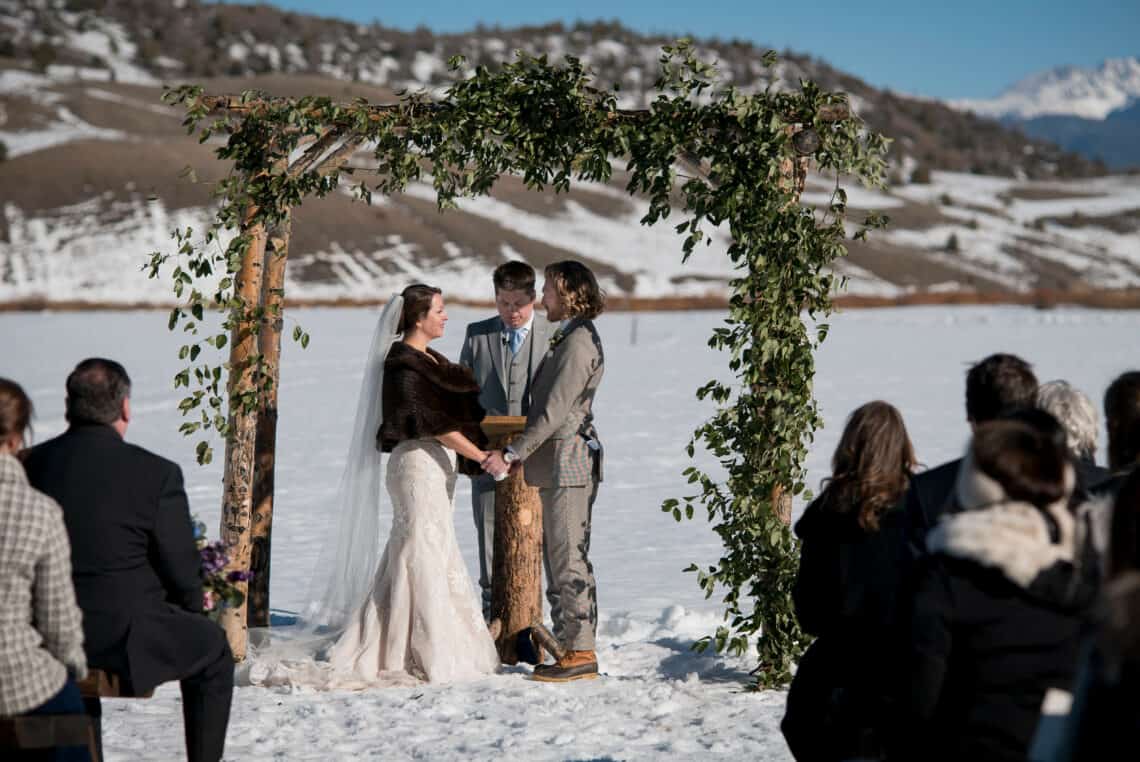 Western Wedding Attire For A Ranch Wedding
The picturesque, natural setting of a ranch wedding pairs beautifully with a vintage-inspired gown or veil – the perfect excuse to incorporate your mother or grandmother's veil into your special day. Lace works particularly well with a Western setting. Whether you're dreaming of a brilliant white dress, something off-white, or even a light pink, green, or soft blue – they'll all look perfect and leap out of the verdant landscape on our 8,500 acres of natural splendor and historic structures.
Best Bridesmaids Dress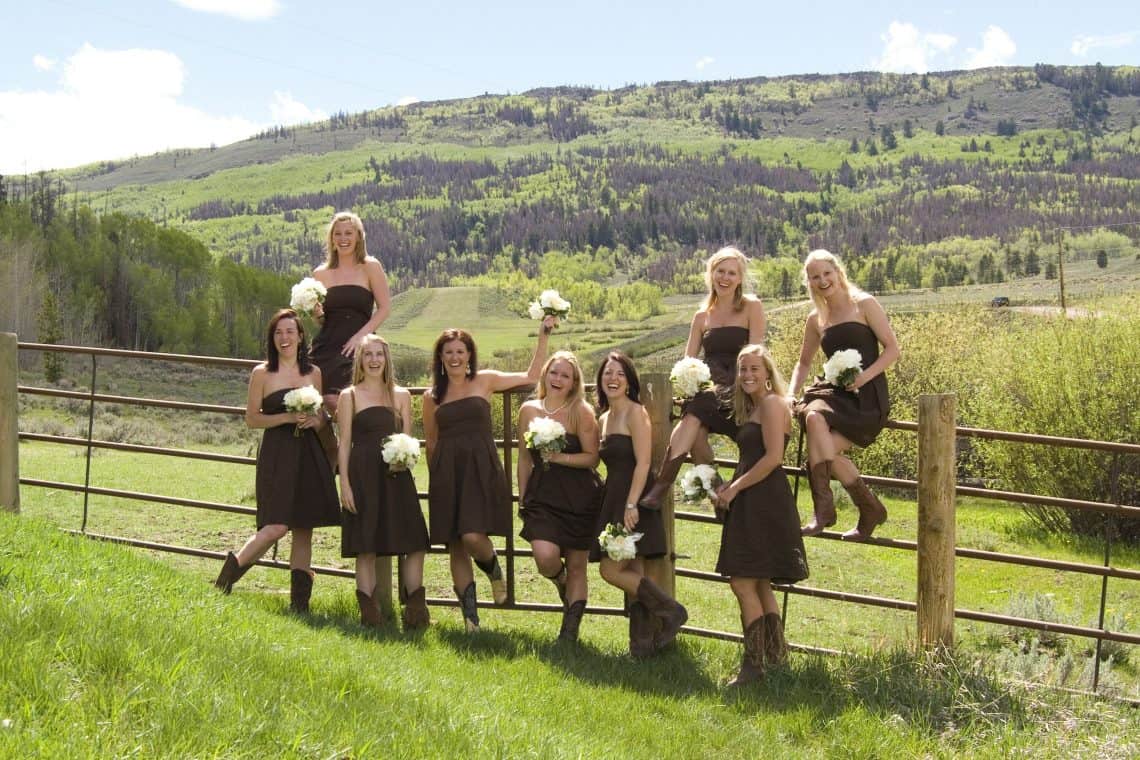 For bridesmaids, it's best to stick to shorter dresses. While floor length gowns are gorgeous, they can be a bit formal for a ranch setting and can get dusty or dirty when walking around outside or in the barn. Opting for shorter dresses also lets the bridal party embrace one of the hottest bridesmaids trends for country weddings: bridesmaids in cowboy boots. It's the perfect nod to the setting and a pretty-yet-practical choice for great footwear.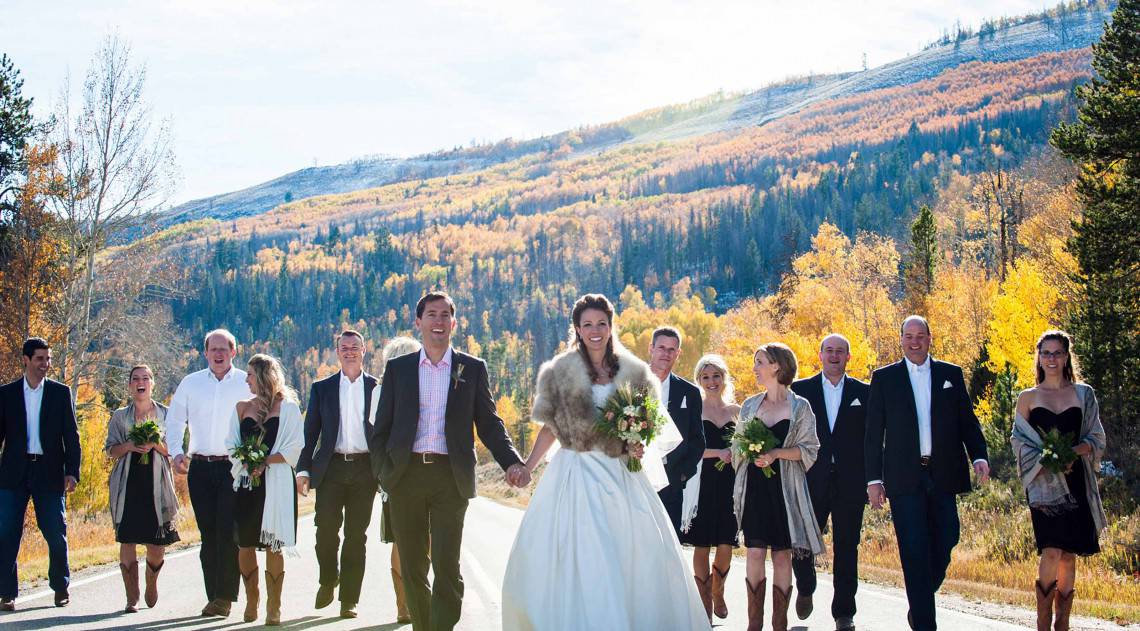 Best Groom Outfits
For the groom and groomsmen, jeans are perfectly acceptable at a ranch wedding and can be a great way to break away from the same old suits seen in every wedding photo. For a "ranch formal" look, pair dark wash jeans with dress shirts, vests, ties, and blazers. Or dress the men in fresh jeans, starched button down shirts, and cowboy hats for a more relaxed – but still stylish – look. Either option can (and should) be topped off with a belt buckle – and they make great groomsman gifts.
Read More: Western Fashion Tips for Serious Cowboy & Cowgirl Style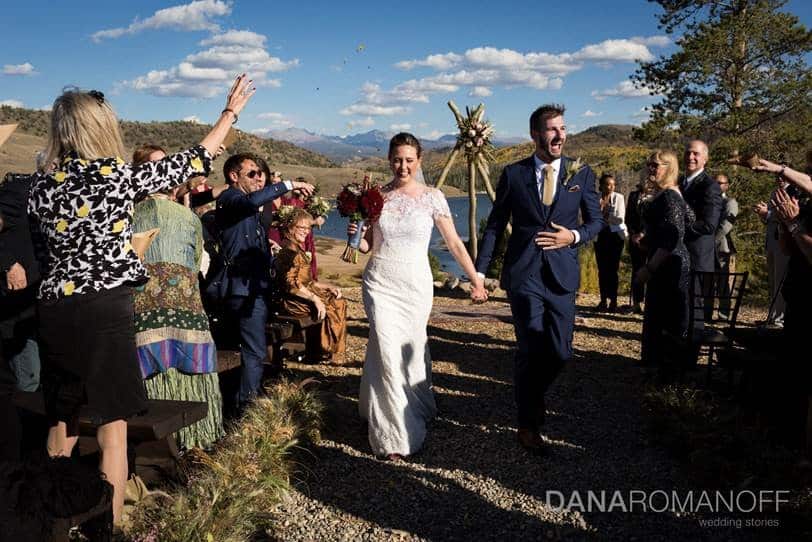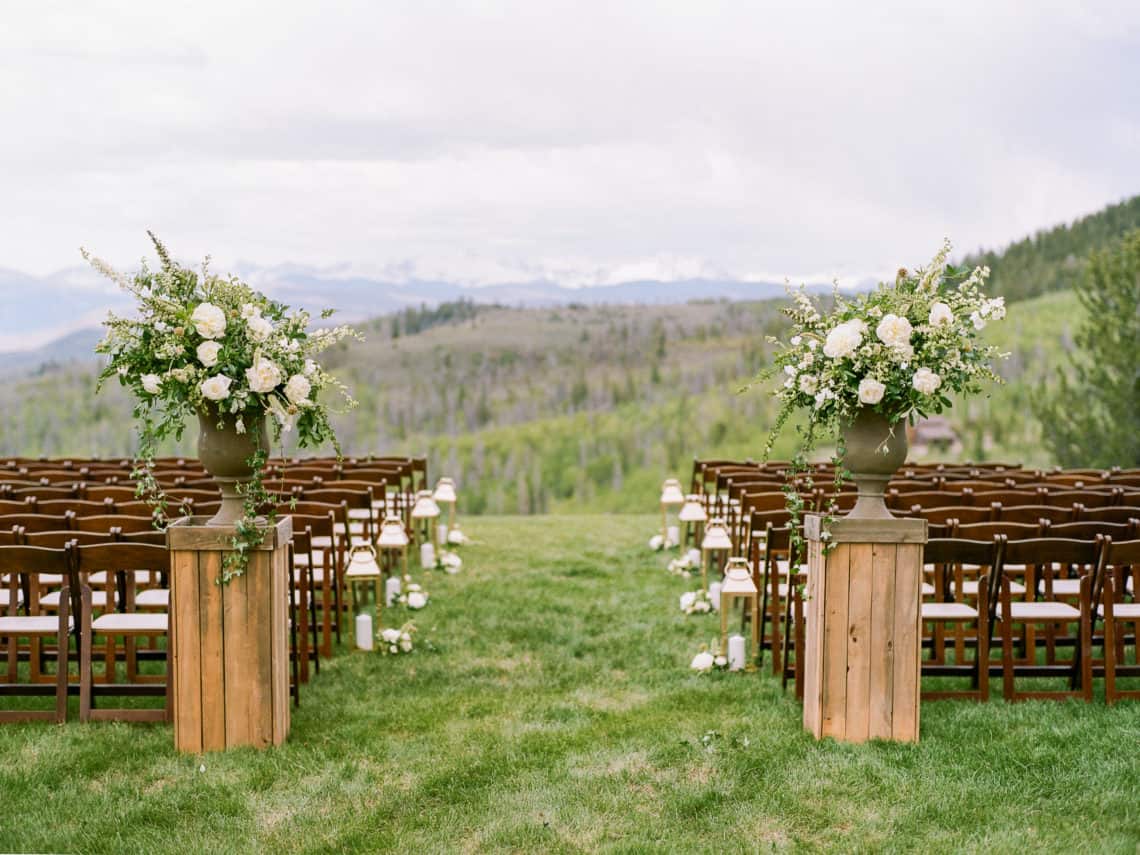 Captivating Floral Displays for Your Ranch Wedding
Flowers are always an eye-catching part of a wedding, but when you're having a wedding that ties as closely into nature as a ranch wedding does, they hold a little extra charm. The arcadian outdoor setting of a ranch wedding opens up a world of possibilities when it comes to wedding flowers.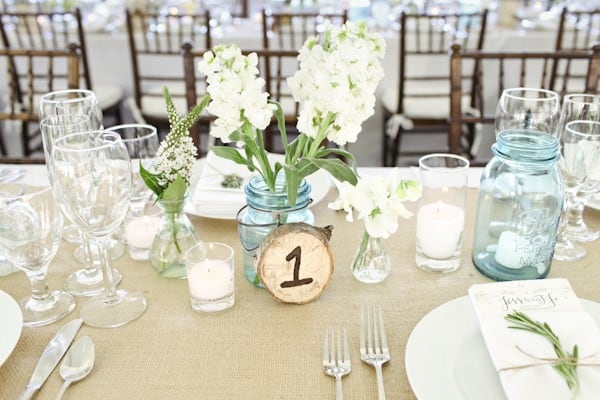 All-white or mostly-white bouquets pop against the bright green surroundings and look elegant once you're inside the barn. Bouquets that incorporate a lot of greenery have an earthier feel and look amazing during fall weddings when the landscape is burning bright with autumn leaves or in winter weddings when the backdrop is pearly white snow. And of course, a bouquet of wildflowers is never out of place or "too informal" for a ranch wedding.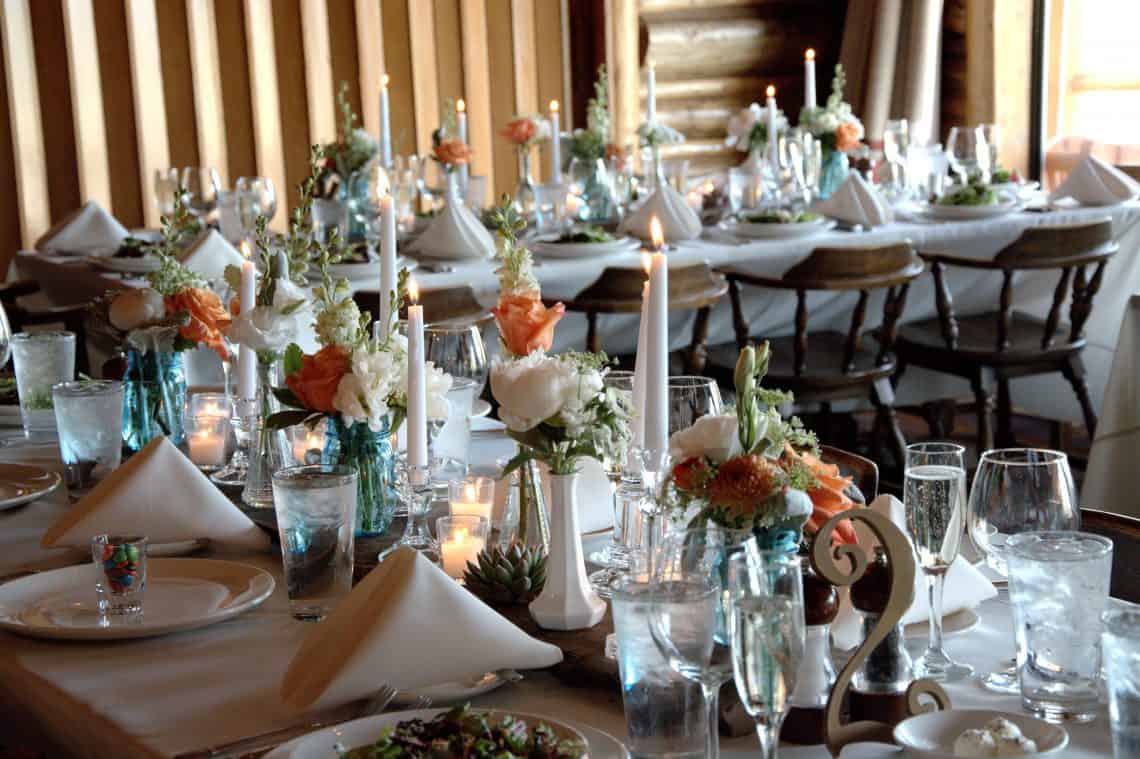 For your centerpieces and decorative flowers, you can keep it simple or take advantage of the wide open spaces that support large, maximalist arrangements.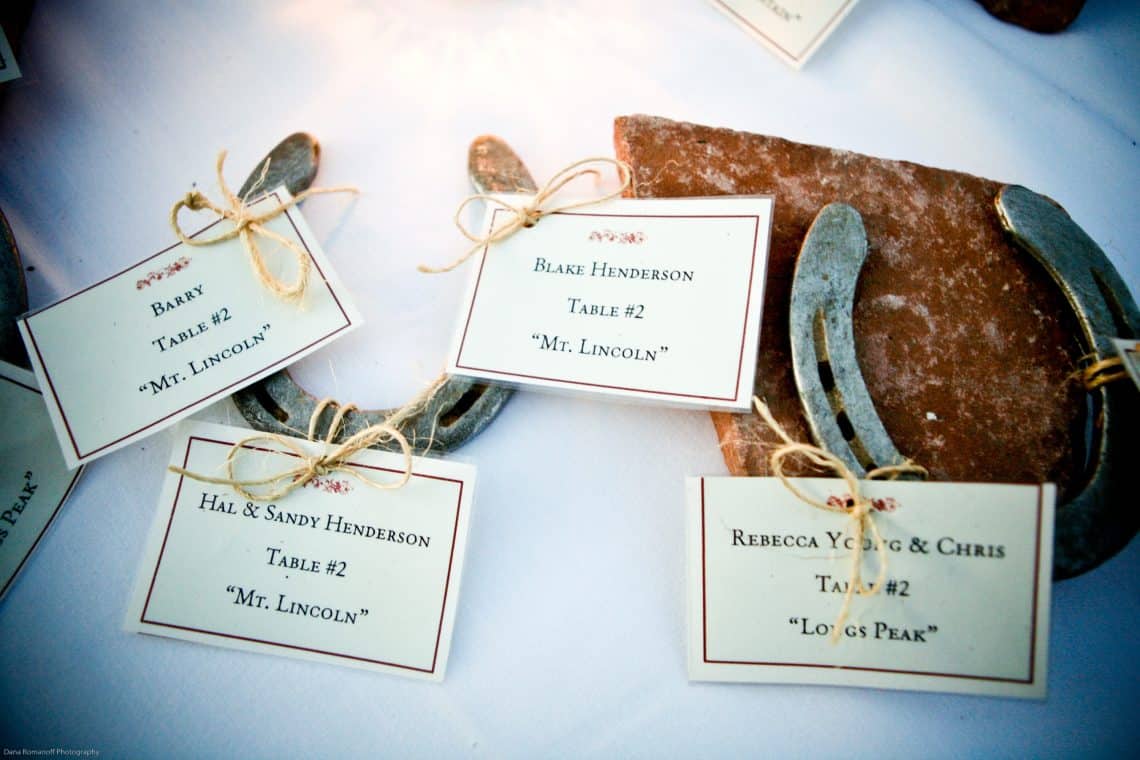 The Ceremony & Reception
Nestled in the heart of pristine Granby, Colorado, C Lazy U Ranch offers an exclusive venue that exudes charm and grandeur. Our luxurious resort provides an idyllic setting where sophistication seamlessly merges with the allure of the West. As your guests arrive at our picturesque ranch, they will be enveloped in an atmosphere that radiates warmth and hospitality, setting the tone for an unforgettable celebration.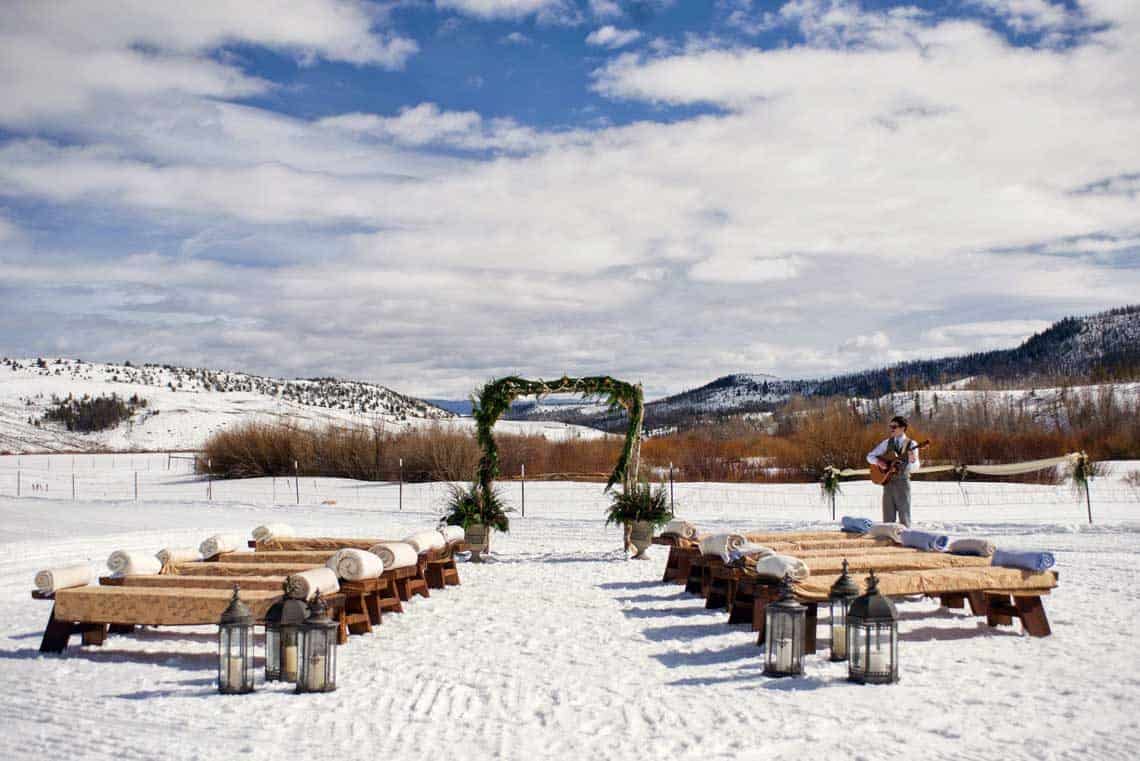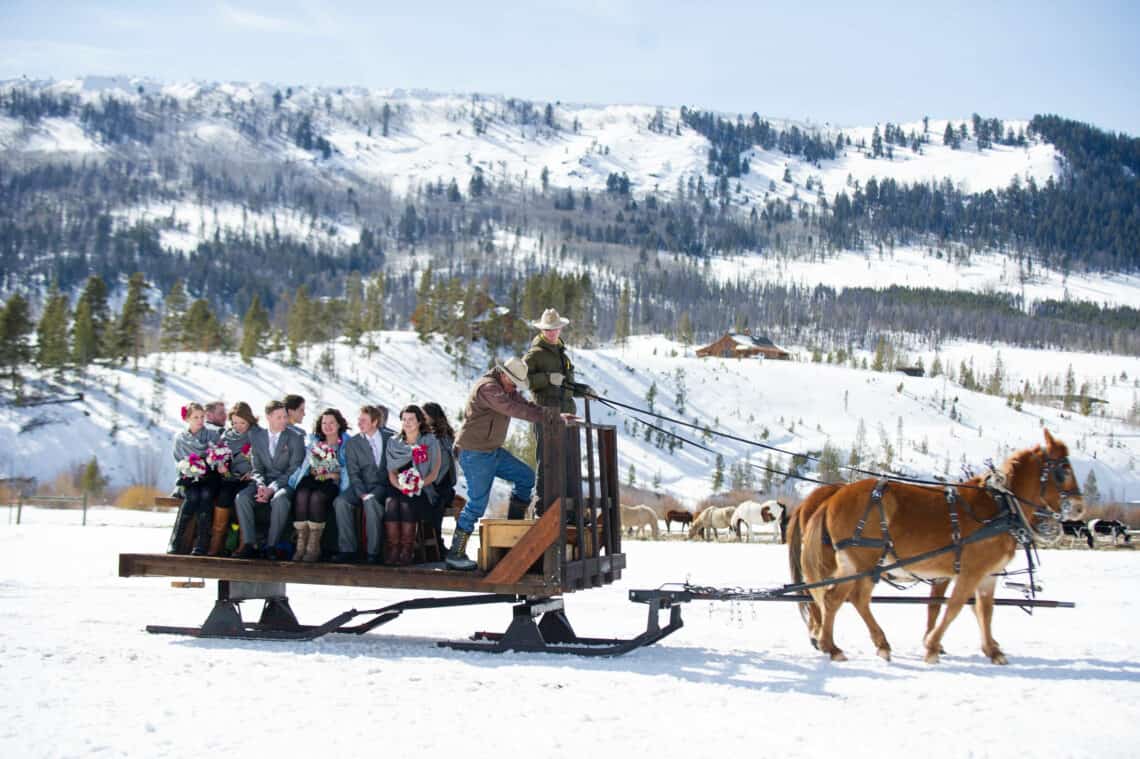 Ceremony Options to Fit Your Taste
For outdoor ceremonies, you can tour locations that overlook a shimmering lake, lush emerald meadows, rugged mountains, thriving woods, or authentic Western buildings. If you're concerned about weather, opt for a ceremony inside a festive barn or lodge. Whether you prefer an intimate affair or a huge celebration, C Lazy U provides the perfect canvas for your vision.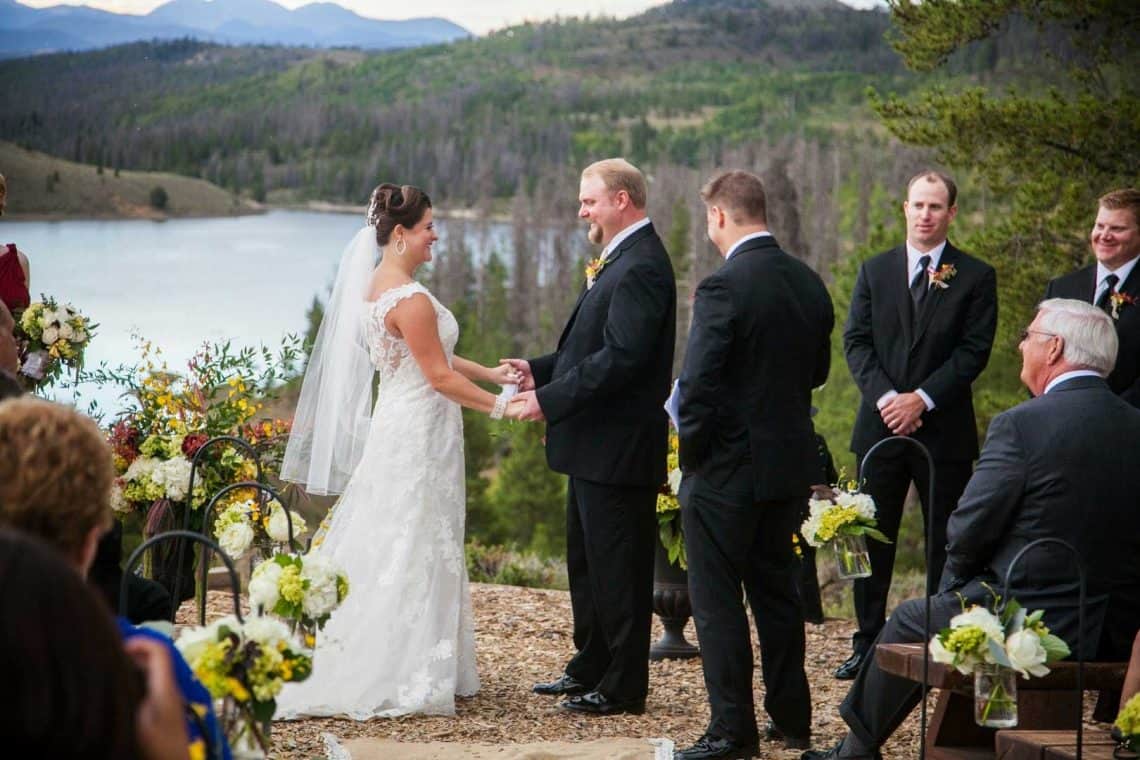 Reception Spots to Start & Keep the Party Going
For the reception, your wedding party has a wealth of options at C Lazy U. Our hay barn, main lodge, and patio house have all served as the setting for some of the best western weddings and parties of all time, and each features stunning aesthetic touches, like antler chandeliers, string lighting, fire pits, an ice cream parlor, and a charming saloon-style bar.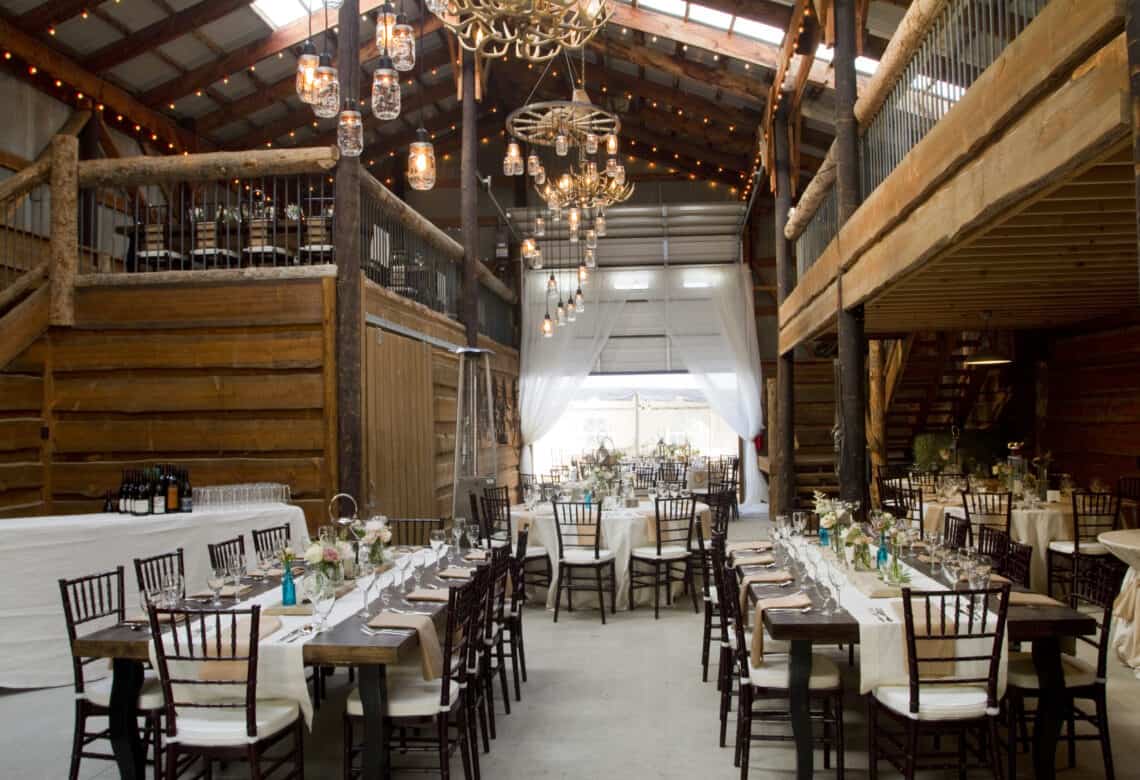 If a grand entrance to the ceremony or reception is on your mind, make it particularly memorable by arriving on a horse or in a horse-drawn carriage. Additionally, "riding off into the sunset" with your beloved after the ceremony makes for amazing memories and photos.
Looking for honeymoon plans? You don't have to go far.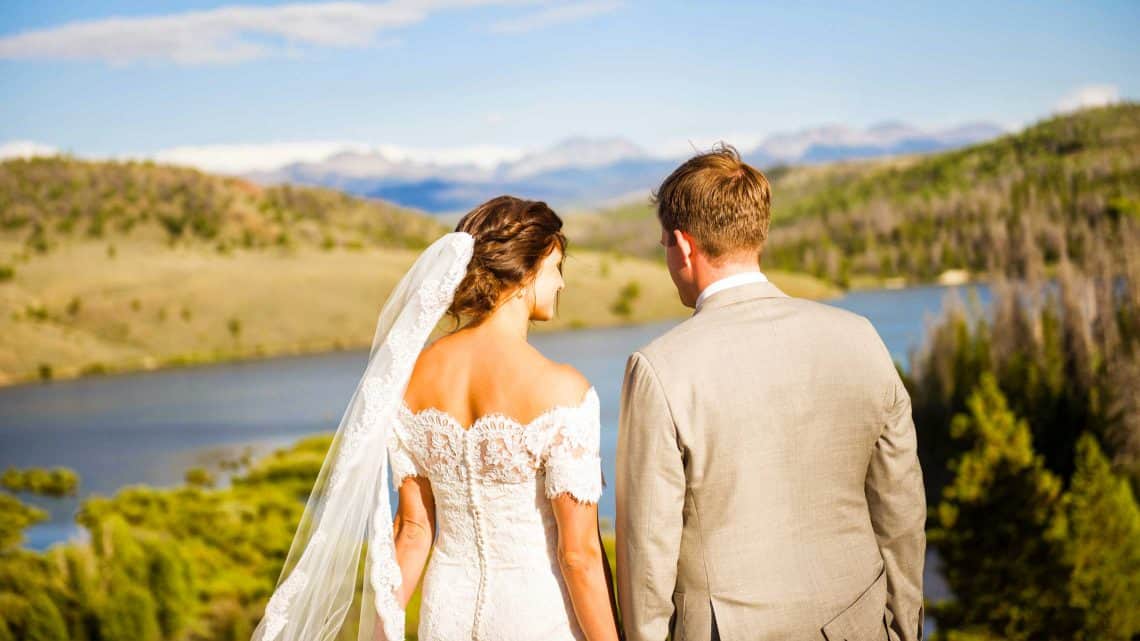 Must-Have Wedding Photos
You're having your wedding at a ranch – take advantage of it! There are so many amazing outdoor areas and backdrops for your wedding photos when you're at C Lazy U. Your wedding photographer will be spoiled for choice with lakes, streams, meadows, forests, pastures, mountain overlooks, and more. Our expert ranch hands know about all the most stunning views on the property, so don't be afraid to pick their brains for ideas!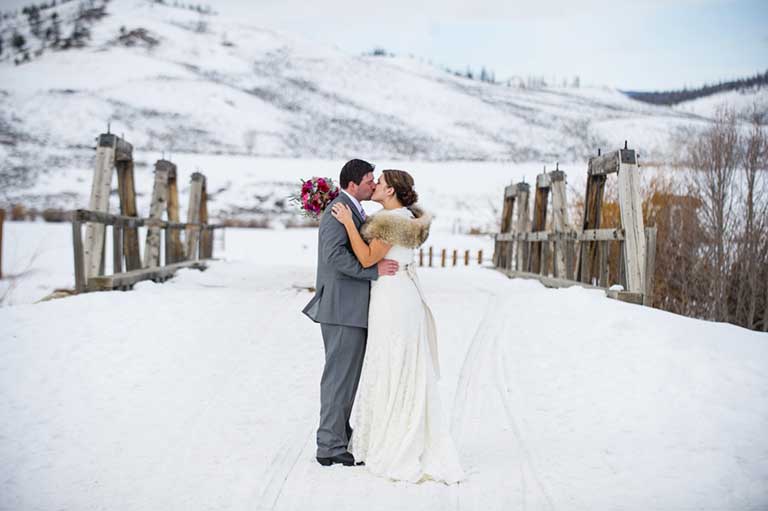 C Lazy U is also a working dude ranch, meaning you can get some especially memorable photos by taking advantage of the ranch's resident animals. You might even get lucky enough to catch a shot with some of the curious wildlife that frequents the area!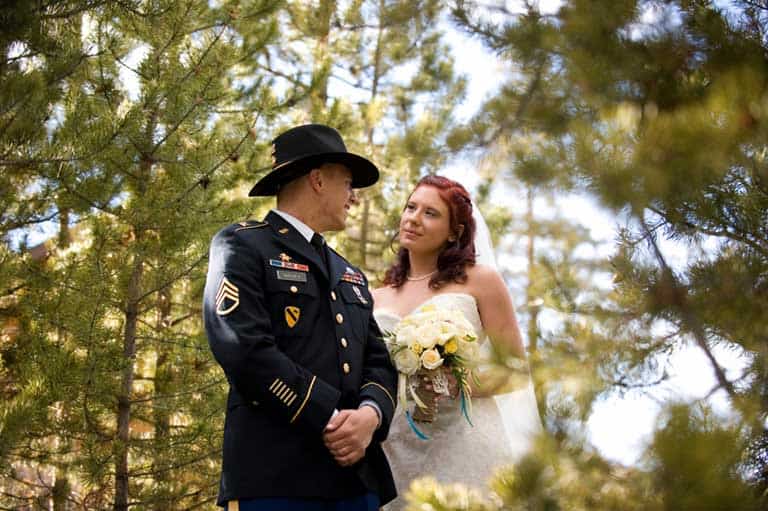 Luxurious Accommodations
Elevate your wedding experience with our luxurious accommodations. Our beautifully appointed luxury cabins and suites offer a blend of comfort and elegance, providing your guests with an unforgettable retreat. Each room is thoughtfully designed to embody the charm of the West while offering modern amenities to enhance your stay. Let your loved ones indulge in the tranquility of our resort as they celebrate this momentous occasion with you. Is there a more romantic way to close the night than in front of your very own roaring fireplace?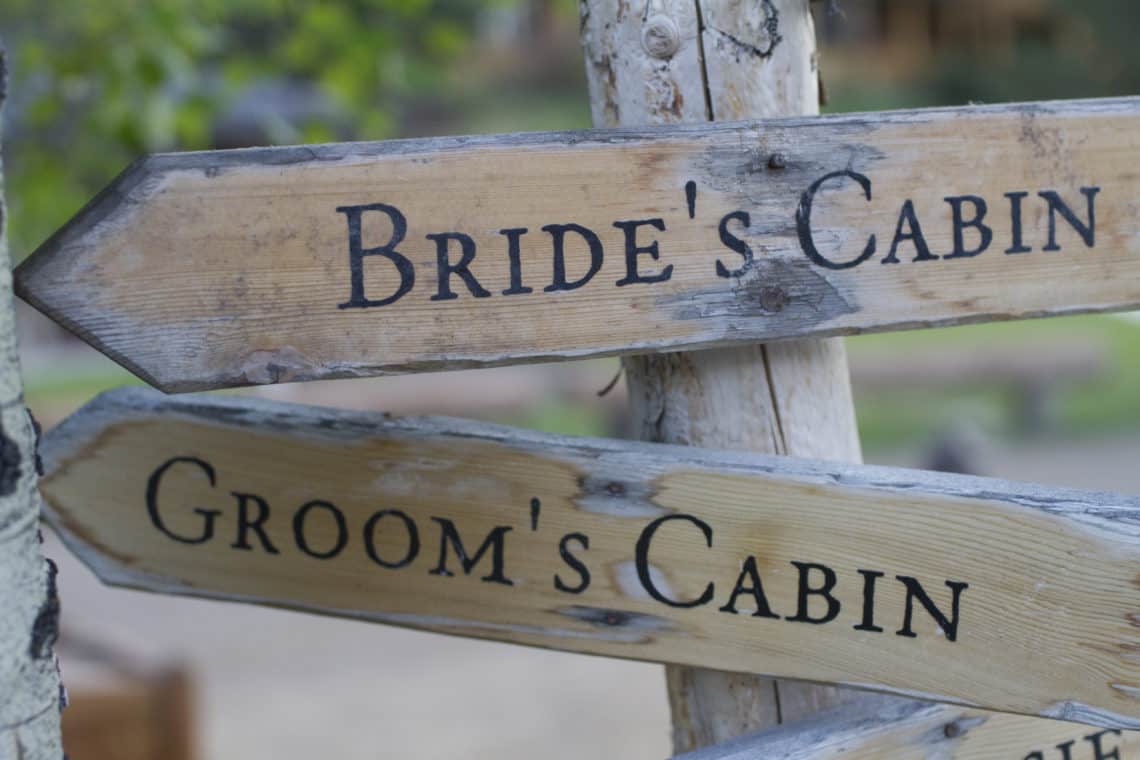 Wedding Favors
Still mulling over wedding favor ideas? Surprise your guests with a custom branded keepsake – you're on a ranch after all! Whether you want to use the ranch's brand to remind your guests of the amazing day, or use your own personalized brand to commemorate your new life together, ranch wranglers will gladly brand your wood or leather favors during your reception.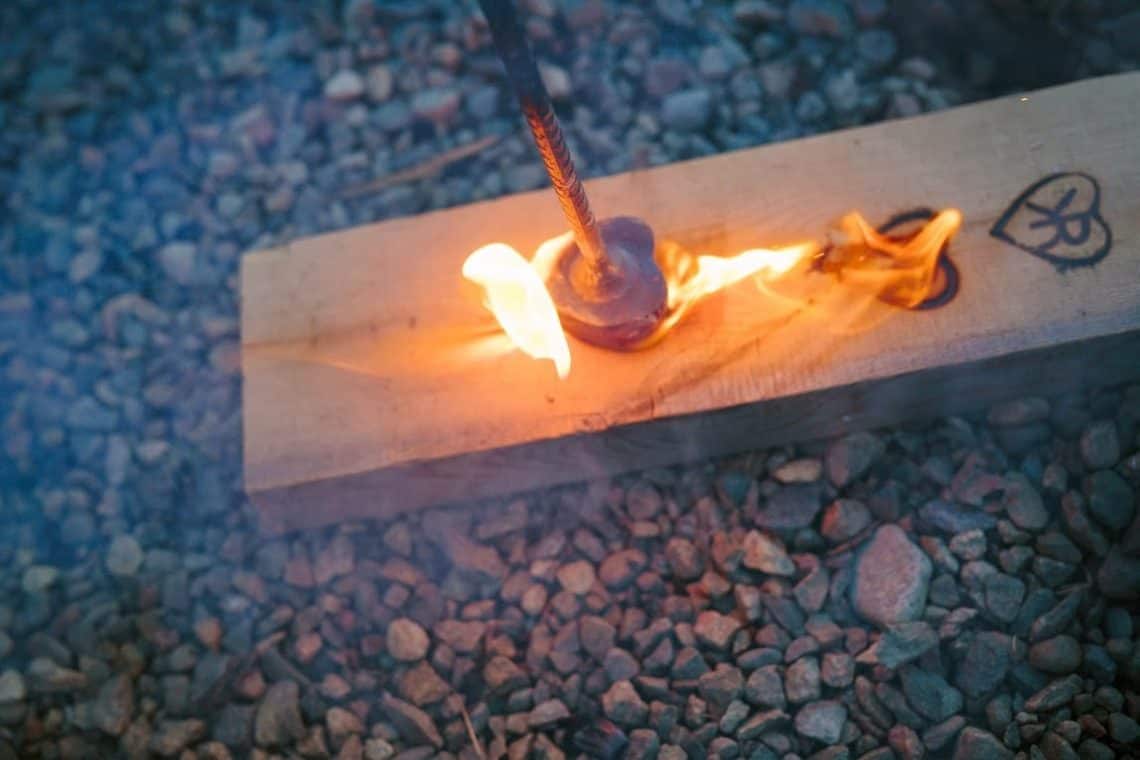 Experience the Magic of a C Lazy U Western Wedding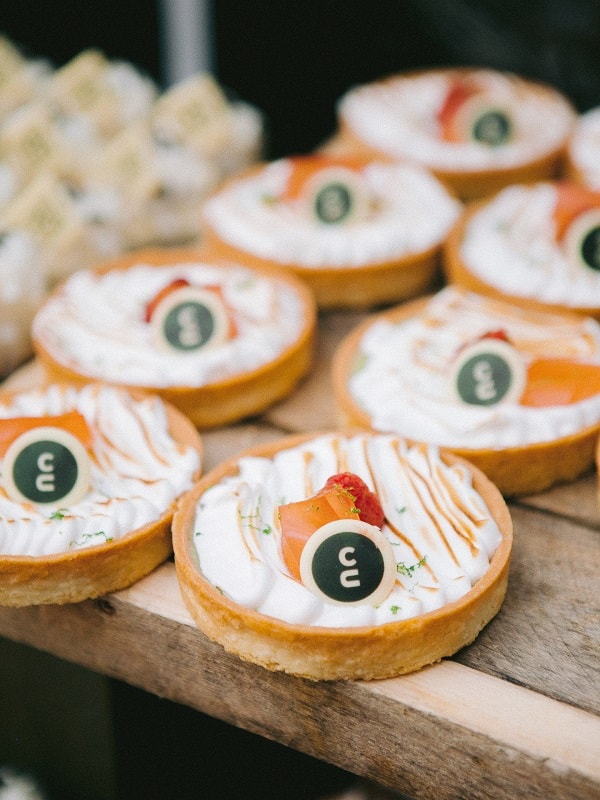 From sweeping scenery to thrilling activities and exquisite culinary delights, C Lazy U sets the stage for an unforgettable wedding experience. Indulge in the tranquility of our resort, bask in the warmth of our hospitality, and create cherished memories that will last a lifetime.
Our dedicated team of professionals will ensure every detail is flawlessly executed, leaving you free to savor every precious moment with your loved ones.
As you embark on this new chapter of your love story, allow C Lazy U Ranch to provide the perfect setting for your happily ever after. Come and experience the magic of a Western-inspired wedding that will leave an indelible mark on your heart, forever reminding you of the beauty and elegance that comes to life in this unique corner of the world.
Contact us today to get started!