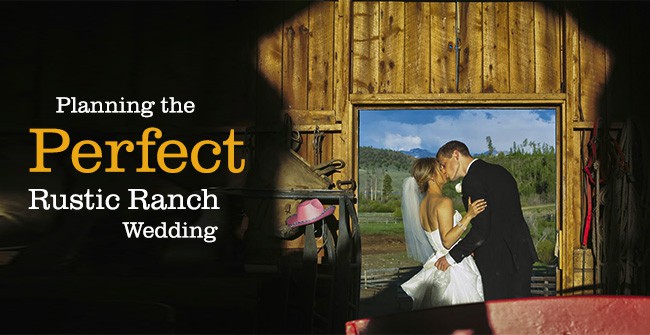 If you have your heart set on a country wedding or a rustic wedding, there's no better venue choice than a ranch. While there are plenty of barns for rent, these locations have been dolled up as wedding venues and have often lost the true charm only a working ranch can offer.
Ranches that host weddings often offer all-inclusive wedding packages, including on-site lodging, a location and catering for the rehearsal dinner and everything you'll need for getting ready, the ceremony and the reception.
A ranch wedding is ideal for the couple who loves to be outdoors among nature and who are looking for their wedding to be throwback to a simpler time. If you dream of your wedding photos having mountains, a lake, a meadow or even a herd of horses in the background, a ranch is the perfect fit.
What will your dream ranch wedding look like? Take these ideas and inspiration for attire, flowers, décor, favors and more into consideration.
Wedding Attire
The rustic, natural setting of a ranch wedding pairs beautifully with a vintage inspired gown or veil – the perfect excuse to incorporate your mother's or grandmother's veil into your special day. Lace goes particularly well with this this setting. Whether you're dreaming of the whitest white dress, something a little off-white or even a light pink or soft blue, they'll all look perfect when your backdrop is nature and a rustic barn.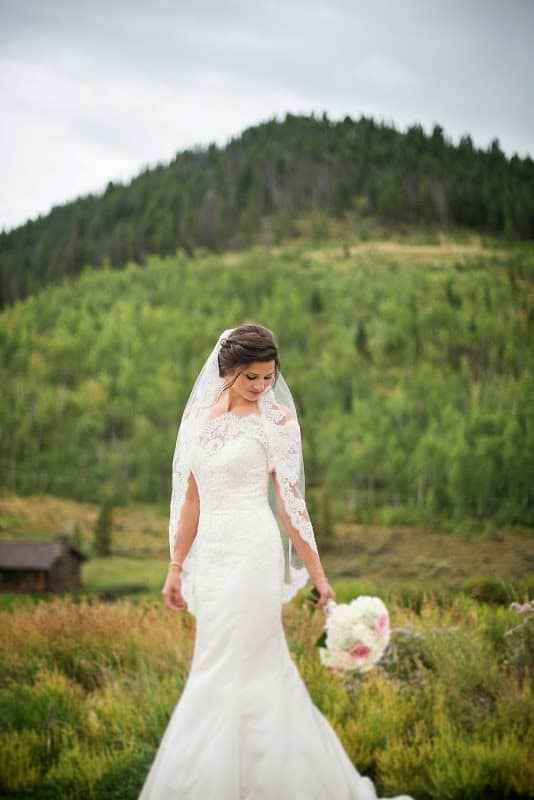 For bridesmaids, it's best to stick to shorter dresses. While floor length gowns are gorgeous, they can be a bit formal for a ranch setting and can get dusty and dirty when walking around outside and in a barn. Opting for shorter dresses lets bride embrace one of the hottest bridesmaids trends for country weddings – bridesmaids in cowboy boots. It's the perfect nod to the rustic setting and a pretty, yet practical, shoe choice.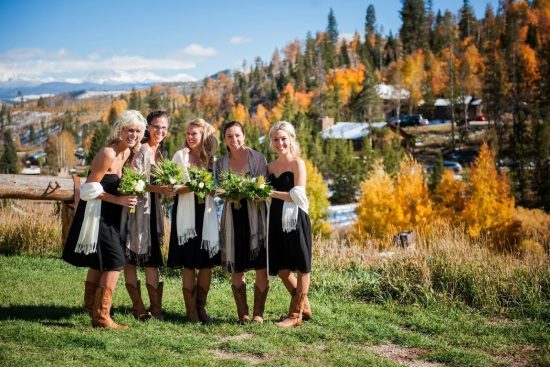 For the groom and groomsmen, jeans are perfectly acceptable at a ranch wedding and can look stunning and different. For "ranch formal," pair dark wash jeans with dress shirts, vests, ties and blazers. Or dress the guys in fresh jeans, starched button down shirts and cowboy hats for a more relaxed, but still dressy, look. Either look can (and should) be topped off with a belt buckle – they make great groomsman gifts.
Flowers
Flowers are always a beautiful part of a wedding, but when you're having a wedding that ties as closely into nature as a ranch wedding does, they hold a little extra charm. The rustic outdoor setting of your ranch wedding opens up a world of possibilities when to comes to wedding flowers.
All or mostly white bouquets pop against the bright green surroundings and look elegant once you're inside the barn. Bouquets that incorporate a lot of greenery have an earthier feel and look amazing during fall weddings when the landscape is burning bright with autumn leaves or winter weddings when the backdrop is pearly white snow. And of course, a bouquet of wildflowers is never out of place or "too informal" for a ranch wedding.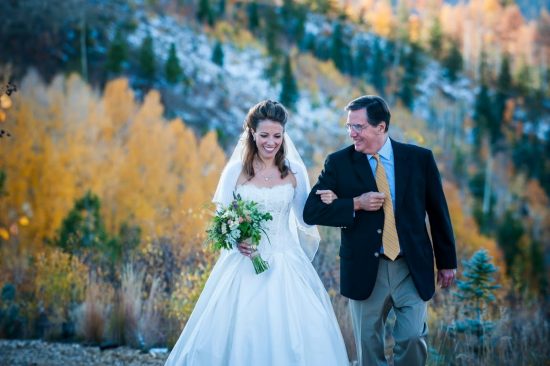 For your center pieces and decorative flowers, you can keep it simple, small and quaint or take advantage of the grand expanses to support large arrangements.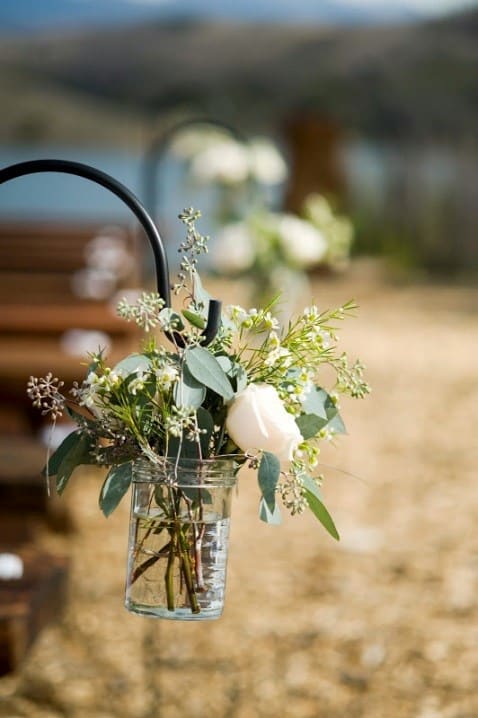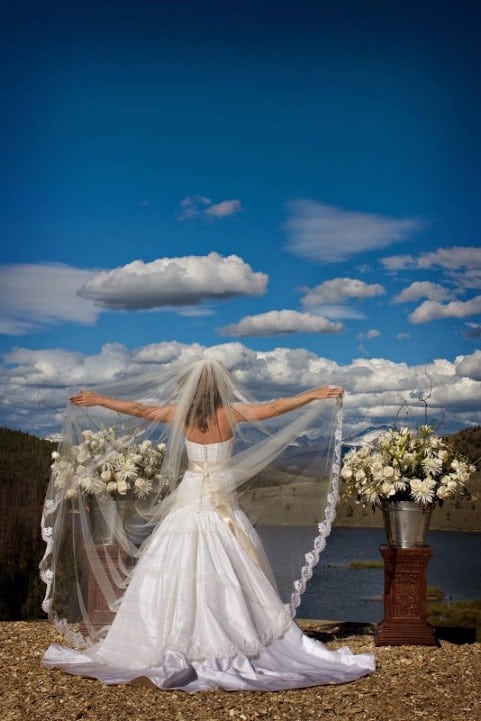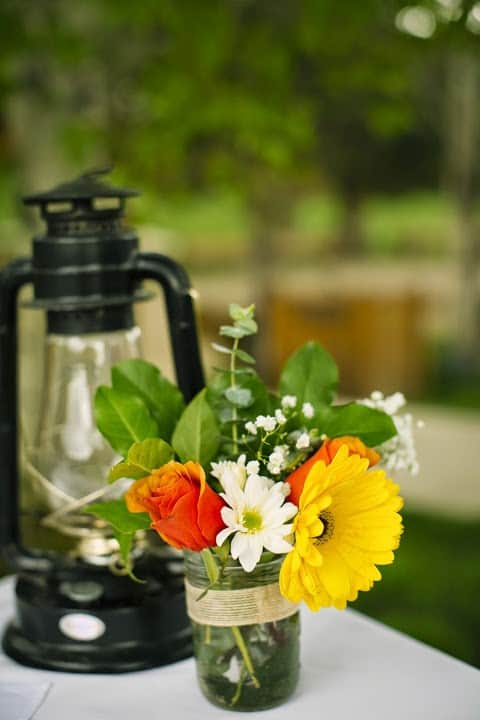 The Ceremony
Ranches are typically nestled in the middle of wide open spaces and house several buildings, meaning you have plenty of options when looking for the perfect ceremony location. For outdoor ceremonies, tour locations that overlook a lake, a meadow, mountains, trees or rustic buildings. If you're concerned about weather, opt for a ceremony inside a barn or lodge.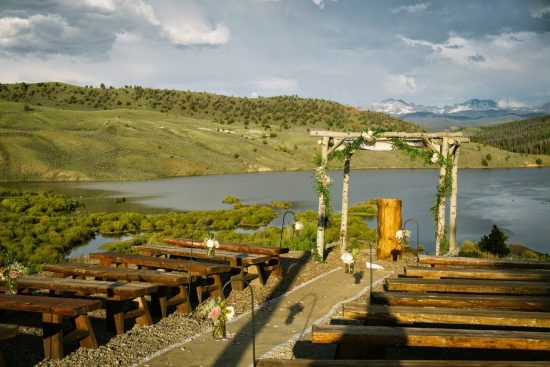 If a grand entrance is on your mind, make it particularly special by arriving on a horse or in a horse drawn carriage. This is a particularly special option for couples who are avid horseback riders or live or work on a ranch of their own. "Riding off into the sunset" with your beloved after the ceremony makes for amazing photos.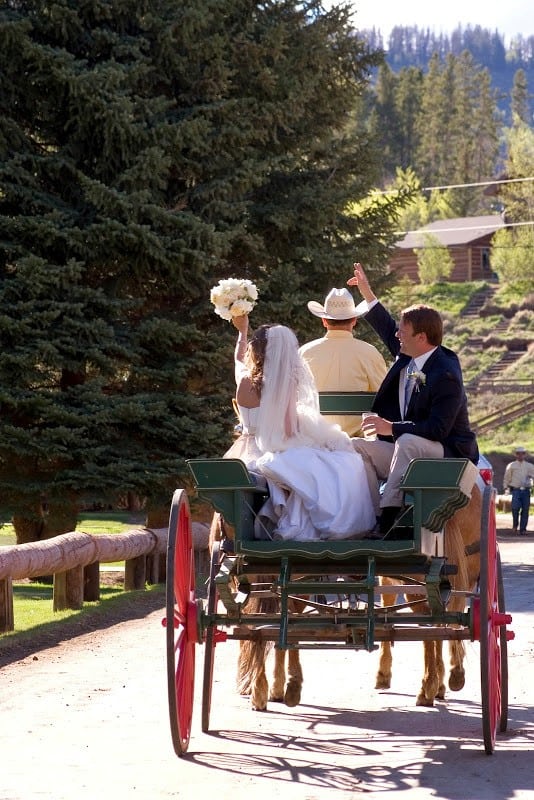 When it comes to ceremony seating, forget the ugly folding chairs. At a ranch wedding, wooden benches are a natural, beautiful, and rustic-elegant seating choice. Reminiscent of time around the camp fire, benches can seat a large number of people while still maintain the natural elegance of your surroundings. Hay bales may be another option. Line them up, scatter them around randomly, or arrange them in a semi-circle or full circle around the altar. Toss a blanket on top of each bale to make it more comfortable for your guests.
Must-Have Wedding Photos
You're having your wedding at a ranch – take advantage of it! There are some many amazing outdoor areas and backdrops for your wedding photos when you're on a ranch, particularly if you're at a ranch in a mountainous region. Take your wedding photos by lakes, streams, meadows, forests, pastures, mountain overlooks, whichever areas catch your eye or that your photographer thinks will make for stunning photos.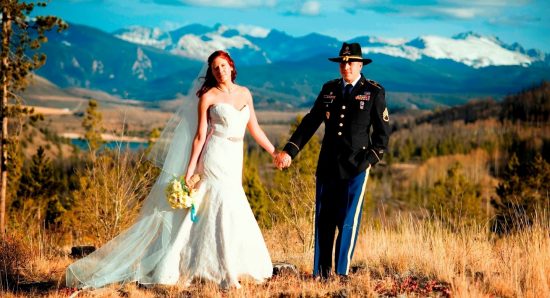 If you're on a working or vacation ranch, take some especially memorable and different photos by taking advantage of the ranch's resident animals. Whether you opt to pose with an animal or just use them as a stunning backdrop, your wedding album will definitely be unlike any other. On some ranches, you might even get lucky enough to catch a shot with curious wildlife.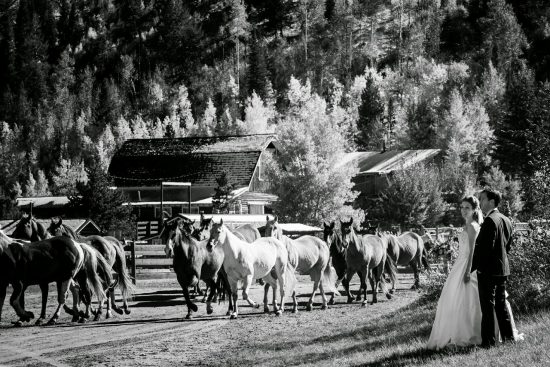 The Reception
Barns are the latest wedding venue trend and a ranch will have plenty of space for you to customize. Ask what items the ranch has that you can incorporate into your cocktail hour and reception, such as hay bales, barrels, wagon wheels or even an entire old-fashioned cowboy chuck wagon.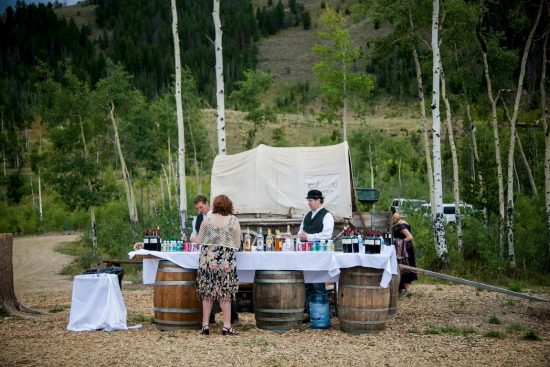 For a rustic-chic look, decorate your reception with earth-tone colors, mason jars, old boxes and tins, burlap and lace. Hollowed out logs make beautiful, rustic flower holders and can be used standing up or laying down in just about any size for unique center pieces. Or keep things country-classic with gingham table cloths over picnic tables and linen napkins tied with twine.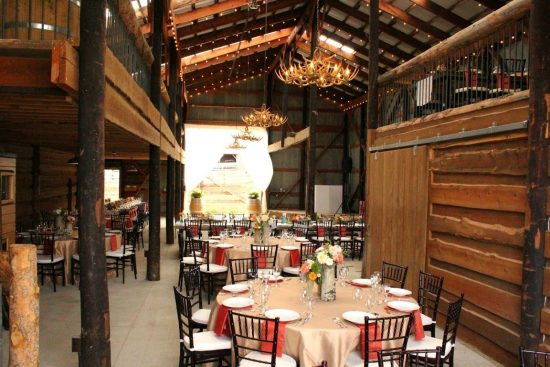 If you want to keep with the ranch theme, opt for dinner items like steak and wild game, or casual ranch eats like burgers and BBQ. For dessert, ask your baker about textured frosting finishes to keep the cake from looking too modern and formal. Or embrace your true inner cowboy or cowgirl and serve a selection of pies for dessert.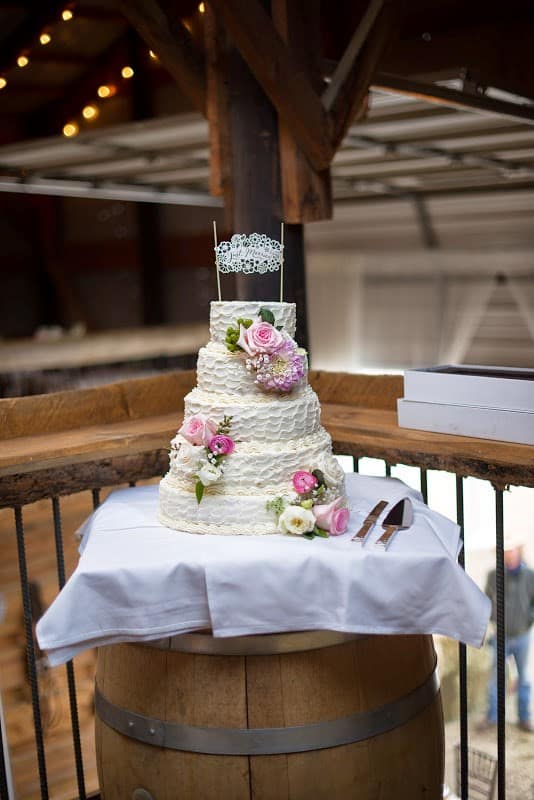 Wedding Favors
Still mulling over wedding favor ideas? Surprise your guests with a custom branded keepsake – you're on a ranch after all! Whether you want to use the ranch's brand to remind your guests of the amazing day, or use your own personalized brand to commemorate your new life together, ranch wranglers will gladly brand your wood or leather favors during your reception.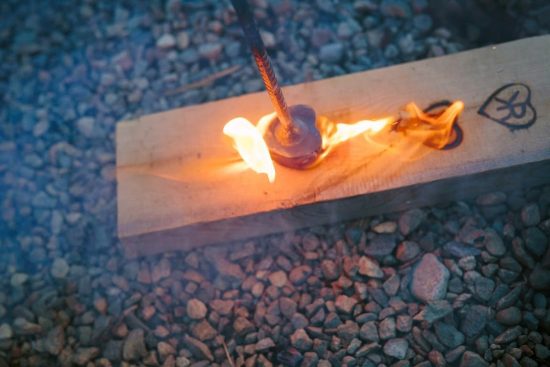 Tips for Planning Your Ranch Wedding
Now that you're in love with the idea of a having a ranch wedding almost as much as you're in love with your fiancé, it's times to choose the perfect ranch. Many ranches throughout the United States, particularly in the West, host weddings. When you're looking for the perfect venue for your event, ask the following questions:
When does the ranch allow weddings?
How many guests can the ranch accommodate for weddings?
Will the ranch be open to others during your wedding or can you rent the entire location?
Does the ranch offer transportation from the nearest airport?
What's included in the wedding package?
Can the ranch recommend vendors for any services not included?
Can you visit (or see photos of) the ceremony and reception location options?
Can you see photos of the ceremony and reception options during the season your wedding will take place during?
Does the ranch have any special photo locations or opportunities?
What makes the ranch special for weddings?
The ranch's wedding coordinator (like C Lazy U's Heather Peters) should be happy to answer all your questions and help plan your big day.
Have your wedding at C Lazy U Guest Ranch in beautiful Colorado.