As a guest ranch that's been in operation for 90+ years we've seen a lot of different people come and go, all with different riding experiences to talk of, and all at different riding abilities; but, something that we hear, facetiously, from almost all of our guests is that regardless of your level of riding ability, looking good is 90% of the equation. This saying got us thinking- we're pretty proud of our website, we think that it prepares our guests well for their experience with us, and our wranglers certainly do a good job getting every guest comfortable on their horse and advancing their horsemanship, but maybe we could still give them (you!) more help; well, here it is, our guide to western fashion, so that even if you don't know a horse's head from its tail, you'll be at least 90% ready to tackle the beast!
1. Boots
Whether they're sassy or understated (can you guess which this cowgirl would pick?), you want to make sure that you have a good sturdy, and comfortable pair of boots for the ranch- we recommend Ariat, Justin, Corral or Old West brands for an inexpensive, but super reliable pair that will treat your feet right. Almost better than their utilitarian construction is that each of these brands has also jumped on-board the fashion train, providing style along with their well-known reliability (ladies rejoice!).
If you're looking for a boot that you can wear out on the town as well as on the ranch, this cowgirl recommends looking into Lucchese and Old Gringo brand boots- both are making a boot that looks like your great grandmother would have worn them, antiqued in all the right places, and with leather so soft you'll want to rub your face all over them. These brands pride themselves in their handmade, quality products, and you'll be able to take special pride in these boots too, but that pride will cost you. 😉
Regardless of what brand and style you choose, remember that if you buy a pointed toe boot you'll want to go a half-size up for comfort. And no matter what- wear your new boots several times before bringing them to the ranch!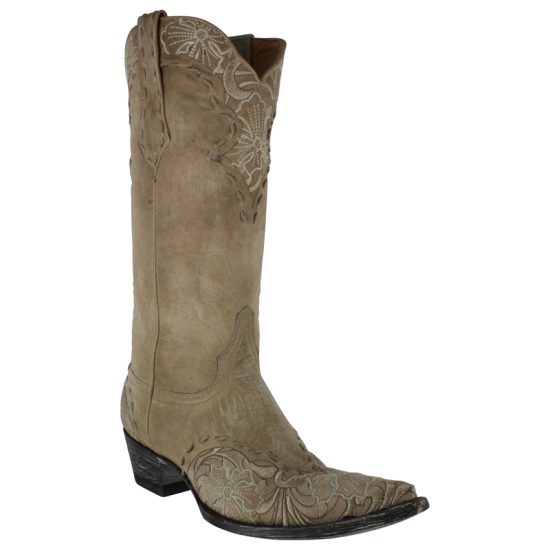 2. Pants:
You know you've seen a picture like this sometime in youre life- we're proud to say that the tushies you see before you are those of our wranglers here at the ranch, and if you look closley (again- yeah, we know) you'll notice that their jean of choice is a Wrangler. Wrangler jeans are sturdy, with the classic rivetted looked and thick denim- perfect for the cowboy or cowgirl that spends long hours in the saddle or out fencing. If you want to saddle yourself up in the most authentic pair of pants possible, you can't go wrong with a pair or Wranglers- and ladies, Wrangler caiters to us too (check out the bling on the pocket of the jeans below).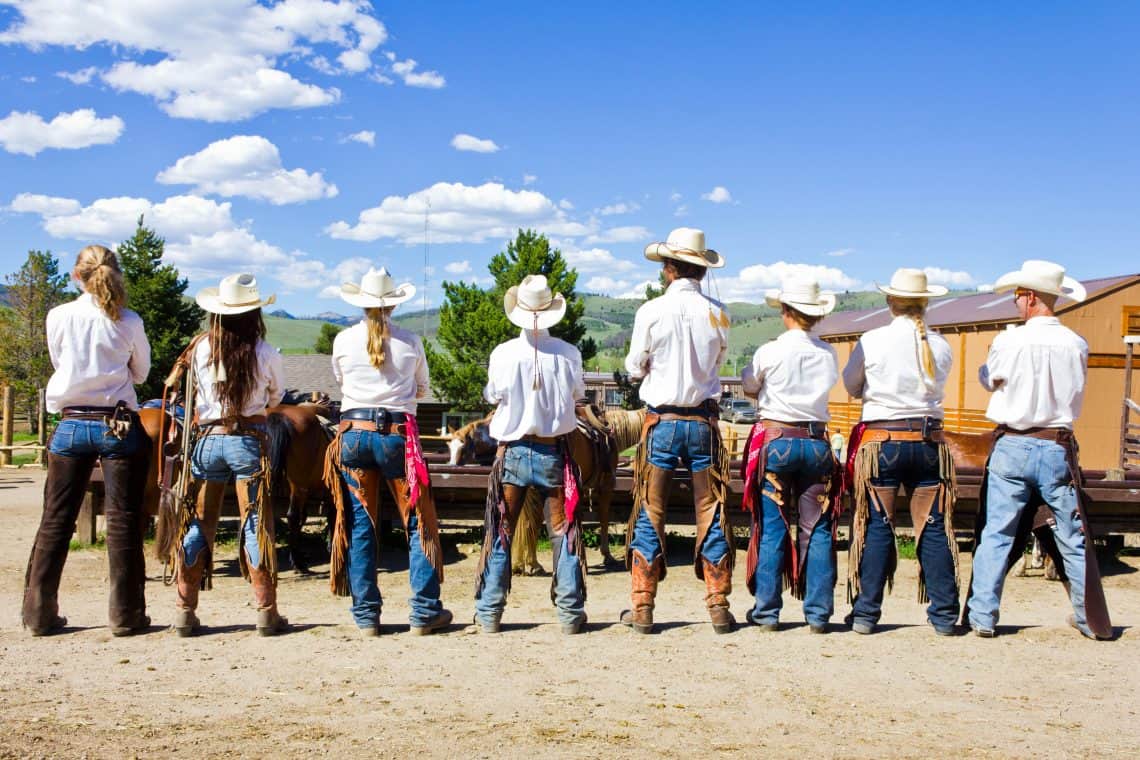 For those of you looking for a jean that you can take back to the city and wear without being mistaken for a hipster, 7 For Mankind, BKE and Deisel etc. are all acceptable fashion brands (and seen on our horse lovin' guests quite often actually)- and who knows, depending on the amount of trail blazing you do while you're out here on your horse, you may even get them distressed for free during your rides!
3. Bling (known by the cowboys as simply a belt buckle)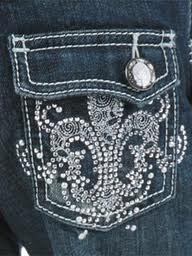 If you've taken the time to invest in a pair of good jeans for your ranch stay, the last thing you want is for them to come off at the wrong time- the best way to keep your britches up during the day, and add a bit more clout to your appearance, is with the big shiny belt buckle. There was a time during which the only way to get one of these bad boys was to sit a bull for 8 seconds or have the best ride on a bronc that wanted nothing more than to put your face into the dirt, but now you can buy one! Our store carries a wide array of buckles for you to choose from that range from petite rounds to the big daddy bling.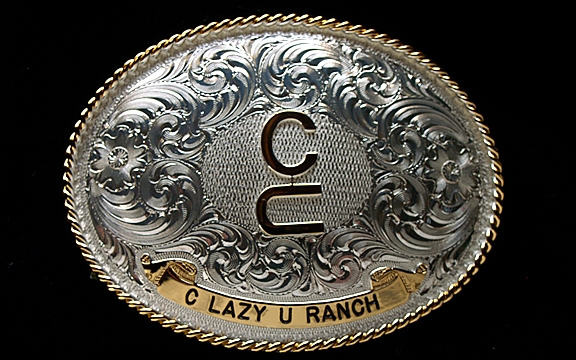 Want one before you get to the Ranch? Check out Montana Silver Smiths for a variety of well made buckles; Sheplers and Boot Barn also carry some of this bling.
4. Cowboy hat:
One accessory that you don't want to add to your ensemble is a leathery cowboy face, and the best way to avoid helping yourself in that direction is with good cowboy hat. There are all different kinds of material and styles to choose from- palm leaf hats are very popular, and nice because they are lightweight but sturdy; felt hats (made with beaver fur) are very traditional too, and can dress up an outfit even when they're dirty; you can choose a Tim McGraw style fashion hat, or the vaquero style hat that you see Buck Brennaman followers wearing, (made by Sunbody) known as the Reata style, as Buck's daughter, Reata, originally started buying the hat unshaped and then shaped them herself, selling them at his clinics. Consult the chart below for a better idea of all the shapes that you can find hats in, and if you're feeling adventurous, think about custom making yours- they'll last a lifetime and you'll get exactly what you want: check out Colorado Hats and Company in Estes Park, CO for the real deal!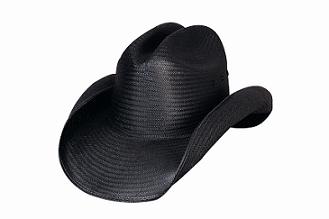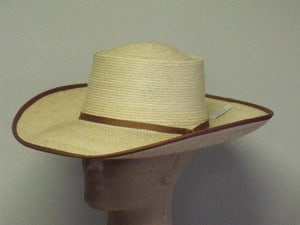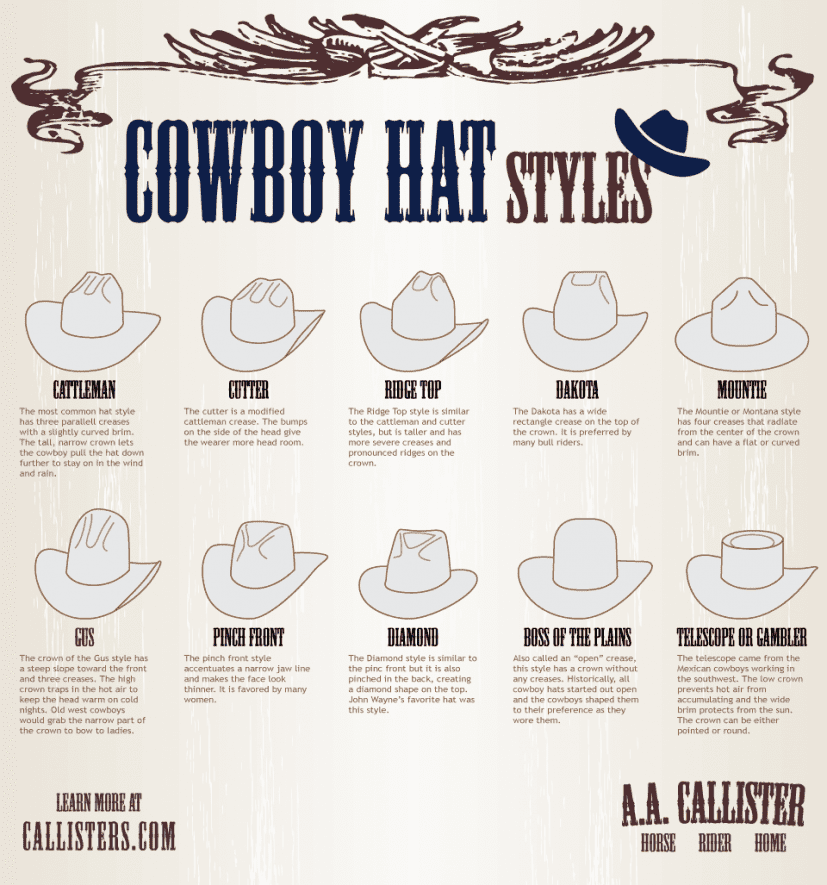 We hope that this will help those of you feeling a little apprehensive about getting on your horse to feel a little more comfortable with the experience- even if it doesn't, though, people will sure think you know what you're going! So, what are you waitin' for- all that's left now is for your well-dressed family to come on out to the C Lazy U Ranch!