If you ask the staff at C Lazy U about the romance on ranch over the years, you may end up getting some pretty entertaining stories. Some of which may be true and some that are completely embellished. The common term at C Lazy U Ranch for romance is "Ranchmance" which is lighthearted way of capturing all the love stories have seen over the years. Regardless of the stories and fables, C Lazy U has a long history of helping people find everlasting love and there are countless stories of ranchmance's turning into true love stories.
Earlier this summer a few guests caught the eyes of the C Lazy U staff when they pulled off one of the most amazing engagement stories the property has ever seen. Being that C Lazy U Ranch is turning 100 years old this year you can certainly bet that there are more than 100 true love stories to share. But this love story in particular caught the eyes and ears of both the staff and guests. It's a story about Paul and Olivia and how C Lazy U Ranch not only brought them together well before they were even dating but also before the two had been on the ranch together.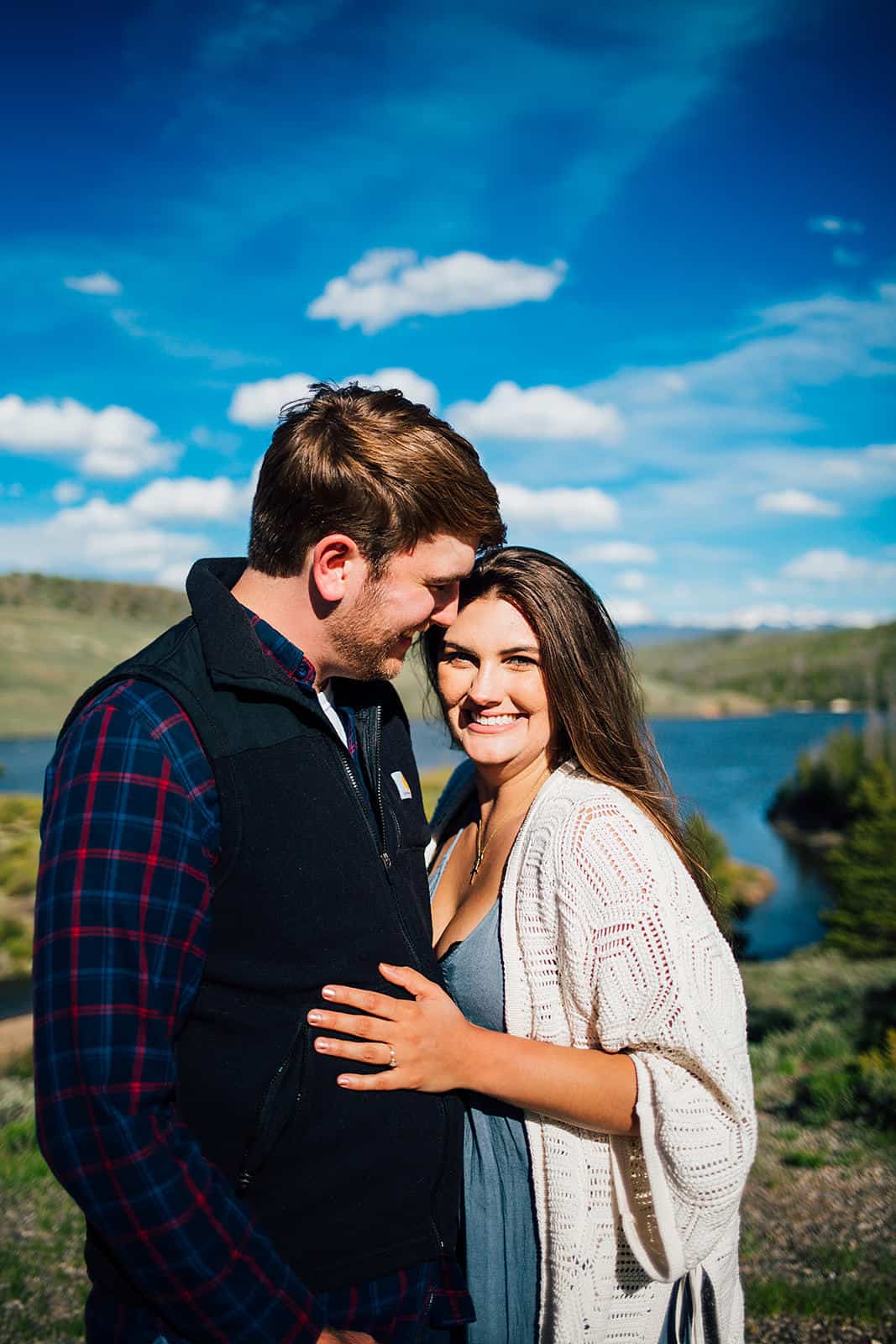 Paul and Oliva originally met in High School in 2012 in IL at Valley Central. They were both involved competitively in the music department and sang choir together and were in the acapella group. Their perception of each other was striking similar, they both had a shared attraction but they both also incorrectly assumed they would never be able to obtain each other and in their words they both thought they were out of each other's league. Because of this they never really communicated their interests and went about their ways as if it was never meant to be.
It just so happened that they managed to sit next to each other one evening at a play they both attended, and the two of them ended up exchanging Snapchat's. And with this simple act, the courtship began. However Paul decided to study abroad in Spain shortly thereafter. A quick jump over the pond didn't separate them, and because of technology, they continued to keep in touch through social media in a very innocent friendship sort of way. But it didn't stop the ongoing interaction through social media and they grew closer and closer together.
After Spain, Paul's family decided to book a trip to C Lazy U Ranch. During this trip Paul took several photos and posted them all on Snapchat. Olivia followed his stay as if she were living it herself and replied to each post, "What a dream vacation" … "I wish I could go there someday" …. "Wow so cool!"
Then they started texting back and forth and Olivia's friend Amy caught wind of their communication and said, "You should date Paul, invite him over." It was as simple as that and she did. A quick text and he accepted. Then they were off eating ice cream together and going for a walk getting to know each other.
In the coming weeks Paul had an extra ticket to a local musical, so he thought what an opportune time to ask Olivia to join. They were his family's season tickets, and little did she know that it was a date with his entire family. Seven dates later and they were officially a couple.
The two were together for 3 years after this, and then Paul's family said, "We may go back to C Lazy U Ranch again, and you should bring Olivia." It was at this point that Paul's big engagement plan started to take shape. He knew she was the one, and he knew C Lazy U was the most beautiful place for a proper proposal that couldn't be topped. He invited Olivia one year out and she was excited and hopeful that this may be the big engagement, but she wasn't entirely sure it would happen. Paul secretly bought the ring two months in advance with his sister's help. Everything was lining up correctly, but Paul was concerned about pulling this off as a surprise because it was going to be so obvious at such a beautiful vacation retreat?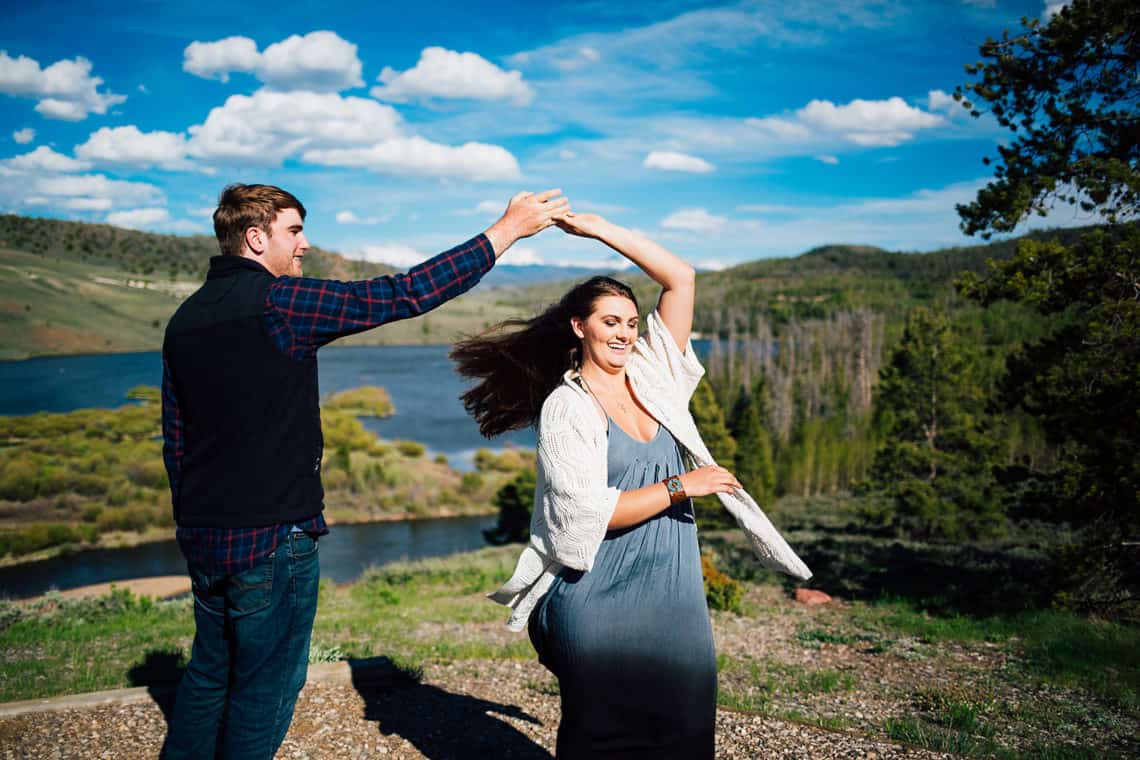 At C Lazy U Ranch there is a spectacular lookout called Woodsie that is ideal for an engagement or a wedding but the only time you go there is for breakfast Friday morning or a quick stop on a horseback ride. Neither of these events reflected the vision Paul had for his engagement. He was going to have to trick her to get up to Woodsie to pop the big question. Thus, begun Paul's plan.
Paul commissioned the ranch's photographer to hide in trees while he snuck Olivia up to Woodsie for quick look at the view. To do this he casually asked Olivia to join him for a quick hike up to Woodsie telling her it was for fun, you'll love it and you have only seen it in photos. As they start to walk up the hill out of nowhere a ranch hand appears driving a ranger and says, "Where you guys going" like he didn't already know, then he replies, "Oh, Woodsie, well that's on my way, hop in." And there it was, the plan was working in action. Little did Paul know that a guest tour almost crashed this special event moments before they arrived. The photographer managed to get them out of sight just in time.
As the photographer sleeks her way out of the trees and closes in on the couple, Paul miraculously pulls a ring box out of his Cowboy boot and drops to one knee. The marquise diamond sparkled brighter than the snow on the continental divide off in the distance and the ring was perfectly set in yellow gold just as Olivia had always dreamed of matching her grandmothers ring. He then cleverly says, "There's another reason I brought you up here….." and continues to propose receiving an enthusiastic "YES I will marry you!".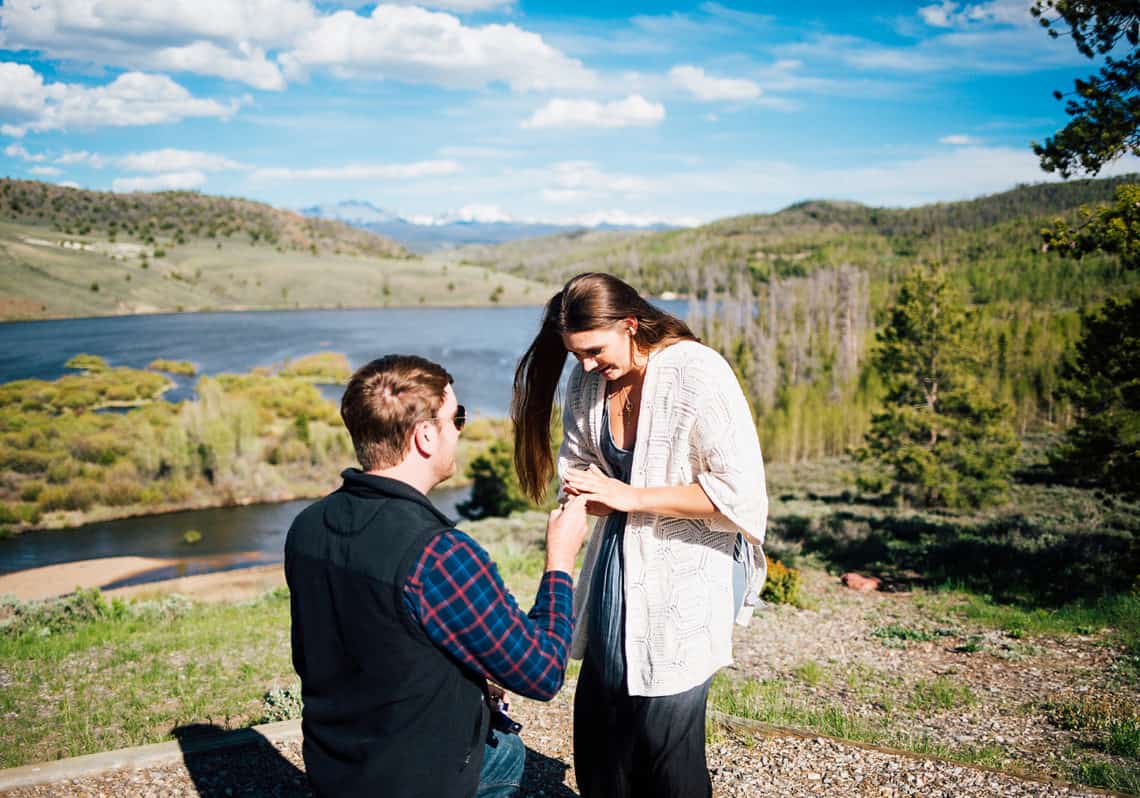 Olivia was a little suspicious all along but she never saw a bulging ring box in his pocket so she wasn't confident it was the big event. In her words, "I was 90% sure it wasn't happening, but it was perfect with a bottle of champagne, a fun impromptu ride up to the site and a photographer appearing out of thin air. It was the perfect surprise and Paul made my dream vacation dreamier."
This is true love in action and just one of the fascinating stories we have heard on ranch over the years. Who knew that a twinkle in this couple's eyes dating back to High School would grow and nurture into a romance via Snapchat while dreaming about your dream vacation at C Lazy U Ranch? It's a fantasy come true on so many levels.
Congratulations to the newly engaged couple, Olivia and Paul, from C Lazy U Ranch. Thank you for letting us share this fun story!