When it comes to wedding planning, there is a notorious amount of preparation, details and stress — and with destination wedding planning, it can be doubled (or even tripled). Not many couples will take on the challenge of a destination wedding; in fact, only a fifth of American weddings are destination weddings, according to The Knot.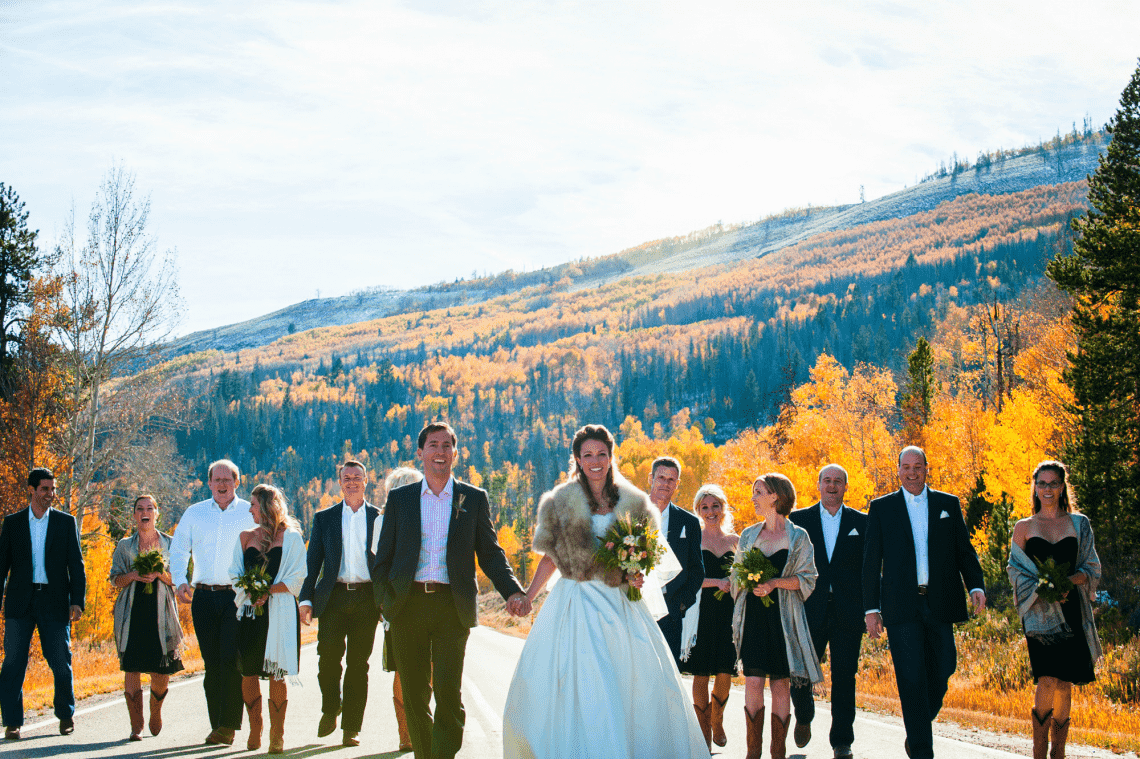 Destination wedding planning in a far-off location may take a bit more thought, but the adventure offers so much opportunity. With these unique and fun destination wedding ideas, you can make it a truly once-in-a-lifetime event.
1. Send some goodies before the wedding.
While most guests will just be expecting a welcome bag upon arrival, send a little something extra a few weeks before the wedding to show your appreciation for their RSVP. A mini language guide and a personalized travel tote are perfect for destination weddings abroad, while rustic leather luggage tags and a neckerchief in your wedding's color palette will get guests excited for a vacation at a dude ranch in Colorado.
2. Set up a website.
Having a wedding website is now commonplace, but you can take yours a step further. In addition to bridal party introductions and hotel information, include a guide to the region to which your guests will travel. A packing list — which can be developed with help from the destination wedding venue's wedding planner — will help guests pack appropriately, while a list of nearby sights and things to do will get them excited for the trip. As you schedule events, add them to the website as a calendar to make sure guests stay up to date.
3. Greet guests as they arrive.
If most of your guests are staying at one location, which is typical of destination weddings, make sure that all guests are greeted at the front desk by a member of staff, a family member or a member of the wedding party that can inform them of the goings-on. Along with a friendly smile, offer a drink — perhaps a themed cocktail or hot spiced rum for winter weddings.
4. Organize a regular gathering time.
Chances are, your guests will be staying longer than a weekend at your destination wedding venue. Designate a certain time during the day for family and friends to meet up, such heading to the pool for midday swims or gathering around the bonfire after dinner. Destination wedding resorts often have other guests on the property during a wedding, making it more difficult for the wedding guests to stick together — unlike C Lazy U Ranch, which is rented exclusively for wedding guests.
5. Stash some necessities at the front desk.
A missing button, a hairbrush: there are dozens of things to forget when traveling away from home. Instead of making guests purchase these items from the nearby pharmacy or the front desk, stash away a selection of items for guests free of charge.
6. Do away with normal welcome gifts.
Out-of-town guests staying overnight in a hotel often receive welcome gifts consisting of bottles of water, some snacks and perhaps a few aspirin for the morning after. Make your welcome gifts reflect the wedding and the location, including gifts such as a local travel guide, sunscreen for sunny locations and an itinerary for activities you've planned. Smaller weddings at more exclusive resorts such as C Lazy U Ranch offer more wiggle room in the budget to offer luxury gifts such as a complimentary treatment at the spa.
7. Highlight local traditions.
During the stay, have guests attend a class that features local cuisine, crafts or traditions. At C Lazy U Ranch, guests can appreciate all that Colorado has to offer at cattle pushing clinics or Hike to Yoga lessons with a view.
Note about cattle pushing availability: The ranch plans to bring back this activity in the future as soon as fire-damaged pastures recover and are producing vital nutritional growth.
8. Give away departing gifts.
Since not all guests may leave at the same time, give guests one final sendoff upon checkout with a travel kit: a blindfold or earplugs, some salty and sweet snacks and a puzzle book such as Sudoku to keep them sane on the journey home.
9. Send photo books as thank-you cards.
The cost of a destination wedding is actually comparable to (or less than) hometown or nearby big city weddings, which can be due, in part, to the smaller guest list. As a thank you for guests for traveling so far, ditch the standard thank-you card and send a small photo book, each personalized with a handwritten message.
10. Choose a location that merits a trip.
The location you choose will make or break your destination wedding. While you may love the idea of marrying in, for example, that little remote village you saw on the cover of a magazine, beauty may not be all your guests are after. A destination wedding venue such as C Lazy U Ranch appeals to everyone — adventure- and leisure-seekers, nature lovers and foodies — to ensure your destination wedding is a trip to remember.