C Lazy U Ranch is more than a place to for families, friends and couples to have a memorable vacation — it can be a place to do business, host a reunion or build camaraderie at a corporate retreat. To make sure we offer the right space, we offer a variety of meeting rooms around the ranch, all of which showcase C Lazy U's history, spirit and skill in hosting spectacular events.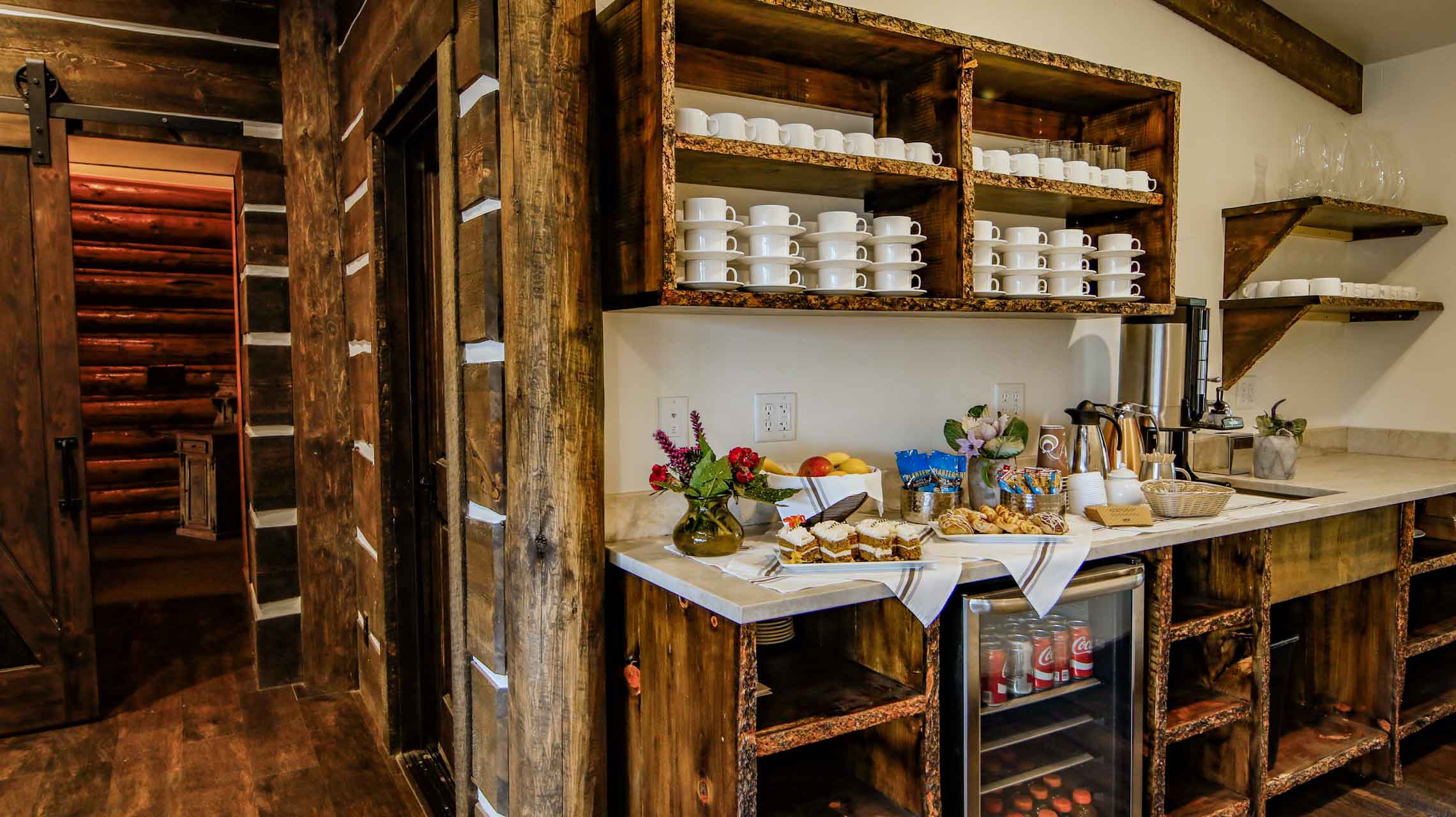 Latigo Meeting Room & Adega Wine Room
The newest addition, the Latigo Meeting Room & Adega Wine Room brings 1,100 square feet of intimate meeting space for small gatherings.
Latigo & Adega Highlights
Accommodates 10 to 63 guests
Built-in audio and visual equipment
Semi-enclosed wine room allows for private tastings or exclusive chef's table
In Western vernacular, "latigo" is both a type of leather and a particular type of horse tack — it's just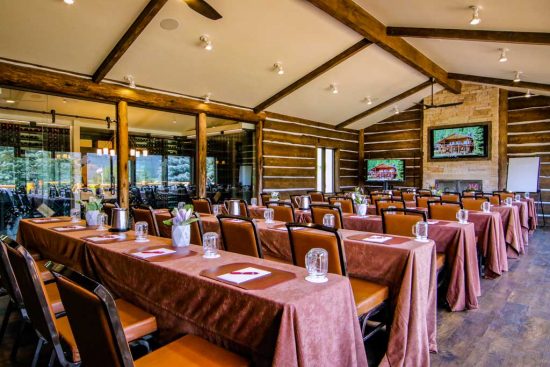 another subtle nod to the décor of this meeting space, featuring dark wood flooring, wooden beams and an imposing brick fireplace. The meeting space can be arranged in a number of ways: cozy round tables to encourage intimate discussions, rows of tables for speeches and presentations, or a combination to allow for both.
The wine room, whose walls are lined with just a small selection of our wines, is hidden off to the side near the stocked wet bar — it's the ideal spot for a secluded dinner party. The Latigo & Adega space is private, but a wall comprising floor-length windows offers an expansive view outside and plenty of natural light.
The Patio House
The Patio House offers both a refined space for corporate meetings or presentations, as well as a vibrant spot for breakfast, lunch and dinner get-togethers.
Patio House Highlights
Accommodates 10 to 45 guests
Large floorplan allows for ultimate flexibility in seating arrangement
Cathedral ceilings, hardwood floors and wood-burning fireplace add elegance
At the heart of the ranch is the Patio House, located in near the pool, riding arena and activity center.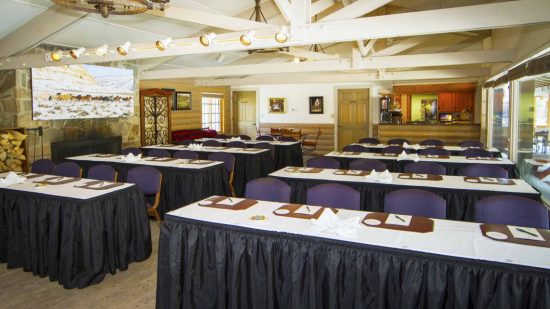 Lively meetings and fun family reunions take place at the Patio House, whose proximity to the bar and kitchen make it ideal for catered events. Inside, the 900+ square feet of space offer the flexibility for auditorium- or conference-style seating arrangements; outside, the poolside terrace allows for ice cream parties and fireside discussions.
The Hay Barn
One of the most popular event spaces at the ranch, the Hay Barn epitomizes dude ranch design with its large, open space and rustic accents.
Hay Barn Highlights
Accommodates 40 to 100 guests
Two levels total more than 3,000 square feet of space
Quintessential Western style such as antler chandeliers and barn-style lighting
The Hay Barn aims to impress: two levels, a massive open space and the dude ranch design that only a real barn can provide make it the most popular location for large events. The spacious main level allows for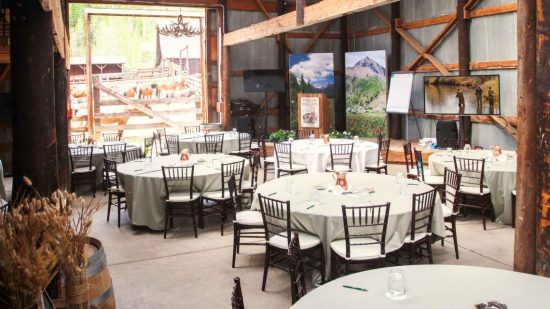 multiple seating arrangements, while the upper level features a private bar and space for live entertainment. With its striking features and unique Western style, the Hay Barn is often used to host the final sendoff party after a corporate retreat, family reunions, weddings and anything else that calls for a real celebration.
More Meeting Spaces at the Ranch
The Main Lodge — another of the central locations at the ranch — features a saloon-style bar for cocktails and an elegant dining room for exclusive dinners, while the adjacent Card Room seats a small crowd for private conversations. Even the ranch's suites are open for events: use them as a hospitality room or one-on-one meeting spaces for more informal gatherings.
C Lazy U Ranch has no shortage of meeting space — with over 8,500 acres, you're bound to find the perfect spot for your event.