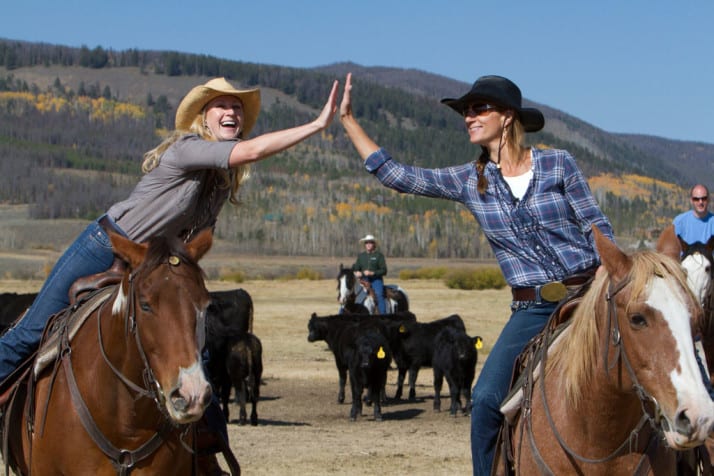 At a time when a newfound emphasis has been placed on quality work environments, corporate retreats have become increasingly popular. At C Lazy U guest ranch in Colorado, we know how to incorporate creativity and innovation into business retreats, with an unbeatable selection of activities and meeting spaces. Here are five ideas to enhance your next corporate retreat:
Find the GREAT in the Great Outdoors
There is nothing "retreat-like" in a corporate outing to a local hotel's bare meeting space or reception room, and recent studies indicate that spending active time outdoors, and away from electronic devices improves creativity and problem solving by as much as 50 percent! Destinations like C Lazy U, which has 8,500 acres of open space, but is still easily accessible from a city, like Denver, creates an ideal setting to get away from it all without the hassle of traveling far and wide to do so. After all, time is money!
Relax
While we understand improving workplace cohesion and productivity is the main objective of a corporate retreat, we also know the importance of ensuring each member of your team is able to provide their peak performance. By scheduling a spa treatment or a tranquil nature walk, employees will find themselves revitalized and may even be able to approach key matters from a whole new angle.
Make the Most of Your Meeting Space
While collaborating in the same boardroom may be okay at the office, incorporating different work environments should be a corporate retreat priority. The same surroundings typically breed the same ideas, and a little change in scenery can really boost the imagination. Whether you plan a meeting at our re-imagined haybarn, breakouts in our outdoor 'glamping' tents, or a barbecue at our beautiful outdoor 'Woodsie' overlook, hosting events within unique spaces will increase imaginative work-flow at any meeting.
Activities
Did you know that recent studies also show that physical activity increases brain function? Any type of activity in which groups are encouraged to work together to solve a problem helps people find news ways to work together. And, if you can make sure your team breaks a sweat while doing so, you can make your retreats even more productive! C Lazy U is home to some of the best summer and winter group and team building activities in the Rocky Mountains. Groups can find new ways to work together through activities such as cattle roping, teepee building and navigating our ropes course.
Note about cattle pushing availability: The ranch plans to bring back this activity in the future as soon as fire-damaged pastures recover and are producing vital nutritional growth.
Fuel the Machine
Let's face it, half of the fun of leaving town – for work, or play – is the excuse to eat delicious, new food. While cheese plates and crackers may suffice at the office, a quality meal at a corporate retreat can only help to "fuel the collective machine" of your organization. At C Lazy U, our gourmet, family-style dining utilizes all the best seasonal ingredients and meat products the region has to offer, leaving our guests ready to take on anything the retreat throws at them!