Fall Getaways at C Lazy U Guest Ranch
A Season for Corporate Retreats, Weddings and Short Getaways to our Luxury Dude Ranch near Denver
As summer ends and school starts once more, you might think that the excitement of summer has passed, but before you resign yourself to your fall schedule, consider a relaxing or exciting getaway to the C Lazy U luxury guest ranch in Colorado. When it comes to all-inclusive ranch vacations, C Lazy U stands above the rest with 5-Spur Service™ and plenty of options to suit your tastes and ensure your Colorado vacation will be cherished forever.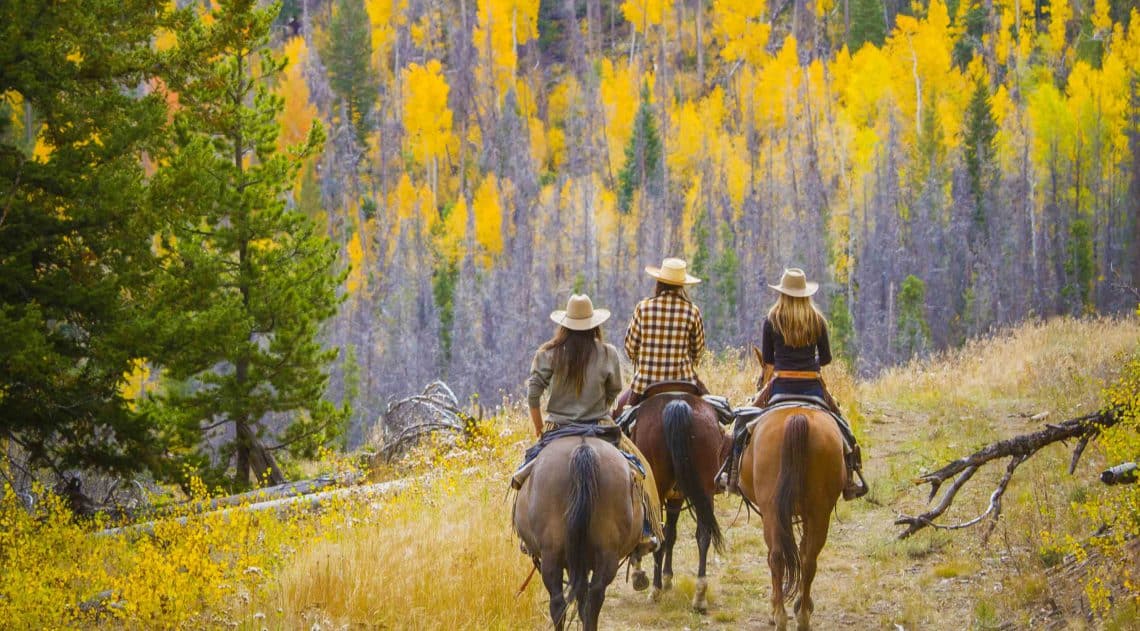 Fall is the perfect time for adults, corporate retreats, group vacations, teambuilding retreats, weddings, and honeymoons at C Lazy U. It is one of the most beautiful times of year here at the ranch nestled at the foot of the majestic Colorado Rocky Mountains. The Aspen leaves turn a vibrant gold, the air is crisp, and there is always plenty to do! With the kids back in school, why not schedule a fall getaway for yourself or your company and enjoy a horseback riding vacation, a fly-fishing vacation, or just a relaxing Colorado getaway?
We offer some wonderful fall vacation packages for groups, couples, and individuals. Plan the perfect corporate retreat and when you're not busy in meetings you can learn how to take your riding skills to the next level, even if you've never ridden a horse before. Learn to care for your horse, and even participate in trail riding and cattle working. It's a great way to boost your confidence in a teambuilding environment and prepare for upcoming challenges.
If horseback riding isn't your preferred activity, you might like to try a relaxing fly-fishing vacation or spa retreat. At C Lazy U guest ranch, there's something for everyone all year long. Whether you enjoy mountain biking, ropes courses, or even trap shooting, you can find something you'll love. There's no such thing as a boring day at C Lazy U when you are on your Colorado family vacation or corporate retreat. In addition to our 8,500 acres, you can also make arrangements for other fun activities in the area such as golfing, hot air ballooning, and white water rafting.
Hunters can book guided hunting trips on our property, where trophy-sized wildlife is abundant. For more about our hunting vacations, visit the C Lazy U Outfitters website.
---
Groups at C Lazy U in Fall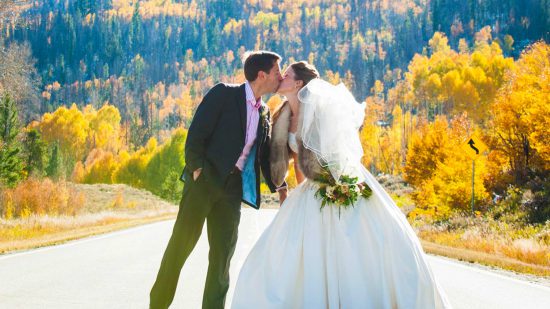 Weddings
Have your picture-perfect fall wedding set against the backdrop of blazing autumn leaves, sweeping views, and the majestic Colorado Rocky Mountains. C Lazy U Guest Ranch is the ideal venue for your dream rustic wedding. This all-inclusive wedding venue is the perfect spot for your rehearsal dinner, getting ready on the big day and your unforgettable wedding ceremony and reception. It's sure you be an event you and your guests will never forget.
Learn More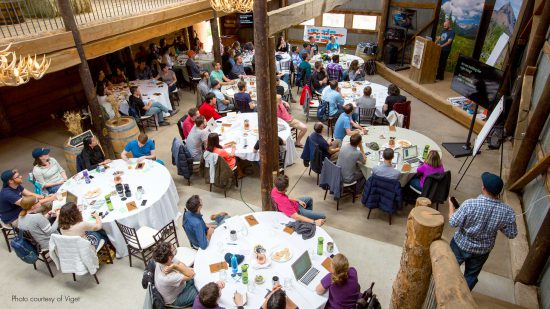 Corporate Retreats
Take corporate team-building to a whole new level with a company retreat at the C Lazy U Guest Ranch. The fall is the perfect time for corporate retreats on the ranch as the summer vacation season is over but the weather is still ideal for riding, ropes courses, roping clinics and other amazing team building activities. This all-inclusive resort provides dining and lodging for your entire retreat and the ranch is equipped with a variety of meeting rooms.
Learn More
---
Fall Specials and Events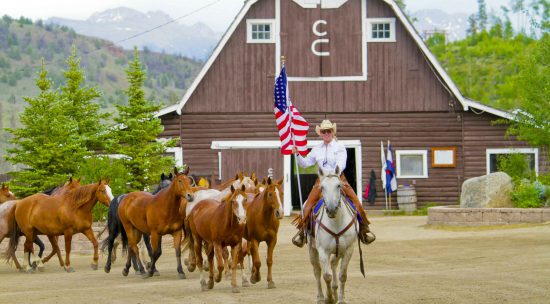 Labor Day Weekend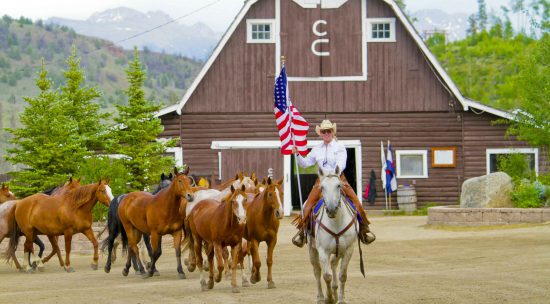 Grab a last summer weekend before school starts and bring the family to the C Lazy U ranch for a fun-filled outdoor weekend! You'll get our famous gourmet food, a luxurious cabin, horseback riding, a full kids program and all the ranch activities you can cram in!
Get the details »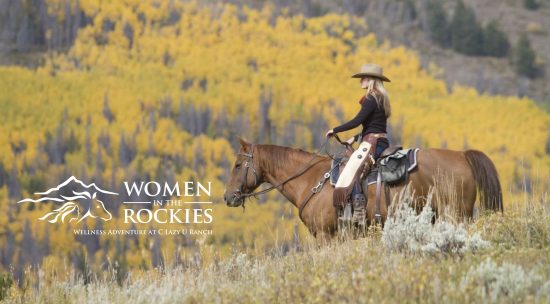 Women in the Rockies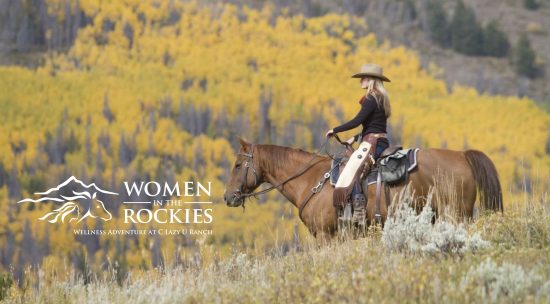 Women in the Rockies Wellness Adventure is a transformative retreat for women that empowers you to connect your vision, values and voice. This life-changing event is led by Duke health coach Janet Solie, PA, MS.
Get the details »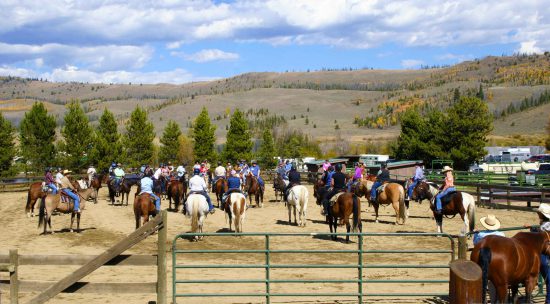 Ranch Riding Adventure with Julie Goodnight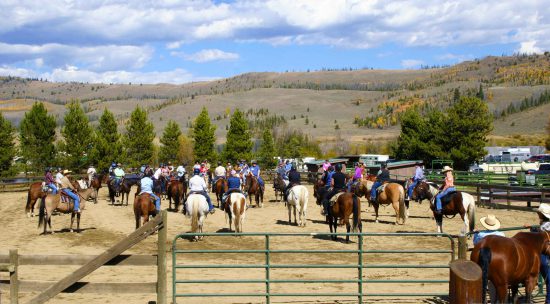 Join us for an amazing Ranch Riding Adventure with Julie Goodnight! Take advantage of discounted rates for world-class accommodations with programming and riding included.
Get the details »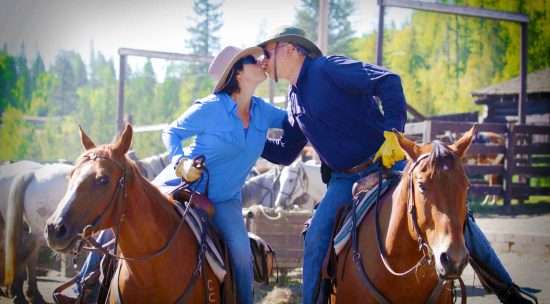 Adults-Only Weekend Fall 2018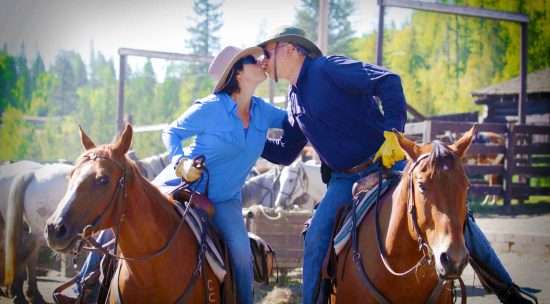 Fall in love at the C Lazy U Ranch and see the amazing fall colors during this special adults-only week. Enjoy all that the C Lazy U has to offer plus special programming and Mother Nature's spectacular color show in the Aspens.
Get the details »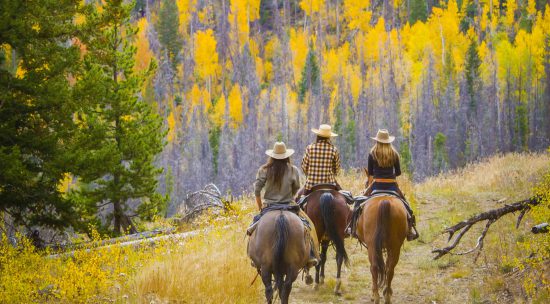 Fall Family Weekend Special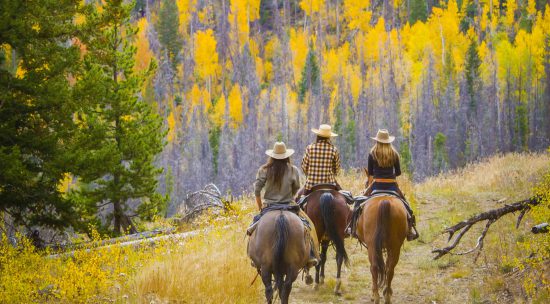 Fall in love with C Lazy U Ranch this autumn for your family fall getaway in Colorado! When the leaves will be changing and there's a nip in the air with the nights are getting colder, means the fall season is a perfect time to come to our luxury dude ranch and have a blast!
Get the details »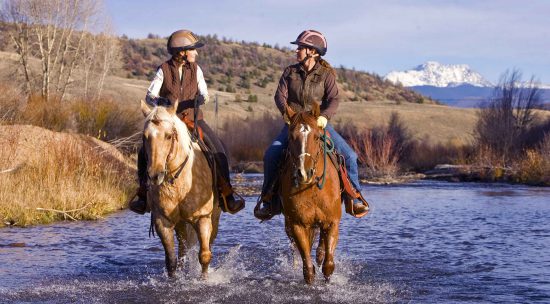 Julie Goodnight Riding and Yoga Retreat for Women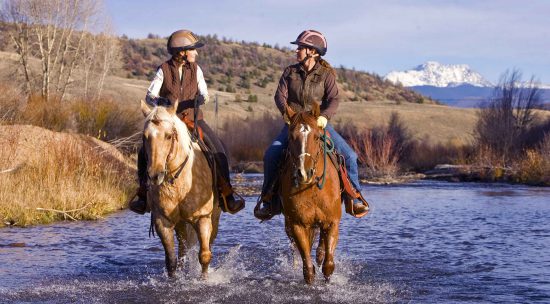 The C Lazy U, in cooperation with Julie Goodnight, have put together a Riding and Yoga Retreat for Women. Take advantage of discounted rates for world-class accommodations with programming, riding, and yoga included.
Get the details »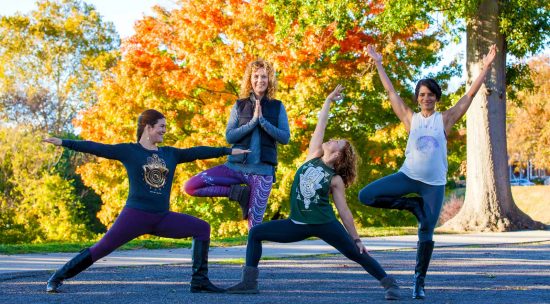 Om On Yoga Getaway Retreat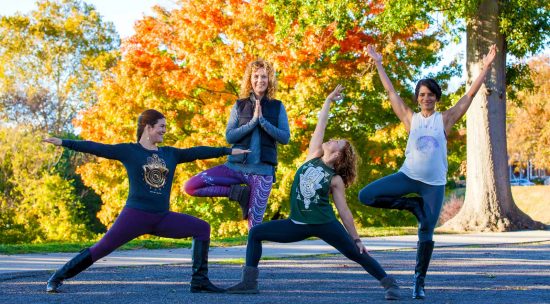 This Fall join Om On Yoga and RVA Yoga Favorite Elizabeth Fuqua (Sobka) at a special retreat here at C Lazy U Ranch! Enjoy daily yoga sessions in outdoor locations as well as all the exciting activities the ranch has to offer like horseback riding, hiking, biking and more.
Get the details »