A Colorful Season for Short Getaways to a Luxury Dude Ranch
Fall is the perfect time for adults, corporate retreats, group vacations, weddings, honeymoons and last-minute family vacations at C Lazy U. This time of year is one of the most beautiful: nestled at the foot of the breathtaking Colorado Rocky Mountains, the ranch is dotted with golden aspens to provide a beautiful backdrop to wake up to each morning.
C Lazy U offers all-inclusive fall ranch vacations, which provide everything you need:
Lodging, featuring cozy family-style or couples' cabins
Meals, comprising gourmet breakfasts, lunches and intimate dinners
Fall ranch activities, including horseback riding, mountain biking, fly fishing and more
Our superior service means you're completely catered to during your stay, and plenty of activities that suit all tastes (and ages!) ensure your Colorado vacation will become a cherished memory.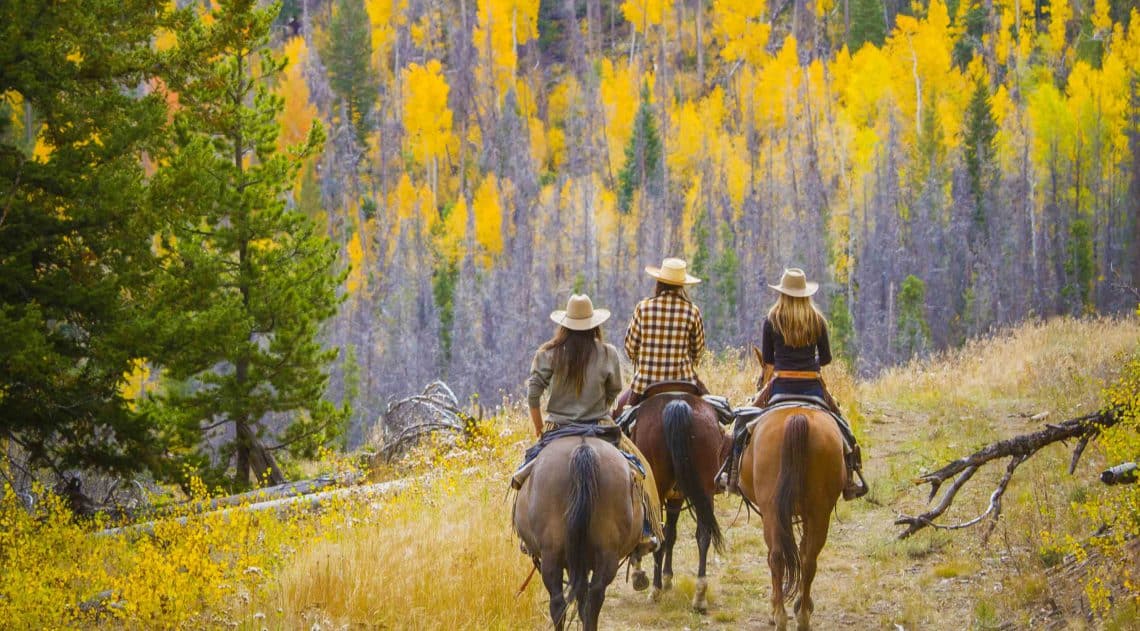 A Typical Day During Fall Vacations at C Lazy U Ranch
Fall Mornings at the Ranch
Everyone gathers together in the early morning to perk up with a cup of Cowboy Coffee and a hearty ranch-style breakfast. Once everyone has a full belly, guests set off for the day's adventure. There is always plenty to do: mountain biking through our dense trails, going on a horseback riding in the crisp autumn air, or simply spending time with the family.
Afternoons at the Ranch
Fall vacation packages for groups, couples, and individuals are available to allow guests to really take a break from the hustle and bustle of everyday life. Plan the perfect corporate retreat with teambuilding exercises that truly brings everyone together.
When you're not busy in meetings, you can learn how to take your horseback riding skills to the next level, even if you've never ridden a horse before. Learn how to care for horses and participate in trail riding and horsemanship clinics (offered on a space-available basis), which allow guests a chance to boost confidence and prepare for any challenges that lay ahead.
If horseback riding isn't your preferred activity, there are plenty more activities from which to choose:
Fly fishing: Catch rainbow, brown and brook trout in private stretches of Willow Creek.
Mountain biking: Speed through the golden forest with provided mountain bikes and gear.
Archery: Practice your aim and challenge yourself to hit the bullseye!
Spa: Relax in the award-winning Lazy You Spa with a facial or massage.
In addition to C Lazy U's 8,500 acres, we can also make arrangements for other fun fall activities in the area such as golfing, hot air ballooning and whitewater rafting. Hunters can book guided hunting trips right on CLU property, where trophy-sized wildlife is abundant. For more about our hunting vacations, visit the C Lazy U Outfitters website.
Evenings at the Ranch
Evenings are just as exciting at C Lazy U Ranch, with a special gourmet meal planned for adults that offers an expertly curated wine list as well as cocktails, beer and plenty of conversation. Afterwards, there are games, music and other evening activities to round out the day before retiring to bed — until it's time to do it all over again.
  Fall Activity Schedule
  Winter Spa Menu
Fall Packing List
At a Glance
Dates:
Late August to Thanksgiving
Rates:
$392-450 for kids; $587-795 for adults; per person per night
Lodging »
Check-in/Check-out Times:
Check-in: 3 PM
Check-out: 10 AM
Minimum Stay:
2 nights (except during holidays)
Kids Program:
Labor Day Weekend only:
Kids Program »
Inclusive Activities:
Horseback Riding, Fly Fishing, Mountain Biking and more!
Summer Activities »
Extra Activities:
Ropes Course & Zipline, Trap Shooting, Spa, Off-Ranch Excursions
Entertainment:
Available on an à la carte basis
Request A Reservation
---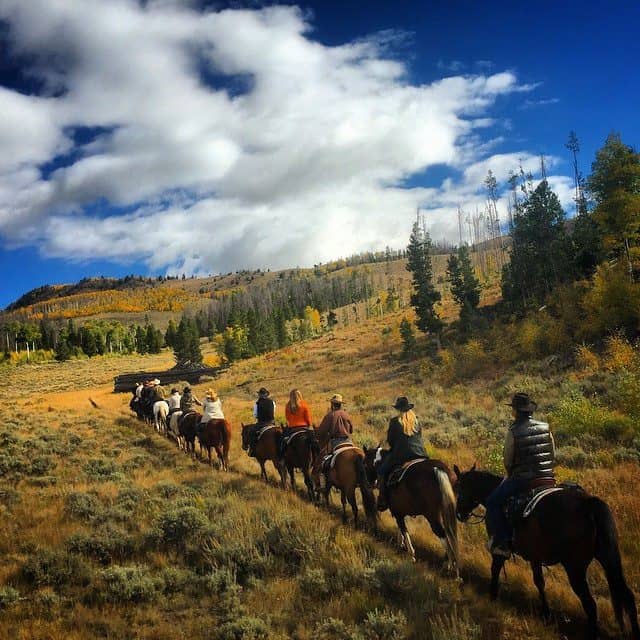 Fall Adventures for the Kids
If you're taking the kids on last-minute fall vacation before school starts or simply to surprise them, a dude ranch vacation is the perfect way to keep them entertained. Fall vacations are meant for families, and so we ensure that parents and kids can spend the entire day together on family trail rides and other family-friendly ranch activities.
We bring back the Kids Program during holiday weekends like Labor Day, where children are broken up into age groups so that they can participate in ranch activities specifically tailored to them:
Horseback riding
Scavenger hunts
Hay rides
Paddle boating
And much more!
In the evenings, the kids eat dinner with each other (and the counselors) before everyone comes back together for evening entertainment.
Before you say goodbye to the freedom of summer, go on a fall getaway to the C Lazy U luxury guest ranch in Colorado to marvel at the colorful landscape and majestic mountains — and take a breather before you resign yourself to a busy autumn schedule.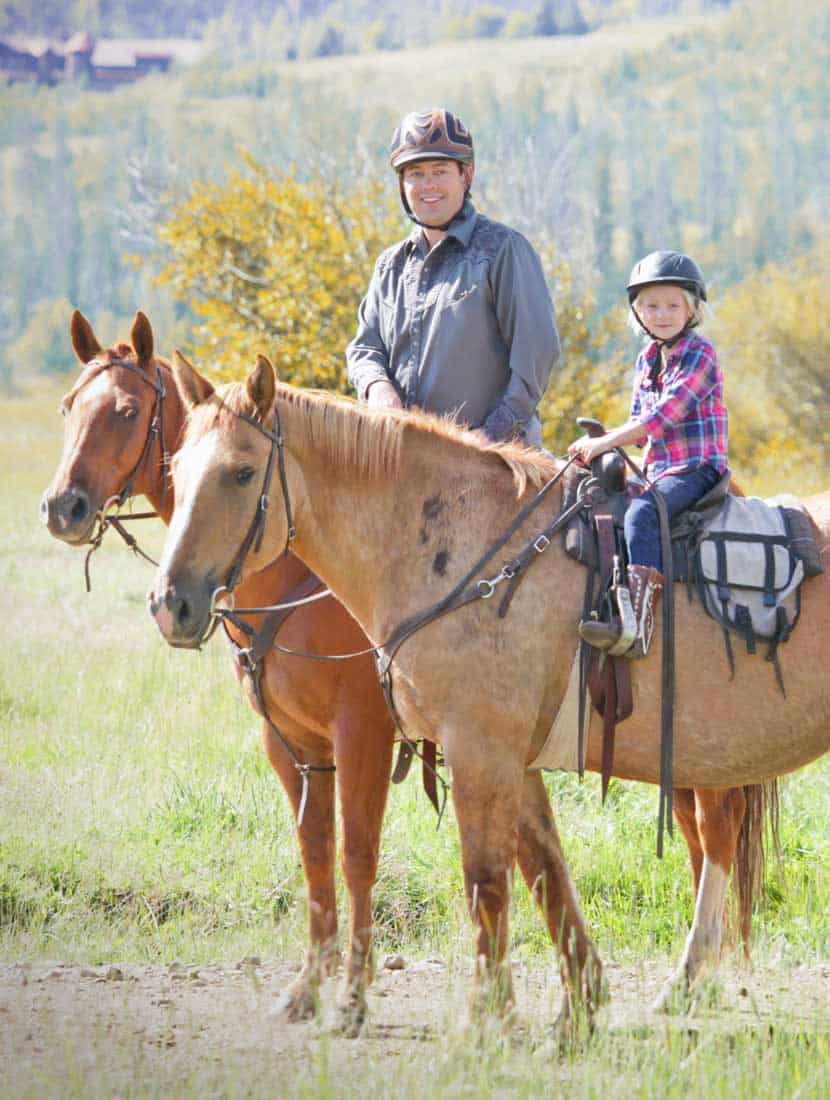 ---
Groups at C Lazy U in Fall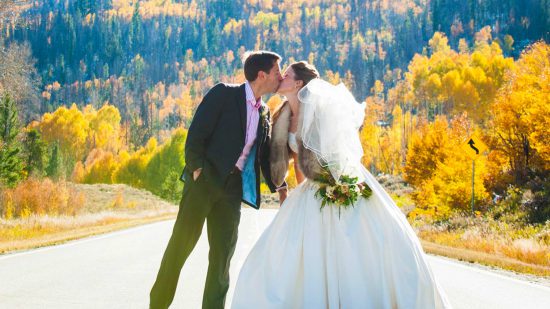 Weddings
Have your picture-perfect fall wedding set against the backdrop of blazing autumn leaves, sweeping views, and the majestic Colorado Rocky Mountains. C Lazy U Guest Ranch is the ideal venue for your dream rustic wedding. This all-inclusive wedding venue is the perfect spot for your rehearsal dinner, getting ready on the big day and your unforgettable wedding ceremony and reception. It's sure you be an event you and your guests will never forget.
Learn More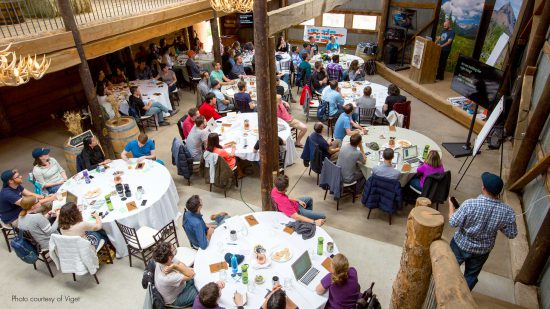 Corporate Retreats
Take corporate team-building to a whole new level with a company retreat at the C Lazy U Guest Ranch. The fall is the perfect time for corporate retreats on the ranch as the summer vacation season is over but the weather is still ideal for riding, ropes courses, roping clinics and other amazing team building activities. This all-inclusive resort provides dining and lodging for your entire retreat and the ranch is equipped with a variety of meeting rooms.
Learn More
---
Fall Specials and Events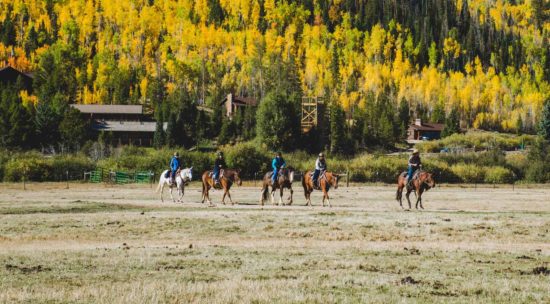 Adults-Only Weekend Fall 2023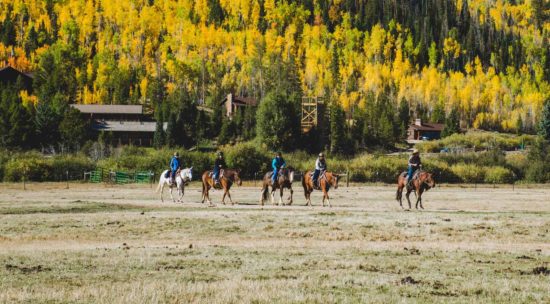 Attend an adults-only weekend at C Lazy U to reconnect with the other grownups in your life, including your special someone.
Marvel at the spectacular fall colors that transform the ranch into a golden utopia
Enjoy uninterrupted conversation and the company of adults
Take advantage of all C Lazy U's ranch activities, including access to the Lazy You Spa
Get the details »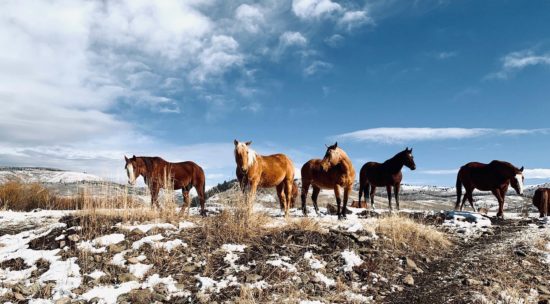 Fall Family Weekend at C Lazy U Ranch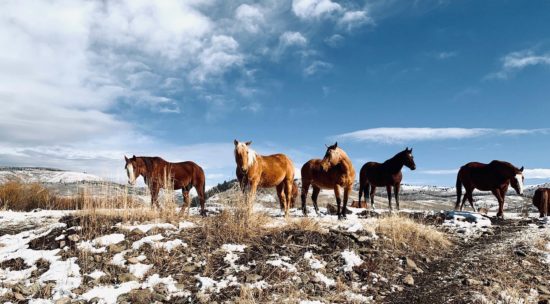 Feeling a little stir-crazy? Get out of the house and enjoy the changing season in the fresh mountain air!
Fall Kids Club available during these dates
Enjoy gourmet meals, luxury lodging and most ranch activities, including access to the Lazy You Spa
2-night minimum stay
Get the details »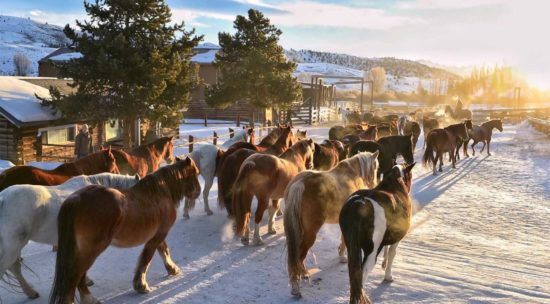 November Family Getaway Dates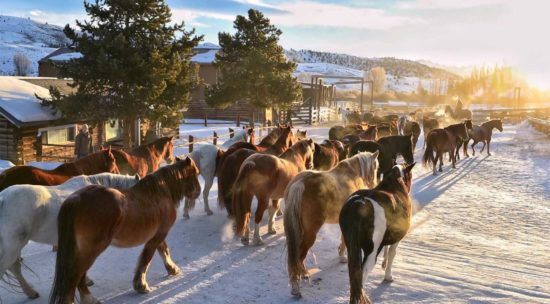 Come to the ranch for a getaway with only a 2-night minimum stay! We've got lots of activities no matter what the weather is, and with a little luck you might even find some early-season powder at our elevation. Grab the kids and head on up!
Get the details »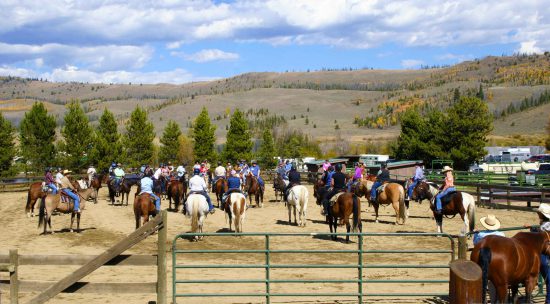 Ranch Riding Adventure with Julie Goodnight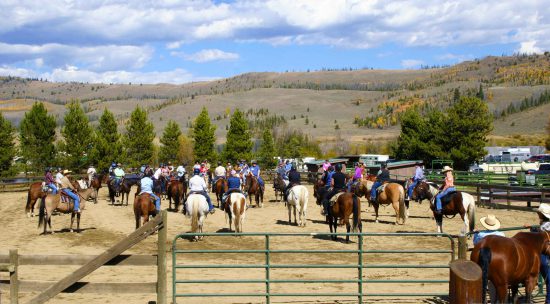 Join renowned horse trainer and clinician Julie Goodnight for an amazing Ranch Riding Adventure.
Daily sessions include lessons with Julie, trail obstacle challenges, cattle sorting and guided trail rides
Evening activities include horsemanship workshops and socializing
Discounted rate offers an exclusive chance to experience world-class accommodations and gourmet meals
Get the details »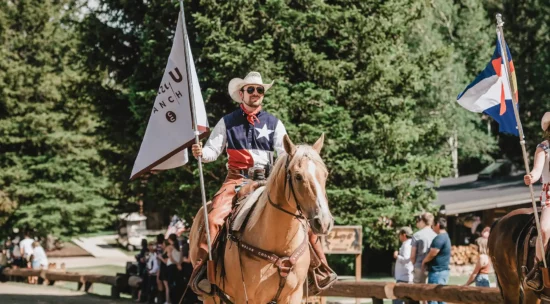 Labor Day Weekend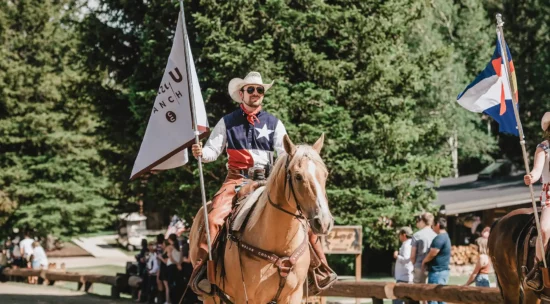 Bring the family to the C Lazy U ranch for a fun-filled outdoor Labor Day weekend.
Enjoy a last-minute summer vacation with the kids before school starts
Kids Program offers children the chance to make new friends and explore the outdoors
Enjoy gourmet food, luxury cabins and dozens of ranch activities
Get the details »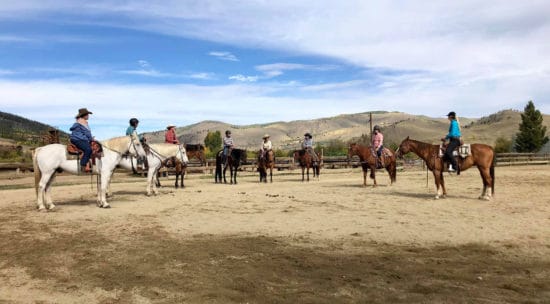 Julie Goodnight's Horsemanship Immersion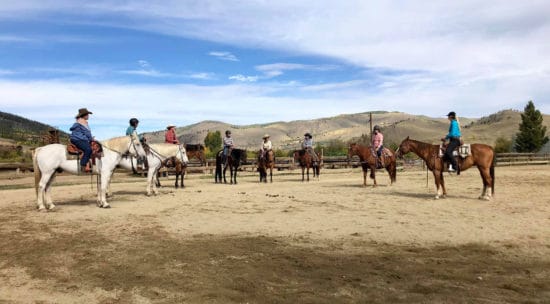 Immerse yourself in horsemanship instruction during this 6-day, 5-night boot camp with Julie Goodnight! This program is designed for insatiable learners of all ability levels. Besides our luxurious accommodations, gourmet dining, ranch activities and amenities, you'll enjoy:
Equitation and groundwork lessons
Training demonstrations
Hands-on workshops on horse behavior, health & first aid, conformation, saddle fit, bits & bitting, desensitizing
Get the details »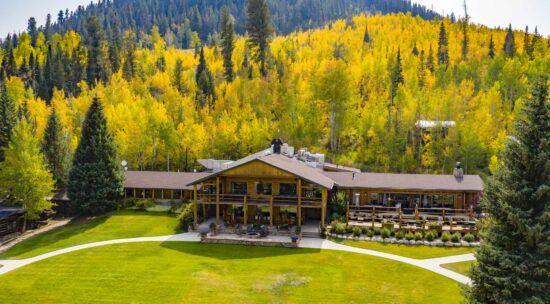 Family Fall Break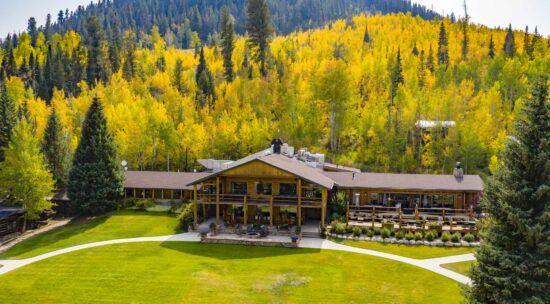 Fall in love with C Lazy U Ranch this autumn for a family fall getaway in Colorado.
Experience the wonder of Colorado in the fall with its golden aspens and crisp air
Catch rainbow and brook trout on private streams while fly fishing
Take part in all of C Lazy U's ranch activities, from horseback riding to a day at the Lazy You Spa
Get the details »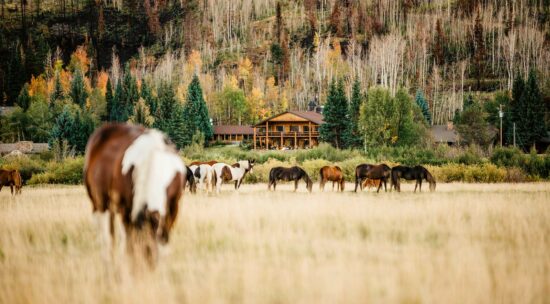 Adults-Only 4-Night Getaway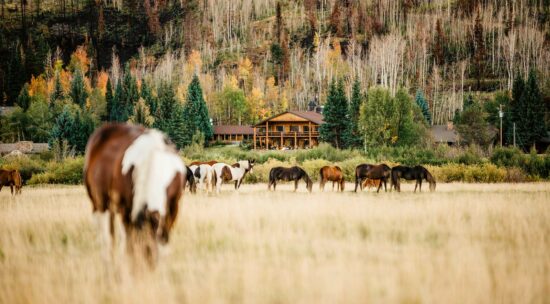 Join us for an Adults-Only getaway in late September.
Fall in love with C Lazy U Ranch this autumn during your mountain getaway in Colorado.
Catch rainbow and brook trout on private streams while fly fishing
Enjoy myriad ranch activities, from horseback riding to a day at the Lazy You Spa
Get the details »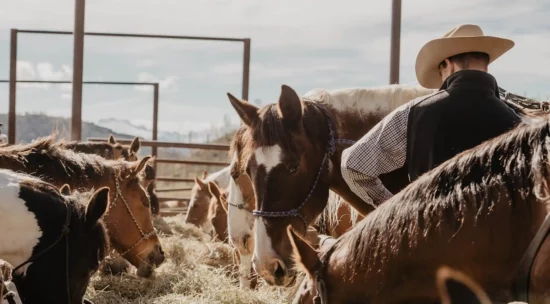 Protected: Equine and Dine