October 3, 2024
–
October 7, 2024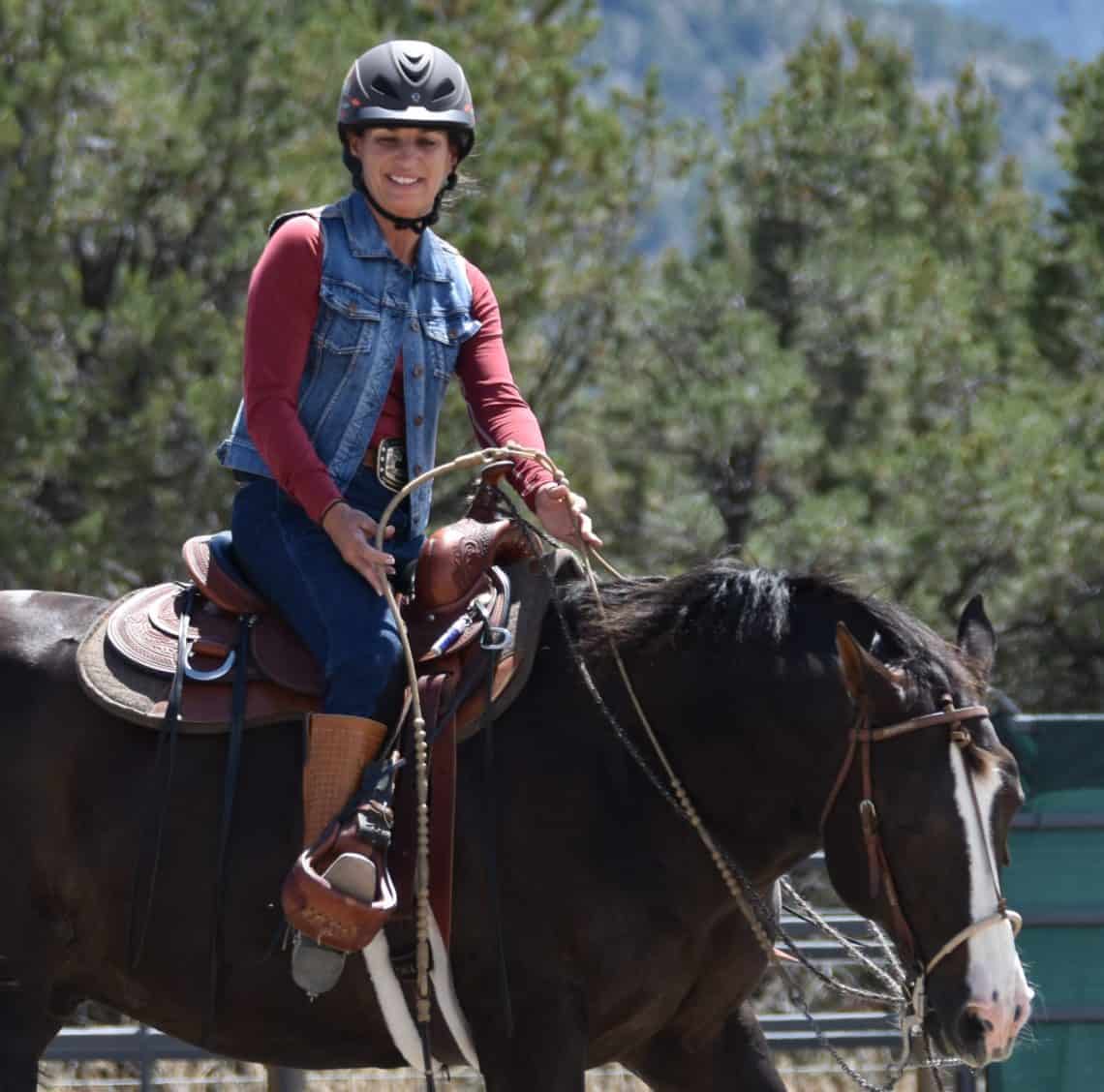 Featured in Cowgirl Magazine
For a better idea of what to expect, check out the itinerary:
Ranch Riding Adventure Daily Schedule
Join us for an amazing Ranch Riding Adventure with Julie Goodnight and her team of trainers! Take advantage of world-class accommodations with programming and riding included.
This amazing weekend kicks off with Horses and Happy Hour – your opportunity to get to know Julie Goodnight and her crew, to socialize with other like-minded participants and to meet the magnificent herd of 200 horses.
Each day begins with Cowgirl Coffee followed by a hearty ranch breakfast to fuel you for your adventurous day! After meeting up with your riding group you will begin your rotation through four daily riding sessions. Before lunch you can explore a guided trail ride with your horse and wrangler. A delicious and filling poolside lunch is next, followed by additional riding sessions in the afternoon. The program also incorporates trail obstacle courses and horsemanship clinics with Julie Goodnight in the indoor or outdoor arena.
Lessons learned:
Improved riding skills
The principles of working with cattle from horseback, with an emphasis on safety
Balancing in the saddle, effective cueing with light aids
A deeper understanding of horse behavior
By the end of the weekend, your horsemanship skills and confidence will be sharply honed, and you will have met and made new friends for a lifetime. You will be re-energized in a way that can only happen in the presence of horses and the majestic Rocky Mountains! On Monday morning you will enjoy your final ride before saying goodbye until next year.
DATES: October 3-7, 2024
RATES (per person, per night):

Adults Double Occupancy: $650*
Adults Single Occupancy: $760*
This program is for all ability levels and offers plenty of saddle time for those who cannot get enough, and plenty of alternative activities when you need a break. Enjoy the incredible Fall weather—warm days and cool nights. Be prepared to ride a lot, soak in the incredible mountain vistas, enjoy socializing with like-minded souls, and have many great adventures on the back of a horse!
*Taxes (approx. 6%) and resort fees (20%) apply
---
Words cannot describe the awesomeness of the C Lazy U riding adventure last week. Top-notch accommodations, incredible staff, breathtaking views, and the Julie Goodnight instruction and information sharing was unmatched. Oh – and Rich and the cows were a blast! The whole trip was incredibly restorative for me in my personal journey. I thank you Julie from the bottom of my heart.

– Betsy Bradley
About Julie Goodnight
Julie Goodnight is best known as host of the popular TV show, Horse Master, which aired weekly on RFD-TV for eleven years. Julie's clear and humorous teaching style and her enlightening insights on horse behavior, inspire and educate audiences everywhere. A certified Master Clinician, Julie travels the globe teaching riders and giving horse training demonstrations. She's a published author with a syndicated column, a monthly blog and podcast, a keynote speaker, and is an active social media influencer. Julie is CEO of 2Horse Productions, an equine, nature and adventure lifestyle production company. Goodnight is the recipient of the Exceptional Equine Educator Award and CHA's Partner in Safety Award, and resides on her horse farm in the mountains of Colorado.
---