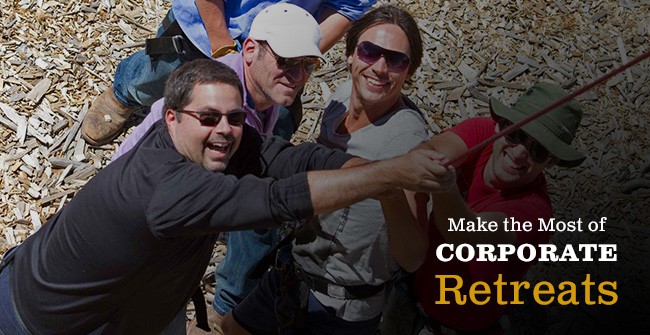 Let's face it—corporate retreats are hard to get right. All too often, employees dread the forced camaraderie, feel uncomfortable and anxious during the retreat, and return to work on Monday without much change or improvement in morale. The standard formula of pep talks and trust exercises falls short.
So how can companies make the most of their investment in a corporate retreat? Head for the hills to a dude ranch in Colorado. With a premier destination such as C Lazy U, employees will look forward to the trip like they would their personal vacation—they'll be able to feel the therapeutic effects of a deep outdoor experience and get to know each other as humans and peers.
We've hosted enough corporate retreats at C Lazy U to know how great the benefits can be when you avoid the usual pitfalls and make this year the year you get it right.
Wrong Turn #1: The location is too out-there
Location is a balancing act. On one hand, corporate retreat organizers want to get the team far enough from their usual work environment that they feel a definite shift in their routines. On the other hand, it's important not to go too extreme or remote.
Aside from the obvious logistical problem of spending too much valuable retreat time traveling, you may have the inadvertent effect of taking team members too far out of their comfort zone. If your group is mostly urban professionals, an off-the-grid meditation retreat in the woods may be too much of a stretch.
CLU Pro Tip: Our luxury dude ranch strikes the location balance so you can have the best of both worlds. We're located just two hours from the metropolitan center of Denver, and with our superior service, amenities and stunning mountain scenery, visitors can delve as far into nature or stay as close to the cozy main lodge as they'd like.
Wrong Turn #2: Too many activities
When planning the programming for a corporate retreat, the activities are key—but so is self-structured downtime. Organizers often err on the side of over-programming, without leaving any breathing room for the extroverts to socialize or for the introverts to decompress with alone time.
CLU Pro Tip: Leave half the day unstructured.  Fill the mornings with organized activities and sessions, but the afternoons should be "free time." You'll be surprised how fruitful this leisure time can become at a place like C Lazy U. Team members will act on their interests, either taking advantage of the trails to explore nature or reveling in the indoor ambiance of the main lodge and cabins. Downtime is a great opportunity to process the morning's lessons and come away from the retreat feeling restored.
Wrong Turn #3: Disappointing food and drinks
People bond over meals. Rather than spending limited retreat budget on overpriced keynote speakers or on branded swag, put those dollars toward gourmet dining experiences.
Alcohol, however, is arguably the easiest thing to get wrong on a corporate retreat—overdoing it leads to embarrassment and regrets. Management consultant and author Dave Logan told CBS that corporate retreat organizers should provide alcohol, but should not "encourage people to drink."
CLU Pro Tip: Leave it up to us. With a luxury dude ranch venue such as C Lazy U, you'll know that each gourmet meal will compete as a highlight of the retreat—and we do alcohol tastefully. The bar at C Lazy U hosts an impressive collection of fine wines, lovingly curated by our in-house sommelier Shelby. And in case a guest does over-indulge, no need to worry about confiscating car keys—the cabins are just a short saunter away.