Typically, the announcement of a corporate retreat is met with groans, eye rolls and a dejected, "Do we have to?" Those reactions aren't what the retreat planners want, but it's often because past corporate retreats were too busy, boring and awkward, topped off with forced fun.
Many of the complaints with corporate retreats can often be traced back to the venue. C Lazy U, which offers tailor-made corporate retreat packages for companies large and small, will turn those complaints in praises.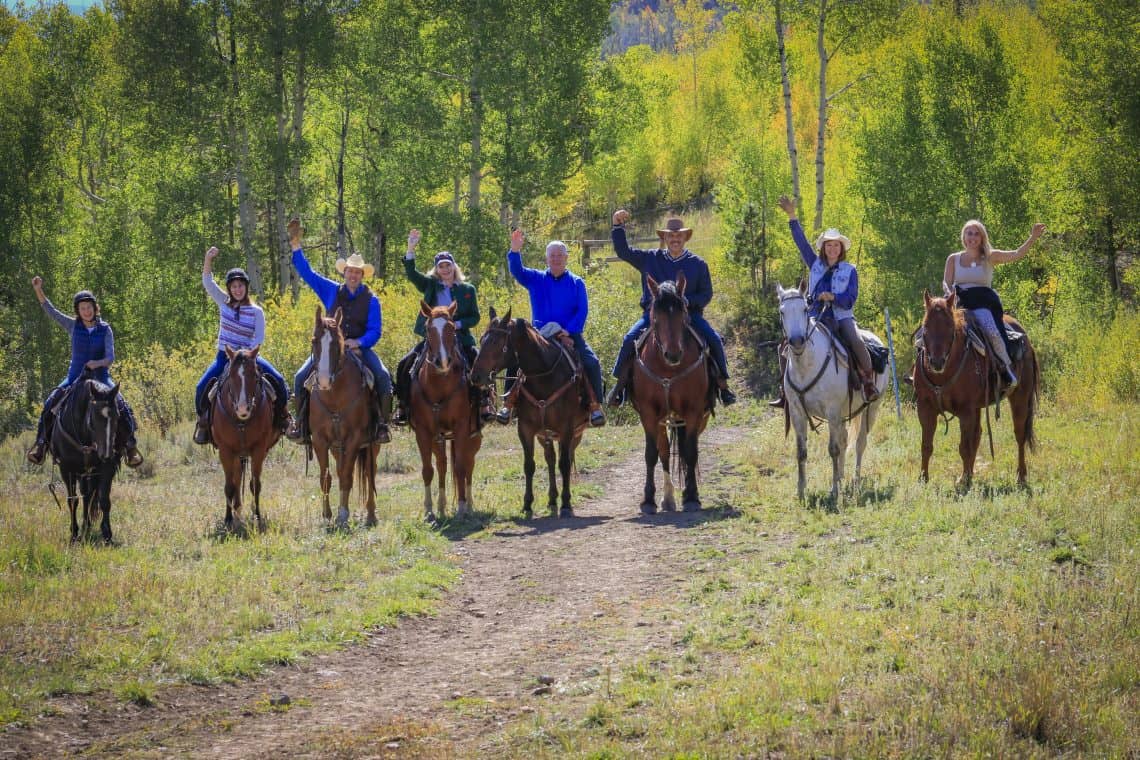 1. Cramming too much in too little time.
You've got a long list of activities, roundtables, meetings and presentations planned, but you've only scheduled one or two days to do it all. Packing all those plans into too little time, though cost-effective, will only lead to cranky, tired employees that would have preferred a less stressful day at the office.
Corporate retreats at CLU are at least two days/two nights at a minimum, but the ranch offers so much to do, see and explore that corporate event planners often schedule longer retreats. Spreading out your activities across multiple days allows your employees to truly soak in what they've heard and learned without getting burned out.
2. Staying too close to the office.
Retreats are far less effective when they are planned too close to home base, even if it may be simpler to reach. Employees need to feel as though they are truly away from the office, not just at an extension of it.
Even if your company is located in Denver, just a 2-hour drive from Granby where our ranch is located, our surroundings make it seem like you're in another world. Colorado is one of the best locations for corporate retreats thanks to its nature, climate and opportunity for both adventure and leisure time. C Lazy U takes full advantage of it, too: all guests at your corporate retreat get access to horseback riding, fly fishing, hiking and biking throughout our 8,500 acres of pure Rocky Mountain countryside.
3. Planning the same-old, same-old activities.
No one wants to do traditional activities and icebreakers, such as the "What three items would you take on a desert island?" question or trust falls. Some of the games may be fun, but when employees know exactly what to expect, it can get a little boring.
At C Lazy U, there aren't any "ordinary" plans. Team-building activities at CLU include learning to throw a lariat, herding cattle and riding horses. There's more to CLU than learning to be a cowboy, though: challenge yourself on the ropes course, fly through the air on a zip line, or spend your day relaxing with yoga and a trip to the spa.
Note about cattle pushing availability: The ranch plans to bring back this activity in the future as soon as fire-damaged pastures recover and are producing vital nutritional growth.
4. Trapping employees in dull, dreary meeting spaces.
Even if a corporate retreat venue is a resort on the beach, the conference rooms are generally like every other meeting space with their gray walls, fluorescent lighting and lack of access to the outdoors. Trapping your retreat-goers in one dull room for hours at a time will just make them anxious to leave.
The different meeting spaces of C Lazy U, on the other hand, are just as comfortable and chic as the guest rooms and common spaces. The newest meeting room, Latigo, features over 1,000 square feet of cowboy-chic space, with a private banquet room and secluded wine room.
5. Scheduling too little free time.
You may be eager to avoid bored employees and keep the momentum going, but scheduling too many activities during the day and evening will leave them exhausted. Give your employees the opportunity to make their own decisions and plans — but always bring them back together in the end.
With C Lazy U Ranch as your corporate retreat venue, you can turn your next offsite into an event that really gets the employees talking positively.
Learn more about Corporate Retreats and Business Meetings at C Lazy U or give us a call at (970) 235-9198.