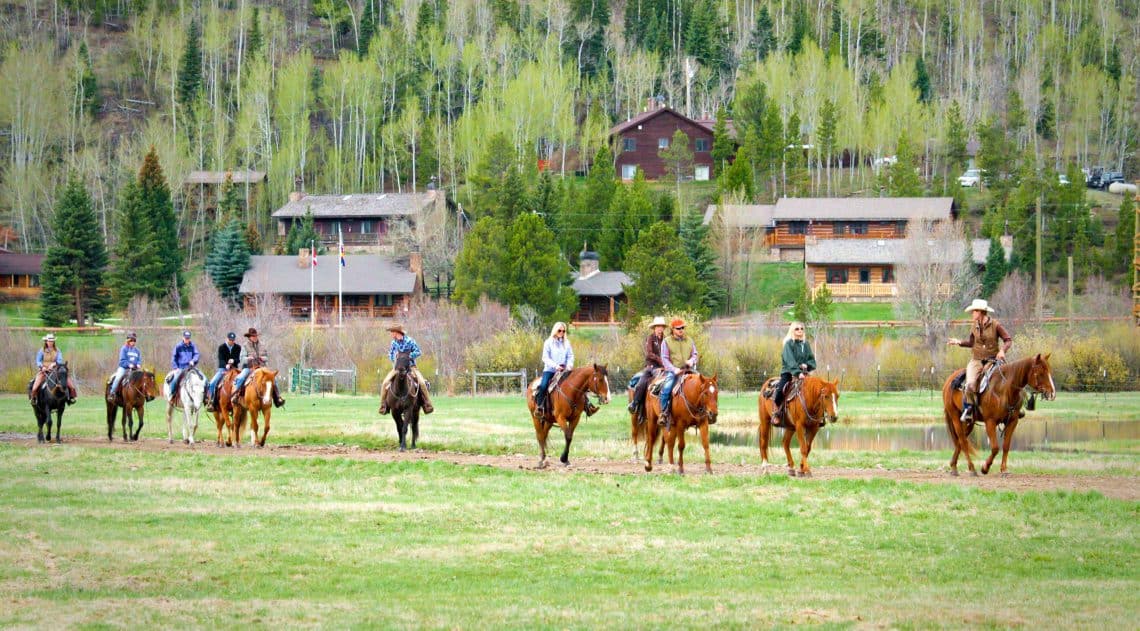 There's no more room for outdated, boring corporate meetings and business retreats that are as inspiring and invigorating as a gray-walled cubicle. Employees thrive when they are treated to unique, exciting experiences—and there's no better place to do that than Colorado.
Easy to Access
One of the biggest gripes among employees attending corporate meetings or offsite retreats is the length of travel—no one wants to sit on a plane for hours, then drive or take a train to the final destination only to end up at a ho-hum hotel. Because Colorado is (almost) smack dab in the middle of the United States, it is an ideal location for guests coming from all corners of the country, or for groups traveling together.
In addition to Denver International Airport—a major transportation hub that has claimed the title of the sixth busiest airport in the US—there are many other regional airports in Aspen, Colorado Springs, Fort Collins and more. Listed as a top location for business retreats by Destination Colorado and Resorts and Lodges, C Lazy U, located just 90 miles northwest of Denver, is accessible by Denver International Airport, as well as two smaller non-commercial airports in Kremmling and Granby. C Lazy U Ranch can also arrange complimentary shuttle service from Silver Creek, just 15 miles from the ranch—but the drive to the ranch from Denver is so breathtaking, it is often worth the trip!
Perfect in All Seasons
Colorado's climate is as diverse as its terrain, with 300 days of sunshine per year and winters that deliver 300 inches of snow. No matter what season you visit, there are activities that take advantage of the state's most famous attraction: the outdoors.
In the winter, guests can ski down one of Colorado's 1,800 ski runs on 30,000 thousand acres of terrain or head downhill on snow tubes. In the summer, hike through the mountains to take in the sights, or get an adrenaline rush by mountain biking down the winding trails. As one of Colorado's authentic dude ranches, C Lazy U offers guests the opportunity to learn how to master horseback riding—a unique approach to teambuilding that does away with those uncomfortable icebreakers and trust fall exercises.
For Adventurers and Leisure-seekers
It's important for corporate meeting organizers to ensure attendees and guests at a business retreat don't get bored, but accommodating all those different interests in one place is a challenge—except if it's Colorado. Colorado is a place for the outdoorsy and the active, but also for the art-lovers and foodies; it's where city nightlife meets camping under the open sky. When hosting corporate events in Colorado, guests can spend a night in the city at one of its many bars or gastropubs to indulge in some luxury, and then head out into the mountains to get back to nature.
And while the heart of Denver is an exciting, urban environment, it does lack what other meeting locations in Colorado have: the combination of luxury and the rugged outdoor life. In addition to the ranch's slopes, trails and creeks, C Lazy U offers gourmet dining and the award-winning Lazy You Spa to pamper retreat attendees after they've spent the day working hard.
Colorado: Space to Meet, Stay and Play
Boasting both vibrant cities and untouched outdoor spaces, Colorado has the best of both worlds. There are over 10,000 venues in Colorado, all of which highlight what the Centennial State has to offer—including C Lazy U Ranch.
Check out the below infographic from Destination Colorado which helps illustrate why Colorado is one of the most ideal places for your next business retreat.