Planning a corporate retreat is a difficult task, but choosing the perfect retreat location shouldn't be. Located just two hours from Denver, C Lazy U is a breathtaking corporate retreat destination perfect for large and small groups alike. Our luxury dude ranch is easy to access, yet remote enough to create a distraction-free space for your team to recalibrate, plan, and bond.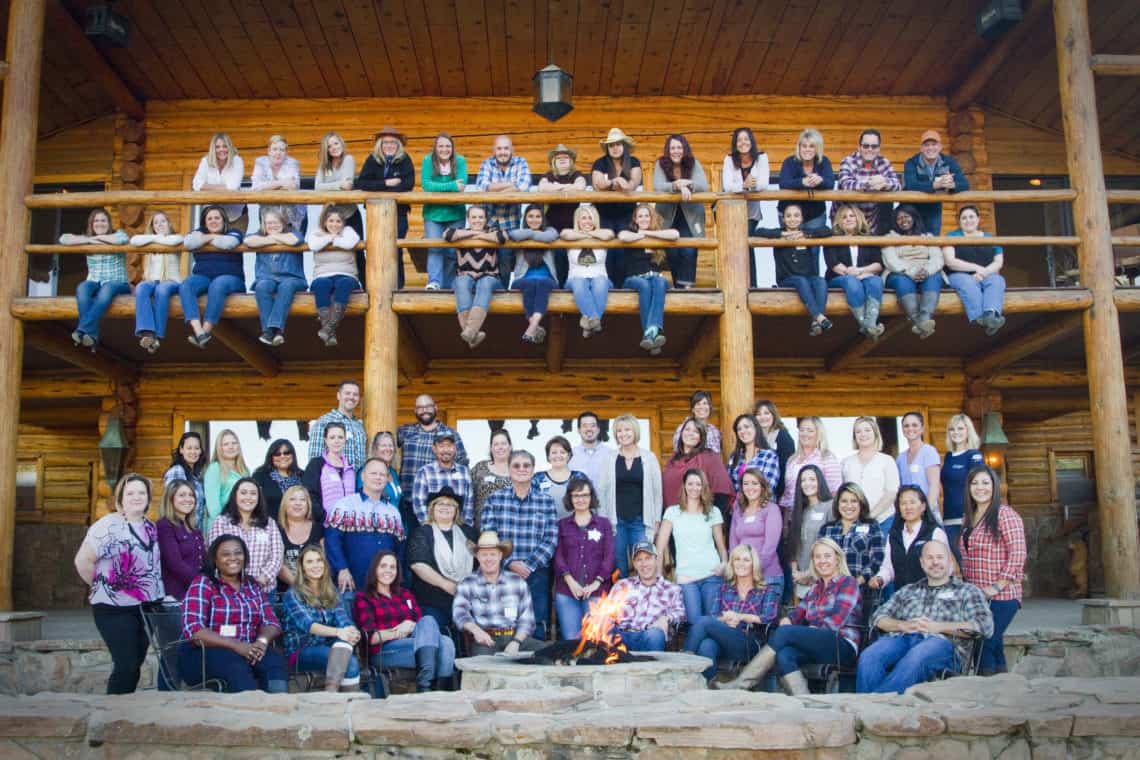 C Lazy U is an all-inclusive, award-winning corporate retreat location that's been named as a finalist for two awards in the Colorado Meetings + Events Best of 2019 Reader's Choice awards: Best Renovation Project at Hotel or Event Venue and Best Hotel or Resort w/ Meeting/Event Space – Outside Denver Metro. Keep reading to learn why C Lazy U is the perfect destination for your upcoming corporate retreat!
Beautiful Setting
When you mention "corporate retreat" to your staff, do their eyes glaze over? Changing the setting of your event can make the world of difference in getting your team excited and bought into your company's retreat. With over 8,500 acres of land tucked into the heart of the Rocky Mountains, C Lazy U is the perfect backdrop for your team. If you're worried that the great outdoors will be too distracting for your team, think again: studies show that spending time outdoors increases creativity and problem solving by a full 50%!
Corporate Meeting Spaces For Every Team
To compliment our 8,500 acres of land, C Lazy U has over 8,000 square feet of meeting spaces built to accommodate groups of all sizes.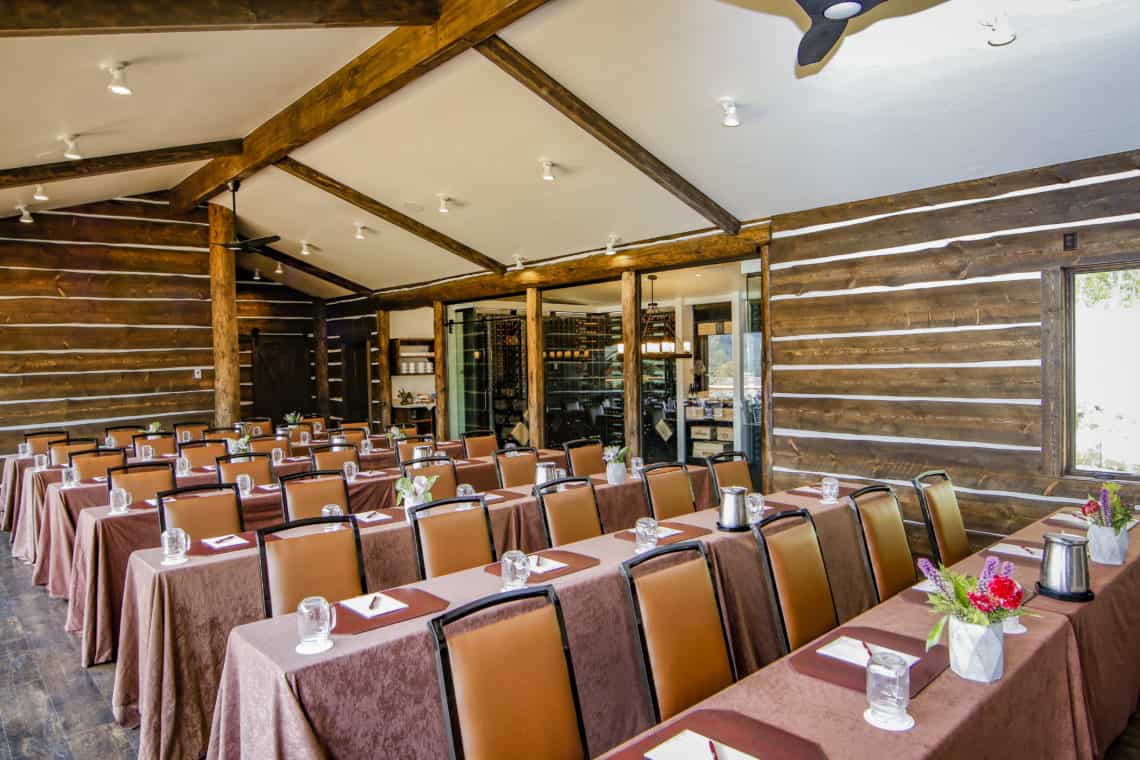 With wifi available throughout the property and audio/visual capabilities available upon request, your team can choose to either engage with technology or disconnect entirely, depending on your retreat's goals.
All-Inclusive Corporate Retreat
C Lazy U is an all-inclusive corporate retreat destination, which makes planning your event that much easier. Enjoy gourmet dining with made-to-order breakfast and locally-sourced lunch and dinner menus prepared fresh each day. As a fully-functional dude ranch, your team can participate in some of our most popular activities, like horseback riding, hiking, mountain biking, archery, snow tubing, and more at no extra cost. At the end of the day, your group can retire to luxurious private cabins featuring their own wood burning fireplaces.
Team Building Exercises
For a truly worthwhile retreat, add some activities – studies show that physical exercise actually increases cognitive functioning and wellbeing. Your team can choose from our numerous activity options, including our most popular corporate retreat selections: zip lining, ropes courses, horsemanship, and amazing races.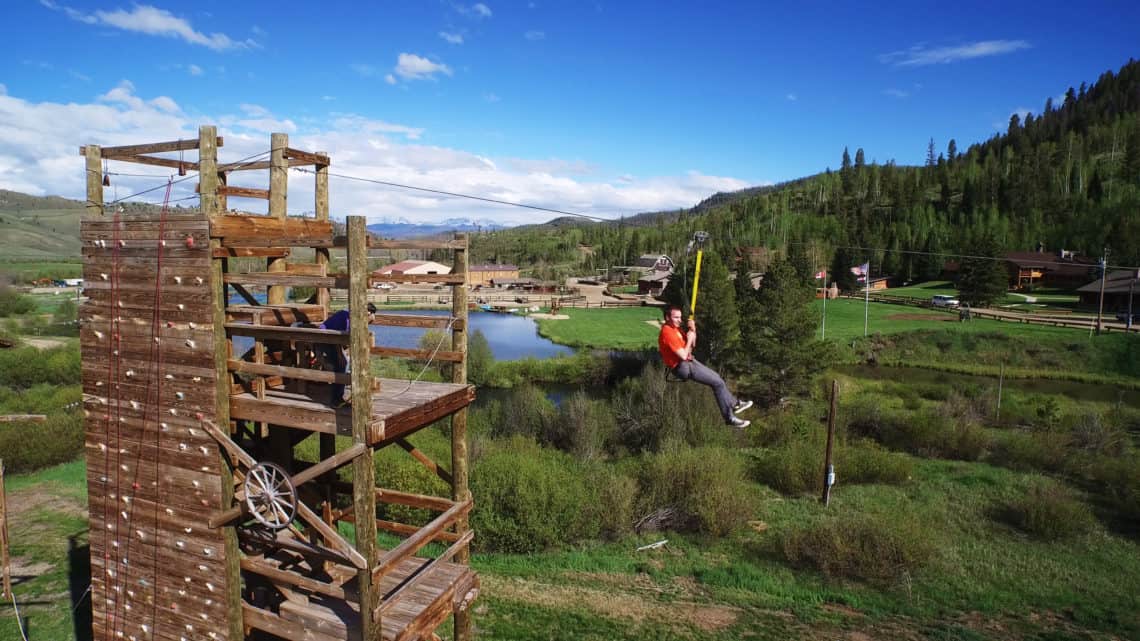 For an even more unique experience, ask our staff about off-ranch activities, including golfing, hot air ballooning, and white water rafting. Our team will work with you to plan the perfect themed breaks and activities based around your budget and objectives.
How To Plan A Corporate Retreat At C Lazy U
With years of experience in hosting corporate retreats, our team is well-versed in making corporate events memorable. To get the most out of your retreat, follow these steps:
Determine the goals and objectives of your retreat
Finalize your retreat budget
Contact C Lazy U to book your company's stay
Work with C Lazy U staff to choose meeting spaces, make special requests, and coordinate on- and off-ranch activities
Experience an unforgettable corporate retreat and enjoy the benefits of bringing your team closer together
Are you ready to plan a corporate retreat your team will never forget? Get in touch with our team to begin planning today!