As one of the top family vacation destinations in the US, C Lazy U is no stranger to helping guests of all ages and ability levels experience the magic of Colorado horseback riding. To keep our youngest riders safe, we've developed a specialized kids horseback riding program. Read on to learn more about what our program entails and what steps we take to ensure your entire family has a safe and unforgettable vacation experience.
What Age Can Children Start Horseback Riding?
At C Lazy U, children 6 years of age and older are assigned their own horse for the duration of their stay. Between ages 6-12, children develop their riding skills with the help of our experienced counselors and wranglers, and working with the same horse each day helps children gain confidence and build their skills.
While children are learning foundational skills, their horseback rides are filled with adventure as they learn about the ranch's outlaw hideaway, visit Shorty's Cabin, and learn about the myth of the Blue Dot Forest.
How We Keep Children Safe On Horseback Rides
Our biggest priority is keeping all our guests safe as they explore the best of the authentic American West. In addition to providing safety equipment, like helmets, to all our young riders, we also:
Match each child with a trusted horse: at the beginning of your stay, our wrangler team will pair your child with a trusted kids' horse based on their temperament, experience level, and size. Our kids' horses have been part of the C Lazy U family for years (and sometimes decades) and every horse in the children's program is hand-picked for their friendly and gentle nature.
Rigorously train all staff: All counselors go through a rigorous pre-employment screening and horsemanship evaluation to ensure our team has the skills, knowledge, and training to keep children safe while teaching western horsemanship skills. In addition, our staff is required to take training and testing on standard procedures on trails and around the ranch's main facilities and hold current CPR and First Aid certifications.
Use easier trails: C Lazy U's 8,500 acres of land is full of trails with varying difficulties. We take the youngest and most inexperienced guests on trails with easy terrain, which helps kids learn the basics about horsemanship and riding.
What If My Child Isn't Old Enough To Ride?
Even though they can't ride, children between the ages of 3 and 5 years old can still experience the excitement of a dude ranch vacation. Affectionately termed our "Cowpokes," young guests can enjoy pony rides and cart rides pulled by one of our Sicilian Donkeys. Cowpokes will also participate in age-appropriate arts and crafts, pool time, movies, cookie decorating, scavenger hunts, and more!
Learn More: Experiences For The Under 6 Crowd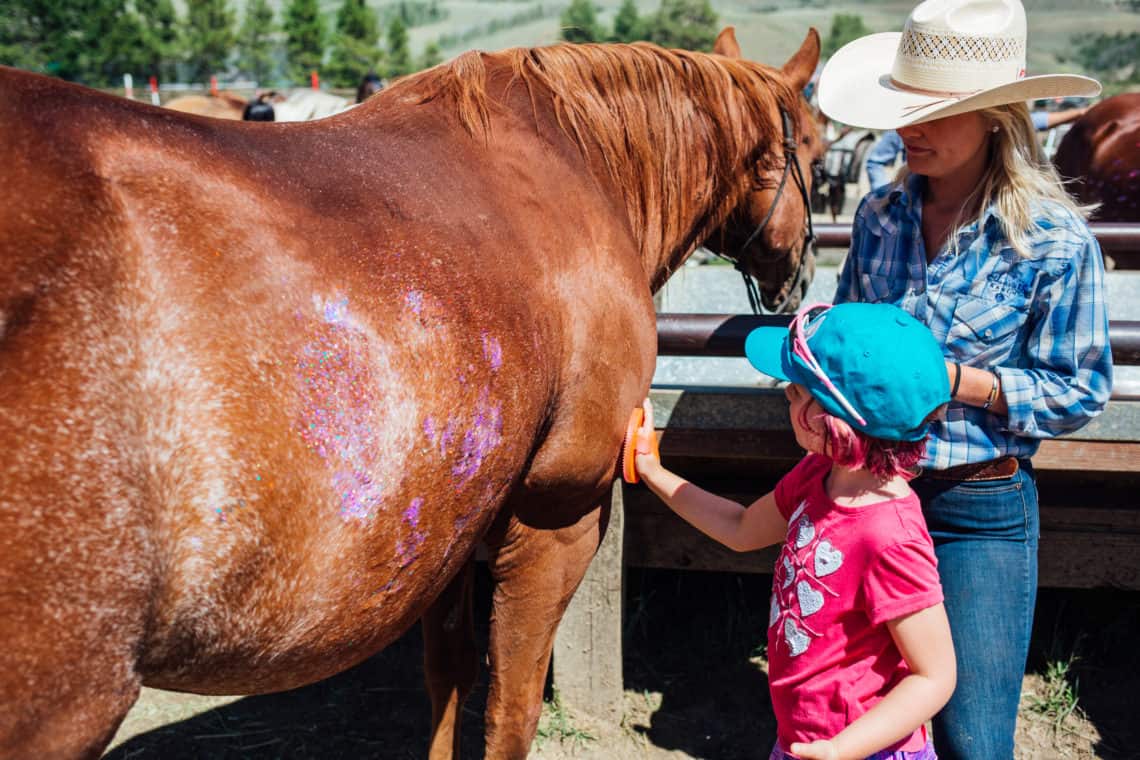 Whether your child is brand-new to horseback riding or interested in growing their skills, C Lazy U can help them gain confidence while keeping them safe. With specialized programs for children of every age and activities suited for the whole family, C Lazy U is the perfect destination for your family's next vacation. Contact us today to learn more and reserve your spot!