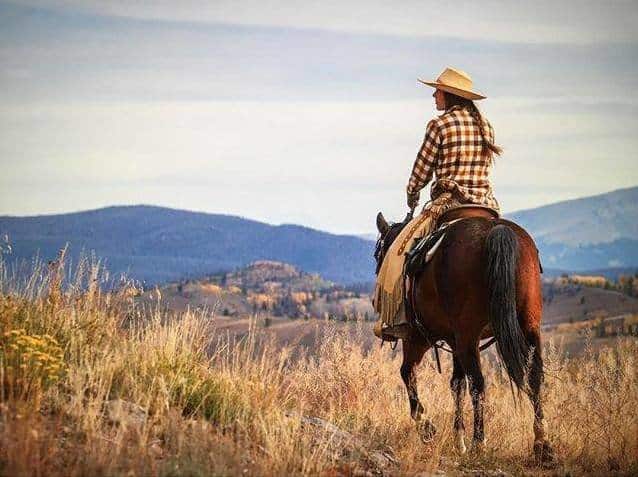 We're often asked "what, exactly, is a dude ranch?" We've explained what they are and how they came about way back when in the early 1900s. Now we're ready to clear up some notions (both true and false) that some folks may have about dude ranch vacations. Here are a few myths about spending time on a dude ranch, and the facts to set you straight. The more you know about dude ranch vacations, the less you'll come across as a city-slicking "dude" once you get here!
1. Myth: Dude ranches are all about cattle and horseback riding
Historically, yes. The main activity at traditional ranches is wrangling the cattle, which is best done on horseback by pro cowboys. Horseback riding is still at the heart of the ranch experience, and C Lazy U is no exception. Our herd of 180 horses and our staff of expert riders make for experiences for any cowboy-for-a-day (or week!).
Note about cattle pushing availability: The ranch plans to bring back this activity in the future as soon as fire-damaged pastures recover and are producing vital nutritional growth.
1. Fact: There's LOTS else to do at C Lazy U!
While horseback riding is a big part of the daily life and culture of the ranch, it's not a requisite. For those who would rather spend their vacation time on other outdoor mountain activities (or just lazing by the side of a pool, for that matter), C Lazy U has plenty of options, every season of the year.
2. Myth: Any old ranch can call themselves a "dude ranch"
Back when ranches were opening their doors to tourists in the early 20th century, any ranch could hang a shingle on its front gate and call themselves a lodge as well as a ranch. Even today, you'll find ranches with minimal services inviting visitors in as a "dude ranch."
2. Fact: The Dude Ranchers' Association sets the bar high
As dude ranches began to take off in popularity, the budding industry realized it had to get organized and set some standards for itself. In 1926, the Dude Rancher's Association was born, in partnership with the Northern Pacific Railway. Since then, the association has worked to ensure high quality in the dude ranch experience. C Lazy U, established in 1919, is a long-time member of the Dude Ranchers' Association.
3. Myth: Dude ranches are only open in the summertime
True, summer is high season for dude ranches across the American West – this is the most popular time of year to go. The timing is right to bring the kids while they're on vacation from school, and the weather is perfect for horseback riding, campfires, and having fun in the sun.
3. Fact: C Lazy U is open year-round
The ranch takes on a different personality in the fall, winter, and spring months – but is still very much alive! In fact, some prefer the winter months, when the place is a little more serene and covered in a dazzling blanket of white. Horseback riding in the snow brings fairy tales to life. Fall foliage, winter holidays, and spring skiing are all great excuses to visit the ranch any time of the year.
4. Myth: Dude ranch vacations are only for families with kids
Ranches like C Lazy U are generally homegrown, family-run operations that cater especially to families with kids. The lodging, food, and special activities are all designed for youngsters. C Lazy U even has special programming for kids where parents can leave them in our hands for the day.
4. Fact: C Lazy U has something for everyone
As kid-friendly as the ranch may be, it certainly has something to offer all kinds of groups, even of the grown-up variety. Especially from September to May – when the little sprouts are back in school – couples can plan a wedding or just a romantic getaway to C Lazy U, sans children. Organizations can plan conferences and retreats.
5. Myth: Dude ranches are rustic
Ditch the suits and heels – dress code here is strictly casual. Keep in mind that your threads are likely to get a little dusty!
5. Fact: C Lazy U equals superior service and luxury
We may be a cowboy ranch in the mountains, but we know a thing or two about creature comforts. Dining here has a gourmet touch, cabins have amenities like their own cozy fireplaces, and there's a spa on-site to make things extra fancy. No need to "rough it" at C Lazy U – we even add frills to camping with our special "glamping" setup.