2021 was a huge year for C Lazy U Ranch. Damages from the tragic East Troublesome Fire and a myriad of unprecedented circumstances have created many challenges for the ranch team and community – but after our grand re-opening in April of 2021, C Lazy U is back and better than ever. Come see what's been updated and what's new as we work towards the next 100 years of incredible luxury experiences in the beautiful American West!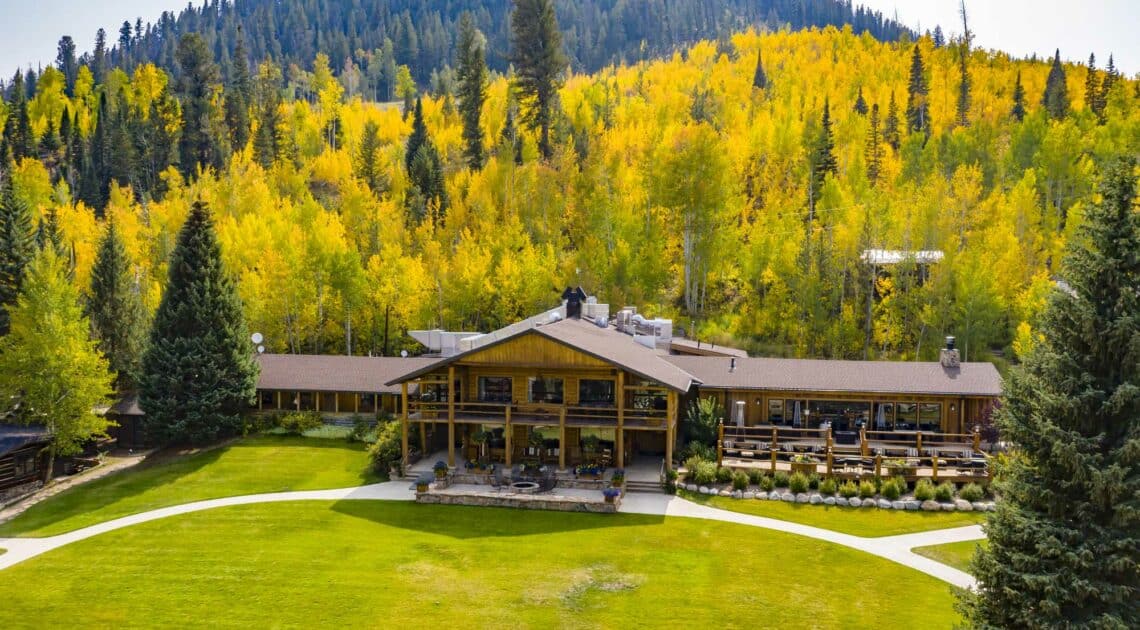 Rebuilding the C Lazy U Barn
The original barn was an iconic and storied fixture of C Lazy U life. Efforts to rebuild the barn are ongoing, and the ranch has partnered with an architecture firm to ensure that the new structure has all the spirit, heart, and functionality that guests and staff expect from C Lazy U. The ranch owners see the new barn as one of the most important projects for the ranch moving forward, and so time for careful planning is essential in ensuring that the final design serves the needs of the present and the future, while meeting an aesthetic standard that will inspire and welcome guests for the next century. Construction is expected to take place in the coming years.
As an interim solution, the ranch has a temporary barn that has been working exceptionally through all seasons. This current barn is a cross between a permanent structure and a high-quality tent and sits adjacent to the location of the old barn. It is a heated, high-performance solution the likes of which are seen throughout the world at ski areas and various other outdoor recreation operations, and the structure capably serves the needs of C Lazy U's equestrian operations. We've customized and skinned the interim barn with a traditional ranch façade similar to the old barn to achieve cohesion with the surrounding buildings. The feedback from the guests has been great, and thus far the structure has been performing above the expectations and needs of the team.
Be sure to visit our Raise the Barn page to stay current on the design and construction of the new iconic barn for C Lazy U.
Updated Lodgings
The newly furnished and refinished guest rooms have been a huge hit with guests. New paint has brought new light and an airier feel to all the cabins, and the new beds and linens have guests sleeping even better than at home!
Guests aren't the only ones receiving new accommodations. Ranch staff have been overjoyed with the refresh of their living quarters, and you know what they say: happy staff, happy guests. To show our appreciation for the people that make the ranch run, we've also created a permanent, year-round staff lounge that features a heated and tented outdoor dining area.
In addition to our newly renovated guest lodgings, we're excited to announce that glamping has returned to C Lazy U with the much-anticipated replacement of our Conestoga Wagon for luxury camping excursions.
Fixes to Fire Damage
In addition to a multitude of miscellaneous fixes, all of our buildings received a deep clean and replacements to many fixtures. This includes fresh paint, new flooring, new insulation, new furniture, and new doors and windows where needed. About 80% of our fence lines have been replaced to maintain herd safety and establish key property lines. Trails were cleared of debris, all tree limbs in danger of falling were removed, and numerous efforts were implemented to stabilize the land and prevent soil erosion. Scenic Woodsie Overlook was rebuilt and restored to be used for cookout breakfasts and special events. Seeds were also spread over most of the property, to help quickly replenish the natural beauty of the land. Countless volunteer days were spent maintaining trails and picking up detritus from the fire. We could not have completed this effort without the help we received from our incredible community – from volunteers, staff, owners, friends, and families. This outpouring of love and support has meant so much to the ranch, and we cannot thank you enough for allowing us to continue to operate and provide amazing experiences that guests will treasure for a lifetime.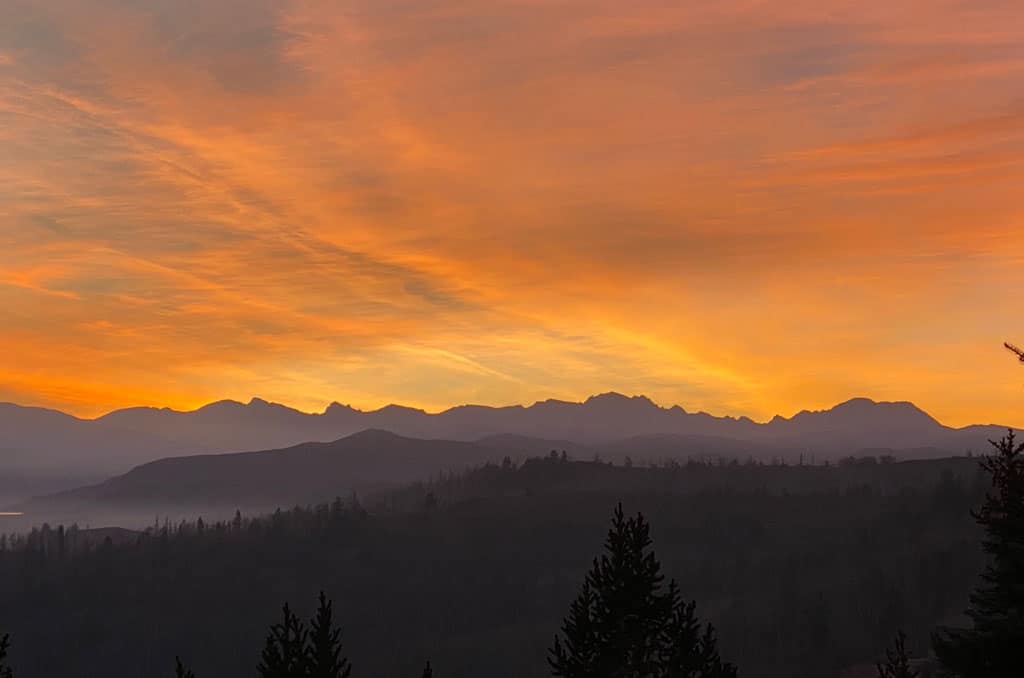 Renovations Across the Ranch
Guests have been loving the newly upgraded and reconfigured spaces here at the ranch. Our Outfitters Cabin, which serves as the ranch's reception and concierge building, was transformed into a more welcoming and striking arrival experience, featuring a breathtaking desk of reclaimed timbers donated by one of the member families. The desk was custom built in-house and took two years to complete from conception to reality. Not only does this stunning and functional feature facilitate better guest relations, but it also imbues the Outfitters Cabin with a presence evocative of a mountain chalet.
The new Patio House has also won over guests. It, too, was reworked and remodeled to evoke a more authentic mountain lodge experience. Guests can regularly be found here relaxing by the warmth of the fire and enjoying incredible views out over the river, horse meadows, and Trail Mountain.
The old card room has been transformed into an additional lounge for the bar, adding elegant bar top seating, all wood floors, and – of course – more beautiful reclaimed timber to celebrate the spirit of the Rocky Mountains. This new lounge also hosts one of few TVs on the ranch, allowing guests to watch their favorite sporting events and creating the closest thing you can find to a high-end sports bar at a luxury lodge.
Our gym facilities have also received a makeover, featuring updated carpeting, new equipment, and Peleton bikes to make maintaining your wellness even easier.
And that's not all! In our efforts to create the freshest farm-to-table dining experience, we recently purchased a Farm Box, a hydroponic growing module that allows us to grow vegetables and herbs indoors year-round and harvest them with guests. It's currently running, with harvests every other week.
And what about the livestock? You'll be happy to hear that the horses are doing just fine out on the ranch. With the new fences, they're able to safely roam free again, and new horses have been purchased to maintain the herd size – including two impressive new Clydesdales, Chelsea, and Gabe. Our ranch-born Clydesdale, Remi, was also successfully returned to the ranch and reintegrated with the herd. We repaired and purchased new saddles, rebuilt the hay shed, and replaced the indoor arena footing, giving all of our hooved friends the space and equipment they need to feel their very best.
A Year of Excitement
With new developments, renovations, and a thrilling mix of inspired ideas for the time ahead, 2022 is shaping up to be one of the most exciting years for C Lazy U yet. Our commitment to providing you with a life-changing, luxurious mountain getaway continually pushes us to innovate and redefine all that a vacation can be. We have a lot up our sleeves, and you can stay up to date on every development by visiting our Facebook and Instagram channels. Check out our coming specials and events and book your trip to C Lazy U Ranch today!
Ask Us About Your Next Luxury Dude Ranch Vacation