In the fall of 2020, the C Lazy U wranglers were brushing Joy, our newest Clydesdale mare, when they felt a baby move – and a few months later, Remi was born! A year later, we're checking in with Remi and Joy to see what they've been up to, how their personalities have grown, and how their last year has been.
Related: Why C Lazy U is Colorado's Premier Horseback Riding Vacation Destination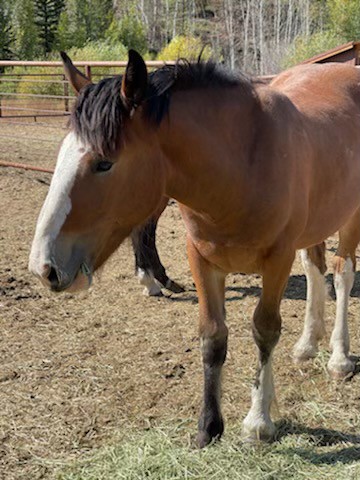 An Unusual Start
When Remi was just 3 weeks old, the East Troublesome Fire threatened the ranch property, so all horses were evacuated from C Lazy U. As the fire continued to expand, the C Lazy U team relocated the herd a second time. During the second evacuation, Julie Goodnight, the famous horse clinician and long-time friend of the ranch, gave Remi and Joy a safe place to stay. Once the horses were cleared to return to the ranch, Julie offered to take care of Remi while the C Lazy U team worked to restore and re-open the ranch. Just shy of his first birthday, Julie returned Remi to C Lazy U and he was reunited with the herd.
Remi's First Year
Throughout his first year, Remi settled in with the horses at Julie Goodnight's barn in Salida, CO. As he grew, so did his personality. Surprisingly, his biggest fan turned out to be Julie's horse, Lenny, who acts like he dislikes everyone except his close friends, Dodger and Abner. Lenny tolerated Remi's antics, played with him often, and the two even shared meals together! Through Julie's care, Remi became a handsome and regal horse – not to mention a giant yearling!
Julie recalls one moment where Remi's playful personality came through. Remi stole a bite of a Dodger's senior mash meal and was hooked. He quickly figured out he could bully old Dodger off his bucket to eat the tasty food for himself! Since then, Dodger started taking his meals in his own pen.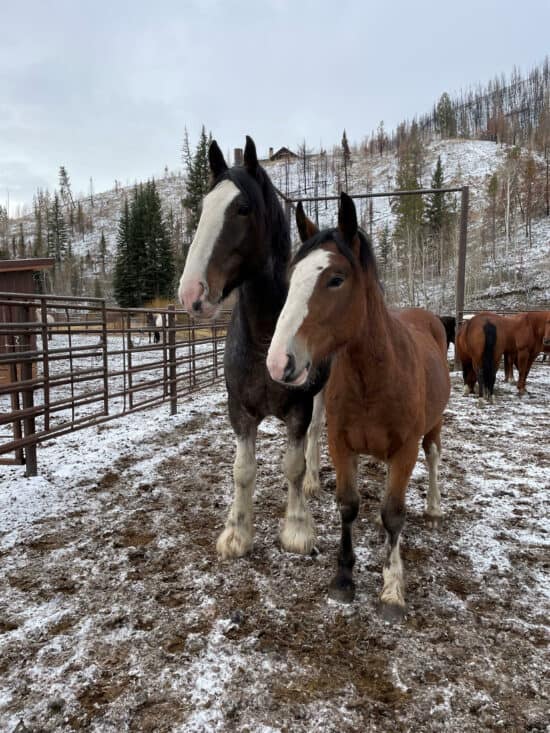 Returning To The Herd
Remi has been back on the ranch for about a month now. A sweet and curious horse, he seems unphased by most things – perhaps due to the unique circumstances he faced during his first few weeks. He's still getting to know the C Lazy U team, but he enjoys going on walks with the wranglers and is starting to get turned out to the big pasture with the herd. Since he's not old enough to be a guest horse, he hangs out in the corrals with the other horses during the day and sleeps in the big pasture at night. Eventually, Remi will be trained as a guest horse. He has such a laid-back personality and we know he'll become a great companion to future C Lazy U guests!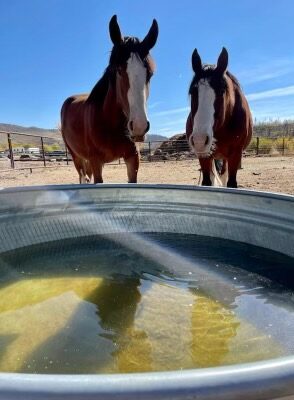 Fitting Into The Herd
With such a large herd, it can take some time for a horse to find their fit. When he first returned to the ranch, Remi was close with Uncle Clyde, Uncle Sky, and Uncle Red Burt. Lately, he seems pretty happy hanging out with our new Clydesdales, Chelsea and Gabe. Gabe seems to be his best bud at the moment!
Watch: Remi going out to pasture with Uncle Clyde
An Update On Joy
Remi's mom, Joy, has been doing fantastic! Once Remi was weaned in the Spring of 2021, she returned to C Lazy U as a guest horse. Known as one of the sweetest, most caring horses in the entire herd, her guests have loved working with her. Joy definitely enjoys being around people and likes being groomed and loved on. When she's not on the trail, Joy hangs out with her group of horse friends: Annie, Oakley, Gidget, Fisher, Finn, Banks, Roe, Thunder, and Winchester. Her best friend is Gidget, and they enjoy their quiet time together eating hay and sunbathing.
Want to visit with Remi and Joy to see how they're doing? Schedule a visit to the ranch this winter or spring! Availability is filling up fast, so contact us today to reserve your spot.