Petey the donkey, a treasured C Lazy U Ranch worker, friend, icon, and unofficial mascot, passed away this December in Colorado after a long and beautiful life. This four-foot-tall (including ears), 350 pound bundle of fuzz and love had an incredible impact on every person he encountered during his remarkable 30 year life. Today, we take time to look back at the amazing legacy of this cherished companion.  
A Trusted Worker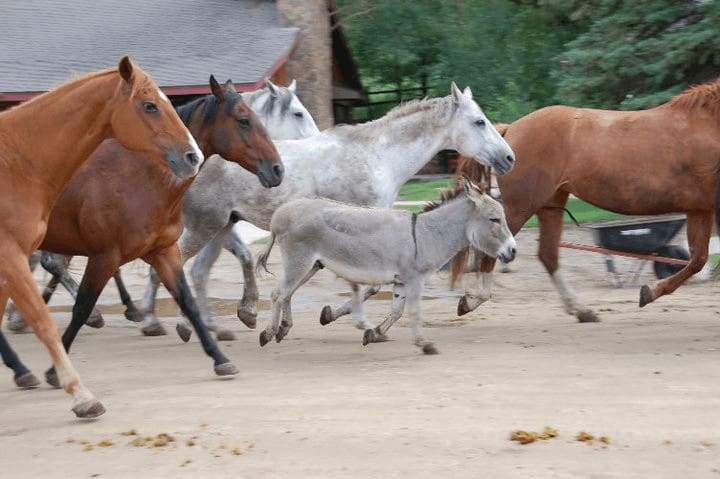 Petey the Sicilian donkey (also called a Sardinian or miniature donkey) was born in California in the winter of 1992. At nine months old, Petey came to C Lazy U, where he would begin work as the 200 horse herd's resident donkey. Though Petey was cute and lazy while he wandered around the ranch, he had the important responsibility of protecting the horses while they were out to pasture. Think of Petey like the bodyguard for the horses. His large ears allowed him to easily hear threats like coyotes and mountain lions, and he would bray loudly or bare his teeth to scare off predators. His robust frame and kicking ability made him a powerhouse against any attacker. During his time at C Lazy U, Petey kept dangerous animals away and his presence enabled the herd of horses to feel calm and secure.
Retirement Years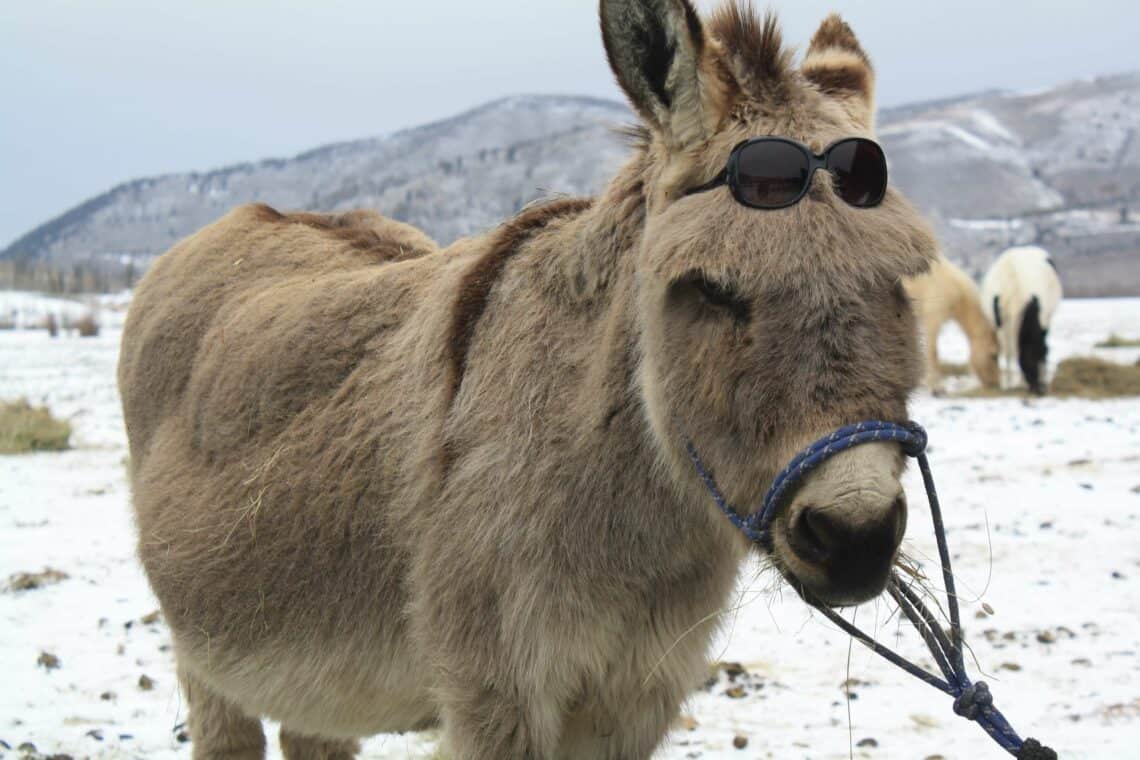 After 24 years of keeping the horses safe, Petey entered retirement on the ranch. His protection duties were taken over by Tilly and Wilbur, two more spunky Sicilian donkeys. Petey spent the last six years of his life eating, lounging in the sun, and palling around with his horse best friends. But don't think he lost his youthful energy! Even at age 30, Petey enjoyed chasing dogs away from the horses. You could also still hear him braying loudly when coyotes were around. We like to think Petey taught Tilly and Wilbur the ropes!
A Lifelong Friend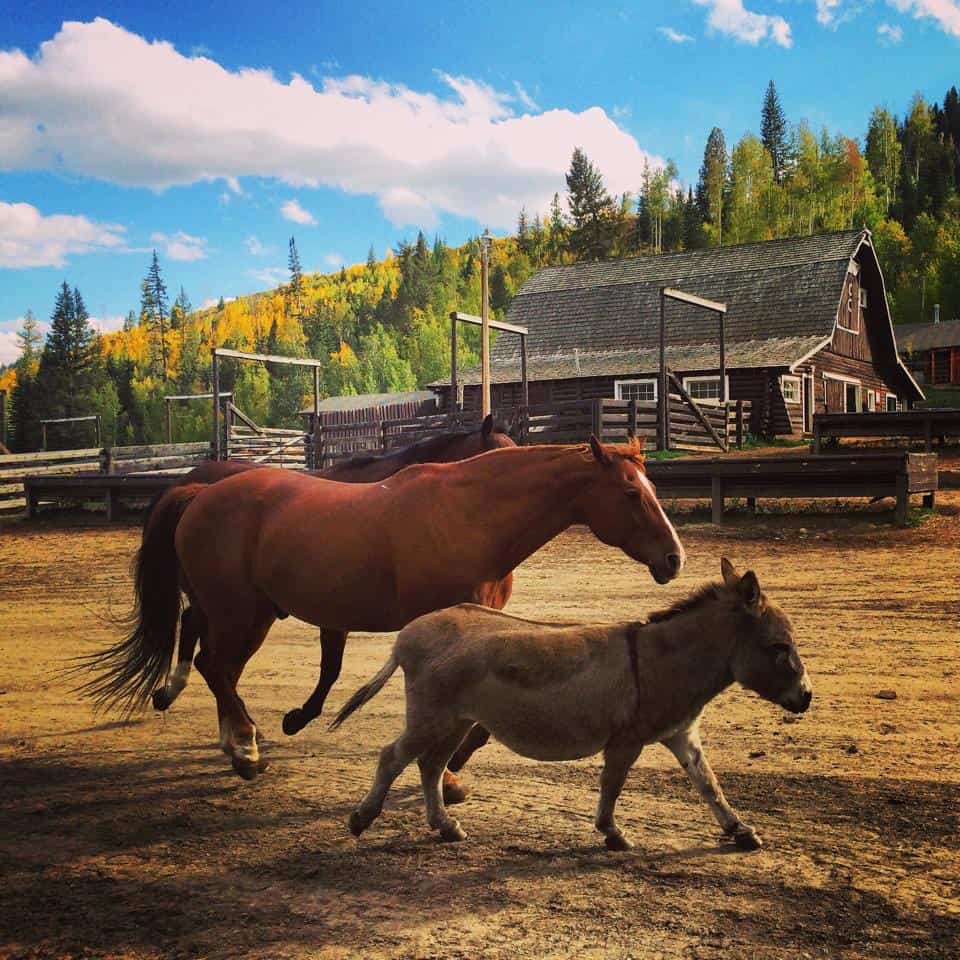 Petey's role of protector on the ranch afforded him the ability to make fast friends with many of the horses in the herd. Members of the C Lazy U staff have even joked that Petey considered himself a horse. Petey's best friend on the ranch was a horse named Wolf – there's even a picture book that tells the story of their friendship as well as the tale of when Petey bravely saved Wolf during a water crossing.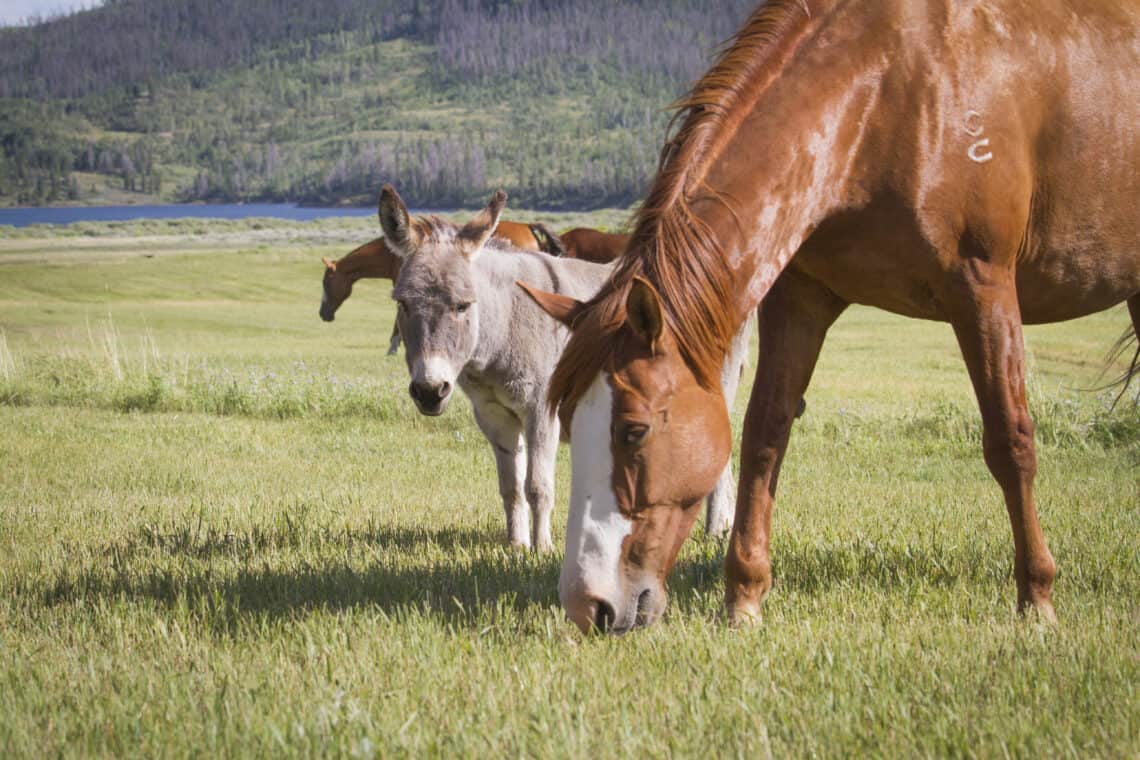 Petey's other best friend on the ranch was his girlfriend (some say wife) of ten years, Pebbles the horse. Petey's favorite pastime (besides hunting for snacks, obviously) was shadowing Pebbles wherever she'd go. When Pebbles would leave for trail rides, Petey would try to tag along, too. He even succeeded a few times!
Petey's Favorite Things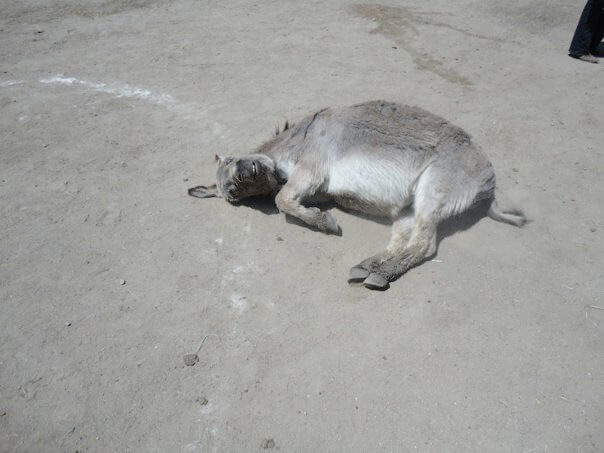 Besides his friends, what were Petey's favorite things? Eating and getting dirty! Petey loved to come up and softly bump people with his head when he wanted something. Most of the time he was looking for a treat or his grain, but he also did this when he wanted into the barn or the arena to roll around in the dirt.
He Loved Our Guests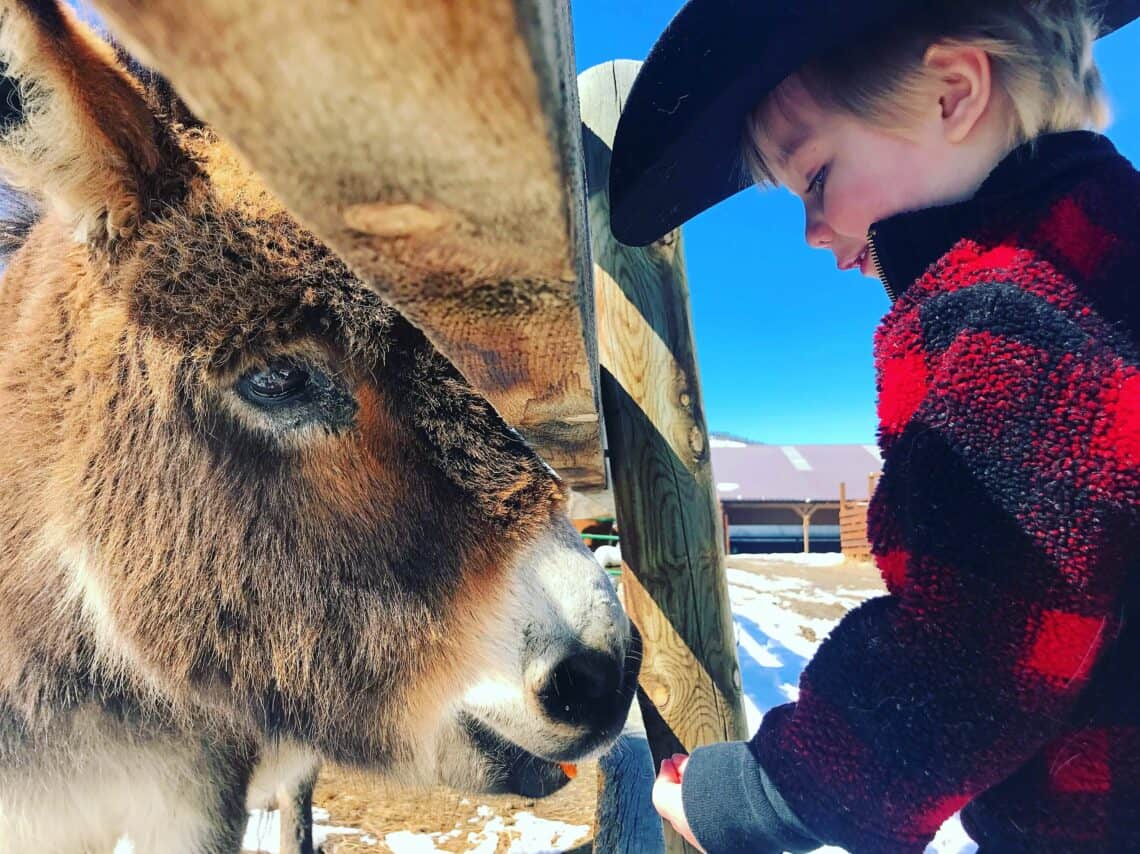 Petey always liked to make his presence known to all the ranch guests. He'd often come over to the mounting block and loudly announce himself before riders would head out onto the trails. Petey loved greeting the ranch guests and playing hide-and-seek with the kids that would visit him during their stay.
His Favorite Spot on the Ranch & Favorite Food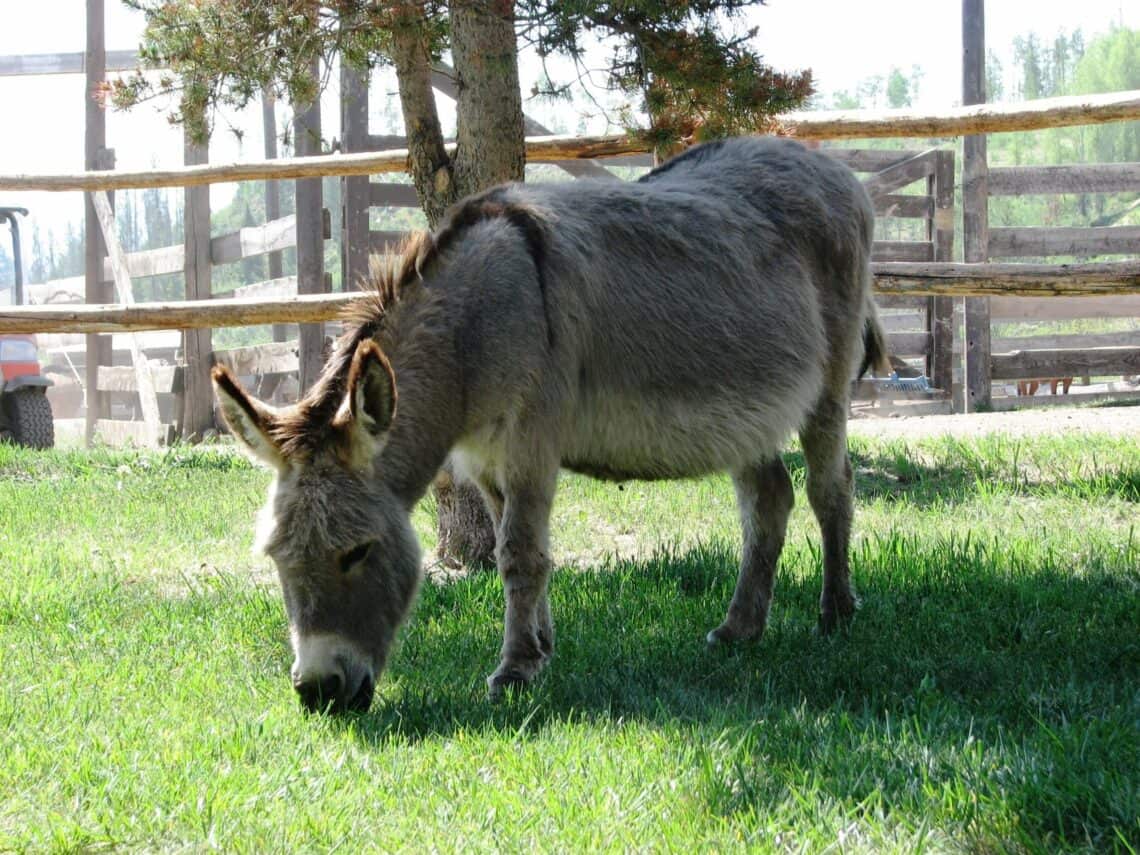 Petey's favorite spots on the ranch were the hay shed, the store, and the Meadow House lawn. He would rotate around these spots throughout the day, lying around and eating things as he went. Occasionally he would even venture up to the Management offices and push open the door and walk inside! He always enjoyed lounging in the sun, even in the middle of the ranch road. His favorite food was alfalfa, and he also loved the green grass growing around the store and the occasional peppermint.
C Lazy U and Beyond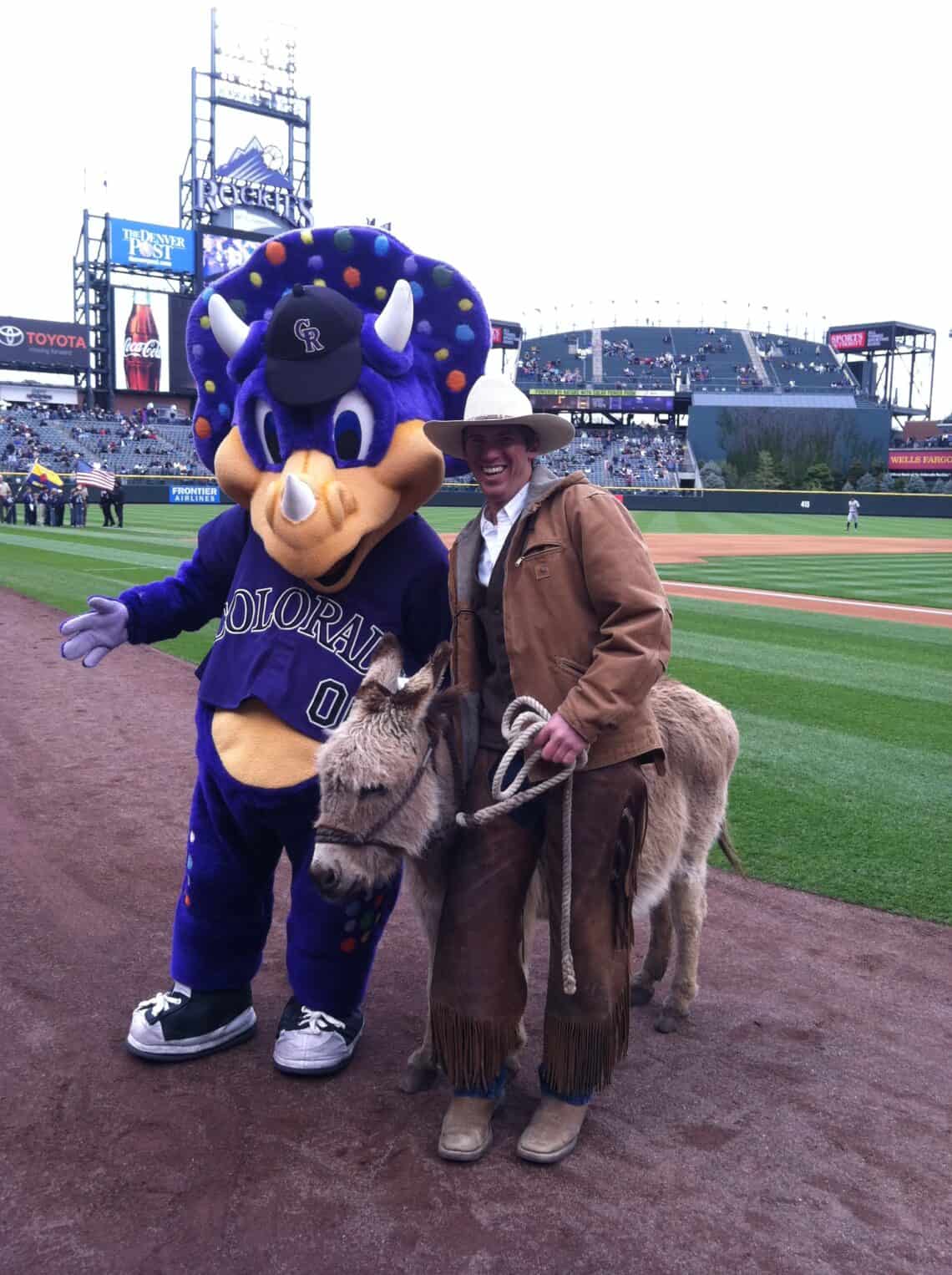 Petey's incredible spirit and sociable personality allowed him to touch the hearts of so much more than just the ranch and its guests. Over a decade ago, C Lazy U began a relationship with the Colorado Rockies, with the ranch running a booth at Coors Field on opening day each season. The star of the booth? Petey. Longtime season ticket holders started looking forward to the donkey meet-and-greet, and Petey entered the spotlight. Coors Field began hosting a C Lazy U Day, and Petey would stand on the mound every year to assist with throwing the game's opening pitch. Afterwards, Petey would meet with the crowd and bask in the adoration of his fans.
Carlos "CarGo" Gonzalez – three-time All Star, three-time Gold Glove winner, two-time Silver Slugger winner, 2010 National League batting champion, and nine year Rockies veteran – was one of Petey's biggest fans, and would pet him for luck and home-run-hitting power during the donkey's celebrated visits to the stadium.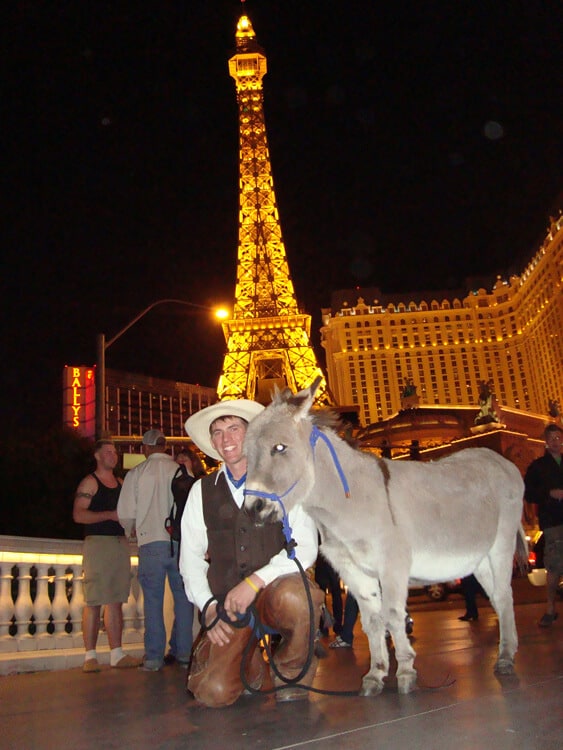 On top of his baseball fame, Petey also had the opportunity to walk in the lights of the Las Vegas Strip when the ranch visited for a national trade show. Truly, Petey was a bright and shining star, and the rare sort of celebrity with a heart of gold.
Always in Our Hearts
Petey's life was long and full of all the happiness one could wish for a donkey. Though he may have been small, his heart and spirit were enormous. From all his friends all over the world, he will be deeply missed, but the strength of his memory will live on forever.
We leave you with a look at Petey's life by the numbers – but how much did we love him?
Infinitely.