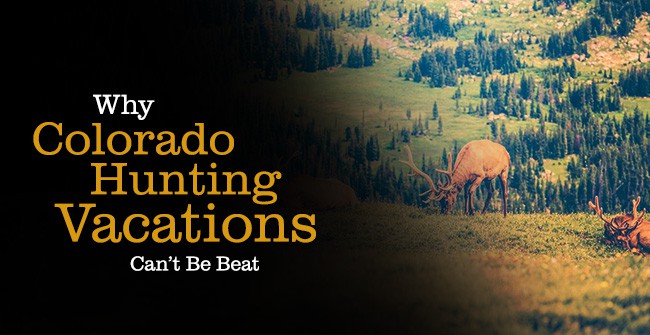 Big game hunting is a big deal in Colorado. Seasoned hunters swap tales about the epic terrain and trophy elk to be won in Colorado's mountain habitats. High plains, birch forests and rugged mountain slopes make natural havens for migrating herds of elk.
The prime terrain, abundant and diverse animal populations and world-class hunting guides attract hunters from all over the world for memorable hunting vacations. Here are just a few of the draws.
Abundant Elk Populations
Referred to by some as the "Elk Capital," Colorado has the most replete and well-managed elk population in the country. At Colorado Parks and Wildlife (CPW), population data is meticulously gathered and made available to the public. In 2015, the total statewide post-hunt elk count came to a whopping 275,880.
Elk are so abundant that many areas have more of the species than state biologists prescribe for long-term management. This is huge progress, considering the count was down to less than 2,000 animals a century ago. How many Colorado elk are hunted each year? Thousands. In 2014, CPW data showed that 41,900 elk were harvested.
The elk typically found around C Lazy U Ranch range from 275" to 360" – making for great trophies and an amazing experience. This atmosphere makes Colorado, and C Lazy U Guest Ranch in particular, a great location for a guided elk hunting trip.
Additional Big Game
While Colorado is well known for its elk hunting, it's also home to a wide range of additional big game animals, including mule deer, moose, black bear and mountain lion.
Hunts for these animals tend to be more limited, but their presence and the hunting-friendly environment of Colorado gives you the once in a lifetime chance to go on an amazing big game hunt.
C Lazy U Outfitters regularly hosts elk, mule deer and moose hunts, and we can accommodate combo, black bear and mountain lion hunts upon request and availability.
Over-the-Counter (OTC) Tags for Non-Residents
Given the different kinds of permit systems out there, hunters from Colorado as well as non-residents are lucky to have a "general season," which means that a certain amount of licenses and tags are available on a first-come first-serve basis, without requiring an application process or a drawing.
Keep in mind that OTC tags are limited in number and in the land units where they can be used. If you're planning a hunting trip from out of state, consider calling an outfitter ahead of time to see if they have any insight on securing tags.
Generous hunting seasons
Seasons in Colorado are strictly controlled and organized by archery, muzzleloader and rifle, and also by big game species hunted. For deer and elk, archery season starts in late August and ends in late September. Muzzleloader seasons fall in mid-September and mid-October. Rifle hunters can pursue deer and elk in four different periods between mid-October and late November.
When you're planning your Colorado hunting trip, make sure you pay careful attention to the seasons to ensure you get the experience you want.
Professional outfitters
New to Colorado? New to hunting? Looking to level up your hunting skills? Overwhelmed by permit systems, seasons and logistics? Turn your hunting trip into a hassle-free hunting vacation by booking a trip through an outfitter or hunting resort. These groups offer seasoned guides and some – like C Lazy U Outfitters – even include all-inclusive accommodations, meals and additional activities.
Colorado breeds the kind of lifelong hunters that make the best guides and most competitive outfitters. Not only will a professionally organized trip make planning and logistics much smoother; it will also grant you access to reserves of private lands that aren't open to the public, which means less pressured animal populations.
Combine private access with the logistical support, safety precautions and sound advice of a reputable outfitter like C Lazy U Outfitters, and the result is a premium hunting experience with an impressive success rate – the kind that annual hunting traditions are made of.