There are tons of great activities here on the ranch, but it's no secret that many of our guests come to C Lazy U to meet our biggest stars: our horses! If you've ever watched a daily jingle at the ranch, or have just enjoyed our photos and videos online, you may have wondered about how our horses are cared for, where they come from and what they do for fun.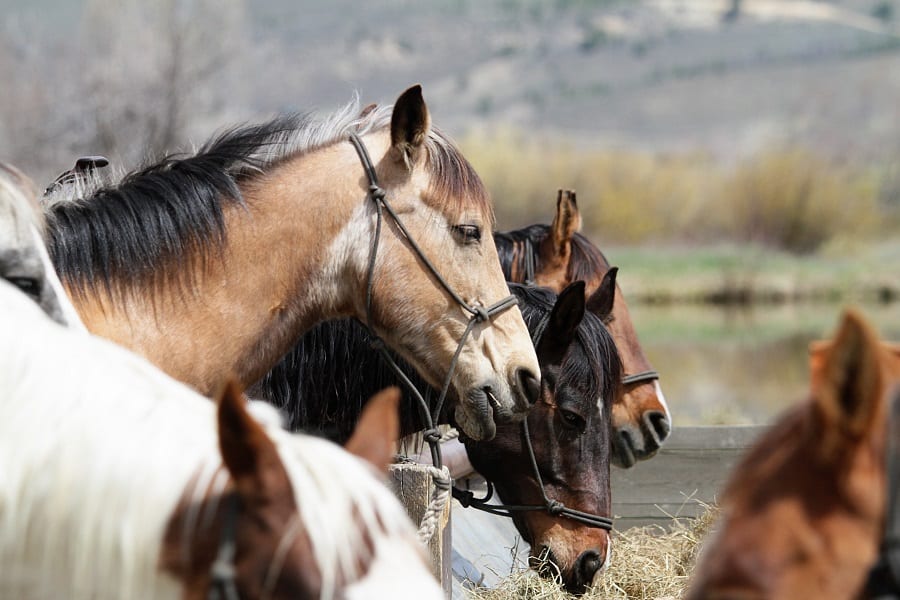 We sat down with Ami Cullen, our Director of Equestrian Operations, to get some behind the scenes info and fun facts about the daily lives of our herd.
How does the ranch find its horses?
We have several sources that help us purchase horses. We typically receive around a dozen new horses every year, and we are fortunate to have excellent help in finding horses that will excel as guest horses.
Once they arrive, are the horses trained on the ranch?
We spend time with all our new horses training them to become excellent guest horses. Many of the horses that we purchase have already been a great riding horse for someone else. Once they arrive at C Lazy U, they are put through our ground work program and evaluated under saddle. When they are ready, the horses will be placed with a Wrangler and will begin their training on the trails, where they will trek many miles each summer. Our new horses will encounter many new things, such as moose, elk, grouse and jackrabbits, and they must learn that these animals are just part of the fun of spending their days in the beautiful Rocky Mountains.
Once a horse has been in the arena and on the trails with Wranglers, and has proven that they are ready for guests, they will join our guest program. All guest horses are frequently evaluated by Wranglers to ensure that they remain safe for our guests.
What do the horses enjoy most about working with guests?
Our horses love exploring the trails with our guests, and they seem to thoroughly enjoy meeting new people every week. One of their favorite activities that they absolutely love is when the guests groom them after a hard day's work.
What do guests love about horseback riding at the ranch?
Horseback riding is a great way to see the beautiful scenery C Lazy U Ranch has to offer. You will enjoy the stillness of nature and marvel at the wildflowers, aspen trees and fields of sage. Since horses are pretty quiet movers that often sound like other wildlife moving through the woods, there is always a chance to see wildlife, such as moose, antelope, deer and elk. You will also fall in love with your horse and begin to understand just how wonderful horses truly are and, if you are lucky, you may even learn something about yourself that you never knew from your horse.
Who is in charge of the horses on the ranch?
The C Lazy U herd is loved and cared for by all the Wranglers on the ranch. I (Ami Cullen) am the Director of Equestrian Operations and oversee our herd, our guest riding program, our member riding program and our children's program. Tami Burkett is the herd health and veterinarian care manager and is responsible for ensuring that all our horses are fat, happy, healthy, and ready for guests. Garrett is our barn maintenance manager, and ensures that the horses are fed daily and have well-maintained facilities to enjoy. We couldn't be a successful operation without the love and care that everyone puts into our horses.
How many horses live on the ranch?
C Lazy U Ranch currently has around 200 horses. This includes our miniature donkeys, Petey and Tilly, our amazing kid's pony, Katie, our Belgian Draft Team, Fred and Big Mike, and our new Halflinger team, Sam and Tom.
Which horse has been on the ranch the longest?
Shoshoni has been at the ranch since 1994. He is one of our incredible kid's horses that came from Wyoming many years ago. Shoshoni has a best friend named Dixi. Shoshoni is approximately 28 years old, and Dixi is around 27 years old. They are commonly referred to as Grandpa and Grandma by the Wranglers and are seldom apart (unless Shoshoni is getting a good scratch in on one of our fence posts)!
Who are the most recent arrivals?
Our newest additions are Lucy and Linus. They were donated to the ranch by a very kind man that wanted them to find a home together since he could no longer care for them himself, but still loved them very much. Lucy and Linus are both 6-year-old quarter horses. Linus is a handsome buckskin gelding with big ears and Lucy is a beautiful liver chestnut mare. These horses came to us this past winter and will begin their training to become guest horses soon.
Where do the horses live and sleep on the ranch?
We have 10 pastures that we rotate our horses on every summer, where they graze on luscious grass and rest at night. In the winter, our horses live in our west meadow where they are protected from the winter elements by the hillside and willows.
What do the horses do for fun?
The horses run to and from pasture every day in the summer. This is a highlight for both our guests and horses! In the winter our horses may stay out to pasture for a couple days at a time. Our horses love to play with one another in the field and the corrals. You will also find many of our horses sunbathing in the warm Colorado sun.
What's one of the best stories about the C Lazy U horses?
Every horse at C Lazy U has a personality all their own. We have several serious relationships in our herd. In fact, we held a wedding a few years back for Bam Bam and Roxy, who are madly in love. Every time Bam Bam and Roxy come back from a ride they immediately start calling for one another, which always makes everyone smile.
What happens to CLU's horses after they leave the ranch?
Horses leave the ranch for retirement or to pursue second careers when they can no longer work in the mountain terrain, or would be better suited for just one person. Many of our former horses have found their second home with families with small children, where they are loved just as much as they were when they were here.
C Lazy U Ranch strongly believes that all our horses deserve a fantastic retirement or second career when their time at C Lazy U comes to an end. In our quest to ensure this, we have teamed with a phenomenal horse rescue, Drifters Hearts of Hope (http://www.driftersheartsofhope.org/), and helped create the Annie Project. The Annie Project (http://www.driftersheartsofhope.org/the-annie-project.html), named after one of our beloved horses, Annie, ensures that retired dude ranch horses stay out of the slaughter pipeline.