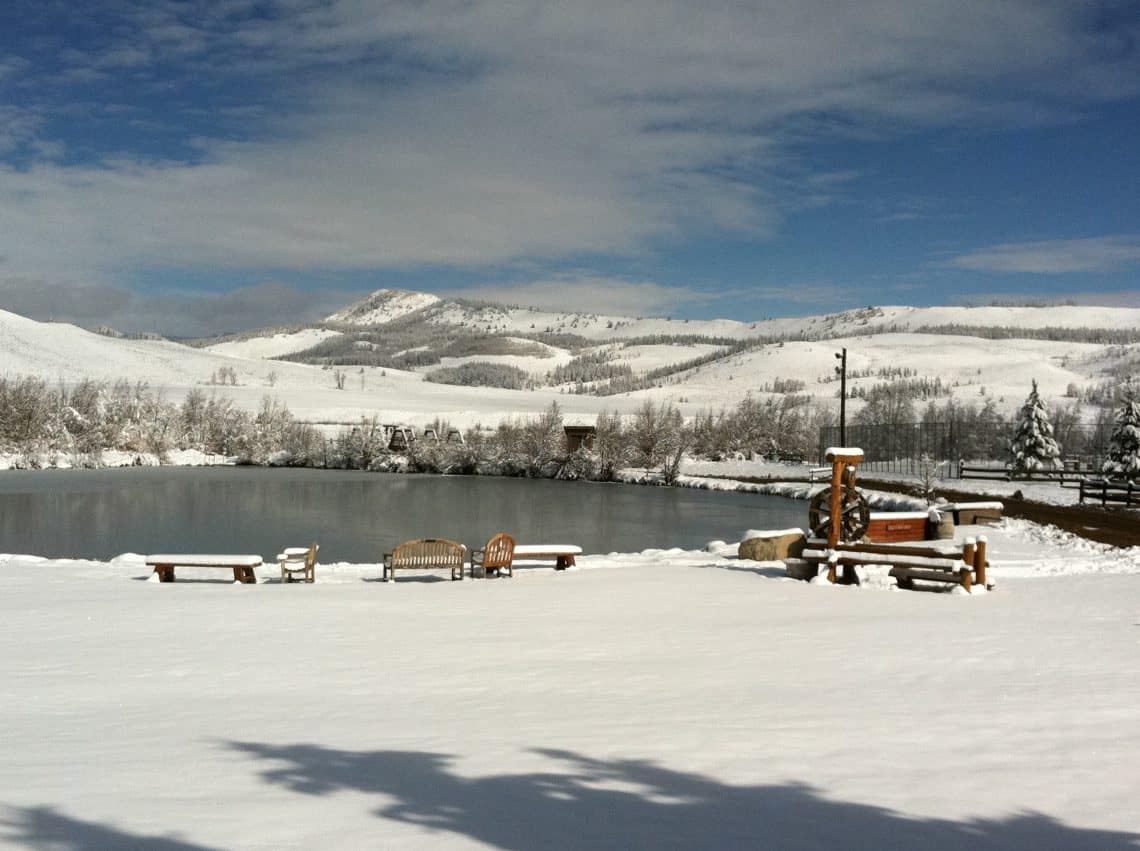 It snowed all day yesterday, and is still chilly as can be today- lucky I've got my winter coat to keep me warm. But, for all those who don't have the luxury of growing an extra couple layers of… insulation, shall we call it, I give you something almost as good- a C Lazy U Ranch comfort food recipe, compliments of our Executive Chef, Dennis (apparently it was good, because it's all anybody would talk about… give me some good old hay any day, but that's just me, I'm a simple donkey, with simple tastes)- comfort food, so I've been told, is great on days like this (to me all food is comforting, though, so I'm not 100% sure where that name comes from), so I thought it might be nice to add for all my loyal readers to try- this way y'all can have a piece of the ranch at your home!
Beef and Lentil Stew- The Ranch Way! by Dennis

We had some beef ribs hanging out, so I put them in the oven to roast. Then I cut up what we have come to call a mirepoix. Onions, celery and carrots. Cut to a size that will fit on a soup spoon. In the soup pot, I first sweat (simmer on medium heat in a bit of oil) the onions (because they need more cooking time). When the onions are translucent, add the carrots, celery and a good handful of garlic cloves.
We also had a box of mushrooms on hand, so some got chopped up and thrown in too. Cut up some tomatoes and in they go too. Cook this way down, long and slow, stirring occasionally, till all is nice and soft. Once your ingredients are soft, pull the beef bones from the oven and let them cool enough to handle them. Then cut off all of the meat and chop it up. (If you have enough time to simmer the bones till the meat falls off, this step is not necessary.)
So in go the bones and meat. Now the liquid, I like chicken broth. How much? Well, since we didn't have any barley, which is really nice- mushroom, beef and barley soup- but we did have lentils, I put those in. They'll soak up twice as much liquid as their own volume. If you put in 2 cups of lentils and 4 cups of liquid, by the time the lentils are cooked, you won't have any liquid left. So just cover the whole thing by about four inches of liquid. Put in salt and pepper. Bay leaves and fresh thyme are good. You'll need a good 2 hours of slow simmer, stirring every once in a while to make sure it isn't sticking on the bottom.
Pull from the refrigerator a block of cheddar cheese. Cut it into one large chunk for each bowl of soup you are going to serve and warm your bowls. Heat up some crusty bread and have some butter on hand. (Add a dash of dry sherry to the soup just before serving.)