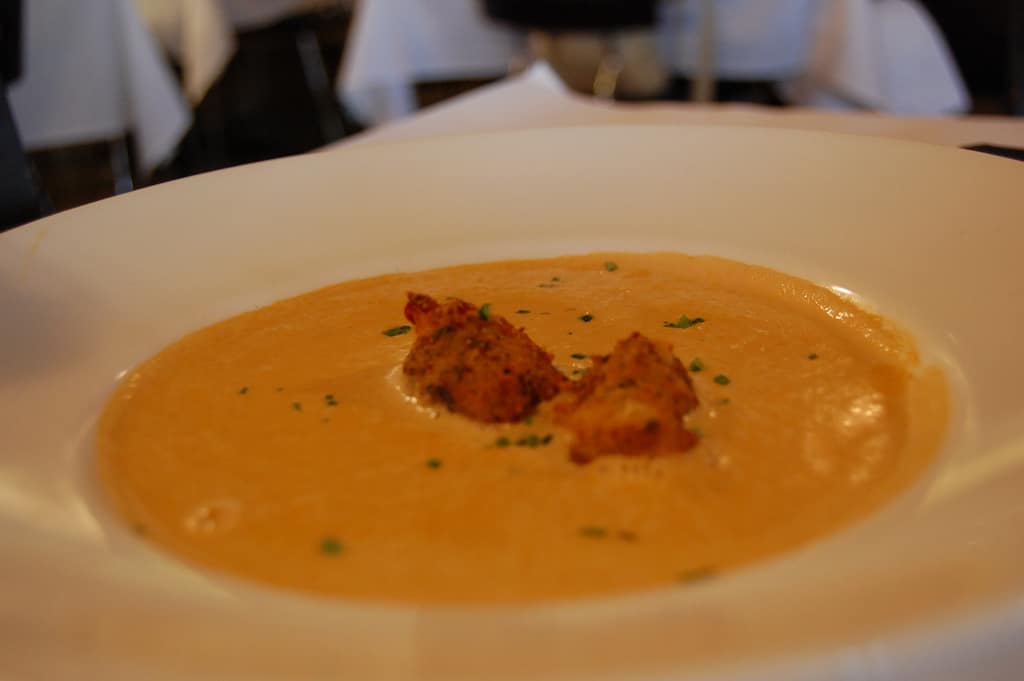 C Lazy U is known for a lot of things in addition to our endless list of activities and luxurious lodging, and our gourmet culinary creations have caught the attention of guests for years. We receive recipe inquiries constantly, and are always more than happy to share! One of our guests' favorite dishes is our homemade Lobster Bisque. We hope by sharing the secret behind its 'delicious-ness' you will be able to take a little piece of C Lazy U home with you. Enjoy!
Lobster Bisque
Served with crusty French bread and a vinaigrette-salad, C Lazy U's Lobster Bisque is a rich, cream shellfish-based soup.
Ingredients:
2 pounds of lobster (boiled 14 minutes) and cooled in ice bath
4 teaspoons of tomato paste
1/2 medium onion, diced small
2 teaspoons of old bay seasoning
1 teaspoon cayenne pepper
2 cups of chicken stock
3 cups of light cream or half and half
2 ounces of olive oil
6 ounces of sweet sherry
6 ounces of butter, 6 ounces of flour (keep separate)
Preparation:
Pick chilled lobster meat from shell, and refrigerate meat while saving the shells.
Toss shells, tomato paste, dry seasonings together with olive oil and roast in the oven at 375 degrees for 30 minutes. Remove pan and deglaze with 3/4 of sherry, stir thru and bake 15 minutes more. Remove pans, and with a rubber spatula transfer shells to a 1-gallon pot, add remainder of ingredients except lobster meat. Simmer two hours, DO NOT boil!
In a separate 1-quart pot, melt 6 ounces of butter with 6 ounces of all-purpose flour. Cook slowly as a wet sand-like Roux develops (this is your thickening agent). After simmering for the full two hours, strain shells, retain broth, add back to pot with Roux and simmer for 30 minutes. Then, add diced lobster, salt and pepper to taste and remainder of Sherry and enjoy!
This recipe seems difficult but take your time and remember cooking is common sense! If you have any questions contact Chef Marc Rosen personally at mrosen@clazyu.com.