« Back to All Specials & Events
Women in the Rockies
September 13, 2020 - September 17, 2020
Special Event Navigation
Our highly-popular Women in the Rockies event will take place again September 13-17, 2020.

2020 Retreat Schedule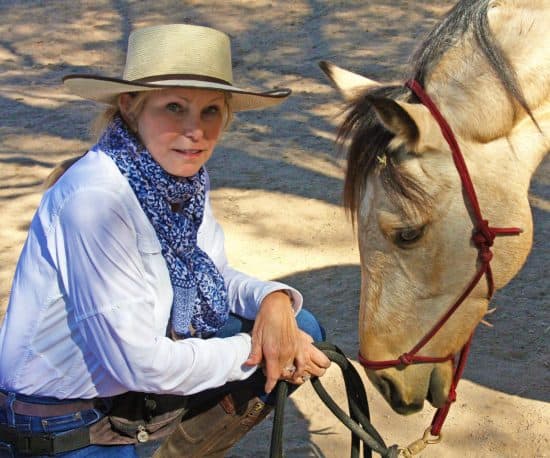 Read a Review on TripAdvisor
Featured in Cowgirl Magazine
---
Useful Links:
Women in the Rockies is a wellness adventure at C Lazy U Ranch led by Duke Trained Integrative Health Coach Janet Solie, PA, MS and her team. Janet brings an advanced degree in medicine, experience as a health care provider, equestrian and health coach. This year the retreat will focus on connecting wellness goals with mindful living strategies, nature and horses.
This retreat offers opportunities to deepen your connection with your horse both on the ground and in the saddle.  Mornings will be filled with horse related activities including grooming, ground work and trail riding in a beautiful setting.  Afternoons will include short meditations and workshop activities focused on your personal wellness goals.  This is a life changing adventure that offers plenty of time with a professional coaches, nature and horses.  Bring a best friend, adult daughter or sister or make new women friends here.  All ages and stages of women –and all levels of riding experience– are welcome!
DATES: September 13-17, 2020
C Lazy U Inclusive Lodging Package Rate:
4 nights
$355 per person, per night for double occupancy
$395 per person, per night for single occupancy
Includes: Lodging in guest cabins, all meals and most activities on ranch
30% deposit required at the time of booking and full payment 60 days prior to arrival
Women in the Rockies Wellness Adventure Program Fee:
$750 per person for the 5 day event
Includes special activities, program materials, workbooks and a Members Only website for group discussions and additional resources for your use both before and after the retreat
This amount will be billed directly by Women in the Rockies
30% deposit required at the time of booking and full payment 60 days prior to arrival
Total Package for the Women in the Rockies Event:
$2,532.36 per person for double occupancy
$2,733.96 per person for single occupancy
Includes program fee, tax and resort fee.
Book early as this event will sell out!
---
Wow, where to start about my adventure with "The Women of the Rockies" at the C Lazy U Ranch, Sept. 2019 I'm still in disbelief. I signed up solo for this wellness adventure retreat to get away and have time to think. I was also excited about meeting new women from all over, hearing their stories and having some laughs. Although I was excited, I was a little anxious about traveling alone. However, from the minute I got to the ranch, my fears disappeared.

The C Lazy U speaks for itself. From the breathtaking scenery, western rustic cabins and top-notch staff, I could not have felt more at ease. The attention to detail is the best I've experienced. From the staff warming our coffee mugs up each morning over a fire at Cowboy Coffee, to the special horse cookies with our horse's names for the last days' lunch, to outstanding meals served in the lodge, and evenings gathered around the fire branding or listening to a special musical concert by a longtime friend of the ranch's, I was in a place that took care of me.

The first morning, I met a bay quarter horse named Rico and he couldn't have been more perfect. The Director of Equestrian Operations, Ami Cullin, matches you up based on your skill set and I must say, she has a gift. I spent the week with Rico trail riding, grooming and doing ground work. It's hard to describe the depth of the bond that is formed with such a magnificent animal. It was nothing short of magical!

As for the "Women of the Rockies' workshops, Janet Solie made you feel special but also a part of a family. And that's what we are, a family, a "herd". I came home with many new skills and the courage to embrace new challenges in my life. I may never see some of these amazing women again, but I will never forget the experiences we shared. I am already planning my trip next year back to the "Women of the Rockies" and hope to see many dear friends who are planning to return. My family and friends say my pictures show my happiness inside and they couldn't be more right. I found myself again and left of a part of my heart on ranch in Colorado! Thank you, Janet!!! "Ride with no fear!"

– Kris
September, 2019
From the moment I booked this adventure I knew it would be something special. C Lazy U Ranch is the perfect location for the Women in the Rockies retreat. The gorgeous setting is a historic and truly magical place where life coach, Janet Solie has created a wonderful personalized program for like-minded women seeking solace, strength and inner balance. With deep gratitude to Janet, I came away with all those things and much more. She took us in and made us feel unique and part of the family. Whether through peaceful meditations before riding or her inspiring workshops, Janet's quiet and kind demeanor made for a very meaningful experience.

I was so excited each morning. I would get up early, light a fire in my cabin, get back into bed with my coffee and think about the day ahead. Joining my new friends for laughs around the fire pit, a yoga session with Emily, and being greeted by the friendly ranch staff were all a great way to start the day. And the horses! What a beautiful , healthy herd! I have owned two special horses in my life, each a bay with a star. At C Lazy U, when the wrangler brought me my sleek bay mare with a star, it was meant to be. And her name was Janet!

Riding along the mountains through aspen groves and pines was one of the highlights for me. Being in nature on horseback brought me back to a place in my life I have long missed. At the end of the trail ride, we returned to a delicious lunch on the patio, workshops and free time. My fly fishing refresher course on the pond was great fun and brought back memories of fishing as a young girl with my dad.

I cannot wait to return to Women in the Rockies in 2020!. As I move through the hectic and challenging pace each day brings, I am empowered with the wisdom I gained on this remarkable journey.

– Cammy
September, 2019
With each year, my time with WITR just gets more wonderful. This year was especially memorable for me. I was able to ride more, and better, than ever before. My horse, Beau, was a big sweet baby, but a strong friend who gave me connection to his equine realm, the present herd, and our shared place in the beautiful world surrounding us at my favorite away place – the C Lazy U Ranch.

The location of the ranch and the riding area trails is nothing less than spectacular. The Willow Creek valley is surrounded by towering mountains that feel like a powerful embrace. This was the perfect setting for my mental and physical liberation of the daily stress that becomes so consuming.

The sessions with Janet Solie, with input from others in the group, brought insight for some different paths I've already taken, and new ones to discover. I can always benefit from the enlightenment of different perspectives, and grow in appreciation and love of others whose lives are so different.

I especially benefited from the Mind Mapping discussion and exercises. Each one of us who participated in these sessions gained knowledge of how we can examine our reasoning and decisions based on our own specific experiences and processing. This gave me great resolve, as I decided to not let emotion overcome reason.

I look forward to continuing the peace and knowledge I've gained at WITR in years ahead!

– Cindy
September, 2019
Fifty plus years ago, I was fortunate to meet my roomie and future "bestie girlfriend" at Ohio State University. Barbara was a free spirit singer and song writer and I was a parentally-controlled teenager who was never allowed to be free or adventurous except with "paint".

Last summer Barbara called and suggested we set up a reunion in Granby, Colorado. She wanted to meet at the Women in the Rockies adventure wellness retreat at C Lazy U ranch. I immediately sent her a check. After all, who wouldn't trust their bestie's judgment? I had always had a fantasy of riding a horse but the fact that I had never even been up close to the huge animal sent me whirling back to childhood. "You can't do that! You are not allowed."

A few weeks later I spoke with Janet Solie, the founder of Women in the Rockies. She encouraged me and found lots of reasons why I could do Women in the Rockies. Janet said "You can paint!". "No," I said, "I'll get lost. I'll lose my way, I don't even drive a car, because I am so dyslexic!" Janet said, "We'll drive you to a great painting spot." With each objection and fear I voiced, she proposed a solution.

Needless to say, we arrived at C Lazy U ranch and I loved everything!! Great Food, New Friendships, Time around the Fire for Branding, S'mores and Singing and especially Cowboy Coffee! And YES I rode my horse, Jane and LOVED her! I have never felt so proud and free. Also I painted watercolors of the beautiful scenery and all my new friends enjoyed watching the painting process, and loved the final results!!! Barbara and I had such a great time, we hope to be back next year.

Thank you Women In The Rockies and C Lazy U for such a life changing wonderful experience!

– Christine
September, 2019
---
Subscribe to our email list and never miss a special or event!