Choosing the destination for your next family summer vacation can be tricky, especially if you have picky kids. Luckily, there's a place that ticks all the boxes: Colorado.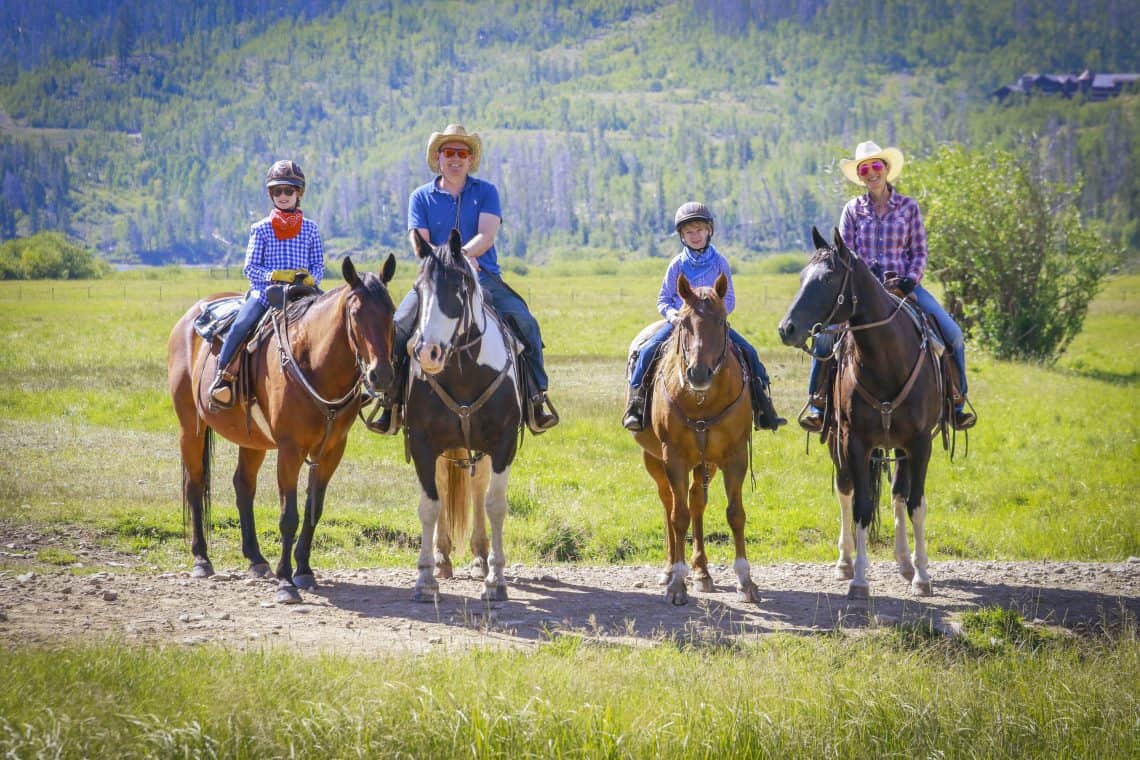 When whittling down your destinations, there are usually filters to help guide your decision: you want a family-friendly place that's close to nature, or you're looking for an all-inclusive resort where you can relax and read a book. When it comes to Colorado, however, there's no need to filter: we've got everything you need.
For the Nature Lovers
Those who go nuts for nature will feel as though they've found utopia when they step foot in Colorado, with its majestic Rocky Mountains soaring towards the heavens, vast blue skies and wildflower-filled fields. Many destinations within Colorado highlight the state's natural beauty, offering hikes and bike rides to ensure that guests get a glimpse of nature up close.
C Lazy U fully embraces the wonder of the West, with more than enough outdoor ranch activities that take you right into the heart of the wild. At C Lazy U, you won't just be looking at nature — you'll experience it.
For the Adventure Seekers
Colorado is the perfect spot for adrenaline junkies, thanks its potential for outdoor adventure. Hiking through the forest, rock climbing, mountain biking down winding trails: these are just a few of the adventures you and the family can have while vacationing in Colorado.
Adventure is available at C Lazy U Ranch, too, with plenty of ranch activities that cater to the adventure seekers. The zip line and ropes course will test your courage, while cattle pushing will get you feeling like a real cowboy.
Note about cattle pushing availability: The ranch plans to bring back this activity in the future as soon as fire-damaged pastures recover and are producing vital nutritional growth.
For the Lazy Loungers
For some, summer vacation is a time to sit back, relax and do as little as humanly possible. Though Colorado is packed full of fun, exciting things to do, that doesn't mean you actually have to take part in it. Colorado is ideal for those who just want to lounge by the water with a drink in one hand and a book in the other — best yet, you're surrounded by an idyllic landscape to put your mind at ease.
The C Lazy U dude ranch is made for adventure, but it offers plenty in the way of relaxation. Sit poolside away from the hustle and bustle of the active guests, or have a treatment (or two!) in the Lazy You Spa.
For the Foodies
Colorado is a culinary haven, too, with its combination of Western-style eats and chic city food. With a plethora of Michelin-starred restaurants all over Colorado — and not just in the major cities — and an abundance of locally grown, organic fruits and vegetables, foodies have found their place in Colorado.
Though C Lazy U Ranch is most known for its horseback riding and other ranch activities, we haven't skimped on the food. Our gourmet meals, using fresh, local and seasonal ingredients, are paired with an award-winning wine list, curated by our in-house sommelier.
For the Romantics
Even family vacations can use a little romance! Colorado is perfect for families, but it is also a great place to rekindle the passion you feel for your someone special. When the kids are off on their own (supervised) fun, you can take a moment to sit back and enjoy the beauty of Colorado with a candlelit dinner high in the sky, overlooking the vast expanse of land below.
At C Lazy U, we take adults-only time seriously. While you'll have plenty of time together as a family, we make sure that the kids are happily occupied in the Kids Program so that you can sneak off to the spa, picnic at one of the most romantic spots on the ranch.
When planning your family summer vacation, the kids' cries of "I want to go swimming!" followed by "But I don't want to sit by a pool!" can make it hard to settle on one location that makes everyone happy. But choosing Colorado — and especially a dude ranch — can make those whines turn into a "whoo!"