How the time flies! It seems like only yesterday our wranglers were welcoming the ranch's newest foal, Remi, into the world. Now, three years later, Remi has exchanged his first wobbly steps for exhilarating gallops at the head of the daily jingle. Fan favorites Remi and Alice aren't the only fresh faces in the pasture — today, we get to know all the youngsters trotting around C Lazy U Ranch!
Read More: The Animals of The Ranch
Meet the New Generation
C Lazy U dude ranch in Granby, Colorado has multiple horses in our herd under the age of five that are learning the ropes of what it takes to become a successful trail horse. As with all of the horses that arrive fresh on the ranch, the wrangler team focuses on groundwork, desensitization to distractions, work under the saddle, and natural horsemanship to ensure we have well-rounded horses. The youngsters are no exception!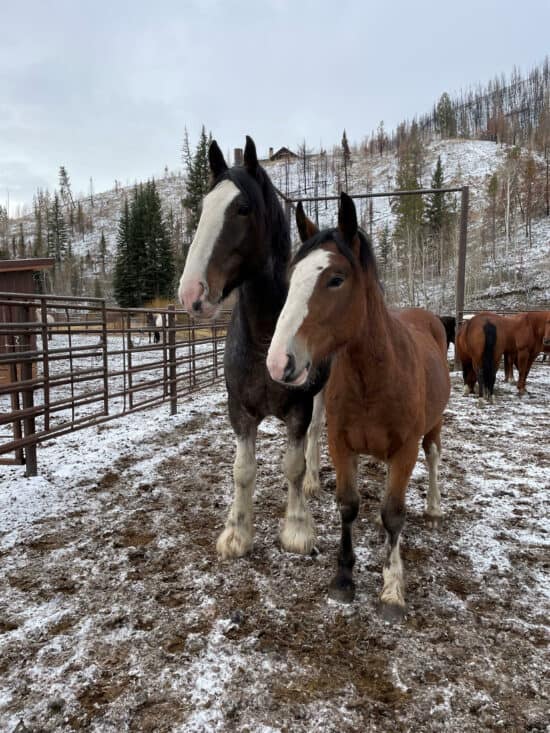 Bruce and Dodger (4 years old) are working on honing their skills in the arena and adventuring out onto trails.
Fantasia, Ivy, and Bubbles (3-4 years old) have a solid foundation under-saddle and will continue their riding education in the arenas, on the ranch proper, and on small adventures.
Dempsey (3 years old) was recently started under the saddle and is continuing to learn the basics.
We also have "the three amigos" — Fergie, Dash, and Sullivan (2 years old) who will all soon begin their groundwork education to start laying the foundation for their future riding careers.
Related: The Horseback Riding Program at America's Best Dude Ranch & Resort
Remi & Alice
Horses Remi (3) and Alice (7) were both foaled right on the ranch. Remi was born in the fall of 2020 to Joy the Clydesdale, and Alice was born in the summer of 2016 to then-newly-acquired Quarter Horse, Belle (who wasn't even known to be pregnant!).
Alice has always been full of personality. She's very animated and affectionate with the people in her life, is playful and opinionated, and is as hard-working a horse as anyone could ask for! She has continued to progress steadily through training to become a wrangler horse. Guests can spot her confidently heading out on trails and exploring the ranch property with plenty of spunk. Her best friends are Willow, Tonto, and Max, though she is also sometimes seen hanging out with Ruby, Rooster, and Jackson.
Remi has gained a great deal of confidence in the last few years. He adjusted to ranch life easily — his chaotic introduction to the world (being evacuated multiple times in response to the East Troublesome Fire) made him incredibly adaptable and resilient. After being weaned from his mother, Remi quickly made friends with Chelsea and Gabe (two other Clydesdales) and a little paint pony named JR (aka Jolly Rancher). He also enjoys bothering and trying to convince all the other horses in the herd to play with him. Remi isn't phased by much and can be quite mischievous when he is bored or in the mood for grain. He's currently training to be a riding horse. Sharp as a tack, Remi continues to be educated about manners, groundwork, and other aspects that compose a good trail horse. When he's focused on his studies he's a quick learner and responsive pupil. A big personality, Remi always enjoys being the first one out of the gate for the jingle — he, Gabe, Chelsea, and JR are often seen impatiently waiting at the front of the corral come jingle time.
More About the Horses: What Do They Do in Winter?
Ride the Horses and See the Sights at C Lazy U Ranch
Looking to meet the horses of our guest ranch or get reacquainted? Come on down to C Lazy U, and enjoy an award-winning, all-inclusive horseback riding vacation that can't be beaten! We guarantee you'll make life-long friends in our Rocky Mountain pastures — human and equine alike — all while enjoying the best food, wine, and fun the American West has to offer.
We'd love to see you soon! Reserve your spot today, or lasso up a full-time position as a member of the C Lazy U family.