With over 200 horses and 8,500 acres of Colorado mountains to explore, horseback riding is one of the most popular activities at C Lazy U ranch. This family-friendly vacation activity is available year-round, allowing guests to experience the beauty of the ranch in every season.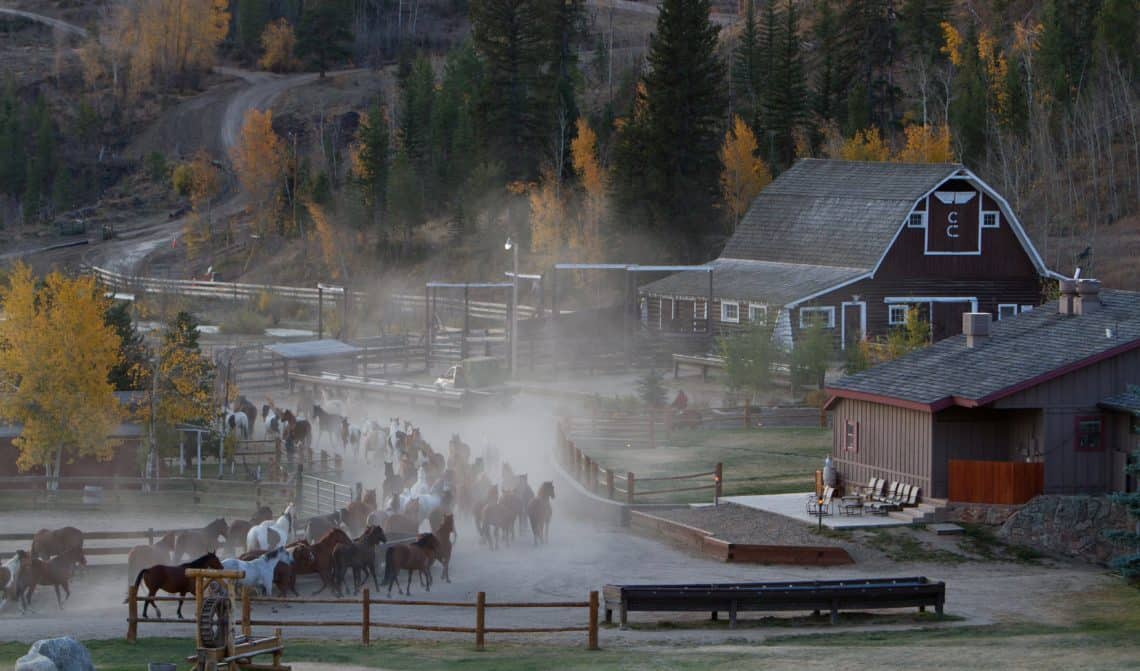 Today, we're answering your most-asked questions about what C Lazy U's horses do in the wintertime, both on and off the trail.
How Do Horses Stay Warm In The Winter?
Horses adapt well to the cold and start growing a thick winter coat as the temperatures start to drop. When they're not on the trail, our horses live out most of the winter in the West Meadow, where they can huddle together under the willows. Willows are a great natural resource to protect the horses from harsh winter temperatures. If the wind is bad, the horses turn their behinds towards the wind and stay huddled together for additional protection.
Can You Ride Horses In The Winter?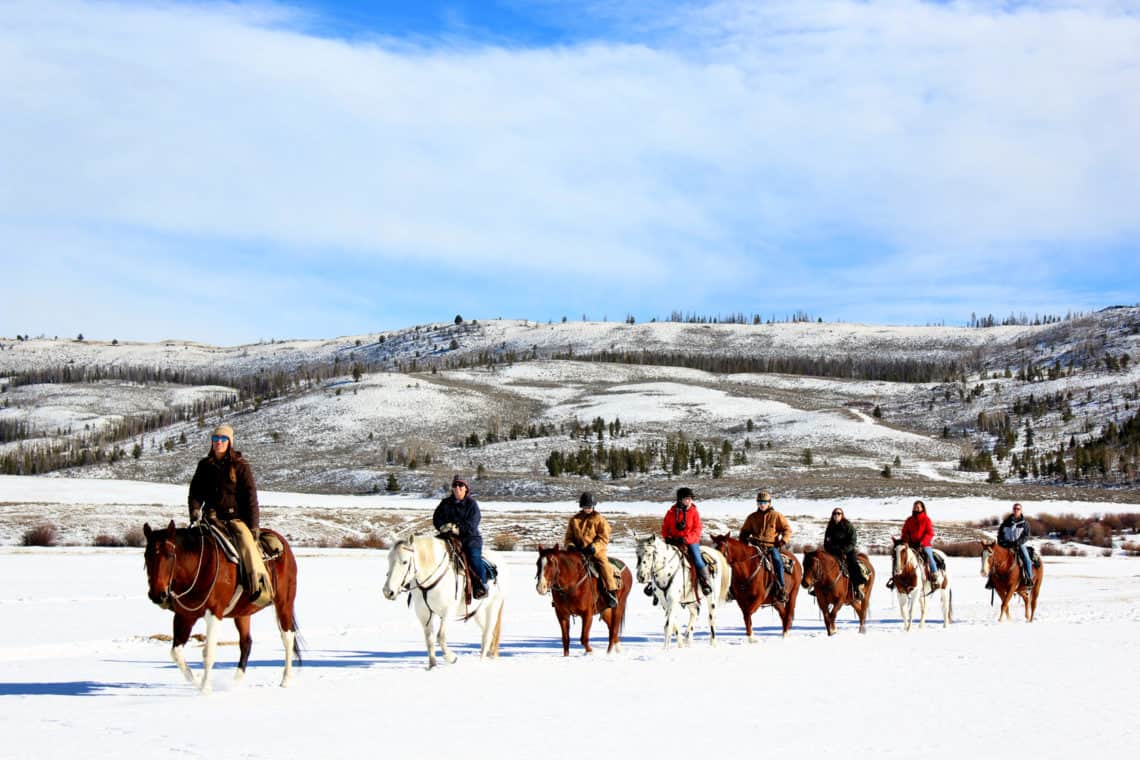 Absolutely. In fact, there's nothing quite like exploring the Colorado wilderness during a winter horseback ride. Whether you're enjoying the flakes falling gently around you or riding through a fresh blanket of snow, winter horseback riding is a unique adventure you'll remember forever. While we won't ride in a blizzard, we'll ride in the cold and the snow, and most of the horses love it!
Is It Safe To Ride Horses In The Winter?
Winter horseback riding is safe and C Lazy U takes extra precautions to ensure the safety of our guests and our horses. The horses that work during the winter get special shoes with pads and studs to give them extra traction. If there's heavy snow or ice, a wrangler and lead horse will "break trail." This means the wrangler and horse in the lead position will work their way through the fresh snow, allowing the guests to safely follow in their footsteps.
What Do Horses Do When They're Not On The Trail?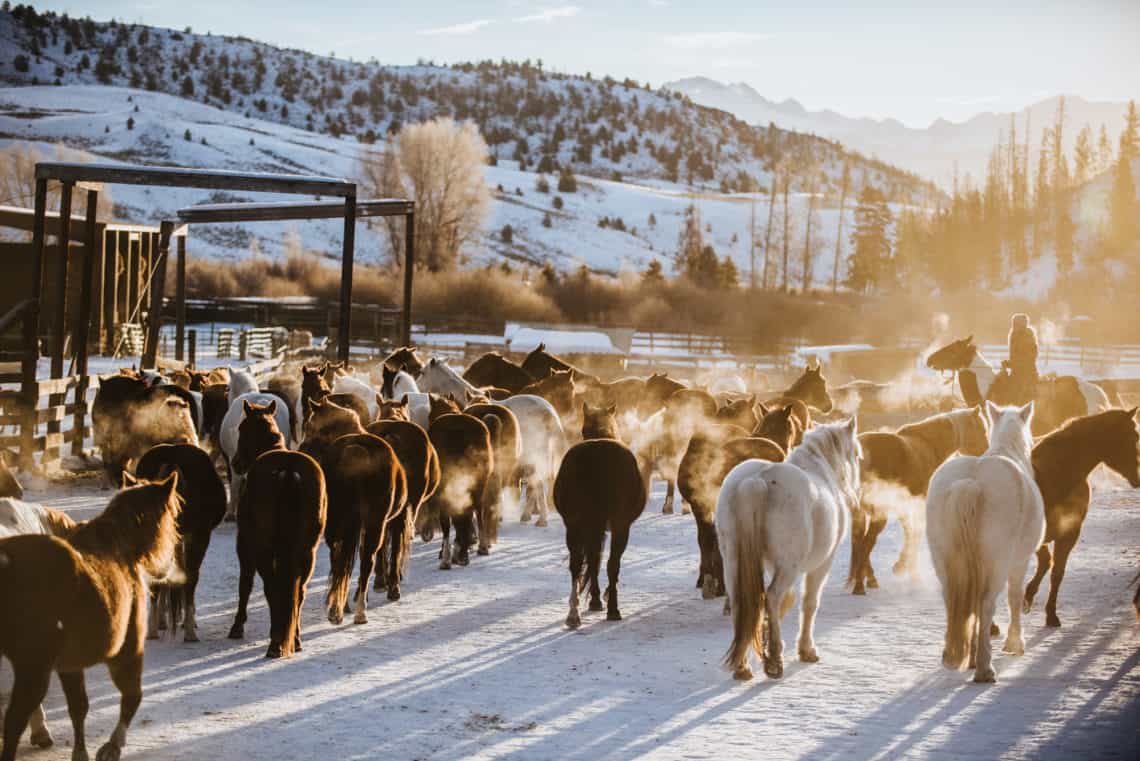 Winter is a great time for our horses to rest, eat up, and get some much-needed time off. Since their bodies are working harder to keep them warm, we give our horses extra hay and our senior horses are given supplemental senior feed. Most of our horses enjoy the extra downtime to spend with their friends in the pasture, but if a horse is sick, injured, or old, we'll move them to a paddock where we can give them additional care.
C Lazy U's Biggest Snow Lovers
While most of our horses enjoy winter, our draft teams love it! Fred & Mike, Annie & Oakley, and Sam & Tom love to pull the sleigh, and each year one lucky team gets the honor of bringing Santa to the ranch.