Winter horseback riding at our all-inclusive resort in Colorado is unlike any other experience you'll have at a dude ranch in the American West, thanks to our 8,500 acres of prime Rocky Mountain landscape. We've got access to some of the best horseback riding trails in Colorado, and we try our best to make sure you get a glimpse of some of nature's most amazing sights — sights that are only available in the winter at C Lazy U Ranch.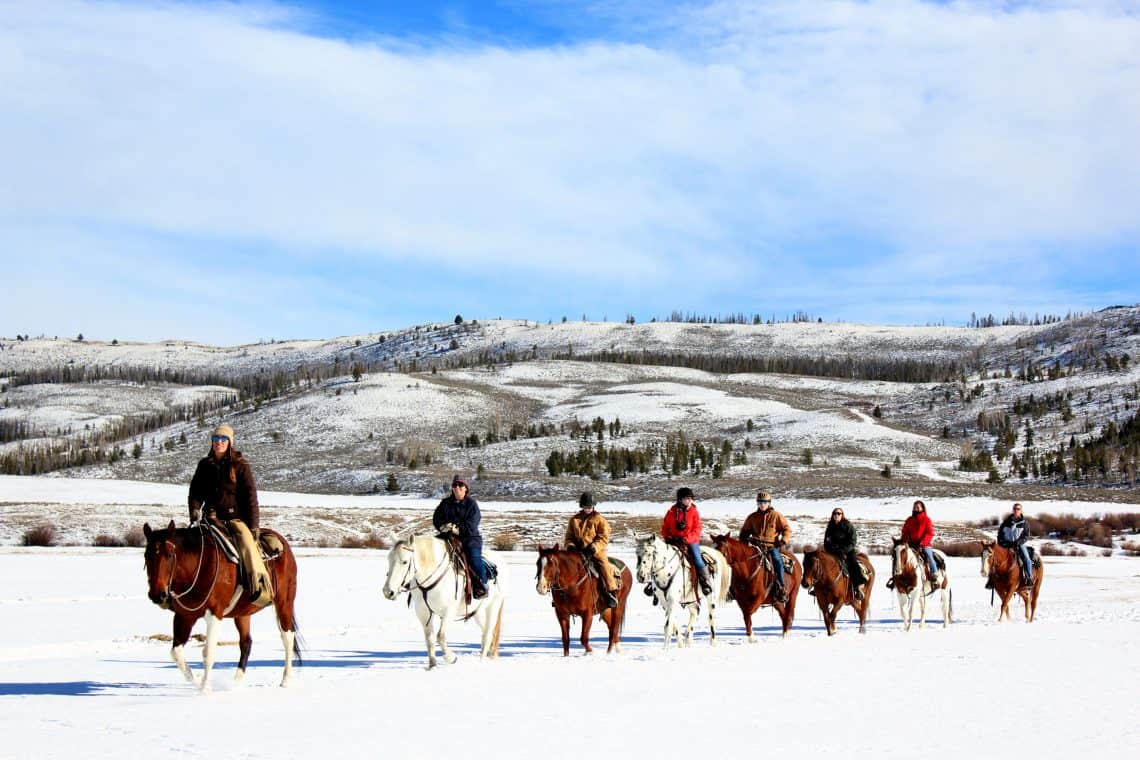 Elk Herds
Elk are common in Colorado, and you'll see them in the summer months as well in the winter. In the winter, however, the elk may be a little closer — they spend their summers at higher elevations and will travel further down in the colder months. They'll usually hang out in wooded areas for shelter from the snow, so it's a unique experience to see them out and about against the backdrop of snow.
Seeing a winter elk herd up close is breathtaking, as these large, majestic animals travel in large herds and are generally peaceful creatures. Because this can be a somewhat rare sight, it's always good to have a camera on hand!
Red Foxes
In the winter, red foxes are busy finding mates and preparing their primary dens for the winter. In the wild, it's rare to spot a red fox, but C Lazy U has a few friendly red foxes that love to hang around the ranch and pose for pictures. You may encounter them on the trail, too, but be careful: just because they look just like dogs and are so very adorable, they're still wild animals and should only be admired from afar.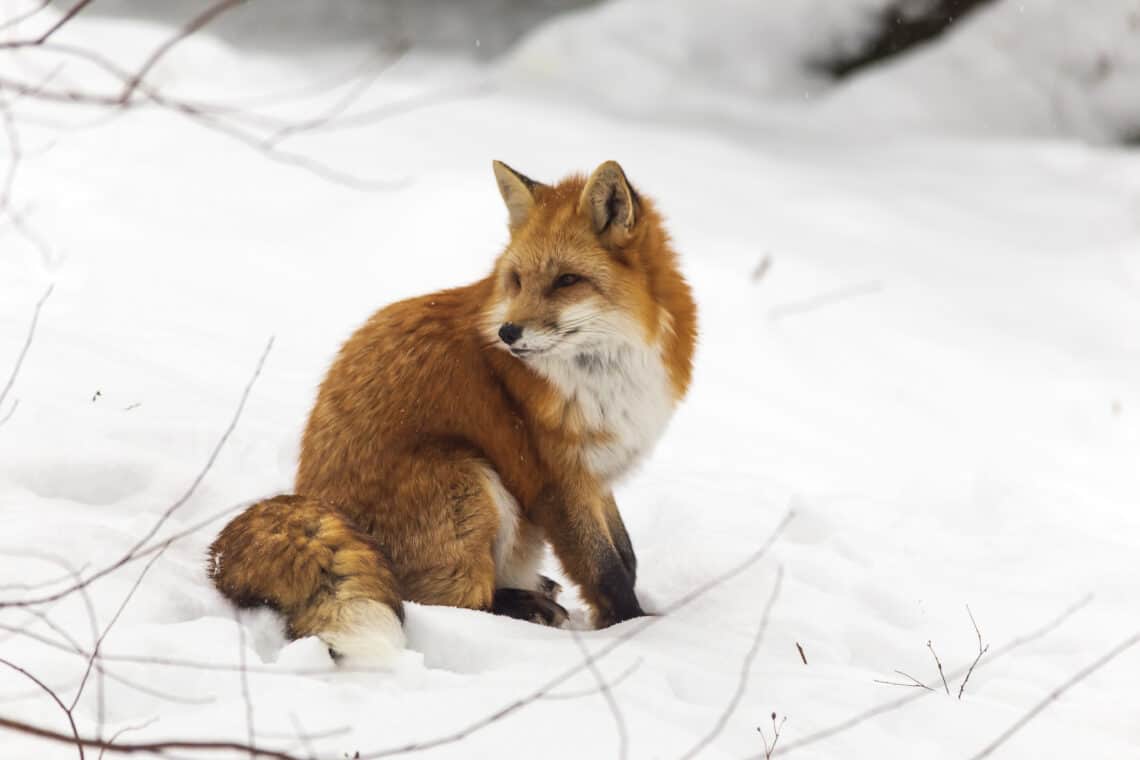 Birds, Birds and More Birds
While many animals are hibernating or hiding for the winter, birds are still soaring high in the sky. Birdwatching in Colorado is as exciting as in the summer, with chickadees, sparrows and finches flitting around the ranch.
If you're lucky, you may even get to spot a bald eagle. Our country's national bird has recently made a comeback in Colorado, and can be spotted near water — such as Shadow Mountain Lake, just north of Granby — in the winter. Keep an eye on the sky if a bald eagle sighting is on your bucket list!
Snowy Mountain Scenery
Most of the amazing sights at C Lazy U Ranch in the winter have to do with the wildlife — we are, after all, near one of America's greatest slices of nature. But C Lazy U Ranch's prime location, right in the heart of the Rocky Mountains with views of Willow Creek Reservoir, means that those towering mountain peaks sometimes steal the show.
Colorado winters at our resort often gets a heavy dusting of powder, transforming the scenery completely. It's not often you get to sit and gaze out upon vast mountain peaks glazed with snow — and C Lazy U has 360-degree views. When weather permits (we are in ski country!), we take our guests out on horseback to roam the trails at a leisurely pace, allowing everyone to admire the quiet that winter brings to the mountains. Whereas the summertime trails are filled with chatter — the guests and the animals — a hush settles over the trails in the winter, creating a unique, magical atmosphere.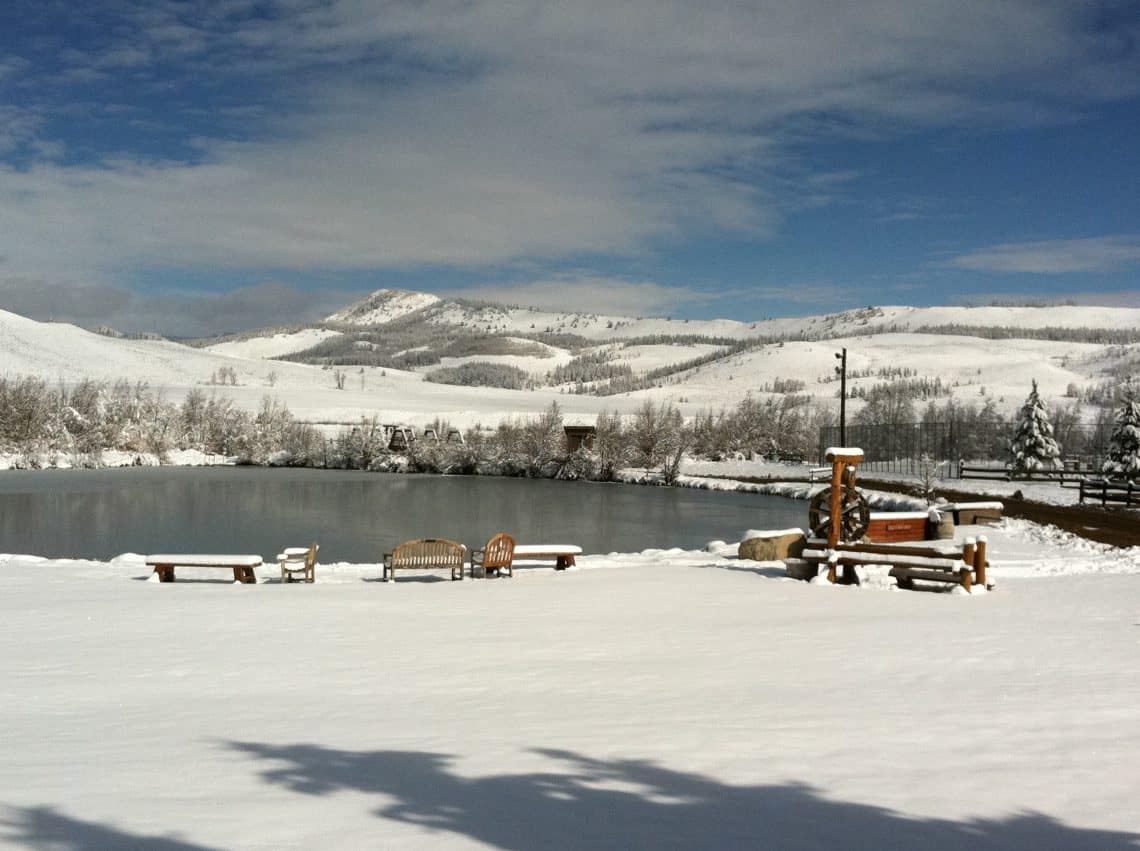 There are plenty of other sights to admire in the winter at C Lazy U Ranch, such as our twinkling holiday lights, our frozen pond and cozy fires. Whatever you'd like to set your eyes upon this winter, we can show you the best that Colorado has to offer at C Lazy U Ranch. See our Winter Vacation Packages for your next all-inclusive resort vacation!