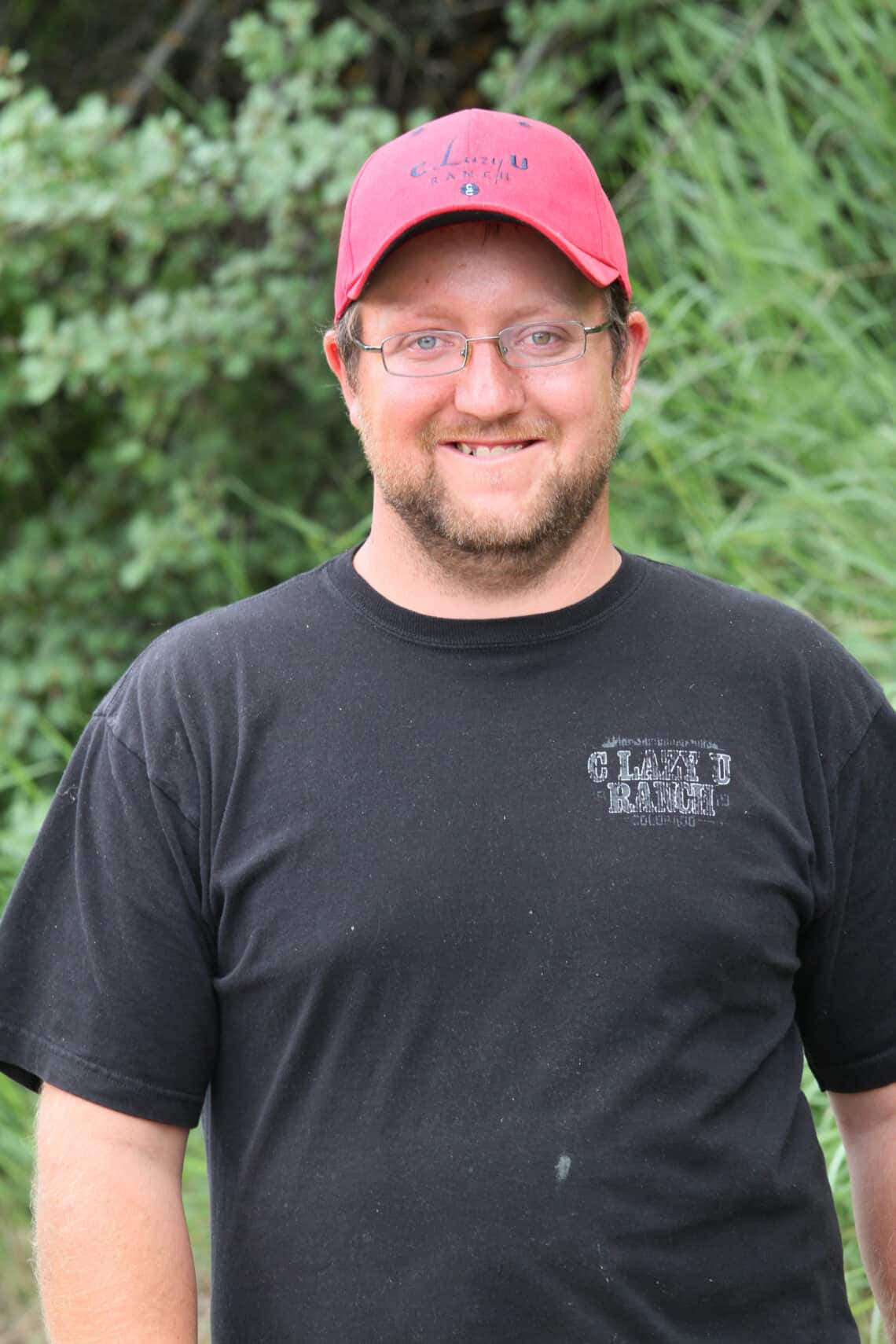 What makes for exceptional fine dining? While ingredients and culinary ideas serve an important part, the secret ingredient for excellence in the kitchen is a passionate and driven team.
Enter Tim Wishon, the inspiring superstar Sous Chef that helps create perfect dining experiences at C Lazy U Ranch. Tim's initiative, effort, and will to achieve has made him a name at the ranch and has left innumerous guests sated and satisfied. How does he do it? Find out in this month's look behind the scenes at C Lazy U.
Read More: Meet the C Lazy U Family
The Power of Culinary Passion
There's no limit to what a person can achieve when they set their mind to it. When Tim started working at the ranch nearly twelve years ago, he was hired as a dishwasher – but he wanted to learn to cook and help out in the kitchen. Shortly after starting in the "dish pit," the Head Chef at the time put Tim to work on small food-prep projects – like traying bacon, cutting salad bar ingredients, and preparing fruit. It was an unofficial apprenticeship of sorts. Then, one day, the Chef asked Tim if he could flip an egg. Tim's reply was short and sweet: "How hard can it be?" He took the pan and flipped the egg on the first attempt. The Chef told Tim he was no longer a dishwasher and was now a cook working breakfast and the employee dining room.
Throughout the next few years Tim ran morning meal service and prepared breakfast and lunch for the dude ranch staff. In the off-season Tim would also help with guest lunches. Not long after, Tim's role was switched to taking care of guest lunch dining for the summer season and doing both guest and staff food duties in the off-season.
When Chef Cory took over the role of C Lazy U Head Chef, Tim's work ethic and natural talent in the kitchen didn't go unnoticed. Cory offered Tim the role of Chef de Partie (a chef that oversees a particular area of food production in a kitchen). Within the last two years, Tim has honed his skills at managing a fine dining team through day-to-day operations, and this spring, Tim's hard work continued to pay off when he had the honor of being offered the AM Sous Chef position.
A Day in the Life of a Sous Chef
What does a day in the life of a morning Sous Chef look like? A typical work day for Chef Tim starts at the opening of the kitchen with the ranch breakfast team. Fine dining is very much a team operation, and every member of the kitchen staff relies on and supports each other to ensure mouthwatering meals and quality service. The breakfast team prepares the buffet-style breakfast for guests as well as an employee breakfast for the ranch staff. After breakfast service begins, Chef Tim switches kitchens out to the patio house, where lunch is prepared. Chef Tim then works with the rest of the team to prepare the day's lunch menu. After lunch is done, the work continues, and the staff must prepare food for the following day's meal services. This pre-prep is standard for all professional kitchens, and ensures smooth operations during service. Once lunch is through, Chef Tim must also perform a full inventory sweep of the kitchen and place ingredient orders for future breakfast and lunch dining. It's hard work, but it's fast-paced, exciting, and carries the benefit of getting to satisfy guests with incredible mealtime experiences.
The best part of Tim's job? He says it's being able to learn something new every day. "I'm constantly learning new techniques or flavor combinations I can use to bring a better culinary experience to the guests."
Read More: What to Expect from C Lazy U's Fall Menu
The Joys of Life on the Ranch
When Chef Tim isn't working on dining services – or consistently winning the coveted title of "best chili" in the ranch member & staff cookoff – there's lots to look forward to and keep busy with. Such is life on a Rocky Mountain dude ranch!
Outside of kitchen duties, Tim has helped with many ranch activities. He's helped prepare the snowmobiles for the winter season, given snowmobile tours (snowmobiling being one of Tim's favorite things to do on the ranch), helped the ranch hands on the tubing hill, taken guests on fly fishing trips, taught casting at the pond, helped out with the hunting program, and performed general maintenance around the ranch when an extra hand was needed. A true jack of all trades!
Tim was also fortunate enough to meet his wife while working together at C Lazy U. They've now been a pair for six years and married for four. Together they're raising their own wing of the C Lazy U family, including a five-month-old son, Tim's twin seven-year-old boys and ten-year-old daughter from a previous relationship, and two wonderful dogs.
When Tim isn't creating great meals in the kitchen, you can find him in his favorite place: the great outdoors.
Want to taste Chef Tim's handiwork for yourself – or maybe pick up some Rocky Mountain hunting and fishing tips? Book your family vacation or great escape to C Lazy U all-inclusive dude ranch in Granby, Colorado today, and experience the best of the West!