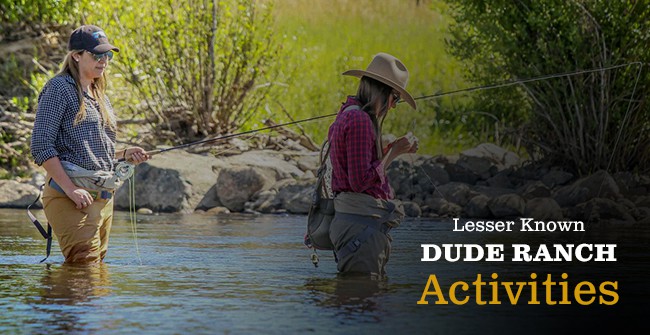 Dude ranches are, of course, famous for their horses. Since the very first dude ranches made their appearance in the early 20th century, horseback riding has been central to the this quintessentially western experience.
But do city slickers who aren't into horseback riding still have fun at a dude ranch? The answer is a definitive yes! With all other kinds of fun to be had, it's almost possible to forget all about the horses. That is, until they come galloping through the ranch on their way home from a day of trail rides.
If you're more inclined to admire the horses from a distance, here are a few lesser-known activities to delve into at C Lazy U.
High Adventure Ropes Course
Got kids? If they're the kind that can't sit still, they can unleash their inner monkeys on our climbing wall and ropes course. It's one part challenge and two parts fun, all under the watchful eye of our staff for maximum safety.
We've seen all sorts of groups on our wall and ropes course, from corporate retreat-goers doing team-building exercises to families looking for thrills and adults who want to try something new. In addition to the traditional zip line and rock wall, we have some unique surprises for the adventurous—ask about our "leap of faith"!
Orvis-Certified Fly Fishing
One wish we hear over and over again from guests at the ranch is mastering the art of fly fishing, and the sport certainly has its allure. The mountain streams of Colorado couldn't be a better atmosphere for newbies and kids trying their luck for the first time and for experts to hone their skills.
We've partnered with Orvis to offer the ultimate guided fly fishing trip at C Lazy U. Our guides will take you out on private reserves, share their firsthand knowledge of the rivers, and outfit you with all the gear you'll need—no wonder so many visitors catch the bug and turn Colorado fly fishing trips into a family tradition!
Wildlife Photography
Shutter-happy travelers will have a blast on an authentic dude ranch! Not only is there abundant wildlife to watch out for through a high-powered lens, but also so many other scenes to capture on camera.
One of the best parts of dude ranch life is seeing the amazing photos our guests share from their stay. We've seen stunning nature photography, portraits of families and special events, and even action photography of all the outdoor fun. Once you post your photos from the ranch, you'll be feeling the Insta-love.
Fine Dining Experiences
Perhaps the least-known joy of a luxury dude ranch experience is the gourmet dining. Bring a bear-sized appetite and urbanite tastes to C Lazy U and prepare to be amazed. We won't give away all the surprises on the menu, but we can offer a little sneak sample. If you've never had a chance to dine on wild game before, then a visit to the ranch will deliver yet another first—game meat is a local specialty in these parts.
We make the most of it with our house-made charcuterie. Curing and smoking meats and making sausage are all crafts we've mastered at C Lazy U kitchen. Don't miss out on our house-made delicacies during your stay—and definitely don't forget to pair it with a glass from our award-winning wine menu.