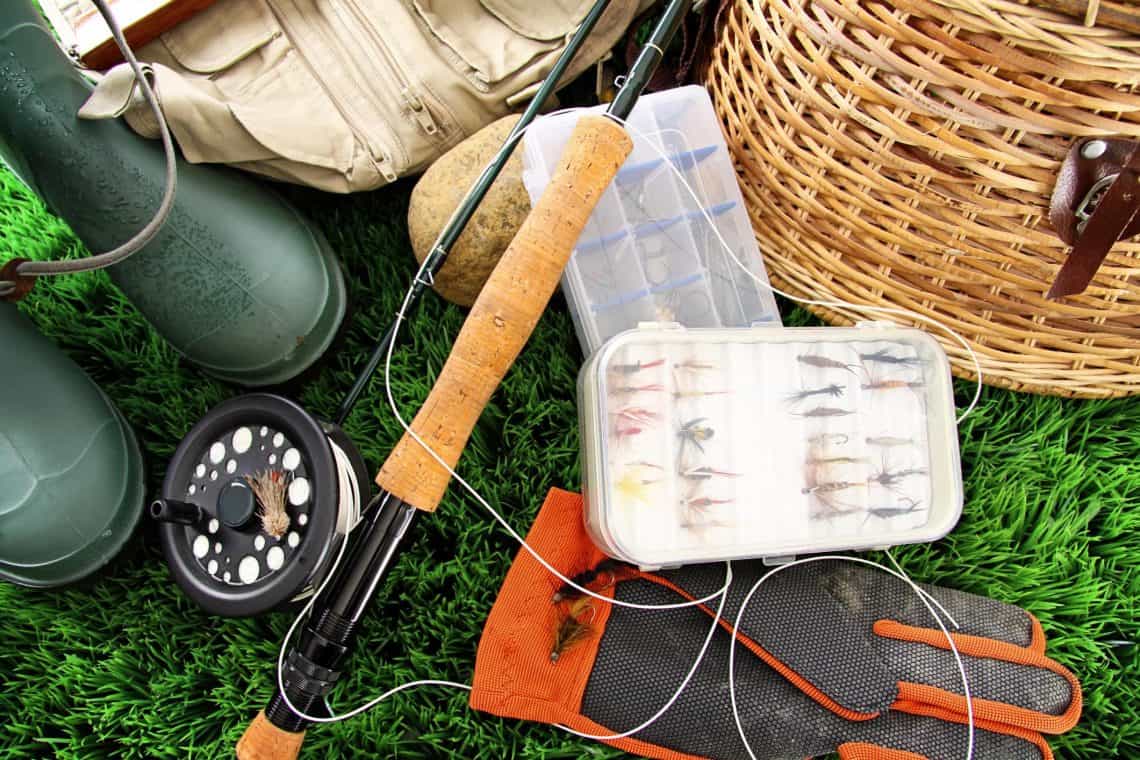 For so many anglers, both amateur and pro, there's nothing quite like Colorado in the summertime. Colorado fly fishing is some of the best to be had. For a fly fishing vacation with exclusive access to private territory and trained guides, C Lazy U is ready with an Orvis-certified experience for all skill levels – even the kids!
Fly fishing 101
While fly fishing has a reputation of taking a lifetime to master, first-timers are often charmed by its intuitiveness. After some practice, the cast begins to feel even more natural than casting with a spinning reel. So what is fly fishing, and how exactly does it differ from standard "spin" fishing?
The main difference is what you're actually casting out. When fishing with a spinning reel, you cast out a weighted lure. The lure propels the light fishing line forward, then it lands with a small splash and sinks. Fly fishing, on the other hand, is a more covert approach. The fly angler uses a weighed line, casting out the weight of the line itself. The advantage? You can fish with microscopic bait ("flies") attached, launching them great distances without startling fish with the splash and sink of a lure. Yes, this does take a little more finesse than chucking out a lure into the water, but once you graduate to fly fishing you'll likely be hooked.
"Spin" fishing versus fly fishing in Colorado
Lucky for anglers who like a little bit of both, Colorado is home to premier mountain lakes and rivers that lend themselves beautifully to all versions of the sport.
Colorado's waters are full of trophy-sized fish, from wild salmon to northern pike to a healthy variety of trout. In fact, the Centennial State is one of the top trout destinations in the world – with cutthroats, browns, "brookeis" and rainbows to be reeled in ad infinitum. Colorado boasts a whopping twelve fisheries that have gained Gold Medeal Trout Water designation from the US Department of Natural Resources, based on density of quality specs.
So which approach is best for catching and releasing your own trophy fish in Colorado? The expert guides at C Lazy U are a little partial to fly fishing, just because our private stretch of the Colorado River headwaters is set up so beautifully for it. Conditions are perfect for learning or fine-tuning fly fishing skills. On a Colorado fly fishing vacation at the lodge you'll find:
Wide open spaces. One of the biggest differences between fly fishing and "spin" fishing is the amount of space needed for a successful cast. If you're in too-cramped quarters, you'll end of spending most of the day untangling your line from tree branches. On a private fishing excursion, you'll have the elbow room needed to really hone your skills.
Familiarity. One of the trickiest parts of fly fishing is being familiar with the river and all its structures. This makes it a little more challenging to pick up on a fishing vacation to Colorado or any terra incognita. Luckily, the passionate fishing guides at C Lazy U have been angling at the nearby fishing holes for years and are ready to share their tips on where to start.
Patience. Even more so than "spin" fishing, fly fishing requires Zen-like patience. Success and gratification is less instantaneous, more elusive. Again, here's where a private excursion with an expert guide really delivers. Infinitely patient, they will take as much time as needed to impart their own knowledge as you move along the learning curve of fly fishing.
The right gear. In general, gearing up for fly fishing costs a bit more than outfitting yourself for plain old "spin" fishing. In addition to finding the right flies, anglers need to upgrade their rod, reel, leaders, tippets, and waders. Where to start? C Lazy U can take the guesswork out of this – our fishing opportunities include everything you'll need for a first-time fly fishing experience. This gives newbies a good sense of what to start adding to their own gear collections.
How big is big? Trophy fish in Colorado
One important thing to know about fly fishing in Colorado: permits are required. In order to maintain a healthy fish stock and keep populations strong, catch and release policies govern how many fish per day you can take home, and what constitutes a trophy fish that must be released.
Here are some guidelines for what you can keep for the grill and what you'll need to release after the photos have been snapped. Check with your guide about the limits on number of non-trophy permitted to take home each day. And if you're lucky enough to reel in any of these trophies – be sure to kiss it goodbye!
Cutthroat Trout: Trophies are 20" or larger. In Colorado, these beauties rarely grow larger than 12", but the record size was a 33-incher caught by angler Rob Peckham in 2005.
Rainbow Trout: Trophies are 24" or larger. Average size for this spec ranges between 12 and 16 inches, but the pros regularly reel in monsters of 26 inches and bigger!
Brook Trout (a.ka. "brookies): Trophies are 16" or larger. You're likely to pull in a brookie of 12-14 inches and weighing in at around half a pound. The record in Colorado for brook trout dates back to 1947, when George Knorr hooked a spec weighing in at over seven pounds.
What is Orvis Endorsement?
C Lazy U is proud of its hard-earned Orvis Endorsement as a fly fishing lodge. This means that we meet Orvis' high standards in the areas of great service, great fishing, and highly experienced professional staff. Orvis also rates us on our ability to cater to all levels, from beginner to expert. Orvis keeps us on our toes, continually reviewing our qualifications and checking in with guests for their critiques. That means that when you plan a summer fishing trip to Colorado at C Lazy U, it'll definitely be worth the experience!