C Lazy U dude ranch is the perfect place for spending time with your loved ones – whether you're on a family vacation, a romantic couple's getaway, or celebrating a wedding or family reunion. Love is certainly in the air on the ranch, and the horses are no exception.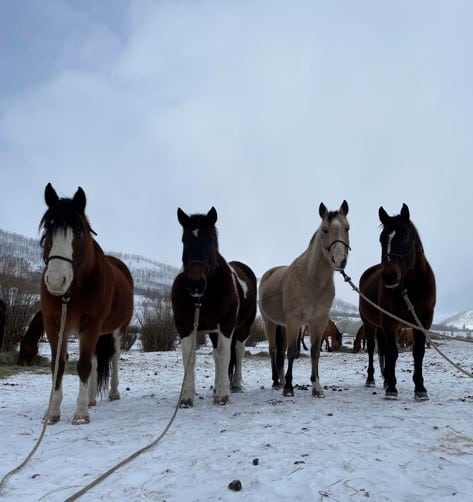 To celebrate all kinds of love at C Lazy U, we've rounded up some of our favorite 4-legged friendships to share with you all. Which loves story is your favorite?
Dixi & Shoshoni: Long-Time Lovers
Dixi and Shoshoni have been in love for a whopping 15 years! Shoshoni arrived at the ranch all the way back in 1994 and had to wait a whole 12 years before Dixi arrived at the ranch. During that time, he flitted back and forth between friend groups, but nothing really stuck. When Dixi finally arrived in 2006, she was the popular new pony on the ranch. It took some time, but Shoshoni won her over. The two became inseparable and moved through the ranks of wrangler horse, to adult horse, to kid horse together.
Now, the two have been on the ranch long enough to earn their pension plan and a life of semi-retirement. Not too much has changed over the years – Dixi is still demanding a little sassy, and to Shoshoni, Dixi is still number 1 in his heart (grain is number 2!). They enjoy sharing their special breakfast and dinner together every day. They like to take an occasional walk during pony rides, and Shoshoni especially enjoys it when they get to have a spa day with the kids from the Kids Program.
Petey & Pebbles: An Unlikely Pair
Most of our guests are familiar with the love story of Petey, one of our Sicilian Donkeys, and Pebbles, a Chestnut Half Draft. Back in the day, Petey was good friends with Wolf and Pebbles. The three were best friends, and there's even a book called "Petey & Wolf" dedicated to their friendship! When Wolf left the ranch, Petey and Pebbles became even closer and their love began to grow.
Petey can be a little grumpy (especially when it comes to people petting his ears), but he has nothing but affection for his lady. Pebbles takes her job as Petey's guardian very seriously. She is very devoted and is often seen protecting him from other nosy horses. When Petey is in the corral or the jingle, Pebbles makes sure to stay right by his side. They two have been spending their winter off munching on hay and sunbathing together.
Wilbur & Tilly: A Troublemaking Team
Wilbur, our newest Sicilian donkey, came to C Lazy U ranch in 2020 ready for a new adventure. When he looked around at his welcome committee, he saw a familiar face—Tilly! Wilbur and Tilly had grown up at the same donkey ranch together before Tilly left to come to CLU. Wilbur had always had a crush on Tilly, but when he tried to say hello, Tilly swished her tail at him at turned away. She was in love with Petey then. Wilbur was sad, but he was determined to win back her affection.
Wilbur, Tilly, and Petey spent the Summer of 2020 in a love triangle:
Tilly loved Petey and was not happy to have Wilbur crash the party.
Wilbur was excited to be at the ranch and wanted to be friends with both Petey and Tilly
Petey just wanted both of them to leave him alone.
Petey spent the summer trying to hide from the other two, but Tilly wouldn't take the hint and kept following him. Wilbur was often ditched by the two donkeys and would hee-haw call for them all day. But, Wilbur didn't give up! He was persistent and patient. Tilly finally realized that Petey didn't love her back and the love she had been looking for had been in front of her the whole time—Wilbur! Now the two donkeys are inseparable. Tilly has always been a troublemaking donkey and she quickly taught Wilber her tricks, requiring the wranglers to closely watch the pair. They've been spending their winter off eating from giant hay piles and ducking under the fence to adventure for better grass.
BamBam & Roxy: Toothfully In Love
Every year, the Colorado State University veterinarians come to take care of the horses' teeth at the ranch. One fateful day in 2010, BamBam and Roxy were waiting in line for their turn to visit the dentists. BamBam has a chronic drooling problem that he wanted to get checked out. Roxy was worried her snaggletooth would hinder her eating and wanted to consult with professionals. The two got to chatting and the rest is history!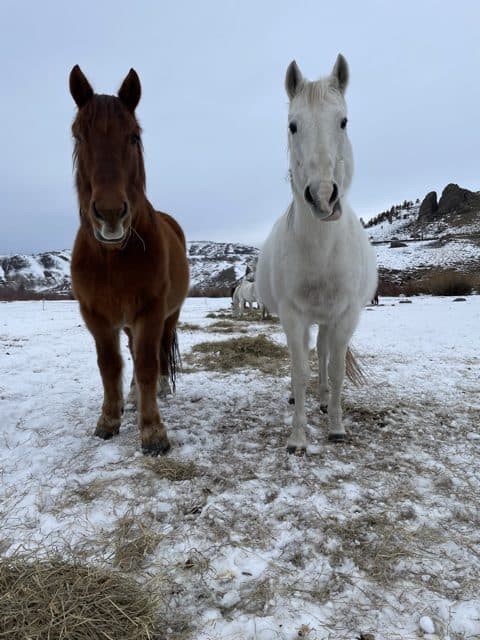 Even though he drools, Roxy still loves BamBam for his relaxed and easy-going nature. BamBam loves Roxy for her quirky and spunky spirit—snaggletooth and all. The two only hang out with each other and have been spending their winter off staying warm in the willows.
Katie & Nemo: Small Horses, Big Friendship
Katie and Nemo became best friends because of the East Troublesome Fire in 2020. For most of her life at the ranch, Katie has had her own private pen since she requires some special care. When the East Troublesome Fire came to the ranch, however, Katie was evacuated to the vet's house with a few of our other horses. At the vet's house, Katie was put in a pasture with the other horses since there was no pen for her. She loved it!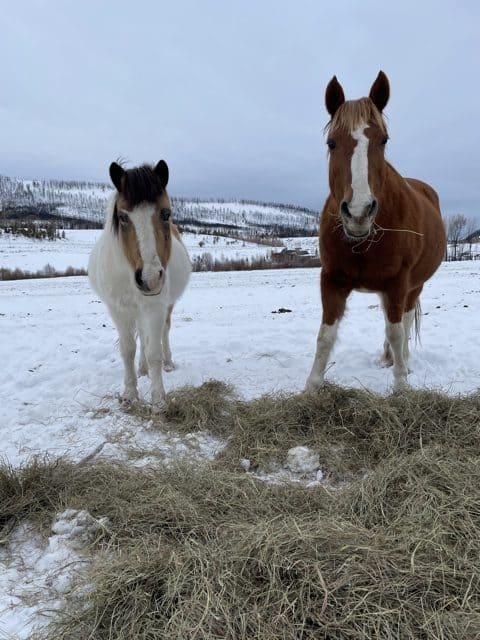 When the herd returned to the ranch, it was decided that Katie would live with the herd. Because of the fire, the number of pens on the ranch were limited and needed for any injured horses. Since she loved being out at the vet's house, Katie started living with the herd and ranch staff just keeps an eye on her health. Katie had to start the task of finding new friends in a herd of 200. It didn't take long. It is said that horses like other horses that look like them. Nemo took one look at Katie and said, "You are small and spotted just like me! Let's be best friends forever and spend our days running around chasing other horses away from the hay!" Katie agreed and she joined Nemo's group. The two (often accompanied by Duchess) have been spending their winter off causing mischief and playing in the willows.
With over 200 horses in our herd, there are so many other love stories and friendships to talk about. Next time you're on the ranch, say hello to our horses and meet your favorite couple. Who knows, maybe you'll observe a brand new love story being written!