Think good wine is hard to find way out in the high country of Colorado? Think again. We like nice things here at C Lazy U—it's why we guarantee our superior service—so we offer a fabulous selection of wine to complement your just-as-fabulous meals.
An in-house sommelier, at your service
It's no easy task, keeping wine in top-shelf condition out on a ranch. Luckily, our full-time Wine and Beverage Director, Shelby Peterson, is up for the challenge. She's the brains behind our special wine menu, bringing a finely tuned palate and a wealth of knowledge to the ranch. She has been certified and educated by the Master Court of Sommeliers, Napa Valley Wine Academy, Society of Wine Educators and San Francisco Wine School.
Curating a wine list for a living is fun—no doubt about it—but one of Shelby's favorite parts of the job is sharing the experience with guests. While you enjoy one of C Lazy U's expertly prepared gourmet meals, Shelby presents the perfect wine to accompany the flavors on your plate.
For a more in-depth encounter with wine, Shelby will host a tasting for CLU guests: a unique, intimate experience in which she brings the beverages to life with rich descriptions and stories of each bottle's origins.
Not a wine expert? Not a problem. Shelby relates wine in a way that's accessible to everyone. You may even expand your own preferences or discover a new passion after a session with Shelby.
From Granby to Napa Valley and back
When she's not working her magic with our guests, Shelby takes an annual trip to nurture her expertise in Napa Valley and bring her knowledge back to the ranch. For the past three years, she has attended Premiere Napa Valley, a who's-who event for the California wine scene, where she networks with other professionals and chooses the wines she will feature at the ranch.
Shelby was recently featured in respected magazine The SOMM Journal (page 50), where she detailed her upcoming visit to Premiere Napa Valley—and let us in on a few secrets for this year's guests at C Lazy U.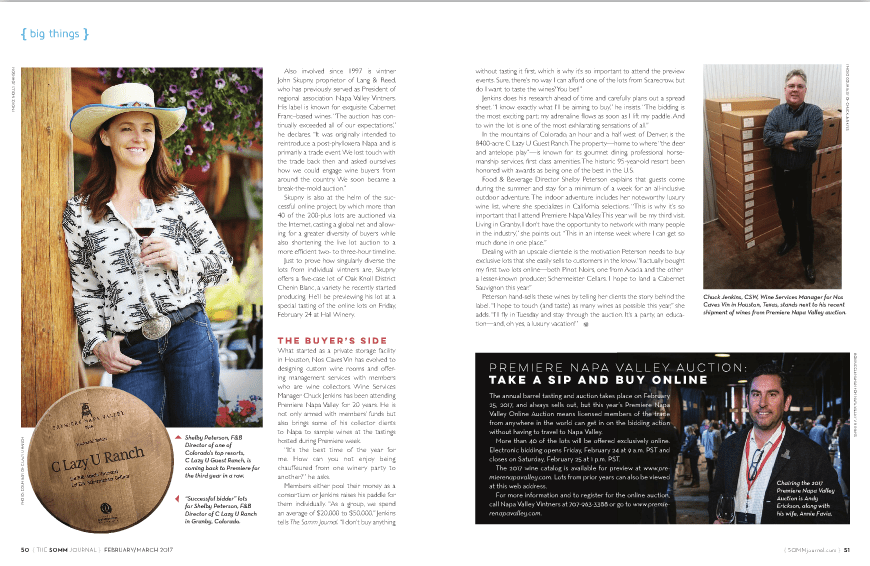 "I actually bought my first two lots online—both Pinot Noirs, one from Acacia and the other a lesser-known producer, Schermeister Cellars," she said. "I hope to land a Cabernet Sauvignon this year."
Sharing wine with guests at the ranch is what Shelby does best, but at Premiere Napa Valley, the tables are turned. Shelby becomes the guest, tasting the latest and greatest that the region has to offer.
"I hope to touch (and taste) as many wines as possible this year," she said. "I'll fly in Tuesday and stay through the auction. It's a party, an education—and, oh yes, a luxury vacation!"
After her "luxury vacation" ends, yours begins—as soon as she's back at the ranch, she'll be armed with new ideas and a fresh perspective for the wine-curious guests of CLU.
Learn more about Shelby and the culinary team, and peruse an example wine menu to get to know her wine style. Or, better yet, book your stay at C Lazy U Ranch to see (and taste) for yourself!