From the early morning jingle, where our herd of 200+ horses comes in from pasture, to afternoons spent riding and bonding with your trusty steed, our animals are the stars of every stay at our premier guest ranch. Get to know some of the animals you'll come to love when you visit C Lazy U Ranch.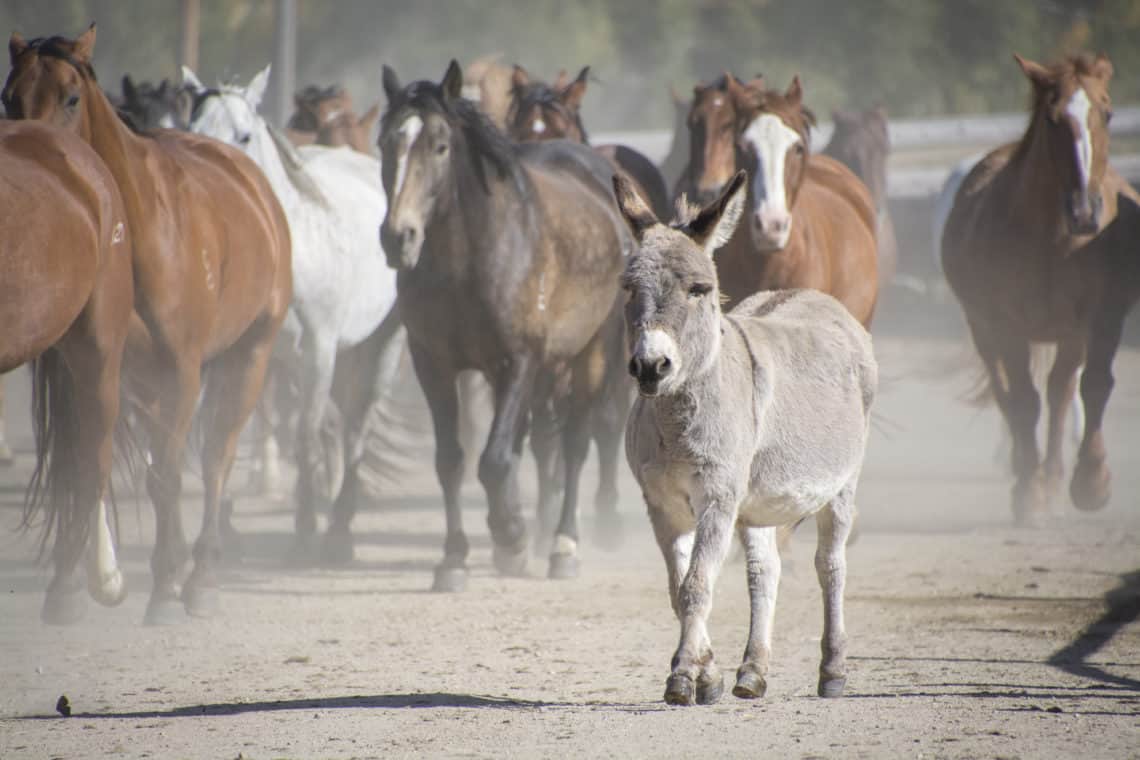 Petey
Meet Petey, one of our miniature donkeys. Petey is the C Lazy U Ranch mascot, but he has another, even more important job: he protects our horses from predators. He also occasionally moonlights at Coors Field for baseball games.
What does he eat? Petey loves to eat hay, grass and feed.
Where does he live? He lives out in our pastures with the horses he protects.
What's his job on the ranch? In addition to guarding the horses, Petey gives donkey cart rides.
Fun fact about Petey: There's no one Petey loves more than his wife Pebbles, who's a horse!
Tilly
Meet Tilly, our other Sicilian miniature donkey. Tilly is also our ranch mascot and will soon help Petey protect the herd. The most important thing to know about Tilly is that she loves people. Make sure you come say hello! Your family can visit Tilly in her pen by the Barn and Hay Barn.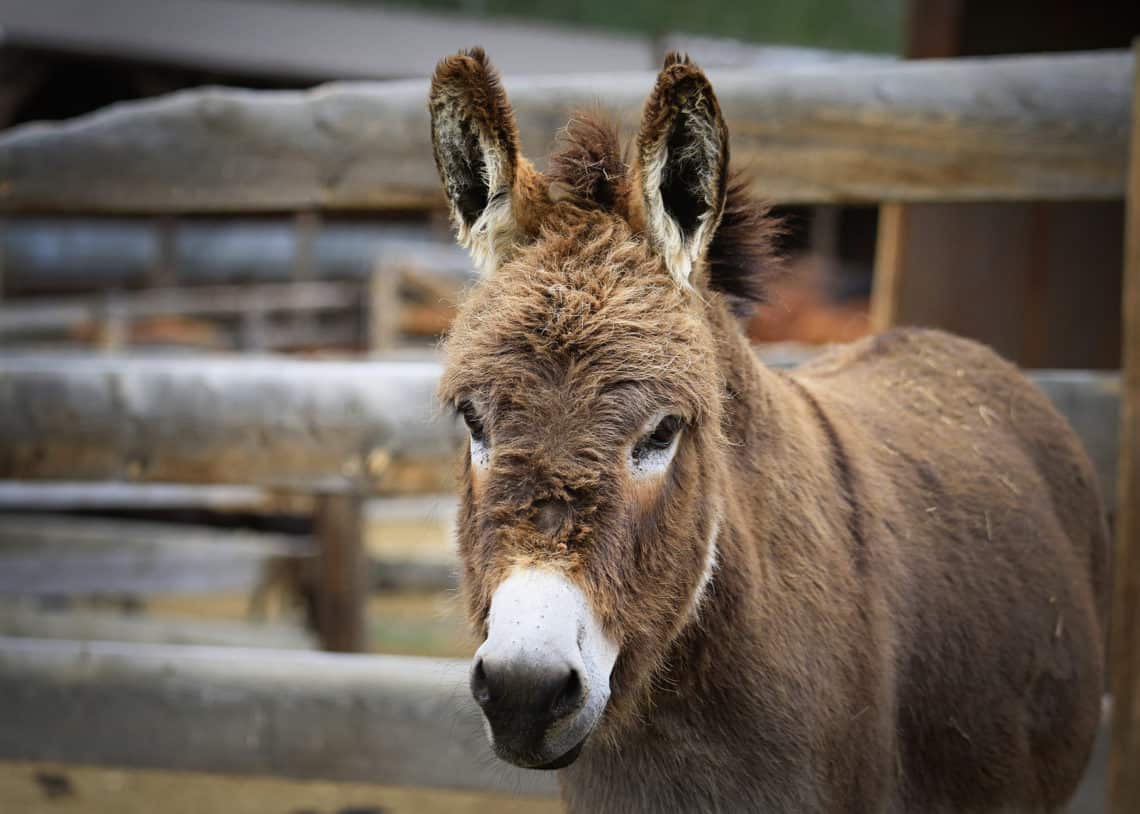 Where does she live? Tilly lives in our pastures and in her pen. She's still a bit too young to run free with the herd.
What's her job on the ranch? Tilly is training to give donkey cart rides and just made her first Coors Field appearance this April!
Fun fact about Tilly: She's very loud; you can hear her hee-haw from far away!
The C Lazy U Herd
Meet the horses of the C Lazy U Ranch herd! We have over 200 horses at our dude ranch, and they each have their own name and unique personality. We match each guest to the perfect horse for them, based on things like temperament and skill level. You'll spend your stay getting to know your horse and developing your horseback riding skills with horsemanship, grooming and riding clinics.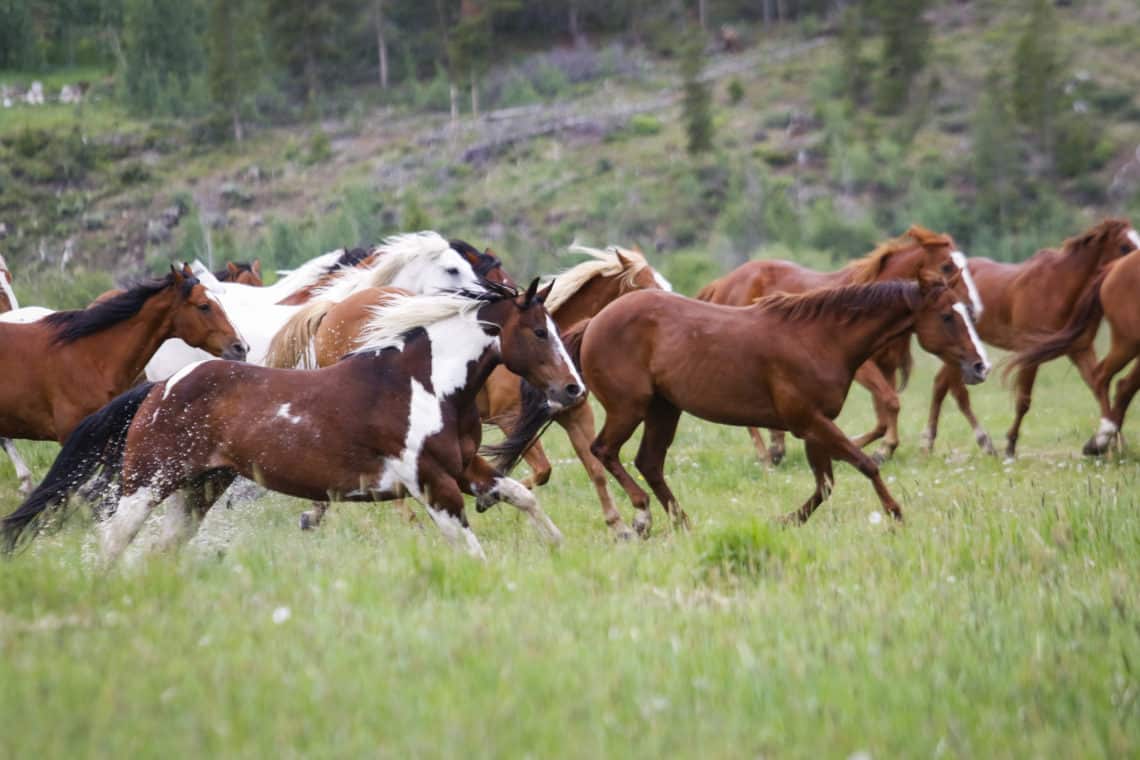 What kind of horses are in the herd? We have horses of all different breeds like: Paint, Draft, Leopard Appaloosa (like Domino), and Quarter Horse.
What do they eat? The horses' diet is similar to the donkeys'. They eat hay, grass and feed.
Where do they live? The herd lives out in the pasture, a horses dream life.
What's their job on the ranch? All of our horses have different jobs. Some teach kids how to trot or are skilled at cattle pushing, while others take guests for easy trail rides, sleigh rides, all-day rides or leisurely trots.
What do they like to do? Some horses love to visit with guests and get pet and groomed, while others love to jingle in from pasture, show off at the Shodeo, spend time with their best friend (like Dixie and Shoshoni), push cattle, or roll around in the mud. You can learn all about life on the ranch for our horses.
Fun fact about the horses: Our horses live on the ranch year-round, and grow a very thick fur to protect and keep them warm throughout the cold Colorado winters.
Can't wait to meet our horses? Get to know some of the Horse of the Month winners: Dusty, Buck and Betsy.
Come Meet Our Animals on a Colorado Dude Ranch Vacation
Check out our guide to the perfect horseback riding vacation, then give us a call to book your stay at C Lazy U Ranch! The animals can't wait to meet you.