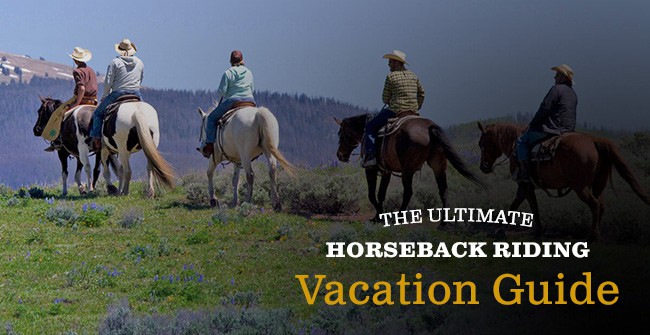 Colorado is blessed with an abundance of wide-open spaces and wilderness. Hidden away are mountain trails so rugged that the only way to access them is on foot—or, even better, on hoof!
The mountain vistas always look even more stunning with a horse in the picture. A horseback journey in Colorado is an iconic experience, but just one day in the saddle doesn't quite do it justice. Slip into the cowboy lifestyle for a multi-day horseback riding vacation at a premier dude ranch such as C Lazy U, where you'll make real progress as a rider.
It's far from roughing it: you'll get treated to luxurious amenities at the same time.
When to Visit
Dude ranches such as C Lazy U are open year-round for horseback riding vacations, but each season brings its own charms and challenges.
Summer is high season for horse-centric visits to Colorado, and for good reason. Days in the high country are long and warm but not too hot, and the landscape is alive with wildflowers and shades of green. Summer's popularity means it's important to book in advance.
Spring and autumn are the "shoulder seasons" for horseback riding vacations, which means fewer tourists. The weather is cooler and more variable in the spring (also known as mud season) and fall, but if you hit the timing just right, you can catch some beautiful seasonal phenomena like the turning of the Aspen leaves toward the end of September.
Winter riding is a horse of a different color, so to speak. The Colorado Rocky Mountains draw crowds with world-class ski resorts and fresh blankets of snow set against blue skies. In fact, horses love winter just as much as snow bunnies. If you don't mind bundling up, a horseback riding in Colorado vacation in winter is like a fairytale.
Getting There
Reaching the remote areas of Colorado where the horseback riding is best takes a little patience. Luckily, the state boasts one of the busiest and most connected airports, Denver International Airport, where the famous blue bucking bronco statue makes a strong first impression. Horseback riding in Colorado will be well worth the travel.
From the Denver airport, the most popular way to reach the high country is to rent a car and enjoy the scenic drive. In as little as an hour or two from the busy capital city, visitors will ascend thousands of feet of altitude and enter mountain terrain. The main artery between Denver and the high country is Interstate 70 (I-70), which extends directly west from Denver.
To reach C Lazy U Ranch and Rocky Mountain National Park via Granby, for example, take I-70 west to Highway 40.
Packing List
When packing for a horseback riding vacation in Colorado, there are a few special items to keep in mind. Remember that you'll be in high altitude with intense sunshine—sun protection is essential! Bring a good supply of sunscreen and lip balm, as well as a hat or visor and sunglasses. And carry a water bottle with you at all times to stay hydrated. This is important year-round—rain, shine, or snow!
A few other cowboy tips for items to bring:
Jeans or other heavy-duty work pants, such as Carhartt, for your time in the saddle.
A cowboy hat not only works wonders against the strong rays of the sun, but it also looks great in photos.
Pull-on boots with a heel for horseback riding. Lace-up boots will work in a pinch, but traditional tall boots are ideal. For those who don't already have a pair, cowboy boots make a great Colorado souvenir.
Activewear undergarments. Ladies, this means sports bras. This simple item is easy to forget but hard to live without on horseback!
Layers, layers, layers. The biggest trick to staying warm, dry and comfortable in the saddle is to dress in layers. Bring a rain jacket or poncho, no matter the season, and long underwear for cool evenings after the sun goes down.
Note that many dude ranches often offer guests most of the necessary equipment for horseback riding. See C Lazy U's packing list for details on what's included, and check out the on-site country store  to gear up with western apparel at the start of your vacation.
A Typical Day
Each day on a horseback riding vacation in Colorado is a small sampling of life on a ranch—though without all the work! The pace of things slows down a little; full-time ranchers are usually early to rise and early to bed. Embrace the rhythm of ranch life and let it whittle away the stress of the usual routine.
Morning
Cowboy breakfast. Rise bright and early to make full use of the day! A special tradition at dude ranches in Colorado and across the country is a "cowboy breakfast" outside, complete with a roaring bonfire to ward of the morning chills.
Morning ride. With a full belly, horseback riding vacationers get down to business. On the first day riding, you'll be matched to a horse based on temperament and skill level. You'll get to know each other, as well as your expert guide who will accompany you on the trails.
Afternoon
Lunch. Every meal is a treat on a luxury dude ranch vacation, and lunch is no exception. Depending on the length of your ride, you'll either return to the ranch for another decadent meal, or the staff will pack you a tasty picnic to take with you on the trail.
Afternoon leisure. Afternoons are flexible on a dude ranch. Get back in the saddle, participate in other outdoor activities, or lounge around at the pool for some lazy time with family and new friends.
Evening
Dinner. The trails may be dusty, but even cowboys like to get gussied up at the end of a long day—so Don't forget to pack a smart outfit for dinner. At luxury dude ranches such as C Lazy U, dinner is a "rustic elegant" affair.
Campfire quality time. Evenings are for gathering around the fire pit. This is where stories are told, songs are sung, jokes are cracked, and sparks fly! Roast some marshmallows, sip a beer, and turn in early for another full day of horseback riding and high country fun ahead.
See a sample daily schedule here.
Keep Trotting
A huge perk of spending several days on a horseback riding vacation is that riders have enough time in the saddle to make some real progress. After five to seven days at a ranch, many guests find that they've graduated to a new level of horsemanship. They've also formed close bonds with their horse, the guides, and the beautiful place they've been immersed in for days.
It's no wonder that the first horseback riding vacation is rarely the last. Whether you look for greener pastures to explore on horseback or book your next stay at the same ranch with newfound friends (both horse and human), keep up the momentum. As with anything, practice makes perfect. Horseback riding is a lifelong pursuit, full of rewards and new challenges as you learn and grow.