At C Lazy U Ranch, the preeminent activity is, of course, horseback riding. Every day, guests are encouraged to mount their trusted steeds and explore our expansive ranch with the help of our experienced wranglers — even when it gets a little chilly out.
Colorado winters aren't known for being particularly severe, but there can be a lot of snow. If you're used to riding horses in mild, sunny weather (or you're not used to riding at all, then here are some tips), horseback riding in the winter on mountainous terrain might sound a little challenging. But if you come to the stables prepared, you're guaranteed to have a good time on the snowy trails!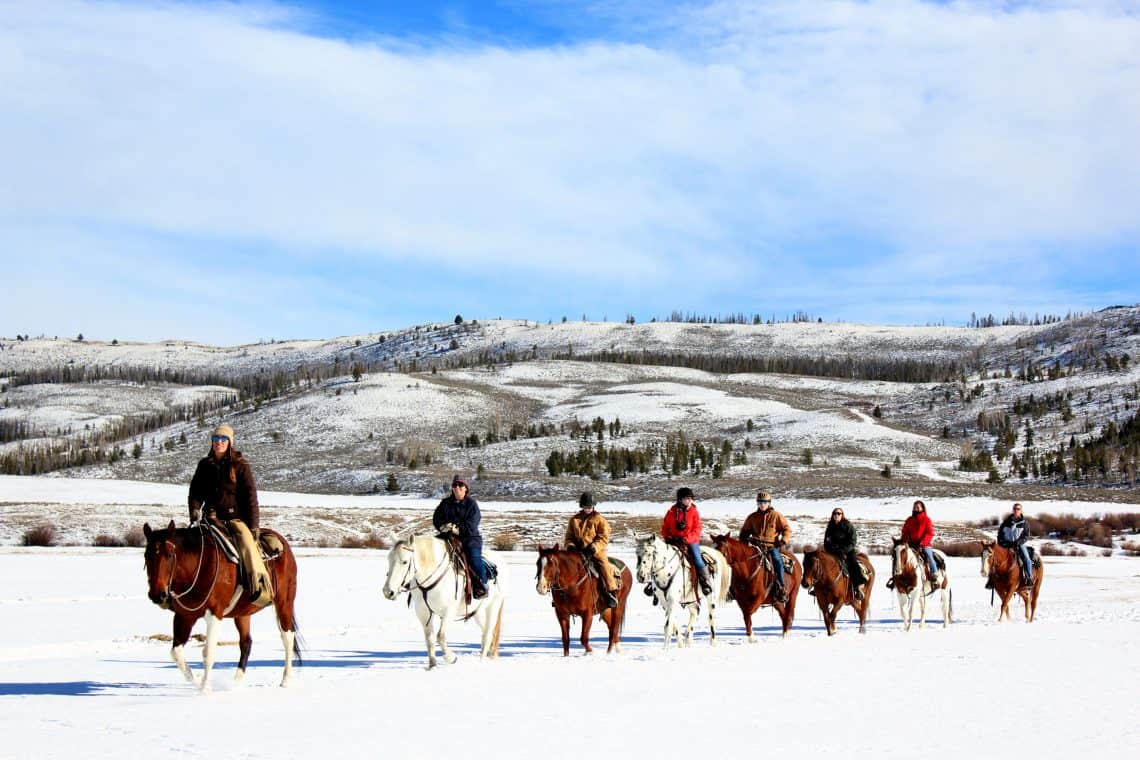 5 Tips for Winter Horseback Riding
1. Dress for the weather
Those who aren't familiar with horseback riding may not know that it can be a pretty strenuous activity, especially when riding at a gallop. While you're riding, you're using muscles to balance yourself, especially in the legs, and you can work up quite a sweat — but sweating in cold weather is never good, as the sweat can freeze and cause you to get even colder.
The key to horseback riding in the winter comfortably is by dressing in layers. Your base layer should be loose (but not too loose) and made of a breathable and moisture-wicking fabric. A turtleneck is ideal, since it will cover your throat and prevent air from entering your clothing. Add a long-sleeved shirt, and top it off with a waterproof winter jacket. If it's especially cold, you can add another layer under the jacket, such as a vest, to further insulate your body.
Not many people pay attention to what they wear on their legs, but they've still got to stay warm, too. Make sure not to wear those slippery waterproof pants, as you may find it more difficult to stay on your horse; choose winter riding breeches instead, which are still waterproof and often feature a soft thermal lining to keep the chill away. Don a pair of thick, breathable socks to keep your toes warm, and don't forget one of the most important pieces of clothing of all: winter riding boots. The boots should be warm, waterproof and tall, but too bulky that they'll get caught in the stirrups.
Check out our winter and spring packing list for more specifics on what you should bring on your next winter family vacation.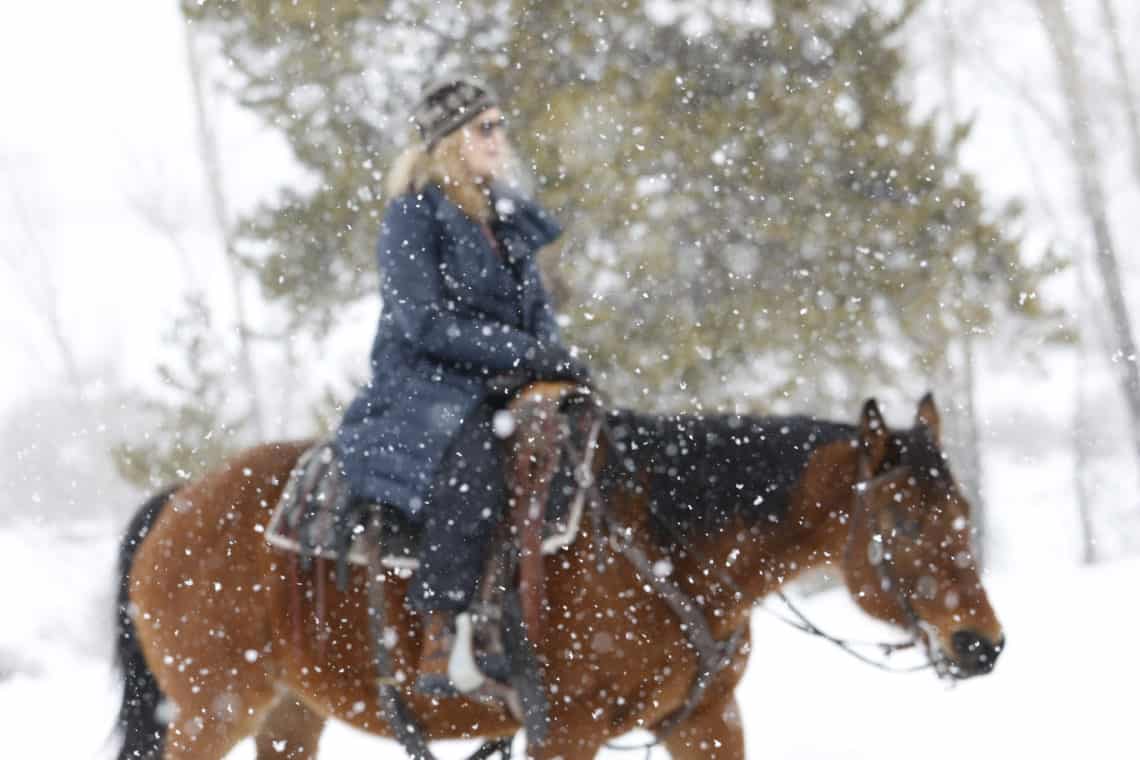 2. Warm up beforehand
Before you get in the saddle, do a few stretches, move around a little and get your blood flowing — you don't want to feel stiff when you're already on the trail.
Learn some new yoga stretches that will get you ready to ride horses in the winter.
3. Drink your water
It's easy to forget to drink water when it's so cold out, but staying hydrated is essential to keeping yourself warm. Horseback riding is still exercise, after all! You may even want to bring along a warm beverage to sip while you rest.
4. Protect against the sun
Even if the sky isn't clear, there are still UV rays shining down, and the white snow can intensify those rays. Wear sunscreen out on the trail, making sure to get every bit that's exposed, and wear a pair of your favorite UV-blocking sunglasses.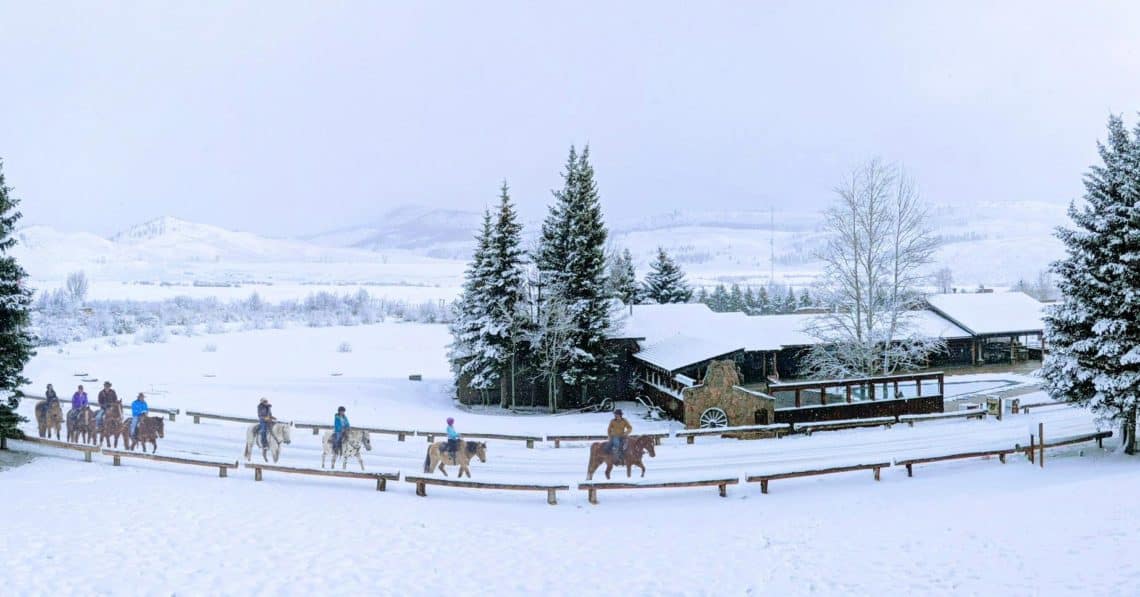 5. Be prepared to move a little slower
Plowing fiercely through fresh powder, clouds of snow exploding around you, may sound like something out of the winter-themed Wild West adventure. But a horse can't maintain that level of activity without working up a sweat — and sweating in the cold is just as harmful to horses as it is to humans. Horses also take a lot longer to cool down, and their thick coats stay wet with sweat far longer.
Horses do best on powdery snow, but they can't quite handle ice. Going nice and slow on trails will avoid any accidents, as patches of ice can be lurking under friendly-looking fresh snow. You may also have to cut your trek short if the weather turns or if the trail turns out to be too treacherous.
With its plethora of winter activities, luxury lodging and gourmet meals, C Lazy U is a unique Colorado mountain resort destination that whole family can enjoy. Learn more about our Colorado Winter Vacation Packages!