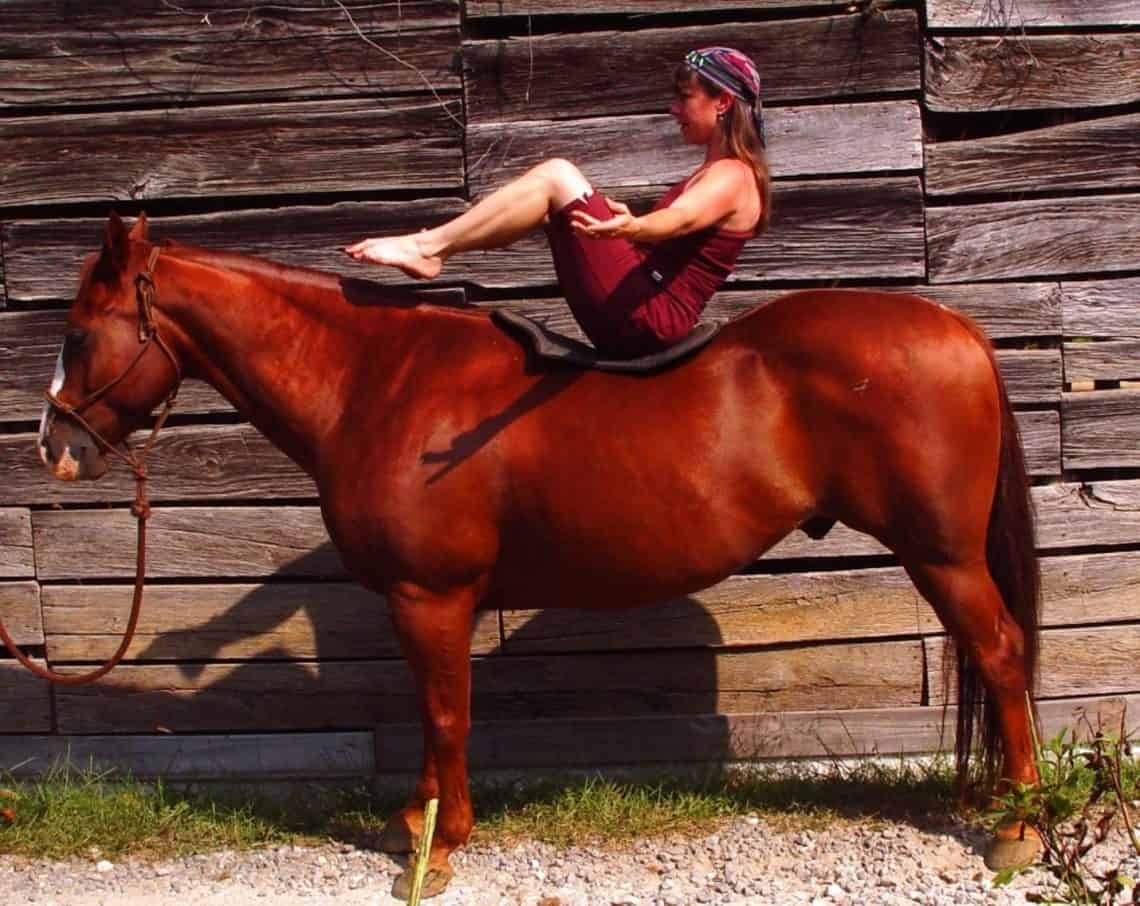 Guest Post by Cathy Woods, Cowgirl/Yogini
Body, Mind, Equine came about when I "realized" the similarities of Yoga and Horsemanship. There are many parallels of yoga and horsemanship. In addition, many of the yoga postures can improve riding and body, breathing, and energy awareness.
We'll be exploring this connection further during a special women's retreat at C Lazy U Ranch May 11-14, 2017
 Using Yoga to improve horsemanship can include:
Meditation to improve focus and centered-ness
Deep relaxation and body scans
Yoga postures such as hip openers, back stretches, core work, and balance poses
Breathing through challenges, on the yoga mat and in the saddle
Being more present
To name a few…
Good Stretches for Riders & Why
Hip opener and hip flexor stretches in general are great for equestrians – Pigeon Pose, Cow Face Pose, high and low lunges and the like. Keeping the hips open and free not only provides more comfort while sitting astride a horse and allows one to mount/dismount with more ease, it allows the hips to flow in a more relaxed way with the movement of the horse. (Which also changes the horse's movement!) In addition, hips and low back are interconnected and these stretches also assist in keeping low back tensions at bay, which can sometimes tense up while riding.
Balance postures are essential for riders. Knowing and understanding where "your center is," is an important component when in the saddle. If you are riding in front or back of your center you will be off balance, affecting your balance, stability, safety, and even your horse's movement. You will also tire more quickly and become more sore when riding off balance.
Core work is most excellent for riders. Everything comes from the core. Keeping a strong core also helps keep a strong back. It allows the rider to sit erect and strong but not necessarily rigid. Plank and Boat pose are excellent core strengtheners.
Stretches for the shoulders can be helpful to keep shoulders relaxed, back, and down away from the ears. Simply interlacing hands behind the back and stretching the arms upward in what I'd call Yoga Mudra arms can release shoulder and upper back tension as well as open the chest. Eagle Arms Pose can also help release shoulders and shoulder blade areas.
Copyright: Cathy Woods Yoga 2015
Please join us May 11-14, 2017 for our special weekend retreat, Find Your Inner Cowgirl with Body, Mind, Equine: 3- Night Women's Retreat with Cowgirl/Yogini Cathy Woods.
Learn more about Body, Mind, Equine: A horse & yoga retreat.
About the Author:
Cathy Woods, Cowgirl/Yogini
Cathy teaches yoga as an "awareness practice" to be used on and off the mat. In addition, she leads a program called, Body, Mind, Equine, combining her passions of yoga and horsemanship. Though Cathy does not claim to be a riding instructor or horse trainer/clinician, she does teach how yogic principals can be used to improve one's horsemanship to become a more aware and conscious rider.